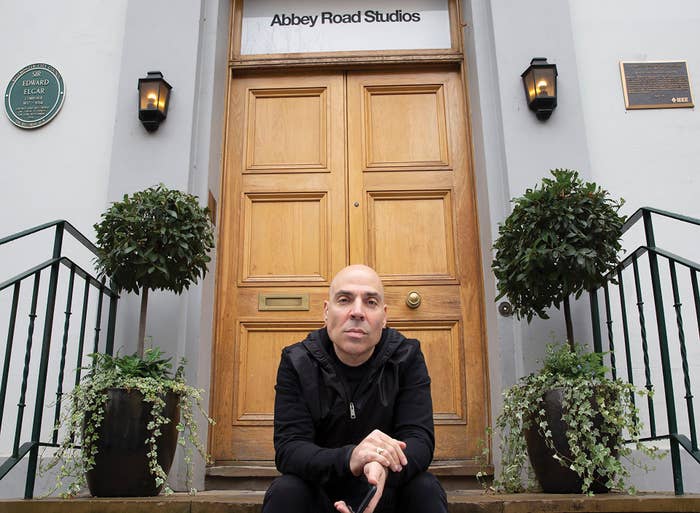 Merck Mercuriadis' vision is simple. He wants to disrupt the music publishing industry so completely that it ceases to exist in its current capacity. By turning the focus from song creation to song management, Mercuriadis and his team at Hipgnosis Songs Fund aim to frame music royalties as an asset class, not unlike gold or silver. They're already a publicly traded company on the stock market in the U.K., and they're eyeing Wall Street in the next 18 months. Merck Mercuriadis, who Kanye West calls one "of the most powerful and knowledgeable people in music," wants Hipgnosis to get rich, but he also wants it for his artists, and for you, too. The difference, though, between music as an investable asset and anything else, is that songs are more stable, simply because music is the most predictable commodity available (according to Mercuariadis anyway). 
Hipgnosis is, at its core, a test to see if songs can function as investments, similar to the way oil, gold, and publicly traded companies do. For instance, the song acquisition investment company recently purchased 50 percent of RZA's catalog, which totals half the copyright interest of 814 songs. This includes 50 percent of both the writer's share and the publisher's share. And because RZA was a co-writer on so many Wu-Tang solo albums, Hipgnosis will also see money from the catalogs of artists like ODB, Raekwon, and GZA. The group has made other forays into the hip-hop world, including buying 100 percent of No I.D.'s catalog. This includes 100 percent of writing shares, so for Hipgnosis' undisclosed and presumably large investment, they'll now receive the income every time a song with a No I.D. credit appears in a film or on TV.
For those bristling at the capitalistic intrusion of art, Mercuriadis positions himself as the least offensive operator. He's a manager of songs and artists, not prospective ideas. But many questions remain as the fund continues to turn heads with its exorbitant spending and Mercuriadis' outsized personality. Can his group really change the way the industry deals with royalties? Will the risk of equating new hits with old classics hurt the Fund? And, most importantly, how will the US market respond when the U.K.-born company brings their hypothesis for a greater, more equitable industry stateside?
Born and raised in Quebec, Mercuriadis got his start as a marketing director at Virgin in Canada before shifting into music management as a co-founder of the now-legendary Sanctuary Records. His work with Morrisey, Ozzy Osbourne, Elton John, and Nile Rodgers established Mercuriadis as a force in the industry. In 2018, Hipgnosis emerged with a flourish, as the company raised a total of over $807 million through its Initial Public Offering on July 11 of that year. Though it emerged on the public market in the UK in 2018, the company first began when Mercuriadis left Sanctuary in 2006.
In music publishing, companies buy catalogs from labels and oversee the way intellectual property is used on television, in films, and on the web. Hipgnosis wants to deal directly with artists that own their own masters, because labels often gain control by preying on young artists desperate for cash advances and a legitimate record deal. Mercuriadis and his group prefer to buy catalogs from artists, because purchasing catalogs directly from the source gives artists the ability to make the decision for themselves. Once Mercuriadis' team secures the contract, all royalties will be paid out to them, at which point, if the song is successful, the group's share price will rise and investors will cash in. Essentially, Mercuriadis is betting that songs are impervious to the market's fluctuations, and that songs are forever. While most companies hire writers to then collaborate with other artists in hopes of scoring some part of the royalty (or buying catalogs from labels), Hipgnosis is focused on managing songs that are already proven entities. Mercuriadis outlines the difference as song creation versus song management.
"The reason why so many artists don't have their rights is that they've been seduced by the advance and are therefore compromised on what they are doing," explains Mercuriadis. This discussion and debate has gained serious traction as artists like Kanye West and Megan Thee Stallion have spoken out against the leverage labels use when offering artists rich advances in favor of masters or control. "You can look at Hipgnosis and say, 'Okay, but hold on Merck, you buy these rights from songwriters and producers and artists, so are you sure you got this right?' And my response to that is to say, 'Absolutely.' Because I only buy from artists and songwriters and producers," he explains. By focusing on artists that retain the rights to their music, Merck envisions Hipgnosis as a vehicle of empowerment. The great work already exists, and Merck views his team as a mechanism to greater profit. "These are the houses that the artists built and paid for and therefore, if they choose to sell their house, that's on them. I'm empowering them when I write them a check and I'm empowering them when I go after improving their place in the economic equation. I don't buy from corporations, I buy directly from the songwriter."
Perhaps the key feature in Mercuriadis' pitch is in bringing his company to market so investors in the U.K. (and eventually the U.S.) can invest in Hipgnosis' catalog as one would stocks or assets. "The income from these songs is very predictable and very reliable and those are the same reasons why you invest in things like gold and oil," says Mercuriadis. "But, in fact, music is better than gold and oil because when something crazy happens in the marketplace, or Donald Trump does something stupid or Boris Johnson does something stupid, the price of gold and oil are affected. Great songs are always being consumed."
One of the big risks Mercuriadis and his team are taking is in treating artists like the Chainsmokers and Ed Sheeran as this generation's answer to classic artists from prior eras. Sure, many of the newer artists Hipgnosis has purchased songs from have a dominant presence in modern music, but will these songs appreciate in value, or, at the very least, stay the same? A lot of Hipgnosis' early purchases focused on legacy catalogs, as there will always be demand for Wu-Tang songs in commercial and artistic settings, but can we forecast the power of "Closer" 10 years down the line? Is "Shape of You" truly canonical? Only time will tell, but skeptics have been quick to point this out.
One of the biggest acquisitions Hipgnosis recently made was the purchase of Big Deal Music, a publishing firm repping artists like My Morning Jacket, St. Vincent, Teddy Geiger, and more. This deal brought many younger artists into the company's grips, and Big Music has been renamed the Hipgnosis Songs Group. Mercuriadis set his sights on Big Deal Music for a few reasons. "The core to our thesis is that streaming is blowing up the pie and that's a real reason for buying into these assets right now. People have access to music and to consume music in a way that's really meaningful. Big Deal was operating as a traditional publishing company, but I'm now changing the face of it. It will become a song management company as well as a song creation company. I want to replace the concept of publishing with song management. I think publishing is a broken model and, quite frankly, I should say, I want to obliterate it, I don't want it to exist anymore."
One big problem with investing in newer artists is a trend where tracks are now often created using seven or eight songwriters. In mainstream rap, pop, and rock, credits can be levied to a number of different people, which makes the rights retained by a group like Hipgnosis less significant than if an individual writer was the sole contributor to his or her track. But, because of Mercuriadis' artist-centric perspective, whatever makes the song stronger (and, it must be said, the most money) is worth it. "If success in 2020 means that you've got 20% of a song instead of having 50% of a song, that's okay, as long as it's an amazing song and it allows you to continue to go into the right rooms on a daily basis and work with the right artists and have success."
Of course, the idea of a hot new song management company with a catalog worth nearly one billion dollars is going to get caught up in Kanye West's unending controversy. West is now working with Mercuriadis in some capacity, although the scope of their relationship is still unclear. Merck's outsized personality, his company's loud purchasing power, and its intense focus on disruption could skew the spotlight away from the artists they're supposed to be empowering first and foremost. But Merck's position is one, in his opinion, of leverage. He can get artists seats at tables they may not be able to get on their own. In the case of bigger artists, he's lending them care and thoughtfulness that they may not have received at bloated publishing houses. In addition to the main motive of making money for everyone involved, Merck explains that the fund's ulterior motive "is to change where the songwriter and artist and the producer sit in the economic equation and to make it a better world for them and to use our leverage for that." It's exactly what Kanye is fighting for.
The path for Hipgnosis is clear. Keep buying, keep proving industry power, and keep investing. Though much of their staff is already located in the states, in the next 18 months or so Merck aims to focus his companies ambitions towards the American market. Mercuriadis began in the UK because the culture is bent towards music discovery, with BBC Radio 1 focusing entirely on new music. Here, discovery is done almost exclusively through streaming, in a very passive way. Mercuriadis wanted to capture the more fervorous, rapturous consumption of music across the pond before marketing his company in the United States. "Our agenda is to put the artist, the producer, and the songwriter at the forefront of everyone's cortex," Merck says. "We want to use the leverage of our financial wherewithal and our great songs to change where the songwriter and the artist sit in the economic equation. That's a very important part of what we're doing."