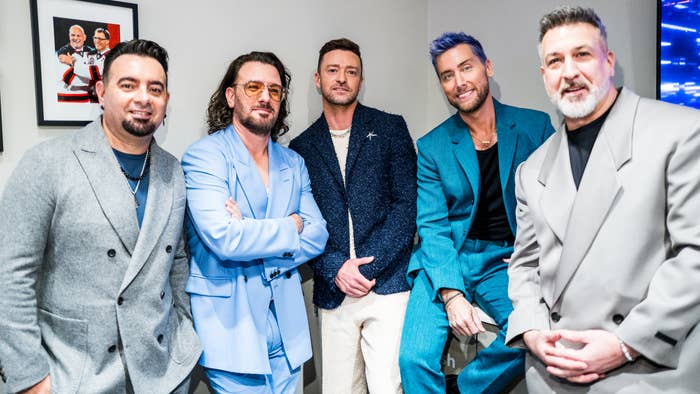 The first new *NSYNC single in 21 years has arrived, and it's all thanks to a Trolls sequel.
Titled "Better Place," the Trolls Band Together soundtrack cut sees Justin Timberlake sharing production duties with Shellback, whose other credits include Taylor Swift and Muse. Those fond of the beloved boy band's 90s and 00s string of megahits will find plenty to like in the new song, which marks the group's first single since their Nelly-featuring "Girlfriend" remix in 2002.
The song arrives at a particularly shrewd time, as the presence of Y2K and Y2K-adjacent pop culture remains a constant force in 2023. While some have gone the full-fledged nostalgia route, others have balanced out the "Remember when?" of it all by rolling out new music.
The classic lineup of blink-182, for example, recently shared the movingly self-referential video for "One More Time," the title track to their upcoming new album. In the song's official video, directed by Carlos López Estrada, familiar backdrops and settings from across the punk trio's history are shown. Among them is the tarmac from their 1999 hit "All the Small Things," the original video for which playfully poked fun at *NSYNC and other ubiquitous boy bands of the TRL era.
For now, it's not clear whether *NSYNC will parlay their reunion into a new studio album. Celebrity, their most recent album together and long believed to be their final outing, arrived back in 2001.
In the meantime, catch the group's memorable recent appearance on Hot Ones below.