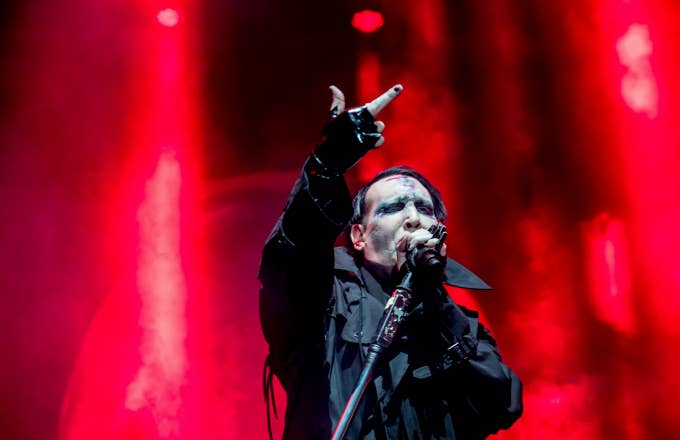 Squirrels aren't going to like this one. Marilyn Manson, whose new album Heaven Upside Down just earned him his seventh top 10 Billboard debut in a row, has likened the mind of bro-y texter Justin Bieber to that of a squirrel.
"Well, [Bieber]'s in some sort of sexual religious cult with the Asian version of Dave Navarro, apparently," Manson told radio host Cindy Scull in a new NME-spotted interview, conducted after the recent stage mishap that resulted in the rescheduling of a batch of tour dates. "The guy doesn't wear a shirt. I don't know, exactly. But, um, no. I don't like to fight with girls, so I don't wanna fight Justin Bieber."
Thus far, squirrels would likely have no issue with Manson's assessment of Bieberism. But there's more. When asked to guess what, exactly, was going through Bieber's head when he decided to co-opt Manson imagery for a T-shirt, Manson revealed he had no clue how to predict the inner workings of such a mind. "I don't know, because I don't know how to use the mind of a squirrel, so I'm not really sure exactly what he's thinking," Manson said, adding that he appreciated the host's understanding of his quest to maintain the "integrity" of rock music. Peep the full interview above. The Bieber topic is broached around the 4:12 mark.
The squirrel brain comparison comes less than a month after Manson took to the airwaves to read Bieber's very bro-y apology text and to categorize the feud as "fake," blaming its persistence on headlines.
Manson is currently recovering at home in Los Angeles with "10 pins and a plate" in his ankle after a pair of giant prop pistols toppled onto him during his Sept. 30 show at Hammerstein Ballroom in New York City. The majority of Manson's U.S. dates have been rescheduled for January and February of next year. Manson is also set to start work soon with collaborator Tyler Bates on Lil Uzi Vert's forthcoming "freestyle rock" album.
Reps for squirrels did not immediately respond to Complex's request for comment.