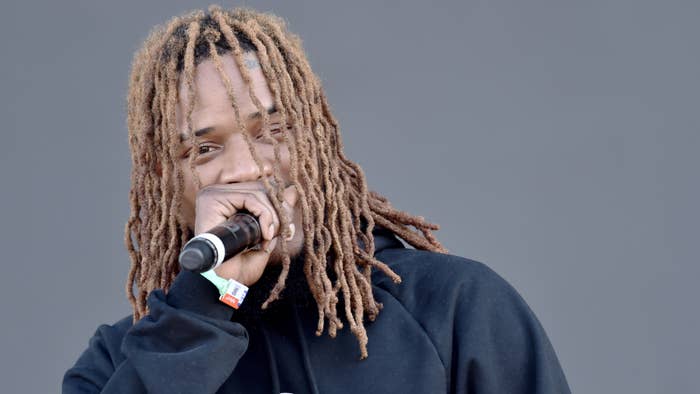 UPDATED 10/29, 3:12 p.m. ET: A plea of not guilty was entered on Fetty Wap's behalf on Friday afternoon. Fetty Wap also confirmed that he signed a waiver for his right to a speedy trial, which counts for the time between Oct. 29 and the next hearing. For now, he will remain locked up. Another hearing is expected on Nov. 24.
See original story below.
Fetty Wap, who was among the artists set to perform at Rolling Loud in New York on Thursday, was arrested at CitiField before being able to hit the stage for what was billed as a key moment for the "Trap Queen" artist.
TMZ, citing "law enforcement sources," reported early Friday that Fetty Wap was taken into custody by the FBI in New York on "federal drug charges." Additional details on those charges or other circumstances surrounding the arrest were not included in the report. 
A separate report from a regional ABC outlet, meanwhile, added that Fetty was expected to appear in court in Central Islip later Friday morning. That report also added that "six members of a drug distribution ring" were hit with charges connected with the alleged dealing of heroin and fentanyl during the festival.
Fetty was on the Thursday lineup for Rolling Loud, which also featured that day's headliner 50 Cent, as well as Lil Uzi Vert and Gunna.
Complex has reached out to a rep for Fetty Wap for comment, as well as to his attorney. A law enforcement source confirmed to Complex that the FBI detained Fetty at CitiField "in connection with federal drug charges." The source also said he will be arraigned at some point on Friday morning.
Wap's attorney Navarro Gray, meanwhile, told TMZ, "We pray that this is all a big misunderstanding. He sees the judge today. Hoping he gets released so we can clear things up expeditiously." The outlet adds that a Rolling Loud rep said they were not previously aware of any issues between Fetty and the law.
An indictment unsealed on Friday and viewed by Complex states that Fetty Wap—as well as several others, including a New Jersey correction officer—had been charged with conspiring to distribute and possess controlled substances. 
"The fact that we arrested a chart-topping rap artist and a corrections officer as part of the conspiracy illustrates just how vile the drug trade has become," FBI Assistant Director-in-Charge Michael J. Driscoll said.
The operation is alleged to have been a "multimillion-dollar bicoastal drug distribution organization," with Suffolk County pinpointed as the home base. During the investigation into the alleged operation that's said to have started in 2019, per a statement released Friday, search warrants resulted in the recovery of an estimated $1.5 million in cash. Also recovered was 16 kilograms of cocaine, 2 kilograms of heroin, numerous fentanyl pills, two 9mm handguns, a rifle, a .45 caliber pistol, a .40 caliber pistol, and ammunition. 
Also named in the indictment are Anthony Cyntje (a New Jersey correction officer), Anthony Leonardi, Robert Leonardi, Brian Sullivan, and Kavaughn Wiggins. If convicted on the charges, defendants face a maximum of life imprisonment.  
Earlier this month, Fetty Wap returned to the spotlight once more with the release of his The Butterfly Effect mixtape featuring the track "The Truth." Back in 2019, breakout hit "Trap Queen" was certified diamond—i.e. 10 million certified units—by the RIAA. In June of this year, Fetty reflected on the legacy of his once-ubiquitous single and connected it to the rise of the SoundCloud era.