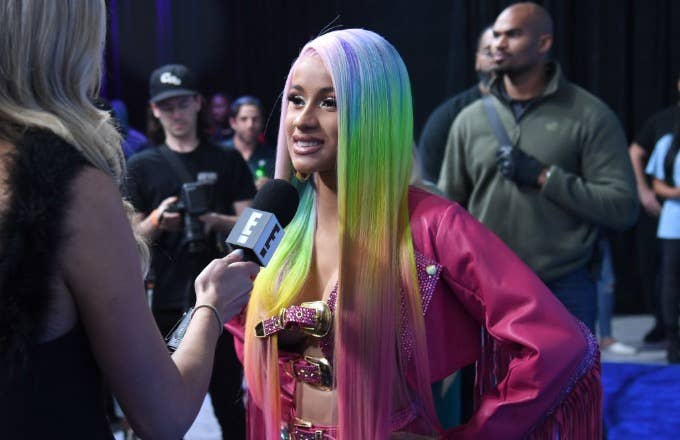 There's something uniquely perplexing about the kind of person who thinks artists should forfeit their right to speak out against injustices just because they're artists, not to mention the fact that there's no such thing as not being political. After all, even taking an apolitical stance on an issue is a political act of sorts. Thankfully, we have educators like Cardi B's former history teacher Joan Hill pointing this out to the public.
Hill, who taught Cardi history at the Renaissance High School for Musical Theatre and the Arts in New York, recently shared a special message for "those of you on my feed who are trashing Cardi B for representing a political voice." The educator, previously shouted out by Cardi in an interview with CBS News last year, asked detractors what they have done to "advance political discourse" and praised her former student for using her platform to speak on these issues. "STFU and take a seat," Hill said.
This year alone, Cardi has shared some wise and passionate words on issues ranging from a preposterous government shutdown that was Trump's fault to the recent arrest of 21 Savage by the absolutely-should-be-abolished ICE. 
On Monday, a few hours after revisiting her viral "I will dog walk you" Tomi Lahren in response to a tasteless 21 Savage/immigration joke, Cardi elaborated further on the questionable circumstances surrounding the "A Lot" crafter's current situation.
"We will read and educate ourselves on this situation and we will take action!" Cardi wrote.