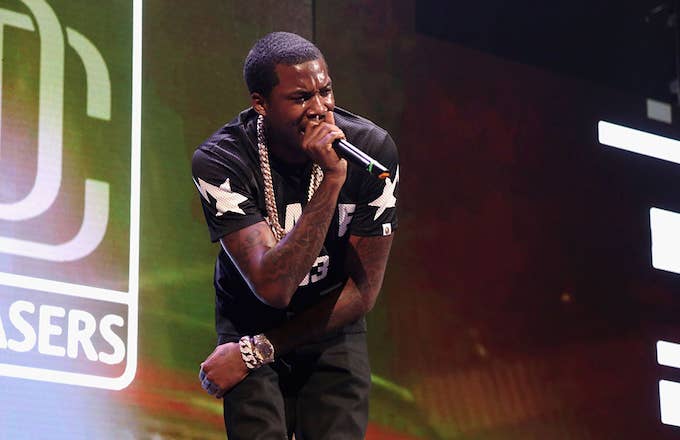 On Thursday, Meek Mill was arrested by NYC police and charged with reckless endangerment for riding his dirt bike in the city.
Meek's Instagram Live had recently broadcast footage of the rapper riding his bike while, according to one reporter, moving "in and out of traffic and popping wheelies in the street." Unfortunately for Meek, one of the viewers watching the feed was the NYPD.
After seeing the footage, the police caught up with Meek and took him into custody. The rapper shared footage of that encounter also on his IG.
In that video, police ask Meek if he was "riding around on a motorcycle yesterday." "I got video of you," one officer says. "They say it's 'cause he was riding a dirt bike yesterday," one of Meek's friends can be heard saying.
Complex spoke to the NYPD Public Information Office, who confirmed the story. 
"He was arrested for an open complaint on reckless endangerment," a spokesperson said. "Apparently he was seen on social media driving recklessly on a dirt bike. Police encountered him today and arrested him. He's already been removed to Central Booking, and he'll be going to court now."