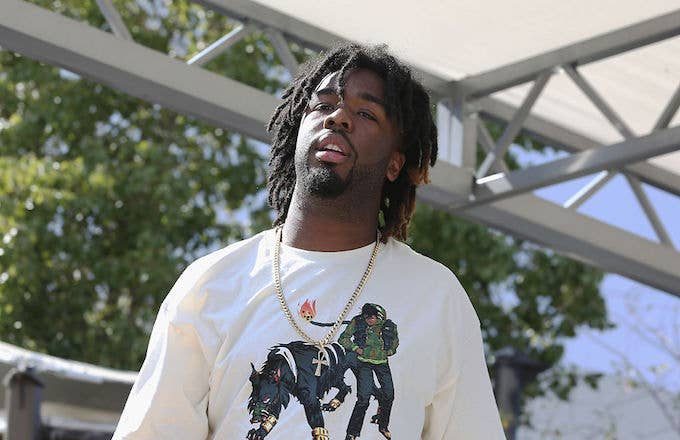 Rapper Iamsu! and his HBK Gang affiliate Jay Ant were accused of rape in an anonymous letter that began circulating on Thursday.
The letter, which you can read here, says the alleged assault took place in Las Vegas during the 2013 MAGIC fashion trade show.  The author claims she had known Jay Ant since middle school, and that Iamsu! was friends with her cousins.
It was those relationships that led her to end up in the bathroom of a hotel room with about a dozen other people. While the assembled crew was smoking weed and having a good time, the woman said, "In front of everyone [Iamsu!] had pulled off my tube top, pulled down my pants and pushed me in the shower where he tried to corner me." 
As she attempted to escape, she says, the rapper threw her on the bed, pulled down her pants, and sexually assaulted her. She claims other people, including Jay Ant, joined in. 
"I just blacked out. I remember waking up randomly and seeing different things happening to me. At one point I woke up and Jay Ant had my lifeless body laid over the bed, violating me in front of a group of men," she wrote. 
The following morning, she continued, her friend told her that she "overheard Jay and Su freaking out saying that they felt they raped you."
The woman said that she confronted Iamsu! about the assault two years later. In her account, he laughed it off, saying, "Do you know how many girls have said I raped them?"
In a statement to the Fader, Jay Ant denied the woman's story.
"I don't quite understand how masculinity can be taken advantage of so easily, false accusations like these seem to happen to men way more than ever in 2017, and when it does, the 'social media' audience seems to not really want to give the man an opportunity to defend himself properly. I hope to be able to harness this situation up for young men and women to learn from and spread awareness on how to prevent these type of things from happening to them, also if you believe any of these accusations against me, you don't know me, and if one does not know me, it's impossible have an informed opinion about this situation. With that said, I've never had any kind of sexual interaction with her. I've never had sex with her PERIOD. However, I am praying for her."
Iamsu! emailed a response to them as well. He called the woman's statement "defamatory, slanderous, and downright evil" and said the woman had been "notified by certified mail" to remove her statement. He also promoted his new mixtape: