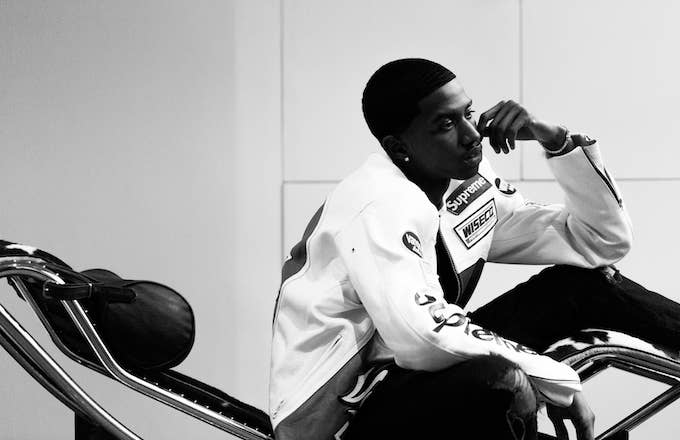 Christian Combs, who makes music under the name King Combs, has some pretty big shoes to fill for a 19-year-old. The artist is not only newly signed to Bad Boy, he also happens to be the son of its founder, Sean "Puff Daddy" Combs. 
Being Puffy's son comes with its share of both advantages and challenges, as you might imagine. Christian has done his best to ignore all the noise that comes with being his father's son. His music, both solo and with his crew CYN, has some of his father's style, but with his own energy and voice—in no small part inspired by his close relationships with a new generation of New York rappers, most notably ASAP Mob. Combs' latest single, "Feeling Savage," features Mob protégé Spooky Margielaa.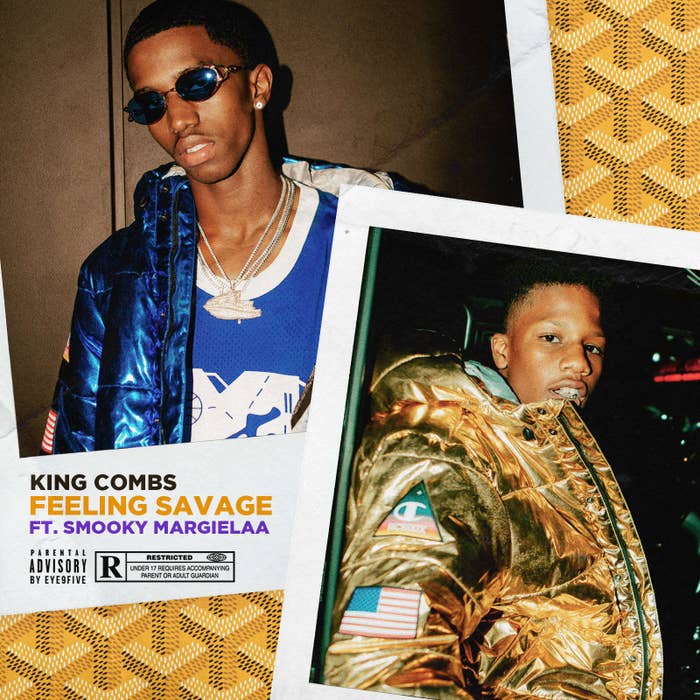 Christian has also followed his father's example of moving from music into fashion. The younger Combs has been modeling, most recently for Dolce & Gabbana's Spring/Summer 2018 campaign.
I caught up with Combs via email to ask about music, modeling, and, most importantly, how that crazy video of him and his brother dancing to Kid Pat came to be.
I saw the video of you dancing to the Kid Pat song. How did you find that track?
Kid Pat is a family friend and his music has been playing at the house. My brother and I were just feeling that track, and dancing has been a big influence since we were young. Like my brother Justin says, "If you can't dance you ain't really wavy."  
What do you think about the current wave of young NYC rappers? What's your relationship with them?
All of us are out here just doing our thing and representing NYC's culture and style. I have a variety of relationships with NYC talent through just the music, and my family's connection. We are just supporting one of another to represent NYC as best as we can musically. I am really close with ASAP Mob, Jim Jones, Fab, and most of the artists from NYC across the board.   
Your latest song "Feeling Savage" is with Smooky Margielaa. How did you hook up with him? What was it like recording the song?
Spooky and I met about a year ago at Quad Studios in NYC through some friends. We both immediately connected through music. Soon after, just recently, he was in L.A. and I met with them in the studio. He played me the beat for "Feeling Savage."
He immediately got into the booth and recorded (he's pretty quick with it); I did my thing and we put the song together in one night. I am a fan of his work and style in the booth, and I was just so impressed that he has that fire at 15. Our delivery styles are different but complement each other and bring that NYC essence.   
What's your relationship like with the ASAP Mob?
ASAP Mob is my family. They've been very supportive of my career. Recently, I performed at ASAP Mob's celebration of G-Shock's 35th Anniversary and they brought me on stage for the Spotify event with Dipset. We are out here truly looking out for one another. Harlem is united!  
What's going on with CYN? What are your goals for that group?
I'm proud of where CYN is right now. We are all working on our own projects individually for 2018 releases. But, we have some hot tracks together to be released as well. Each of us is trying to show the world our individual styles and the unity we also have as a CYN family. Although, we are young, CYN came about 10 years ago and all of us grew up together and represent different creative elements, not just music.  
I saw in your "Paid in Full" video that you met up with Dapper Dan. Can you talk a bit about how he inspires you, and what it was like to meet him?
Oh man!  Growing up I knew all about his fashion history and the looks he had create within Hip-Hop. Dapper Dan is a risk taker in every sense, which I admire. I reached out to him and shared my desire to have a piece made for the video that was taking place in Harlem. He had me send him the song and immediately liked it, and wanted to be part of the video. He represents Harlem and black excellence, so having him be part of "Paid in Full" was honor. I'm a big fan of [his] history and legacy.  
You did some modeling this fall for Dolce & Gabbana. Do you have plans to continue that?
Recently, I worked with some fashion houses including D&G. Actually, D&G's Spring/Summer 2018, shot by the The Morelli Brothers, was released today. I am excited about that and being part of it.   Some of the upcoming opportunities will feature my music into their concepts. And, we have some other opportunities coming up this year. Just stay tuned!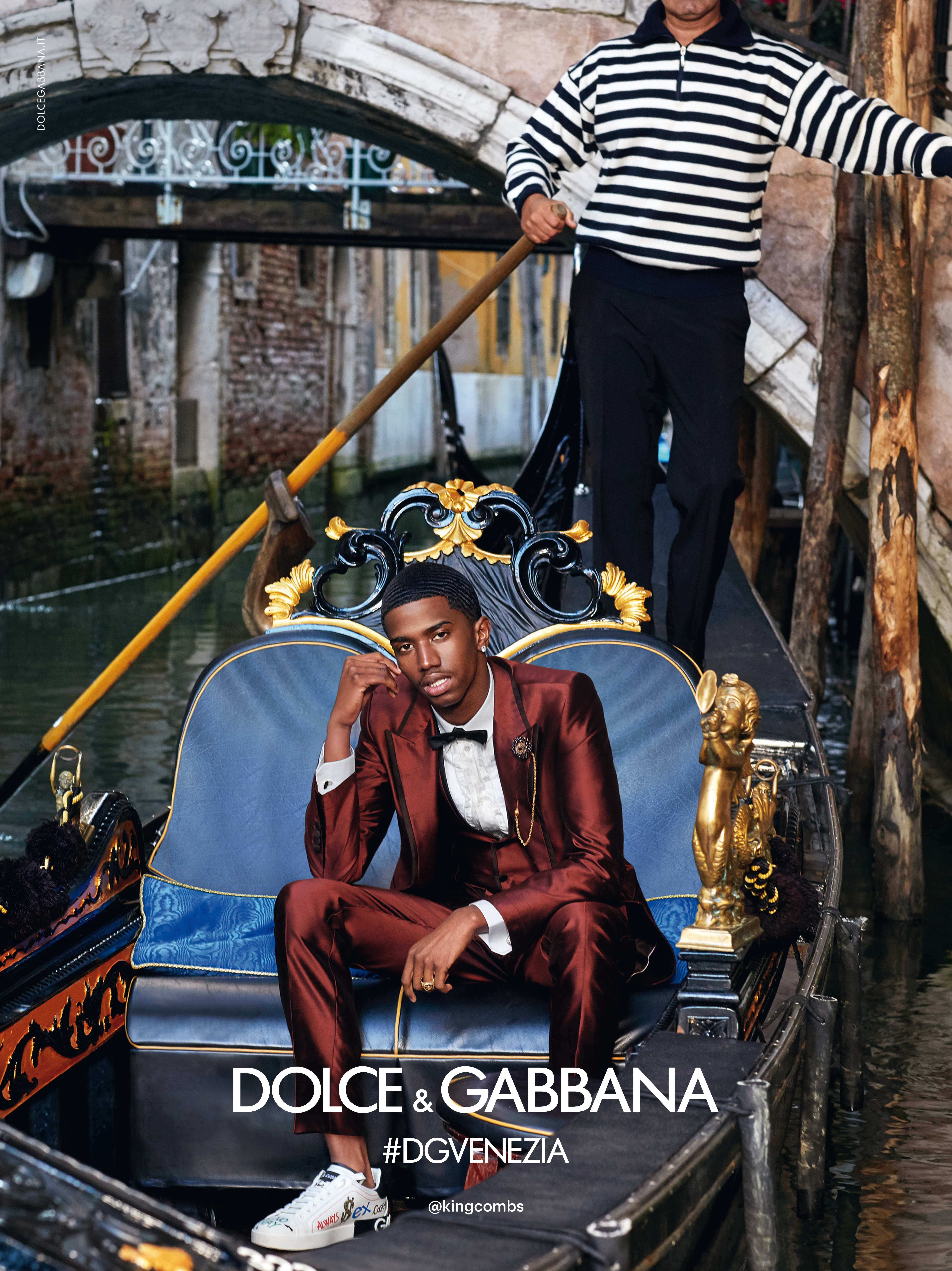 Who are your style influences?
Of course, my pops as he's done it well by combining music and fashion for the culture. I'm truly influenced by the '90s and both fashion styles in the East Coast and West Coast. I incorporate both street-style influences into my own look.  
What connection do you feel to Golden Age hip-hop—the late 1980s and early '90s?
My connection with this era is that they were expressive through their lyrics and fashion.  But overall, they set new trends to contribute into our culture. I personally listen to all of the '90s hip-hop such as Biggie, Snoop, Nas, Tupac, etc. Their authentic styles inspire me to stay in my own lane within a market that is doing a lot of infused music, although I celebrate it and contribute.  
When can we expect a solo album from you? What will it sound like?
2018 is the year to release my album. Within the next few weeks to a month, we will be releasing some material.  I've been working on my album for a year and can't wait for the world to hear.  
What did it mean to you to sign to Bad Boy in 2016? Did you ever consider not joining the label?
Honestly, signing to Bad Boy happened organically. Being part of Bad Boy is continuing the legacy and bringing the new sound.  
In what ways is being your father's son helpful to your music career, and in what ways is it difficult?
My family's history in the music industry helps and its instrumental. But, as a new artist, I'm going through the process of placing my style and sound in the music landscape. Also, the music lover is more diverse in their taste, so things have changed from back then. I am working on finding my way to continue my family's legacy.  
Your music and your rapping owes a heavy debt to your father's work. Do you see your music as a way to continue his legacy?
My father's work ethic, contribution to the culture and his legacy of accomplishments, are big shoes to fill. He inspires me to become the professional he has positioned himself to be. I will continue his legacy by creating a sound that fits my time and generation that will bring a new structure in the digital age of music.