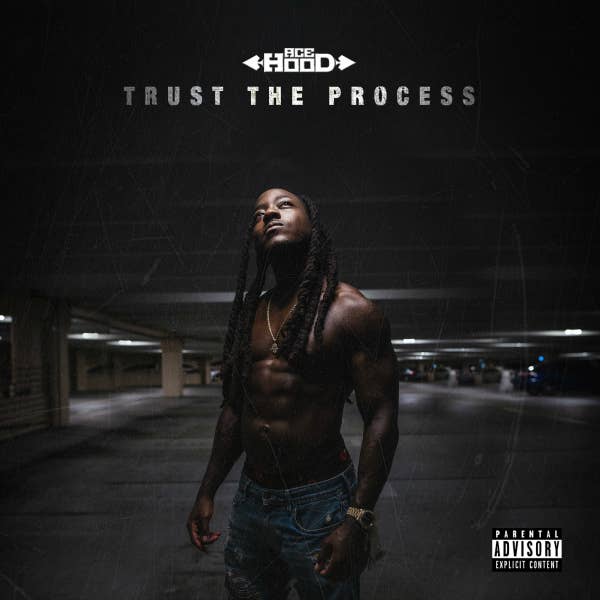 If you haven't heard the name Ace Hood in a while, there's a legitimate reason. The Florida rapper hasn't released an album since 2013's Trials and Tribulations (though he has kept his fans satisfied with a ton of mixtapes). During that time, he was working on gaining his independence, both artistically and business-wise. 
Ace came into the rap world on DJ Khaled's We the Best label, but after four albums in nearly as many years, he wanted to strike out on his own. It took a while (and an angry tweet or two), but it has finally happened.
Today, Ace Hood shares an early stream of his new mixtape Trust the Process, which serves as a precursor to a long-awaited new album early next year. The project is entirely produced by Foreign Teck of the Mekanics. You can stream Trust the Process below; the project will officially be out Aug. 21.
Complex also sat down with Ace to discuss the project, his relationship with Khaled, and what he learned by doing yoga.
This new project is part of a trilogy. Tell me about that.
It's just like a smaller piece to a larger puzzle, moreso. It's the beginning of a process. That's what Trust The Process is. It's just me trusting my situation, trusting my past and what I have been through up to this point, and continuing to trust the process. This will be one of the first releases to my ending release, which will be my album, in stores in about a year. I will drop a couple of projects in between.
It's been about four years since your last album Trials and Tribulations, though you've dropped a couple of mixtapes since then. Why the wait?
Business, just business. A lot of things that I went through on the business side and the personal side as well. I was just trying to figure out my label situation and what my future would look like in the music industry as an artist. So it was just me getting myself together, getting the music right, getting the message right, knowing what I wanted to do and what I wanted to say.
I want to take it back for a minute. Can you tell me what the 16, 17-year-old Ace Hood was like, and what the process was like hooking up with [his first label] Dollaz N Dealz and putting out your first track "Money Over Everything"?
That was exciting. Here [points to his arm] is a tattoo of Dollaz N Dealz. I keep everything, any label I've dealt with. [My tattoos] are my history, my lifeline. That was the first record from the label I was dealing with, "Money Over Everything." 
Back then I was Ace the Young Prince or Ace the Fresh Prince or whatever, before Ace Hood and all that other stuff. We would do a lot of collaborative projects, but "Money Over Everything" was my first official single where they were like, he can be a solo success and we can win with him. 
If you could talk to that 17-year-old who just put out 'Money Over Everything' and is starting to get big looks, what would you say?
Know the business. Know what it is that you want to do. Know that your voice should be the loudest any time you're doing anything, whether it's business or whatever it may be. You should look out for your best interests. That's what I would tell my younger self—just to be smart. I've always been a sponge so I would tell him to continue paying attention and studying and learning, but don't be so quiet about it. Speak about it. Speak up. Talk.
On the very first track on this project, you talk about leaving We the Best. You talk about Khaled. What have you not said about that? What are some things about your decision to leave that do not fit on the record?
It was just time for a new start. That's all it was. My mind was in a different place and I wanted something different for myself. I seen something larger for myself and I felt like I needed to remove myself from under the umbrella to accomplish that.
But we've been able to do great things. That's my brother and I love him and we still got a cordial relationship to this day. But just like any relationship, you're older now. You've been with women when you were younger and you're not with them anymore. Things happen in relationships—you break up at some point, but you keep pushing forward.
Did your dissatisfaction have anything to do with We the Best focusing so much on Khaled as an artist? Over the past three or four years, he's become such a big star.
Not even, man. I think he's entitled to focus on himself. I think that's what we should do, is focus on ourselves. We have to be happy. I'm a servant of God. I can't service him if I can't service myself. We have to look out for ourselves at some point, and that's what I chose to do. I don't knock him for what he's done or the decisions that he makes. I can only account for the decisions and mistakes that I make and what I choose to do moving forward.
There is a funny little moment at the end of "Life Goes On" where as a coda, you speed up the song for a minute. What was behind that?
I call that that Broward County finest. That's that Deerfield. That's our culture. Where we grew up at, we had fast music down there. All our music would be sped up and kids in the neighborhood would dance, and we would peanut butter jelly and wild out and do our thing. So that's just me representing my culture, really. I'm from Florida. I represent Florida, the whole state, not only Broward County. I want of piece of that to live in here. That's piece of authenticness that I had when I was a child dancing. It'll be great, I pictured visuals and all this other stuff.
Florida rap from the beginning was 120 or 130 bpm, way faster than most other rap.
We call it jook music. Where we from it's jook music.
That was what you grew up surrounded by?
Jook music, sticking and vibing and rolling. That's kind of like our thing, and I just wanted to highlight that on the record.
You end Trust the Process with a short interlude called "B.A.M.N." for "By Any Means Necessary." What does that phrase mean to you? Why the focus on that phrase to end your whole statement?
It sums up my life and it sums up the larger picture for me. I have a by any means necessary attitude in everything—whether it's fitness, whether it's waking up every day to be a better person, to be a better artist, to be a better father, I'm going to do this by any means necessary. We're gonna be great and create great music by any means necessary. That's my whole thing. I always have had that attitude of, "We need to figure something out? Let's figure it out. We need to do by any means necessary. We gonna get it done."