Surviving Astroworld With Megan Thee Stallion and Houston Rap Royalty
We survived Astroworld 2019 with a little help from Megan Thee Stallion, Bun B, Don Toliver, Slim Thug, Maxo Kream, Lil Keke, Paul Wall, and more.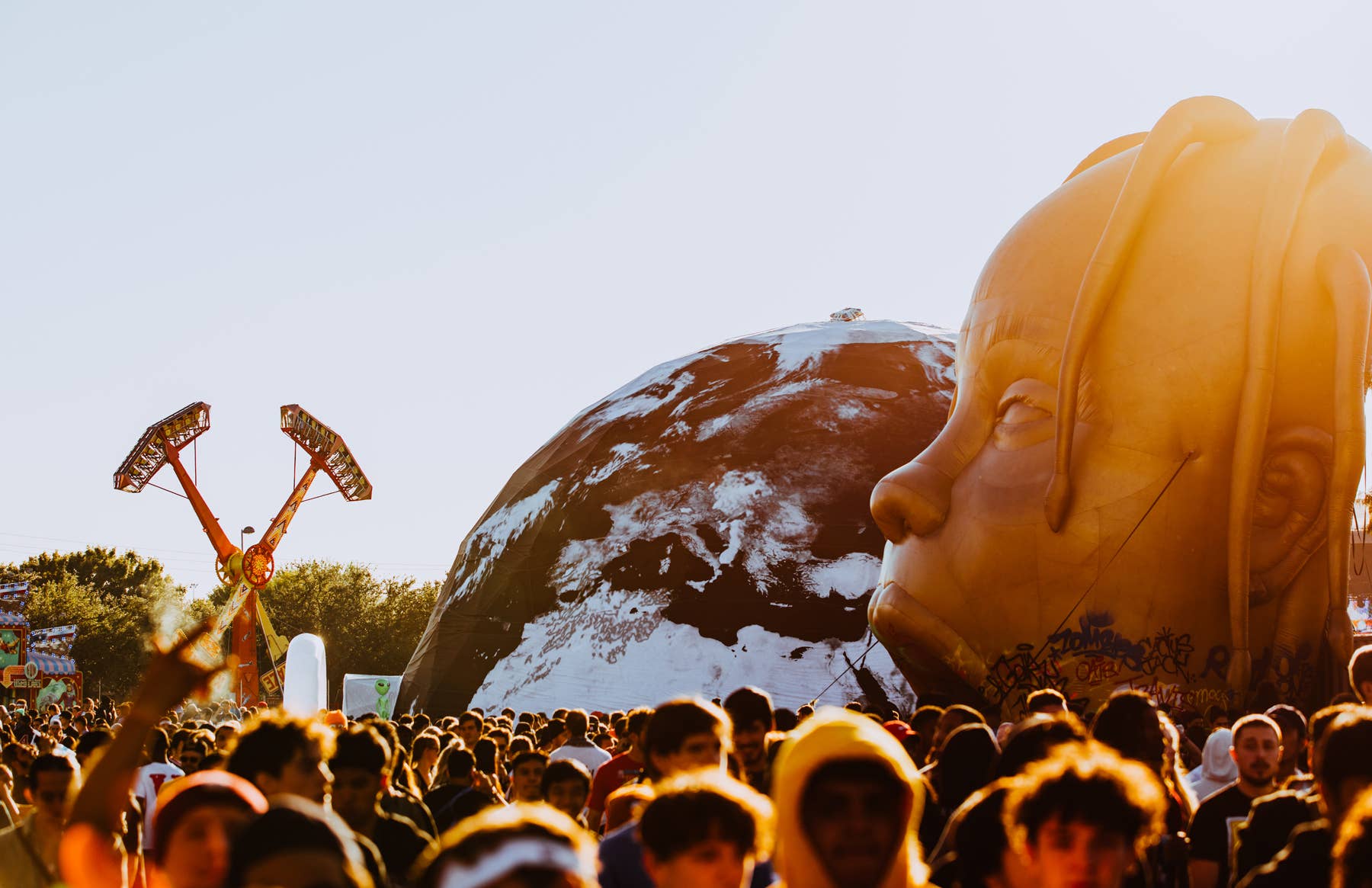 Publicist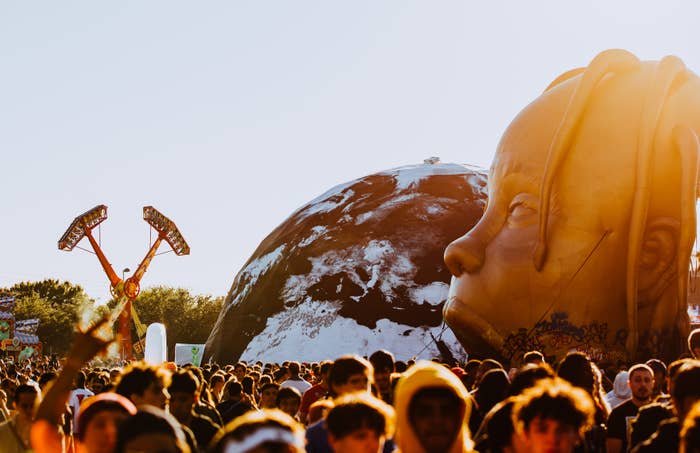 Heading into the second installment of Travis Scott's Astroworld Festival, I have only one mission in mind: challenging Megan Thee Stallion to a match of rock-paper-scissors. Why? Because Astroworld is a place where you can feel like a kid again.
The front entrance to the festival features Travis' inflatable Aladdin-esque head, which was modified this year to fit a Día de Muertos theme. The artist entrance has its own attractions. Paul Wall, Slim Thug, and their friends graciously donated their own slab cars to border the basketball court in the artist compound, and the star slab of the day belongs to a Houstonian named Cornbread aka Kandy Red Bread. It's a silky red slab with extended spoked elbow rims, featuring a popped-trunk, fifth-wheel neon display that reads, "THIS WHY YA HOE MI55IN," hugged by two styrofoam double-cups, and, if you look close, a collection of lace panties in the bed of the trunk. 
Noticing that I'm drooling on myself, Paul leans over and says, through a diamond-encrusted smile, "That's a legendary slab. It's the same model and color that [deceased Texas rap hero]Fat Pat used to drive." 
"Yup," Bread confirms. "1986 Lincoln Town Car."
In the future, Bread's slab will probably be in a museum, but for a day, it calls Astroworld home. The fact that Paul and Slim felt compelled to contribute cars from their own personal collections (and got their friends involved) says a lot about the reverence these legends have for the city's brightest young star. 
Walking the grounds this year, much of the layout feels similar to the inaugural 2018 version of the festival, with games and rides on the north side, food on the north east and south west sides, and vendors (like Screwed Up Records & Tapes) on the central and south sides. The giant inflatable Astro Dome makes its return near the center of the festival grounds, a short walk from both the Ferris Wheel and the original inflated head from last year. The dome trades last year's cosmic projections on its interior for lasers, having moved its pinball machines and arcade games to a more supervised location, because last year the ragers had, well, a bit of a rage, and broke some machines. A newcomer to the ride lineup this year is the Kamikaze, a double-armed pendulum ride, stationed near the small stage. 
Back at the artist compound, Megan is still nowhere to be found. While I wait, I talk to some of Houston's hometown rap heroes (billed on the festival as the "Houston All-Stars") about the sadness of the original theme park's closing in 2005. I discover that I'm not the only one feeling nostalgic, and it's clear that the memory of Astroworld's closing still stings.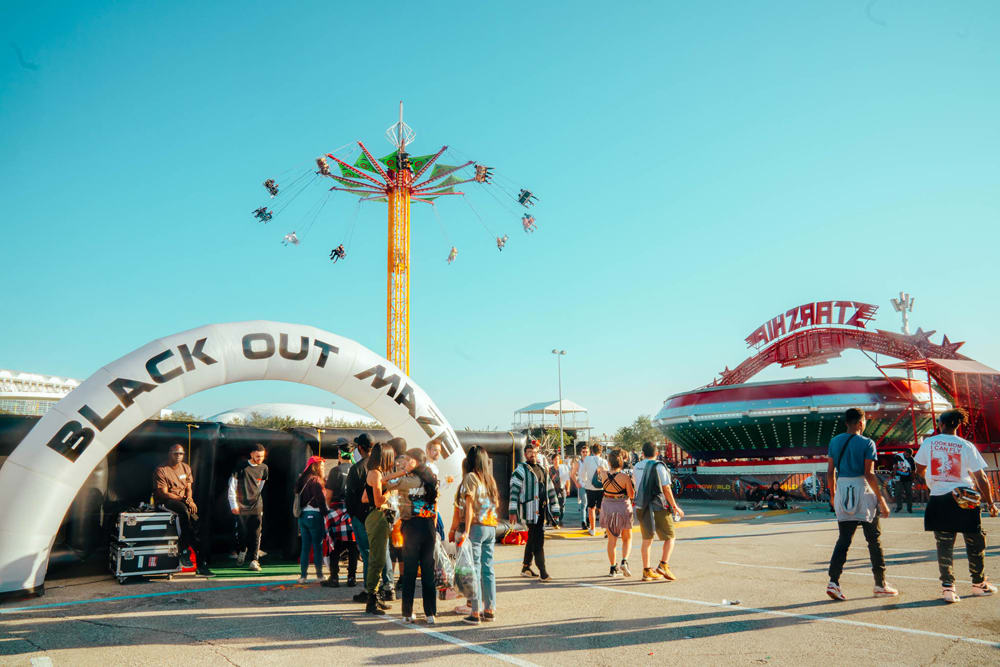 Next to Johnny Dang's custom jewelry tent, Lil' Keke is sitting next to me on a couch, memory-hopping. "I was happy that my kids had a chance to go," he says, hands clasped between his knees, "But we couldn't believe it when Astroworld closed down." 
I see something click in Keke's mind, as a memory bubbles up. "I grew up in the hood, man, we couldn't always afford a season pass," he confides. "So we used to sneak in. We used to sneak through the fence by Thunder River[Astroworld's splash rollercoaster, the world's first man-made whitewater rapids], go through the bottom of it, get in the park, stay all day, and then walk five or six miles back to the hood. Some of my most vivid childhood memories are at Astroworld."
Back by the basketball court, Maxo Kream and Don Toliver, representing the third and fourth wave of Houston rap, had just exchanged daps when I ask them to draw from their memory bank. 
"Boy, I had so many fights at Astroworld," Maxo wistfully reminisces, staring off into the cloudless, blue sky. "Pulled my first bitch at Astroworld, you feel me?"
Toliver, four years Maxo's junior, has a slightly different experience: "It was family time for me, I won't lie to you." 
"Right, I was older and more cliqued up," Maxo adds. "So it was more like: beat niggas up, pull hoes, and try not to go to jail." 
Maxo has an instant answer when asked about his favorite rides. "Greezed Lightnin'. It took you up, then you came back in reverse. I was short so I was scared of them hoes."
"That Dungeon Drop was a fool," replies Toliver, leaning on Maxo's shoulder. 
"By the time Astroworld closed down, I was full-fledged gang-banging," says Maxo, "But [Astroworld] was the shit. We went every summer, man. Travis putting this festival damn near in the same parking lot as the old Astroworld is a crazy feeling. It makes me feel young again."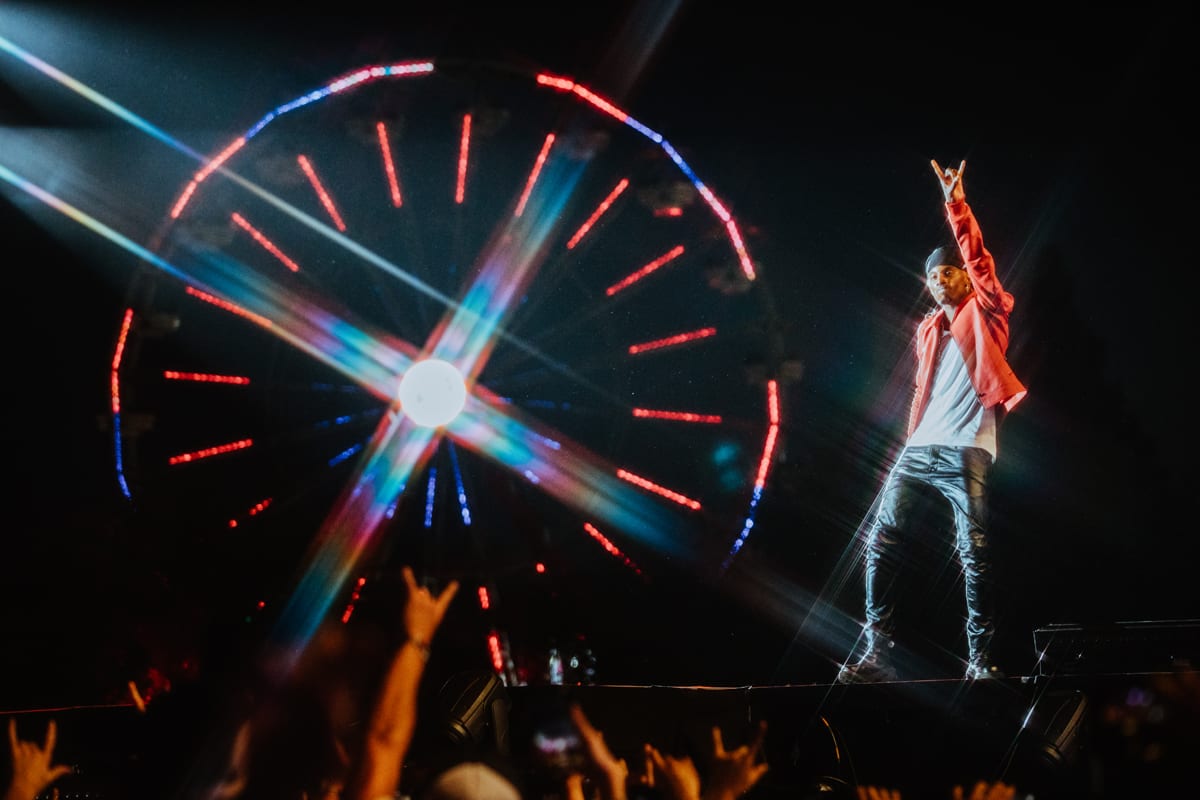 Posted up against his black 1975 Cadillac El Dorado convertible, with the horns of an actual Texas longhorn serving as a Texas-sized hood ornament (and flanked by Bun B, Trae tha Truth, Lil' Keke, and Paul Wall), Slim Thug is FaceTiming with fellow Houston rap legend Scarface, who is celebrating his birthday. Slim, who comes from the second generation of Houston rap success, has conflicting feelings about the theme park's closing. 
"Astroworld is like a piece of our childhood," Slim says. "We was definitely disappointed when it closed down. It felt like we were losing all those memories. But by that time, it was so hot outside in the summer, we weren't trying to go as much. Global warming is a muthafucka."
Knowing that Slim Thug believes in science makes me realize his seasonal bias is likely showing as he tells me, "It's amazing to see Astroworld back. I'm so proud of Travis. And as dope as this year is, I would love to see him build a permanent theme park. That would be inspiring." 
"talk to [Houston] mayor [Sylvester Turner] a lot, and he's been working very hard to bring another theme park back to Houston. If that happens, I think Travis should have his own zone in the park." - Bun B
A whistle rings out and Bun's manager, Bone, catches the eye of Paul's manager, Gu, from across the basketball court, raises his arm in the air and whips his wrist around in a circle. It's show time. As we mob to the stage, Bun offers up an image of his younger self. 
"If you grew up in Houston in the '70s and '80s, you came to Astroworld," Bun states with confidence. 
Bun is from Port Arthur, about 90 miles east of Houston, but he spent considerable time in the Space City as a kid. "I wasn't a big rollercoaster guy back then, so I remember getting on Greezed Lightnin' and fearing for my life incredibly," he says. "But Astroworld also had the amphitheater, so when they started having hip-hop shows, we would try to go catch one. I remember seeing Fresh Fest with Run DMC, Whodini, and the Fat Boys, basically everyone from Krush Groove." 
Years later, Bun's legendary duo, UGK, would sample Whodini on "It's Supposed To Bubble." So it might not be entirely far-fetched to say that Astroworld changed the course of rap history.
"It felt real bad when Astroworld closed down," Bun says, echoing Lil Keke's sentiments, as we climb the stairs up to the main stage. "Because you realized, 'Oh man, my kids aren't going to have Astroworld.' You knew you weren't going to be able to create those memories with your kids when you got older."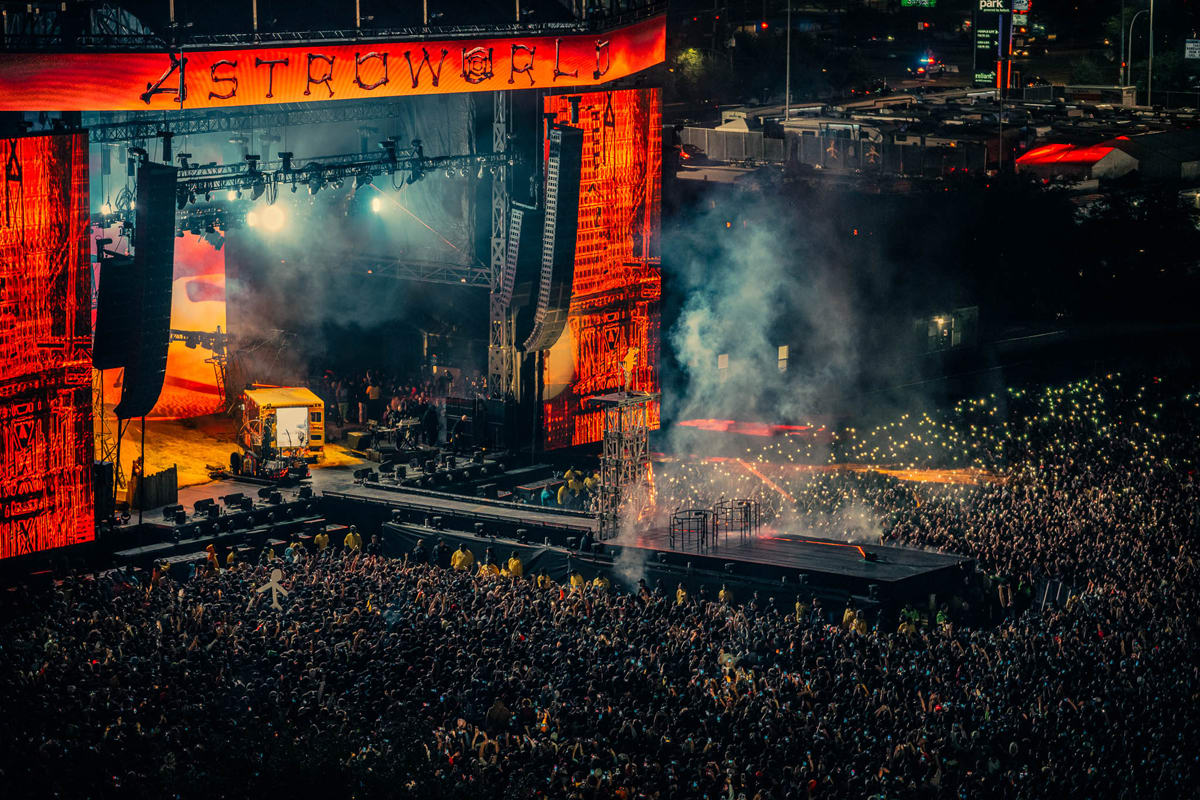 On the horizon from stage is NRG Stadium, where the Houston Texans play. And on the other side of NRG sits the Astrodome, which, once upon a time, sat directly across the 610 highway from Astroworld. "I talk to [Houston] mayor [Sylvester Turner] a lot, and he's been working very hard to bring another theme park back to Houston," Bun says. "If that happens, I think Travis should have his own zone in the park."
Imagine!
When I tell Bun that I wish there were roller coasters here at the festival, he agrees. "I've got a roller coaster guy. Tell Travis to call me." 
It's showtime. The Houston All-Stars take the stage, but I'm still on a mission, so I turn around and head back to the compound. My timing couldn't be more perfect. Megan has just arrived with her entourage, which includes her French Bulldog, Foe, in tow. This is it. This is my chance! After asking for a bit of her time, I'm allowed into her trailer where we take a seat under a window near the back. 
I was raised with manners, so I figure we should talk a little bit before I put the challenge in front of her. Turns out, Megan feels some type of way about the end of the original Astroworld, too. She's the same age as Don Toliver, so she never got to experience going to Astroworld without parental supervision.
"By the time I got old enough to fully understand what was going on, they took it away," Megan says (maybe even fighting back tears). "That crushed me. I was so sad." 
Megan laughs, "My daddy tricked me into riding Greezed Lightnin' and it really pissed me off. I didn't know it was gonna go backwards!" [If you're keeping score, that makes three Houston rappers—Bun B, Maxo Kream, and Megan—who were afraid of Greezed Lightnin.'] 
"My daddy tricked me into riding Greezed Lightnin' and it really pissed me off. I didn't know it was gonna go backwards!
"That was around the time, second grade, when I discovered Khia's 'My Neck, My Back,'" Megan adds. "I remember that song very vividly. I remember they used to have the CD stores, and I didn't know the radio version was different from the CD version, so I remember hearing it at the CD store and being like, [gasp] 'Mamaaa! Listen to what she really sayin'!'"
For Megan, Astroworld Festival is about redemption. "I think it's really cool that Travis brought it back, especially for people who never got to experience it the first time," she says. "I wanna ride some rides. I ain't been on a rollercoaster in forever."
I look at Megan. Megan looks at me. And that's when I say it. "Meg, will you play me in rock-paper-scissors?" To which she replies, "Absolutely." 
We agreed to a standard set of rules: best out of three, and of course we were playing one-two-three-shoot. Do not, under any circumstances, shoot on "three."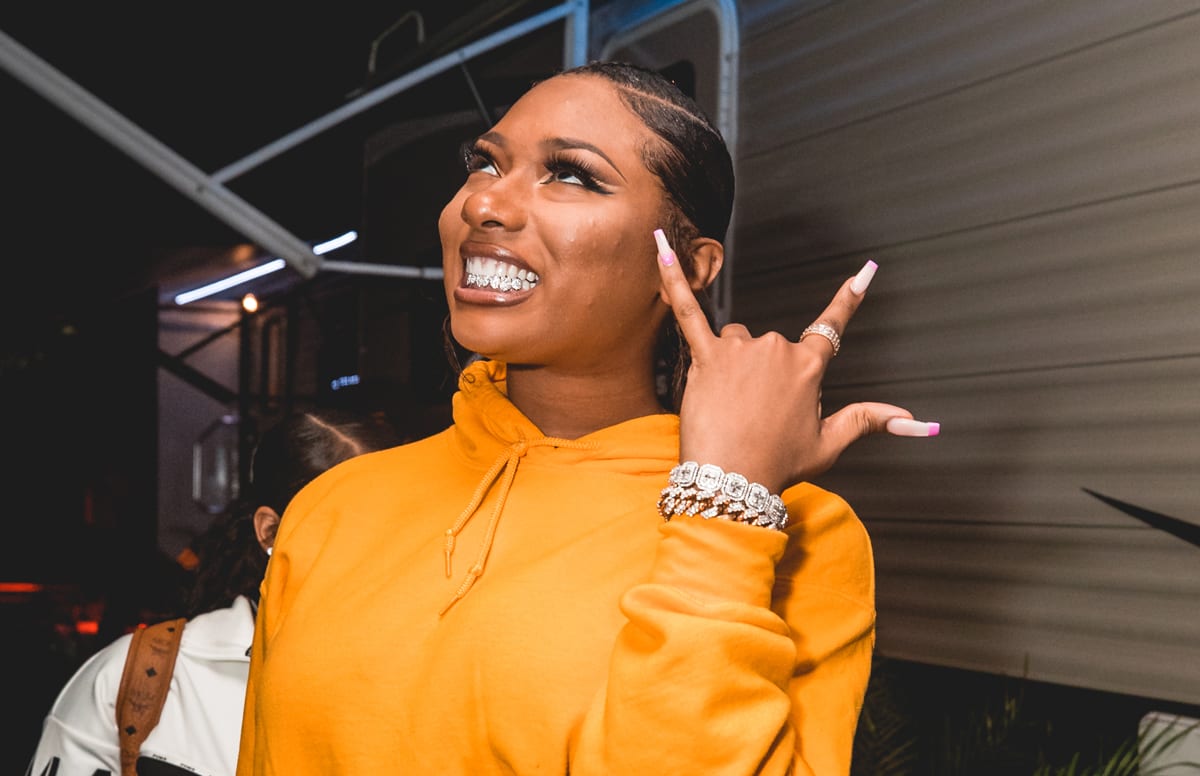 I roll up my sleeves and we're off. I try to maintain eye contact with Meg as an intimidation tactic, and it works. On the first shoot, we both throw scissors. Tie. But, on the second shoot, my paper beats her rock. I'm up 1-0. On the third, her paper beat my rock. 1-1. The eye contact isn't working anymore! Then we tie. Twice. The tension in the room is palpable, and the rest of the match plays out in slow-motion. As we pound our fists into our palms, I think to myself: "I don't wanna win this. Meg was nice and let me into her trailer and let me pet her dog. What kind of guest would I be if beat her on her own portable, air-conditioned turf?" But the thing about rock-paper-scissors is that, unless you're a cheater, the end result is ultimately, ironically, not in your hands. It's in the hands of fate, or a higher power, depending on what you believe. All I can do is close my eyes and let go. Everything goes dark and I exhale. When I open my eyes on "shoot," I see paper in my palm and rock in Meg's. We both jump up yell, "Damn!" 
I can't believe I beat Megan Thee Stallion at Rock-Paper-Scissors. Meg, I'm so sorry.
I leave Meg's trailer victorious, but not feeling great about it. I decide to head back out into the crowd to get ready for Travis' set. As I walk past the other artist trailers, I wonder how I would feel beating them. Pharrell: Bad. He's given us so many hits, and beating him would be disrespectful; DaBaby: Definitely scared. He can fight and I'm built like a coathanger; Rosalia: Also bad. You can't beat someone who just flew halfway around the world; Young Thug: Good. He would probably be sad about it, but then he would make a whole album out of that sadness and people would love that. 
Once I clear the trailers, I see a crowd gathering around Cornbread's slab. Crazy enough, the crowd isn't surrounding Texans quarterback Deshaun Watson, who is also in the cut. I can't accurately describe how iconic what I see next is. Posted up on the rear bumper of the slab is Cornbread and motherfucking Marilyn Manson. Never in my bespectacled life did I ever, ever think I would see Marilyn Manson throwing up the "H" while sitting on a slab. Astroworld Fest 2019 is better than 2018, if only for this one moment that will forever be frozen in my mind. I hope DJ Candlestick and OG Ron C are working on a chopped-not-slopped Manson tape as I type this.  
Back out in the crowd, we are all waiting for Travis to make his grand entrance when, from the darkened stage, saunters none other than Dave Chappelle, who tells the crowd that Travis Scott is: "A local legend. A young man who left the city with nothing, conquered the world, and brought it home for you." Chappelle adds: "Free Rodney Reed."
Dave Chappelle acknowledges what many of us must have been thinking about: Travis' leg injury at Rolling Loud. "Yet," he says, encouragingly, "the show must go on."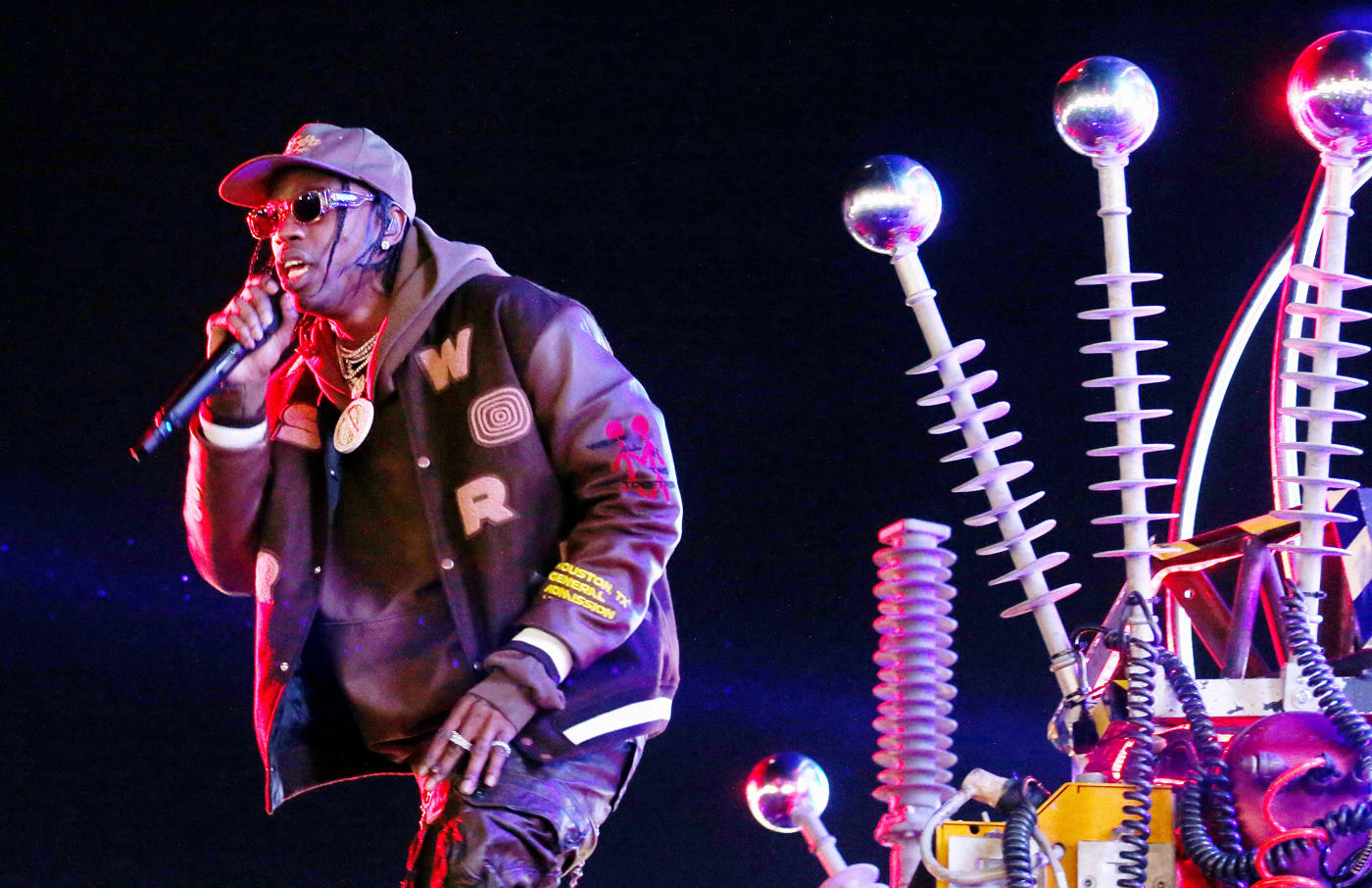 What happens next is on par with Michael Jordan's legendary flu game. After the jumbotrons play a dramatized video of medics attending to Travis' leg injury, an ambulance apparates onto the stage from the darkness, and Travis is rolled out onto the stage on top of a gurney. 
The gurney is affixed to a giant cherry picker with the reach of a crane, and Travis is hoisted high above the 50,000 person crowd. What he lacks in mobility, he makes up for in special guests. Roddy Ricch, Young Thug, Migos, Gunna, Kanye West (!), and Swae Lee, all turn up to support the temporarily handicapped Scott. 
When Kanye runs out onto the stage, he and Travis share a long embrace. Whatever Kanye's going through, he needs true friends now more than ever, and, for a moment, it seems like maybe Travis is one of those friends. 
Like MJ, Travis leaves it all on the stage. 
With the festival growing in size, and the unwavering support of the city's hip-hop legends, Astroworld seems like it has staying power, and it could even evolve into something that becomes successful without a performance from Travis. That would be the real power move.