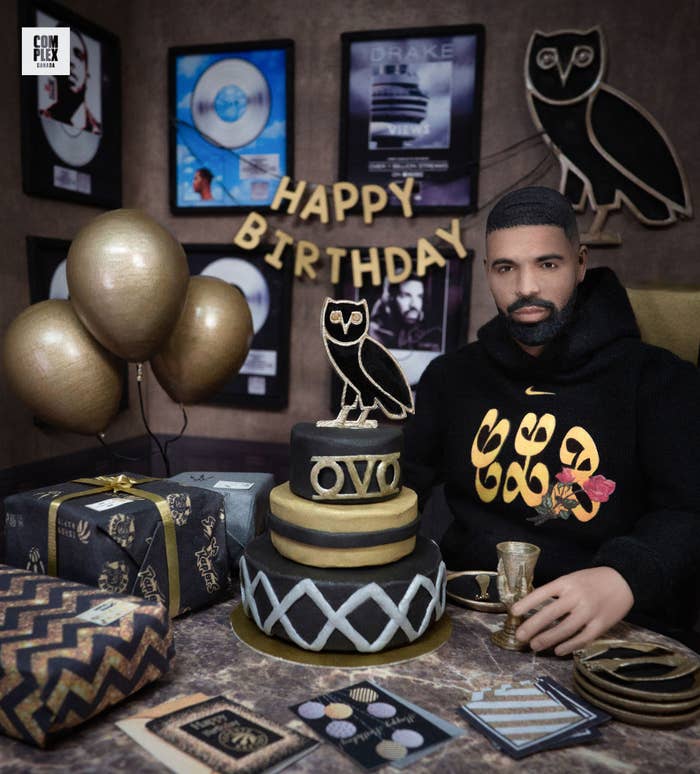 UPDATED 10/26, 11:00 a.m. ET: Drake rang in his birthday this year by announcing his highly anticipated next studio album, Certified Lover Boy, will be released this coming January, according to a video teaser posted on his Instagram. He also threw a party Friday night in Los Angeles, per Hollywood Life. Photos and video from the private affair made their way online, including one of what appears to be the food menu from the evening. People are having a field day with one menu option in particular: mac and cheese with raisins and capers. Weird flex, but OK?
See original story below.
Drake's birthday is October 24th—a bit of OVO trivia I'm particularly well aware of because it also happens to be my birthday. But while Drake and I may both be Scorpios, that's unfortunately where me and my birthday bro's similarities end. Because when it comes to birthdays, nobody parties like Drizzy, who somehow manages to find a way outdo himself every year. (See his 30th: when his party went so hard it made John Mayer quit drinking afterwards.)
To toast the 6 God's feast day, Complex Canada pulled a birthday flex of our own, recruiting Canadian toy photographer Duane Shoots Toys to immortalize Drizzy by crafting the above diorama. (Check out the time-lapse video showing how he made it, shot on the new iPhone 12.)
We'll have to wait and see how Aubrey Graham spends his COVID birthday, but if previous experience is any indicator, it's going to be suitably epic, pandemic or no pandemic. In the meantime, let's rank Drake's biggest, most bragworthy birthday flexes to date. 
Birthday: 25
It's not all that crazy to go to Vegas for your birthday; plenty of people do it every year. (Drake's done it twice himself.) But when he turned 25, Drake celebrated by partying til 4 a.m. at TAO, where he bought bottles and 200 shots for his fans. It's a flex, sure, but I have a feeling it's probably not even making it into The Boy's top 20 bar tabs of all-time.
9. The Time He Ordered McDonald's for the Entire Club
8. The Time He Rented Out the Times Square Dave and Busters
7. The Time He Sold Out the ACC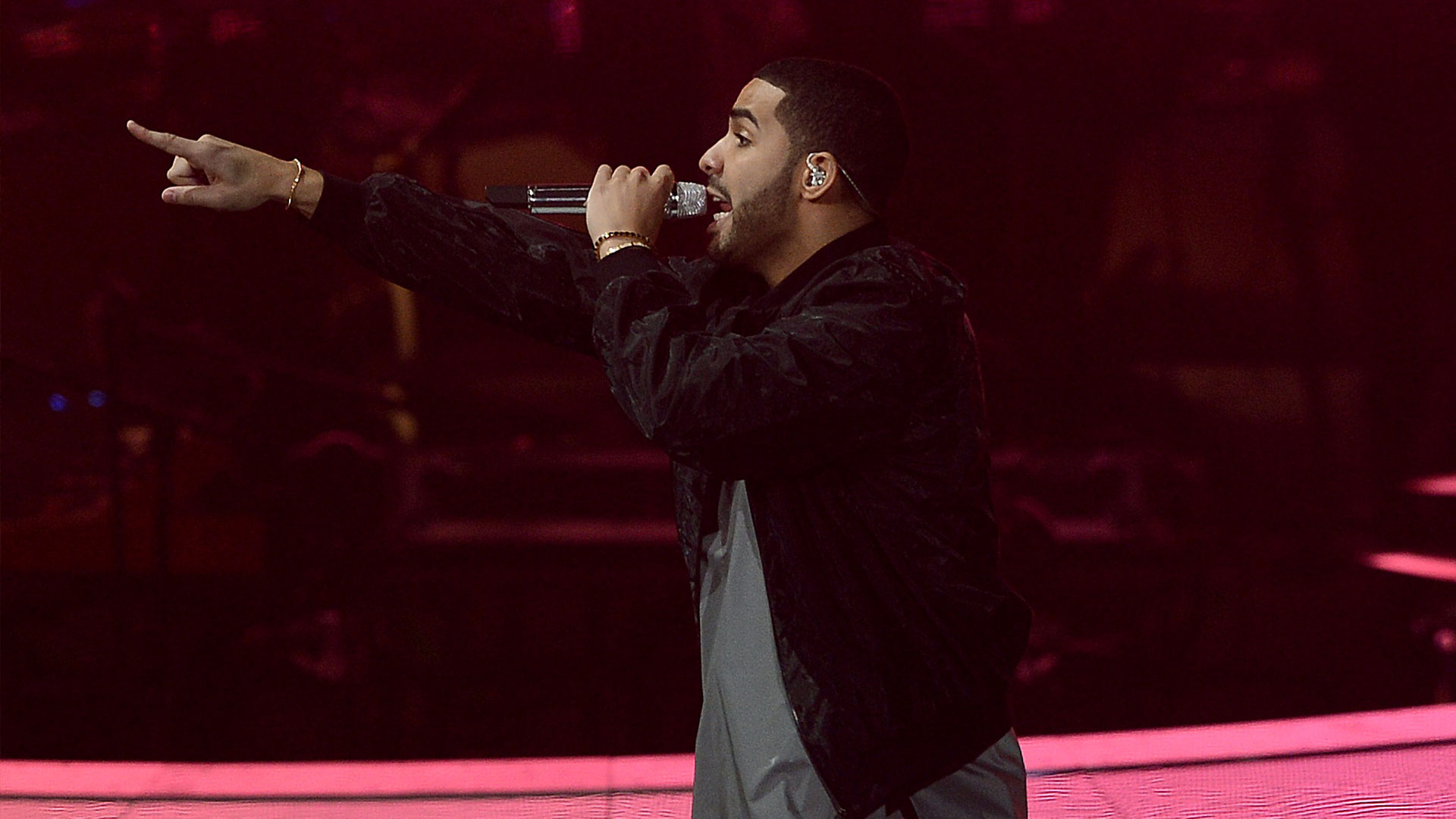 6. The Time He Got Taylor Swift and Katy Perry to Hang Out, and John Mayer to Quit Drinking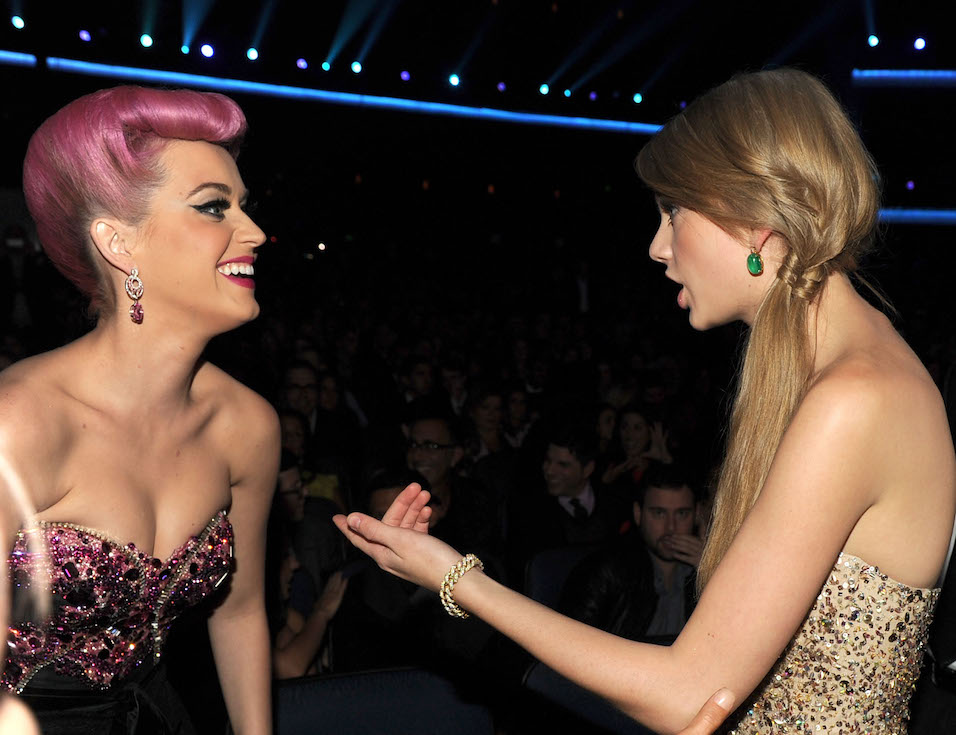 5. The Time He Had Birthday Dinner with the Raptors
4. The Time He Wore His Personalized Championship Ring
3. The Time He Thew Himself a "Re-Bar Mitzvah"
Birthday: 31
The Boy officially became The Man with this one. When Drake threw a special bar mitzvah-themed party for his 31st (it's 13 reversed, get it?), it had pretty much everything you'd expect to see at a real bar mitzvah: Solo cups with the birthday boy's name on it, custom pizza boxes, a basketball-themed photobooth, Dippin' Dots, plenty of baby photos, and, of course, a DJ playing copious Drake songs.
2. The Time He Threw a 2000s-Themed Party and Gave Out T-Shirts with His Face on Them
Birthday: 32
Drake's 2000s-themed party was extremely on point. He had a cake in the shape of a Motorola Timeport, a Blockbuster video wall, a full-on 7-Eleven complete with Slurpees and snacks, and two outfits: one inspired by Fabolous' "Trade It All" video and a Sean John velour tracksuit inspired by Diddy. (Oh, the party also had the real Diddy, too.)
But it was the party favours that were the real flex—we're talking a Chanel bag raffle, plus a wall full of custom Drake merch, in the form of a tee with his teenage face airbrushed on it, braces and all. Maybe he had them leftover from the previous year's re-bar mitzvah?
1. The Time He Threw Himself Two Star-Studded Parties
Birthday: 33
Weeknight birthdays aren't typically exciting affairs. You go out to dinner, maybe drinks if you're up for it, then that's pretty much it. Which is probably why, after partying with Rihanna earlier in the week, The Boy decided to throw himself a second party. (I'm not at all surprised that Drake's a birthday week guy.)
Party No. 2 featured a mob movie theme, a mugshot photobooth, and servers wearing DEA jackets, plus a guest list that included Adele, Snoop Dogg, Diddy, Kylie Jenner, Future, and Chris Brown. Which may sound like kind of a weird crew, but then again, birthday celebrations always bring unlikely crowds together. More life to you, Aub!