Libianca Takes The World!
Get to know more about the star behind the hit single, "People", and whose take on Afro-R&B is giving us life.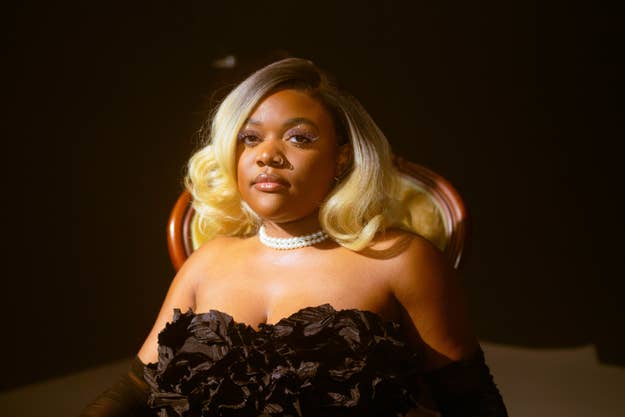 Image via Publicist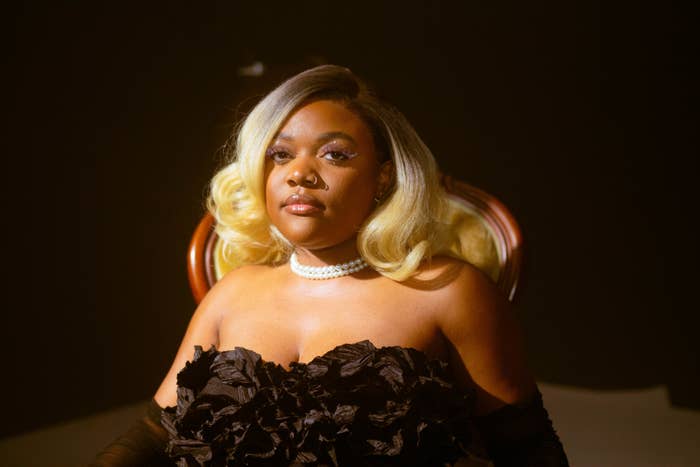 As much as social media has been criticised for perpetuating one-hit wonders with blink-and-you'll-miss-it flashes of virality that see streams decline as fast as their ascent, the sheer breadth and accessibility has allowed for unparalleled discovery of music and talent. Whilst many artists bemoan the added pressure from labels to cater to TikTok, in particular, for those in the beginning stages of their careers, the opportunity to share their music at the tap of a screen, paired with enough creativity to stand out from the algorithm, can be life-changing.
One artist who has defied the algorithmic odds through sheer emotional resonance, as well as savvy social media use, is Libianca Kenzonkinboum Fonji, commonly known as Libianca. The 22-year-old, Cameroonian-American singer/songwriter has been riding high on her deserved success after over a decade of honing her craft and building a career cross-continentally and beyond, from her parents taking her to perform at local Cameroonian community events on the weekend, to a stint as a contestant on The Voice USA back in 2021, making it to the Top 20 before elimination.
Breaking into consciousness with the song "People"—originally posted as a snippet on social media before spiralling into the top of the charts worldwide, landing at No. 2 on the UK Singles Chart, as well as across Europe, Canada and New Zealand—the Minnesota-born artist has gone from strength to strength in a matter of months, backed by her label, the London-based 5K Records, the Sony imprint co-founded by JAE5 and the team behind the likes of J Hus, 2K Management.
What made "People" resonate with so many was Libianca's honest songwriting, channelling her own experience with mental health struggles—in particular the rare mood disorder, cyclothymia. The now instantly recognisable chorus ("I've been drinking more alcohol for the past five days… Did you check on me?") has driven thousands of user-generated videos, with Libianca's own vulnerability giving space for others to tell their own stories.
Although "People" and its various versions and remixes (including one with Afrobeats starlets Ayra Starr and Omah Lay) have collectively amassed over 270 million streams on Spotify alone, Libianca's success represents the wider rising profile of 'Afro-R&B', a sound which brings together African melodies and the smooth, soulful elements of R&B (see: Tems, Ckay, Tay Iwar). A natural progression of globalisation and immigration that sees Gen Z musicians blend the noughties R&B they grew up listening to on the 'net or on the radio, with the African music played at home, Afro-R&B seems part of the natural progression of African music's increasing dominance on the world stage.
Speaking with us as she prepares to finish up a forthcoming EP and join Alicia Keys on her Keys To The Summer world tour, Libianca touches on keeping grounded amidst her whirlwind success, musical influences, and her blended childhood growing up between Cameroon and the United States.
"What's kept me going is a combination of equal parts a fear of failure and a desire to touch as many people's lives as I can through my music."
COMPLEX: Hey, Libianca! Firstly, I just want to say congratulations on the success of "People". It's been really great seeing the song take off around the world over the past few months. When did it click that your life was going to change forever following the track's virality?
Libianca: Honestly, about a week after I posted the initial clip of me singing "People" on TikTok, I tried not to pay too much attention in case I was disappointed with the engagement. When I finally did check, it just kept multiplying and I couldn't believe it; everything happened so fast from then on. A lot of my life lately has revolved around preparation: I've been going to the studio to finish up my forthcoming EP, preparing for the next step ahead. I've also been rehearsing my setlist for the tour with Alicia Keys next month. The best way to combat any nerves, for me, is preparation, so I always double down on that to make me feel ready for anything.
"People" is hard to categorise in terms of genre, but it sits at the growing intersection of Afro-R&B-fusion that is being widely embraced at the moment. What or who were some of your musical influences growing up?
I grew up on the good stuff: Cameroonian music, Nigerian music, highlife—all of it was naturally woven into my childhood because I grew up in Cameroon, too. My music is a direct reflection of my influences: R&B, Afrobeats, soul, and their intersection is my 'sweet spot'. The likes of Charlotte Dipanda and Ben Decca, the Nigerian pop artists like P Square and Iyanya… Even whilst in Africa, huge U.S. stars like Keyshia Cole, Rihanna and others were still being played and part of the musical fabric alongside African artists, as and when their songs came out in the States.
You were born in America, in the city of Minneapolis, but you also spent many years in Cameroon, where your family's from. Was there a culture shock when you moved back to Minnesota aged 13?
I was still young enough to take it in my stride and adapt. Although it wasn't too challenging, there were a few shocks. I remember coming to America and being shocked that you couldn't walk anywhere in the same way, you had to have a car to get anywhere. One funny thing I do remember is telling everybody I came from London throughout high school and completely forgetting until my friend reminded me. I didn't even try; I had the deepest Cameroonian accent and for absolutely no reason, I think I said I'd come to Minnesota for a change of scenery or something silly! I haven't been back to Cameroon in over six years but that will always be home and I do plan on going back soon. I'm expecting a red carpet rollout! I'm ready to revisit all the places I went to as a kid and reconnect with my family.
You've been developing your craft almost your entire life. You signed a record deal in Cameroon when you were 16 years old, took professional vocal lessons when you moved back to the States, and sang in the choir at every church you attended. What have you learnt on the journey?
It was definitely a musical education and I soaked up all the technical skills that I would use when making music much later on. I learnt how to engineer, how to record—although I knew how to write a song and sing it, that experience gave me the confidence and knowledge to make more decisions about the rest of the music-making process and take ownership. My career has been in the making for over fifteen years, and what's brought me to this point is absorption. I'm a visual learner, and I learn by ear. If I like something, I'm going to figure out what I like and why, and learn how to recreate it. My parents managed me at points in their career and they did the best they could with what they had, so I'm forever grateful. My dad would take me to these local Cameroonian community events to perform—weddings, graduations, barbeques, you name it! As a teenager, I resented it because I wanted to be like other kids on the weekends, but in hindsight, it really helped develop me as an artist and as a performer.
"JAE5 actually knows my sound inside out, but he also knows me well enough to push me out of my comfort zone and encourage me to experiment."
Looking at your discography outside of "People", which resonated with so many people because of its honesty, your lyrics are quite vulnerable. What's your creative process like?
It's honestly never the same. Sometimes all I have is a melody with no lyrics; other times, nothing but the lyrics. I like to keep it varied so that I'm never bored. It's sporadic, to say the least! I'll sometimes record acapella then send it over to one of my producers for us to work it out from there. I'm lucky enough to have a solid network of producers that I've worked with throughout the years, before "People", and they understand my process. I was in London for promo earlier this year and had a lot of sessions with some producers. We were getting to work! I loved every single one of them: 4Play, Phantom, TSB, JAE5… JAE5 actually knows my sound inside out, but he also knows me well enough to push me out of my comfort zone and encourage me to experiment. In terms of my creative process on a more general level, in order for me to make the best music, I have to be in-tune with myself as a person before I can turn to creating anything, making sure I'm meeting my wants and needs, that I'm emotionally well and processing anything in my personal life.
With your personal wellbeing so intrinsically tied to your creative output, how do you keep yourself grounded and encouraged when things get tough?
What's kept me going is a combination of equal parts a fear of failure and a desire to touch as many people's lives as I can through my music. Music is the only universal language—it travels so far and wide and has such a profound effect on people that I want to use my music to influence or encourage people for the better. I have a book called The Confident Woman by Joyce Meyer that I read. I'll spend some time praying in the morning before I really engage with the chaos of the day if there's a lot going on. In that sense, my faith and my relationship with God and my purpose has also played a major part in bringing me peace. Although social media is a part of my job, I know when to put my phone down, or go outside and take a hike, or spend some time with my dog, Zeus, who is basically my best friend and my baby! Taking care of myself and balancing my career and my life allows me to be the best I can be, even though it's very easy to be swept away by the momentum. I also keep a really solid team around me who empower me and make me feel at home wherever we go.
You've mentioned an upcoming EP, but what are your plans for the future in terms of your music career and beyond?
Two things are certain: I'm going to squeeze the most I can out of my life, every last drop until there's nothing left, and I'm going to connect with so many more like-minded people to make more music. I'll be giving hugs, spraying dollars, just spreading joy! There are two singles and an EP in the works so I'm also excited for everybody to hear what I've been working so hard on. Outside of music, my manager and I—his name is Metro and he's also a good friend; the ying to my yang—we founded a creative agency called Westside Creative Agency in 2021, and got some of our friends together to create a team that brings together our skills—from photography to hair and makeup. I keep it all in-house wherever I go. Although I may seem difficult when I insist on a particular creative, it's because I feel confident in their abilities but also because I'm bringing opportunities to my talented friends so that they can take it further and hone their craft. Everybody eats over here!