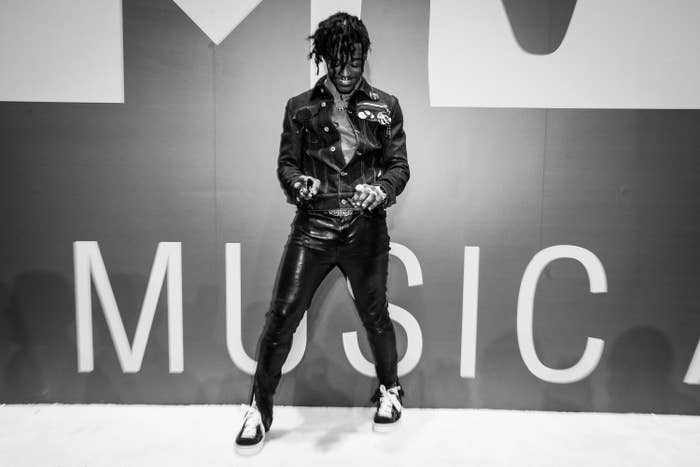 Lil Uzi Vert took advantage of his guest appearance on Migos 2016 hit "Bad and Boujee" along with his own top-10 single "XO Tour Lif3" to secure the No. 1 spot on Billboard magazine's top 200 albums chart this week. 
There was heavy speculation the Philadelphia native's Luv Is Rage 2 would sit atop the charts, thanks to heavy radio play, rotation in streaming platforms and the fact that "XO Tour Lif3" was already triple platinum in June. In an August 28 report for Billboard, Keith Caulfield noted Luv Is Rage 2 could likely debut with over 110,000 equivalent album units, securing a commercially successful release for the DJ Drama-helmed Generation Now/Atlantic imprint. He managed to move 135,000 units.
If an endorsement from Kendrick Lamar and upwards of 3,000 people reportedly showing up to see XXXTentacion at a venue with a maximum occupancy of 750 were any indication, X was headed for a high chart debut with his album, 17. Confirmation came in the form of Billboard releasing the numbers for the project, with XXXTentacion netting 87,000 in sales during his first release week.
Like all "equivalent album units" stats, the number measures traditional album sales, track equivalent albums (TEA) and streaming equivalent albums (SEA). Long story short, streaming numbers and XXXTentacion's physical sales of 18,000 this week were all baked into the math to give him an initial outing at the No. 2 spot.
Finally, ASAP Mob's Cozy Tapes, Vol. 2: Too Cozy landed the no. 6 spot after moving 41,000 units. This followed up the collective's No. 13 spot with Cozy Tapes, Vol. 1: Friendswith the new Cozy Tapes. 
Additionally, you can catch the full report at Billboard.com to see where the likes of Daniel Caesar's Freudian landed on the charts.