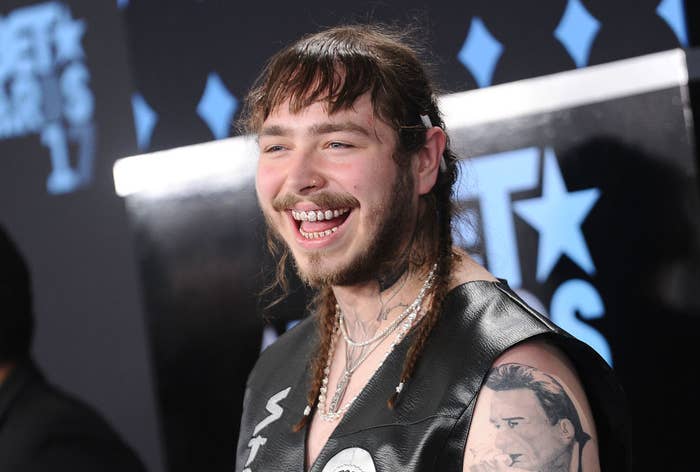 For most of his young career, Post Malone has garnered some criticism from members of the rap community. Being labeled as a "culture vulture," the 22-year-old rapper/singer is facing the critics claims against him for appropriating rap culture for his own success and gains. Now, the chart-topping musician has a message for all of his naysayers. 
On Saturday night, Malone was at party at Miami's Club LIV nightclub to celebrate the local Boardwalk at Pegasus World Cup Invitational horse race, TMZ reports. During his performance, Malone took a minute to address some of his critics.
"There's a lot of people that wanted to talk down on me, and laugh at me, and call me a culture vulture, and say I don't appreciate hip-hop, and I don't do nothing for the culture," says Malone. "So, I guess this is me telling y'all to live your best life. Don't listen to what the fuck nobody has to say about you cause you are the fuckin' shit and you can do whatever the fuck you wanna do if you believe in your fuckin' self."
He ended the rant by dropping his hit song "Congratulations." Malone was clearly emotional during his message. While it is clear he isn't too fond of the "culture vulture" title, people are definitely putting a closer microscope on his words and actions because of some of his past remarks. Most recently, he has talked about the struggle that comes with being a white rapper. 
"I definitely feel like there's a struggle being a white rapper. But I don't want to be a rapper. I just want to be a person that makes music," he told GQ. "I make music that I like and I think that kicks ass, that I think the people who fuck with me as a person and as an artist will like."
Post is definitely an artist who pulls from multiple genres and in past interviews has pointed out country music influences him as much as rap when cooking up new music. However, there is no denying rap as the driving force in his sound. He can contribute a lot of his success to the rap flow and pivotal figures in the current landscape like Metro Boomin and 21 Savage. Most recently, he appeared alongside Migos on their Culture II cut "Notice Me" to sing the hook. His peers seem to embrace him while others denounce his music, but it looks like Post is going to just tune out all the negative noise and keep producing more hits for his fans.