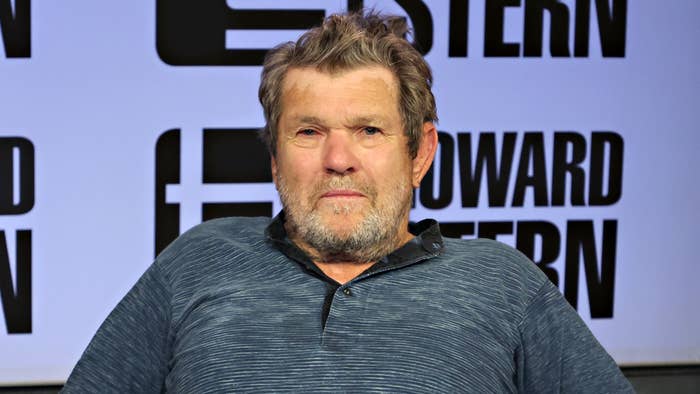 UPDATE 9/16/23 6:38 p.m. ET: Jann Wenner has been removed from the Rock and Roll Hall of Fame board of directors following his The New York Times interview where he claimed Black and women musicians weren't "articulate at the level" of the white musicians featured in his new book, The Masters.
"Jann Wenner has been removed from the Board of Directors of the Rock & Roll Hall of Fame Foundation," read a statement released from the foundation on Saturday.
Wenner was one of the co-founders of the Rock and Roll Hall of Fame when it launched in 1987. He served as chairman of the foundation until 2020 when he stepped down and assumed a role on the board of directors.
See original story below.
Rolling Stone founder Jann Wenner claimed Black and women artists aren't as "articulate" as white male rockers.
During an interview with The New York Times to promote his new book, The Masters, Wenner was asked about using interviews he's only done with white male artists for the book, and the statement he made in the introduction where he wrote Black artists were not part of his "zeitgeist."
"When I was referring to the zeitgeist, I was referring to Black performers, not to the female performers, OK? Just to get that accurate," he said before explaining why he interviewed "philosophers of rock" like Bono, Bob Dylan, Jerry Garcia, Mick Jagger, and more for the book.
"The selection was not a deliberate selection," he continued. "It was kind of intuitive over the years; it just fell together that way. The people had to meet a couple criteria, but it was just kind of my personal interest and love of them. Insofar as the women, just none of them were as articulate enough on this intellectual level."
The reporter challenged Wenner and gave him another chance to clean up his statement, asking if he really thought an artist like Janis Joplin wasn't articulate. But the 77-year-old managed to dig himself an even bigger hole with his explanation.
According to Wenner, it wasn't that they weren't "creative geniuses" or "inarticulate," but artists like Grace Slick or Janis Joplin aren't elite musicians. He claimed Joni Mitchell wasn't a "philosopher of rock' n' roll."
Regarding Black artists, Wenner added, "You know, Stevie Wonder, genius, right? I suppose when you use a word as broad as 'masters,' the fault is using that word. Maybe Marvin Gaye, or Curtis Mayfield? I mean, they just didn't articulate at that level."
Artists like Peter Townshend and Mick Jagger were featured in Wenner's book because they were writing about "deep things about a particular generation, a particular spirit and a particular attitude about rock' n' roll." They were also the ones to really "articulate it."
Wenner then tried to clean up his statement for "public relations sake" and stated, "Maybe I should have gone and found one Black and one woman artist to include here that didn't measure up to that same historical standard, just to avert this kind of criticism."
Jann Wenner left Rolling Stone in 2019, and his time with the company wasn't without controversy, such as accusations of biased reviews and leaving a number of women and Black artists out of lists such as the Top 500 Albums of All Time and more.