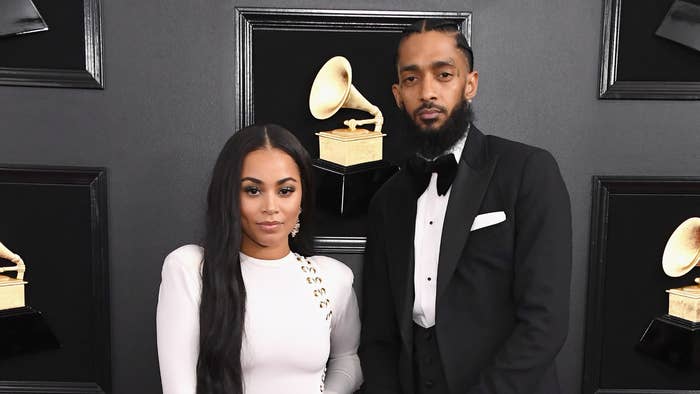 Lauren London has paid tribute to the late Nipsey Hussle on what would've been his 38th birthday.
On Tuesday, the actress took to her Instagram with a picture of Nip rocking a white Puma jacket and a caption that read, "Honoring the day you blessed the Earth with your presence. Forever more."
Several of London's peers took to the comment section of her post and left blue heart emojis, including Armani Caesar, Justina Valentine, Taraji P. Henson, Yara Shahidi, Kelly Rowland, and more.
Fellow actress Nia Long wrote, "Wrapping my arms around you a little tighter today."
The late rapper would've been celebrating his 38th birthday on Tuesday. In 2019, Nip was gunned down in front of his store, The Marathon Clothing, in South Central, Los Angeles.
London, who had been dating Hussle since 2013 and had a son with him three years later, shared a tribute on the four-year anniversary of his untimely death. In her Instagram post, the actress reflected on the pain she felt on that fateful day in March 2019.
"I hold my breath all of March knowing I have to face the memory of the day you transitioned," she wrote. "Holding on to ancient wisdom but the pain is the pain and nothing was ever the same... Eternal Being. Ermias Asghedom. I Love You."
She concluded her message with a passage from Bahá'í sacred writings: "To consider that after the death of the body the spirit perishes is like imagining that a bird in a cage will be destroyed if the cage is broken, though the bird has nothing to fear from the destruction of the cage. Our body is like the cage, and the spirit is like the bird."
Eric Holder Jr., the man who fatally shot Hussle outside his Marathon Clothing Store, was sentenced to 60 years to life in prison. The sentencing came less than a year after Holder was found guilty of first-degree murder and attempted voluntary manslaughter, per the Associated Press.