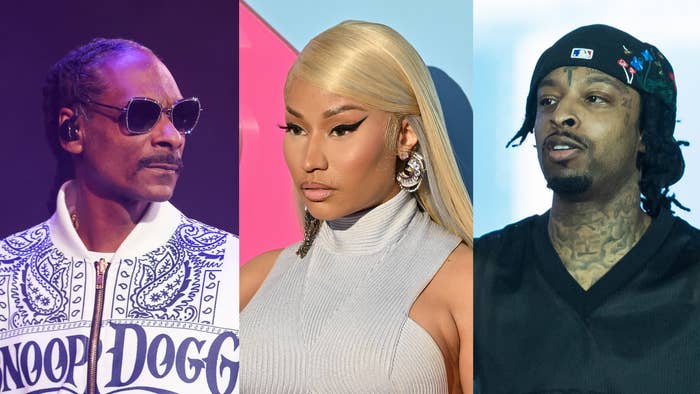 Snoop Dogg, Nicki Minaj, and 21 Savage will be the next playable operators in Call of Duty: Modern Warfare 2 and Call of Duty: Warzone and fans are excited to get their hands on the downloadable content.
On Wednesday, Activision announced the rap trio will serve as the next operators that players get to choose from and use in the multiplayer mode of the popular first-person shooter game. Snoop, Nicki, and 21's inclusion in the game is part of the "50 Years of Hip Hop Celebration" in Warzone and Modern Warfare 2.
According to the game developers, the Modern Warfare 2 and Warzone versions of the Queen rapper will be her "Red Ruby Da Sleeze" persona. Her character will hold a signature pink assault rifle that can be found in a special store bundle during Season 5 of Warzone and Modern Warfare 2.
The Barbz caught wind of the announcment and wasted no time going to social media with hilarious tweets of how they'll be using Nicki in the game. Several people openly admitted they've never played the game but would go ahead and start since Nicki will be apart of it.
Nicki Minaj originally teamed up with Call of Duty in 2022, popping in a commercial for the game titled "Squad Up," where other celebrities showed up, such as Lil Baby and Pete Davidson. Snoop Dogg appeared as an operator in Call of Duty: Vanguard in 2022. 21 Savage will be making his first appearance in the game, but his operator won't be available once season five launches on August 2. Fans will have to wait until the middle of the season for 21 to be a playable character.
The "50 Years of Hip Hop Celebration" will also include several new War Track packs filled with various hip-hop songs to play while you're driving across one of Warzone's large maps.
Check out some more tweets to fans reacting to Nicki Minaj becoming a playable operator in Call of Duty below.