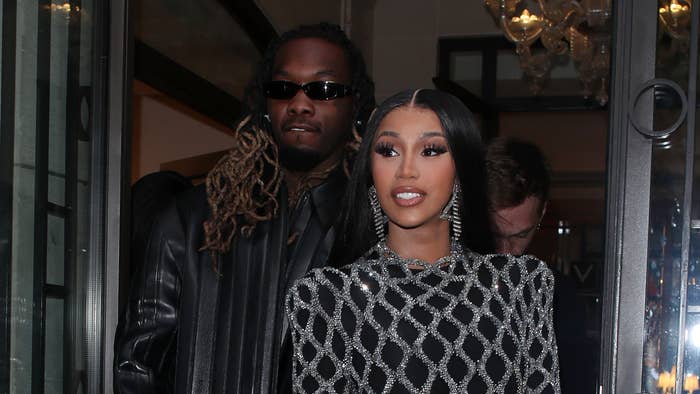 Cardi B is threatening to take legal action against a Twitter user who claimed they have proof of Offset cheating on her.
On Sunday, a Twitter account with the handle @ayywalker shared a post regarding Offset's infidelity, which included a voice note someone trying to set up a meeting with a woman, and an alleged picture of the rapper cheating. The account appeared to be a Nicki Minaj fan page and the caption of the post read, "Offset has allegedly cheated on Cardi B once again. How embarrassing."
The recording drew questions from people who felt the clip was generated by AI. Cardi caught wind of the post and took to her page, highlighting several inaccuracies with the post, such as the person in the image not matching Offset's hair or body type and more.
According to Cardi, the father of the person using the Twitter account may get hit with a lawsuit due to their actions.
"So you guys are going to receive a letter from his lawyer," she stated in a since-deleted post. "Because all these little games that you guys want to play online–it's going to be over with."
She added, "You're going to be getting sued, and we're going to make an example out of you. Yeah, and that was a terrible AI voice, by the way, so yeah, mxm, bye."
Cardi and Offset's lawyers seemed to be on the job as the clips on @ayywalker's initial tweet were blocked. The person sent out another tweet calling out Cardi for getting her content blocked.
"Cardi just copyrighted my tweet," the User wrote. "Btch you mad at me when you need to be mad at the n**a that's CHEATING ON YOU!!."
Cardi B and Offset have been dealing with infidelity rumors for the duration of their relationship. In 2020, Cardi filed for divorce, but within a month, they got back together.
"The main thing that I wanted to stop and everything, he stopped," Cardi said in an interview with Jason Lee. "He changed, and it showed me that he wanted to change for me."