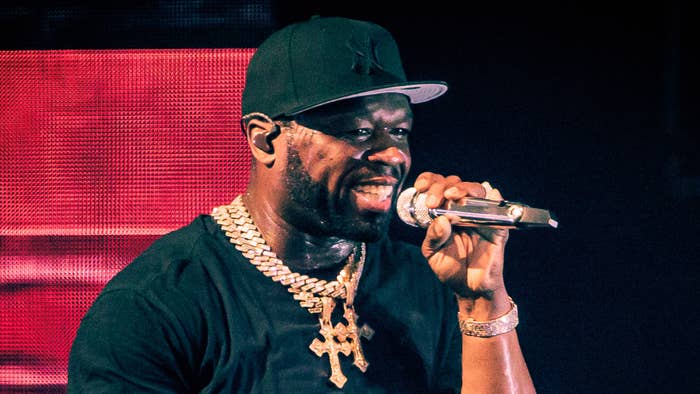 50 Cent recently reflected on his early beginnings before he became a rap superstar, and explained to his fans that music is truly something magical.
On Monday, the media mogul took to Instagram to post a vintage picture of himself looking at what appears to be a tape deck. In the caption, the Queens rap legend recalled how he literally came from "nothing," and said that music allowed him to fall in love and make something out of his life.
"This is what it looks like when you have nothing and you fall in love with something," 50 said. "Music is magic, people don't agree on anything but when the right music comes on they agree to have a good time. #bransoncognac #lecheminduroi."
For those unaware, 50 didn't have an easy upbringing. His father wasn't a part of his life, and his mother was murdered when he was still a child. His grandparents raised him, but his grandfather was also a drunk, all of which he's discussed in his songs over the years.
On 2008's "Southside," 50 rapped, "Took my biggest loss at eight, you know when mommy died/I ain't know what was goin' on, I ain't even fuckin' cry." He mentions his father on 2009's "So Disrespectful," saying, "Man, I can't even flaunt shit 'cause everybody want shit/Everybody mad, damn, even my dad/And I don't even know him now, how the fuck I owe him?"
In a verse from "Days Went By," 50 also talks about his grandfather's alcoholism and his uncles' drug use, rapping, "My Grandpa drunk, my uncle Rock drunk/My uncle Champ pump crack smoked my fuckin' stash up/I had two-hundred and fifty grams stashed on the porch/I mean, how much you going to smoke, man?/How much are you going to snort?"
50 has since turned his trauma into magic, selling 30 million albums worldwide and winning several awards, including a Primetime Emmy Award, thirteen Billboard Music Awards, four BET Awards, and more.