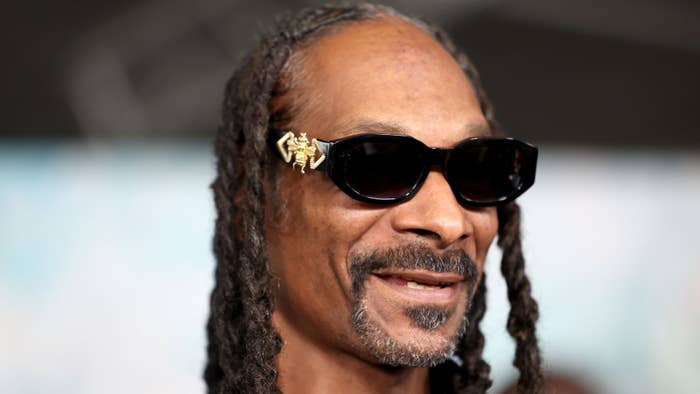 Snoop Dogg has revealed that he almost chose to become a pilot in the Air Force instead of pursuing a career in music.
The Doggfather took to Instagram on Memorial Day to pay his respects to all the troops, and said that he almost enlisted in the military back in high school before getting cold feet and backing out at the last second.
"1989, man," Snoop said. "We were finna graduate from high school, right? So we went down to the registration office downtown at Long Beach. Me, Duke and a couple other homies. So we're in there filling out the paperwork and I'm looking at all the questions that they asking me and tryna decide, 'Do I really wanna go through with this Air Force thing?'"
He continued: "I told Duke, I said, 'Duke, give me a minute. I'll be right back, I'ma go the car.' Went to the car and never came back. And then four years later, my homeboy was a true vet, Air Force soldier. I love you for that, man. Appreciate the love, man. All the troops out there, y'all know I love y'all. It's Snoop Dogg, man. One love. I wish I coulda been, shoulda been, but it ain't no thing but a chicken wing 'cause I'm a soldier at heart."
The West Coast legend notably comes from a military family, with his father Vernell Varnado having served in the Vietnam War. He received a Purple Heart after being shot four times, which Snoop previously spoke about in an interview with Howard Stern.
"He told me when he got to Vietnam, the life expectancy for a Black male was 16.4 seconds," Snoop said on The Howard Stern Show back in 2018. "They would send those Black guys to the front line to deal with the Vietnamese, and what about what's behind them? These racist white guys who were really not used to being around Black guys and have a gun in their hands. So when the firing jumps off, you're getting shot at from the back and the front. How about that?"
Snoop is far from the first rapper to have ties to the military, with Freddie Gibbs, Malice, Ice-T, and MC Hammer have all previously enlisted as well. Oh, and Snoop's cousin Nate Dogg notably joining the Marines at the age of 17, serving three years as an ammunition specialist before being discharged in 1989.