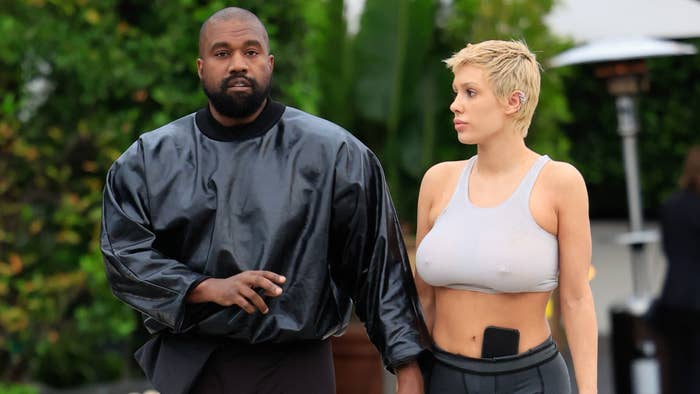 Kanye West and his wife Bianca Censori were caught in the throes of an awkward moment during their recent trip to Italy, but this time it had nothing to do with the Yeezy architect.
A few days after Bianca Censori caused a stir for wandering around Italy braless in a tan, skintight jumpsuit, Ye unapologetically gave tourists a look at his bare buttocks while taking in Venice's iconic canals.
The Yeezy mogul and his current paramour were spotted enjoying the canals aboard a water taxi, with Kanye seeming uninterested in pulling up his trousers, as seen in photos published by both TMZ and Page Six.
After enjoying the sites, Censori adjusted her gray leather trench coat before the pair exited the boat together.
Ye's unsightly slip-up comes days after residents reportedly demanded that police take action against Censori for walking around "virtually naked" all the time.
Censori was previuously seen meandering around in her skintight jumpsuit, and at points was forced to cover her nipples with a black cross-body bag, per The Daily Mail. Meanwhile, Kanye could be seen hiding under a black snood paired with a saggy black jacket and trousers.
The Italian Constitutional Court reads that a fine from €5,000 to €10,000 ($5,424 to $10,849) can be issued for "public indecency." If said nudity occurs in a place or near a place attended by minors, the accused may face up to four years in prison.
Ye reportedly tied the knot with Censori in a private ceremony at the top of 2023, but it seems the couple have yet to file a marriage certificate to make it legal. Regardless, that hasn't stopped the newlyweds from packing on some serious PDA in recent weeks.
Ye and Censori were previously spotted by TMZ outside The Lobster in Santa Monica in June alongside famed Japanese architect Tadao Ando, and the couple were seen fondling each other throughout the dinner.