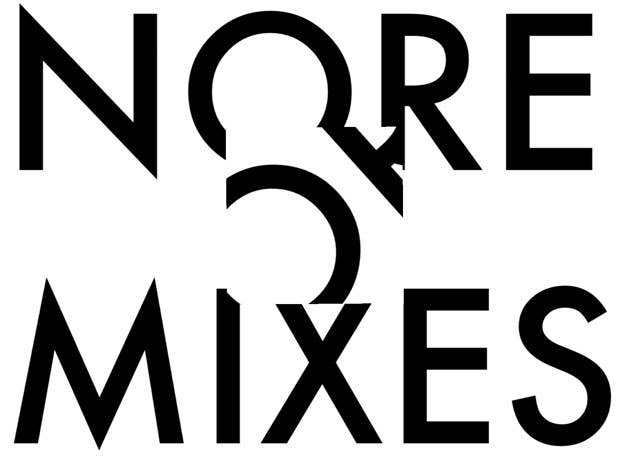 While I won't go out on a limb and say EDM is "dead," I will say that the movements within any scene are cyclical, and right now the big push in the electronic music scene is anything but what's popular on the main stages. That shit still works, but the producers, DJs, and fans are demanding more. Over the last year we've seen movements coming through that point to changes within the scene as a whole, from the rise of "deep house" worldwide and the future grime scene in the UK to producers coming through with much more turn down material. Philly's own Starkey, who co-owns the Seclusiasis and Slit Jockey imprints, has been a huge part of the bass music scene in the U.S., bringing the grime vibes to crowds across the country. His sound isn't just rough and rugged sounds battering your bassbins, though; he's produced tunes in the past that have erred on the side of ambient, experimental, and beautiful.
We recently caught wind of his new label, NOREMIXES, where he plans on exploring that side of the electronic music scene. Starkey took some time out to talk about the reasons behind starting NOREMIXES, the first release from Golden Ratio Syrup (which you can pre-order right now), and the deeper side of the electronic music scene. These aren't dancefloor bangers, and judging by the way the scene is currently moving, 2015 might be the perfect time to debut this new imprint.
While we first got to know of you through your production, we've grown to appreciate the work you put in for Seclusiasis and Slit Jockey. While both of those imprints definitely cater to the bass music lovers in all of us, you decided to start a new label imprint. Talk to us about NOREMIXES.
NOREMIXES is an output for stuff that fits in the synth music, modern classical, electro-acoustic and ambient crossroads. For the most part, the stuff that I'm releasing on NOREMIXES is non-dancefloor stuff. That's not to say that the people I'll be releasing don't ever make dancefloor stuff, but this could just be a place for them to explore that side of things. Anyone who has followed my music over the years knows that I'm a big fan of epic synth music and concert music leaning things, so this has been years in the making. I've been doing tons of things in the background before launching the label officially so that we have a really strong release schedule for the first few months.
What, if anything, would you say inspired you to the point where you wanted to hook up an entirely new label?
With Seclusiasis and Slit Jockey we pretty much have clear visions for what we want the labels to sound like, and the kind of stuff I'm doing with NOREMIXES is just so left field from it that it had to be something new. That's really the only good reason for it. It's definitely a lot more work starting something from scratch and doing all the branding, design, etc.... but it's also been fun to work with the artists and figure out what this imprint will look and feel like.
We've seen Curses hook up Safer At Night, which is definitely the flipside of what you might expect on his Trouble & Bass imprint. Do you think more producers, DJs, and label heads are shifting towards this idea of exploring deeper sides of the electronic music scene?
Some are for sure. I think people who are in music because it's their passion are a bit put off by the whole EDM thing. I'm not sure exactly what that is if I'm honest, because it's not necessarily a genre or anything specific musically, but just the tags that have been associated with electronic music the past couple years in the general public. It's funny because the past year I've been thinking a little bit about what the state of electronic music was like when I started doing this 12 years ago or so. Things go in phases, and back then it was pretty experimental. Laptops in clubs were not the norm, but now you see them everywhere, DJs, live PAs... rock bands using them to access patches for keyboards, etc. I think we're starting to get into a weird phase again, where the music is rebelling a bit. I'm not saying that's something I'm trying to do with NOREMIXES specifically, but we all know that electronic music has taken over rock music and infiltrated hip-hop as well, so there's going to be some shuffling of the sound.
1.
The first release on NOREMIXES comes to us from Golden Ratio Syrup, and is a 27-minutes, seven track number that's said to be good for "headphones" or a "cross country drive." Is this release kind of a mission statement for NOREMIXES in general?
Yeah, I think so. The music is a great mix of organic and electronic elements... found sounds, pianos, synths. When I heard it for the first time I was listening on my laptop, but after about four minutes I had to get in the studio and throw it on the studio monitors... it was that good. It honestly made me smile... it's the best thing I've heard all year; maybe two years. I'm honored that I'm getting to put it out. In general, the music I'll be releasing may be a bit more out there... I've signed a release that's straight up modern classical, like Iannis Xenakis-type stuff that mixes concert instruments with electronics. The music was composed by Daniel Potter, who is also Warsnare on Seclusiasis. He went to school for composition and his style is great. I've also signed this ambient-ish release that is full of drones and distortion from a Philadelphia producer, Mikronesia. It's really melodic though, not like a lot of the drone stuff I hear. Plus he has these 'effected' piano interludes that weave throughout and gives the album an interesting texture.
I also read that Golden Ratio Syrup is an anonymous guise for a producer that we may know. Should we expect more anonymous producers or undiscovered talents being featured on NOREMIXES, or will we recognize some of the acts you're signing?
I've opened it up as an option for producers and composers who may want to do something different from what they are "known for." So that's a possibility. But so far, Golden Ratio Syrup is the only anonymous release I've got lined up.
This Golden Ratio Syrup release is due out on January 12. What can heads expect from NOREMIXES after this release?
The digital full release is January 12, but we've also got a limited-edition green 12" available through Ninja Tune's crowd funding site, Beat Delete. That's up now, and people can order the record which also comes with the digital files. After that, I've got the Daniel Potter and Mikronesia releases that I mentioned. Plus there's a single from RVLVR, also a Philly guy. The title track has an effected piano and cello with some old school house-y drum beats. There's a remix from The Starkville Symphony (you can guess who that is), and a b-side which is piano and vocals, which sounds a bit like some lost George Harrison record. There's also a release from ghostinthehills, which funny enough is also a Philly producer. His stuff has a beatless, Boards of Canada kind of synth vibe.
Stream and pre-order the first release from NOREMIXES by Golden Ratio Syrup, which is due out on January 12, 2015.