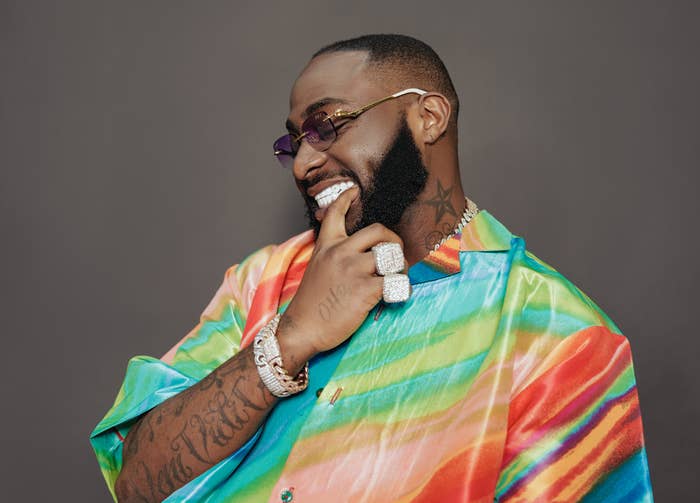 On April 5, 2023, London's KOKO was set alight with the spiritual sounds of Davido.
It was an intimate show, with UK band The Compozers on-hand to celebrate the release of his fourth studio album, Timeless, where the Nigerian star serenaded an audience with a timeline of his greatest hits before performing some of the newer ones for the first time. It was a wholesome night: the sweet-to-the-ear combo of Davido's grand discography and The Compozers' electrifying instrumentation saw the packed-out crowd flow together through singalongs—swaying, dancing, and fully attuned to the infectious vibe that filled the room like an expensive fragrance. It felt as if every person there was a diehard Davido stan.
As Davido's star has risen throughout his decade-long career, so too has the sound he's perfected: Afrobeats, which has gone from being played in the colourful, cultural communes of African hall and house parties to shaking the floors and the reverberating walls of music venues worldwide. From Glastonbury to Coachella, Spotify's top playlists through to blending into every other viral TikTok video, Afrobeats is an unavoidable genre—loud and proud—and Davido has become one of its biggest success stories. New album Timeless comes after a period of personal tragedy in the loss of his three-year-old son, David Ifeanyi Adeleke Jr. In its release, fans contemplated how he would deal with it and if the album would encompass this tragedy. What the 17-track set actually represents is the nature and totality of Davido as a musician: a mark of resilience and maturity, it exemplifies him at his best.
We sat down with Davido, at London's plush Rosewood Hotel, the day after his KOKO show to talk all things Timeless, his career thus far, his perspective on Afrobeats as a whole, and more.

COMPLEX: Davido! It's an honour to be speaking with you today. Love the new album. For you, what does this project represent?

Davido: Thank you, man. What does this album represent? I don't know… I wouldn't say I wanted to prove a point—I just wanted to take my time and deliver a concrete project, for myself and for the culture. The last time I dropped an album, Afrobeats was not on this pedestal. So many things have happened: younger artists have come through, and I have a spread of artists and producers under my label, some that feature on the album—like Morravey and Logos Olori. Afrobeats has become the most popular genre in the world, so I knew I definitely had to deliver. I'm just happy that so many people love Timeless.
You have such an amazing spread of artists on Timeless. How did you go about picking the features?

Everything really happened naturally. I didn't even realise until I was submitting it—like, "Wait. I don't really have any U.S. artists on the album." There are South Africans, like Musa Keys and Focalistic. Jamaica's Dexta Daps is there. Fellow Nigerians in Morravey, Fave, Logos, and Asake. Skepta, you know, that's my brother from London. Everybody on the tape is really international, but I didn't feature a U.S. artist and that was really shocking to me. So, going into this album it was really just about the music connecting and feeling right, working with whoever brought the right vibes for Timeless. Out of 62 songs I made for the project, we picked 16. A lot of sleepless nights went into this [laughs]. It got to one point where my ears were blocked. I'm telling you! I had to go see a doctor.
Dedication to the art—love that. My favourite tracks on the album are "Godfather", "Unavailable" and "In The Garden". Even at your show at KOKO the other night, I was properly screaming out the lyrics to the point I lost my voice for a few hours [laughs]. What would you say were your favourite tracks on Timeless?
Man, I think after the process, I can say that the songs that I enjoyed creating are my favourites. I really enjoyed creating "Na Money". I wrote it and put the music together in a studio with a few people. The other artists on "Na Money"—a highlife band called The Cavemen and a legendary singer called Angelique Kidjo—they recorded live while I recorded digitally. It was a new experience watching them do their thing, and I enjoyed that. I love "Feel", too—it felt like there was magic in the studio that night. The way the record came together, the musicality was just coming in, coming together, and we made some beautiful music. And I love doing intros, so I'll add "Over Dem" to the list. I love everything on Timeless, to be honest.
I've been listening to your music for over a decade now. I'm Ghanaian, but I've got a lot of Nigerian friends and I vividly remember—in 2011, on a bus ride through Woolwich—them showing me your song "Dami Duro", and to see your transition from then to now has been amazing. How does it feel to see people receive your music as something so important to their lives?
It's crazy, especially when people come up to me and tell me, "I was in a dark place in my life and your music saved me." That's crazy to me. We were really here just making music, having fun with it, not knowing that what we are doing would one day impact people and actually make a difference in their lives.



"I wanted to take my time and deliver a concrete project, for myself and for the culture... I'm just happy that so many people love Timeless."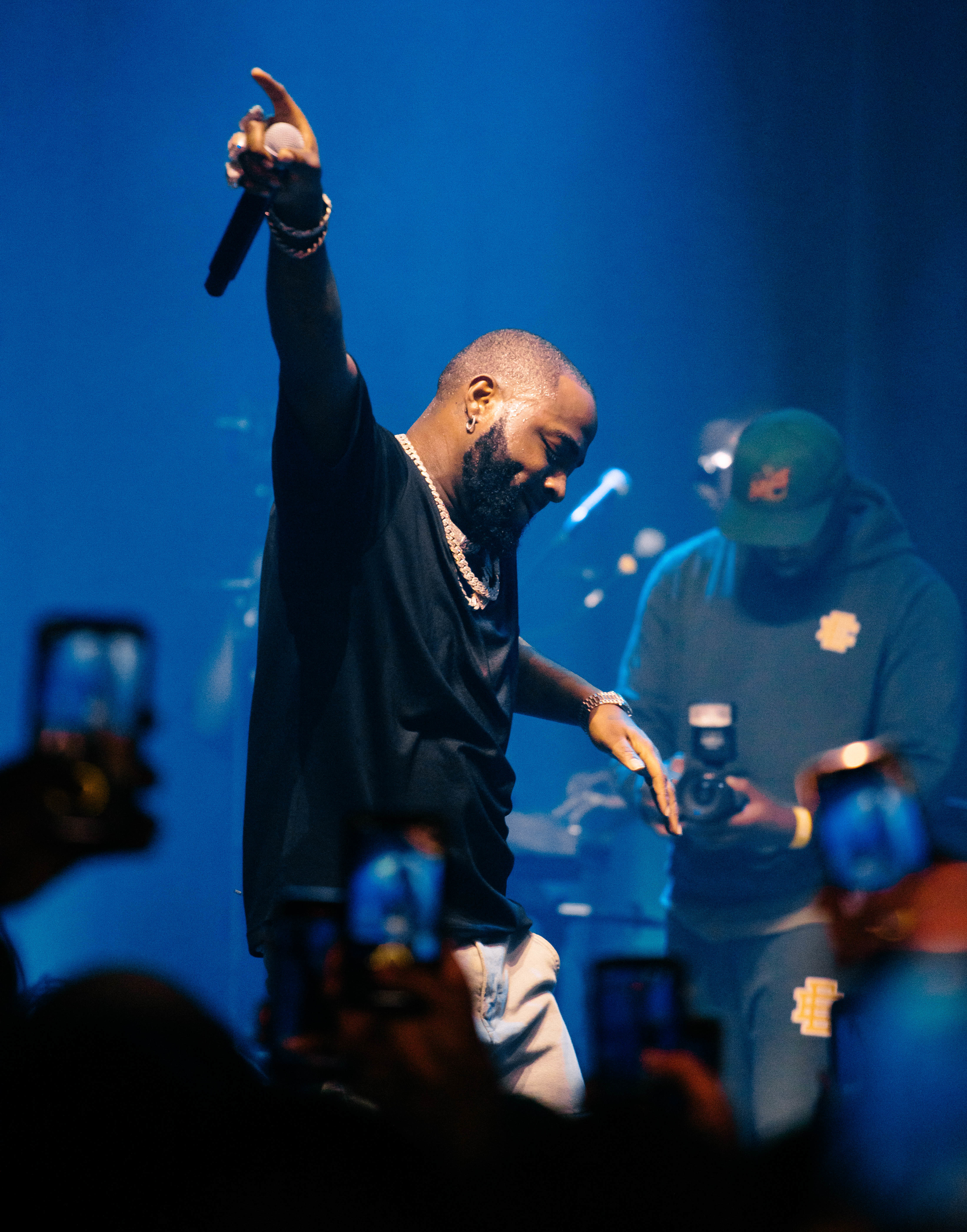 That reminds me of some of your charitable work in giving back. During lockdown, you donated a lot of money to a spread of charities in Nigeria. Tell us a bit more about that.

It was a thing that started off as a joke. I've told this story, like, a thousand times now [laughs]. It really started as a joke on social media: I wanted a certain watch, and I was telling my friends to donate to my birthday cause so I could get it. It ended up being a thing where the fans were donating, so I had a lot of money that I decided to give away for a greater cause.
I think it's more telling of your character to do such a thing. Even during the recent elections, where you haven't been supremely vocal, I think you're always prepared to use your voice/power when necessary.

Definitely. I used to be very vocal about politics in Nigeria… I wouldn't say I used to, because I still have my views and stance on things—it's just a lot. I'm just happy that you can have a voice through entertainment, which can give a different kind of perspective on how Africa is viewed around the world. Entertainment, the fashion industry, the food, it's really changed the dynamics of what people think about Africans.
This wasn't in my list of things to ask, but who are Davido's favourite artists of all time?

Myself! Myself! Myself! [Laughs] Of all time? That would be very hard to pick. There are so many amazing artists. Hundreds, possibly thousands, so it's a difficult one to pick from so many options.
Okay—three that spring to mind.

Even still, I'd really have to sit down and analyse that one. I love music too much to single it down to a few. But growing up, I was really into hip-hop; I wanted to be a rapper before I became the artist that I am now. I used to love 50 Cent, but to pick a specific three would be hard.
Fair enough. I'll let you off [laughs]. From "Dami Duro"-era Davido to Timeless Davido, how would you say you've grown, both as a person and as a musician?

I'm way older now. I was watching old videos of myself, like, "What was I thinking, man? What are you doing!? That's crazy stuff." Behind-the-scenes videos and all that, looking back a little embarrassed. But you grow old and you experience things, things that happen in life that change you—the good and the bad. I'm definitely a different guy from four or five years ago—even from, like, two years ago. I feel like it's rubbed off on my music, my performances, and my attitude to life. 
Touching on the diasporic nature of the work, how does it feel to exist in such an era as a grand artist and be able to draw from the powers of Black, African, diaspora worldwide?

Yo! They asked me a question the other day about what I think about the current state of Afrobeats—I told them that the Africans in the diaspora are a major force in what's going on right now. It isn't just us back home making the music, but it is reflective of the wider diaspora—worldwide. For example, internationally-speaking, London was the first place that was receptive to Afrobeats. Because it has so many African people there—it's so mixed—it was one of the first places where a lot of us performed beyond Africa. The diaspora in London really messed with it first, before it became a worldwide thing. Just like how you were telling me about your Nigerian friends, just them playing my music to you is a massive thing. Let's just say, for example, you're not even Ghanaian—let's say you're Jamaican, or even in the Americas as a Mexican, and you have Nigerian friends, they must play the most popping Afrobeats for you. They must play it for you! 
In Italy, what used to happen—even in the clubs, especially the strip clubs—the Nigerian people would go there and tell the owner of the club, "We're not spending money here unless you play some Davido or some other Afrobeats artists." That's where it started growing and spreading to people who didn't know much about it—our culture and sounds. They then started playing Afrobeats in these spaces. "Oya, I wanted to order 15 bottles, but when you're bringing my bottles out, play this song!" So it's a lot of things just combined together. The African diaspora definitely upholds this thing we have going on in Afrobeats, and long may it continue.