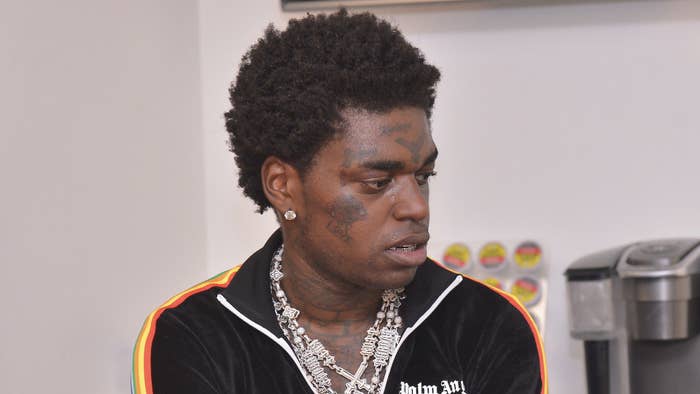 UPDATED June 26, 11:11 p.m. ET: On Monday night, Kodak Black was booked in jail, but released after he posted his bond.
TMZ reports Black's lawyer argued in the rapper's court appearance earlier today to get rid of pretrial supervision which the judge agreed. However, that meant Black's bond was increased from $75,000 to $250,000, and he had to go through the booking process in jail again.
Black took a new mugshot at the Broward County jail and posted the new bond before being released from custody. TMZ reports he was in jail for under an hour and paid $175,000, which is the difference of his old bond and new bond.
See original story below.
Kodak Black's legal woes are only getting worse.
Local 10 News reports the 26-year-old rapper — legal name Bill Kapri — is facing another arrest in connection to his ongoing drug case. According to a warrant issued last week, Kodak was required to submit to a random drug and alcohol screening scheduled for June 9. Broward County officials said Kodak violated the terms of his pretrial release because he failed to show up for the test.
He is expected to appear in court on Monday.
The warrant was issued nearly a year after the Florida rapper was arrested on multiple drug charges: one count of trafficking oxycodone and one count of possession of a controlled substance without a prescription. He was also hit with traffic charges, including driving with an expired driver's license. Kodak's team negotiated with Florida officials and secured his release on a $75,000 bond as he awaited trial for felony drug charges. As part of the agreement, Kodak was required to pass random drug testing.
Kodak found himself in a similar situation earlier this year when he failed to undergo a drug test in February. He completed the screening several days later and tested positive for fentanyl. His attorney argued that the results may have been inaccurate, suggesting the drug lab technician mixed up the samples and/or the related paperwork because they were distracted and star-stuck. The lab employee admitted they possibly made a mistake; however, Kodak allegedly declined to provide a hair sample that could determine if he had used any controlled substances within the previous 90 days. As a result, Kodak's release was revoked and a warrant was issued for his arrest.
"Whatever I need to do, cry, beg, I'll do it. But there's so much about this situation that isn't right," he told the judge about his possible incarceration. "I don't know why people be so hungry to send me to jail."
Instead of additional jail time, Kodak was ordered to 30 days in a drug rehabilitation facility.
"No one refused a Hair sample," his lawyer, Bradford Cohen wrote in a Feb. 28 Instagram. "Pretrial does not provide Hair sample services. But I am glad @kodakblack will get an opportunity to take a break from his hectic schedule and focus on his physical health."
Cohen went on to say that a portion of Kodak's Rolling Loud paycheck would go toward the Meadow Pollack scholarship fund at Nova Southeastern Law School.
"You often see news reports that aren't accurate because they want those subscribers, and won't report on the good in the community and the good Kodak does there as well," he continued. "Doesn't make for a good story."