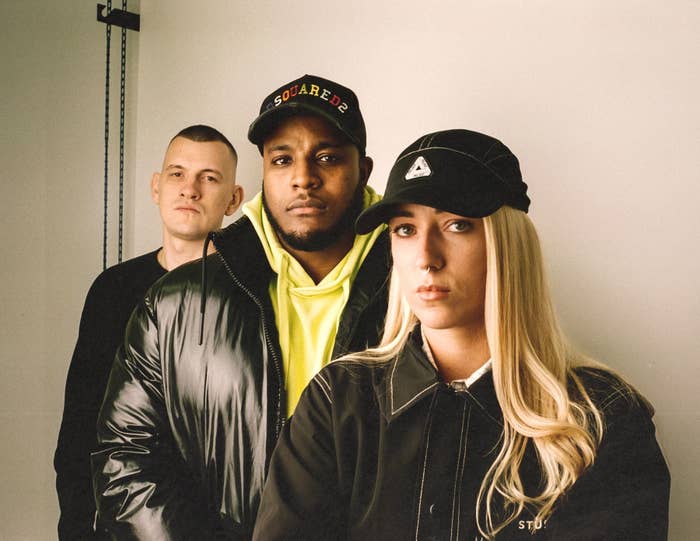 The combined power, tastes and abilities of Royal-T, DJ Q and Flava D are something to behold. On wax, they're slick and unfailingly effective, and when they're together in the DJ booth, they are unmatched. Uniting their formidable record bags, they blend garage, bassline, UK funky (and the occasional grimey moment for good measure), and their reputation as UK club music masters has been well-earned. They take this thing very seriously, each of them passionate students of soundsystem culture and the history of bass-oriented music that informs what they do.
When TQD formed in 2015 for "Day & Night", it was originally intended to be a one-off release on Butterz for Record Store Day. But something clicked and they kept on going. They've toured all over the world since then, but after 2017's UKG mixtape, we had to wait five long years for their next release as a trio—last year's "There 4 U". Now TQD are officially back in the swing of releasing music as a three-piece (between their already intense solo schedules), and in June—much to the joy of underground dance fans the world over—we got a brand new project from them in There For You, an 8-track set which came with features from grime sheller Cadell, D&B legend Dread MC, and house producer/MC Purple Velvet Curtains.
It's been a whirlwind summer of festivals as they took the new album on the road, as well as their three individual remixes of Toddla T's "We Run The Area" with Idris Elba, General Levy and Naomi Cowan. We caught up with Royal-T, DJ Q and Flava D after their epic set at this year's Hideout Festival to talk about their history as TQD, the evolution of UK club culture, and how they approach sharing the ones and twos.
COMPLEX: Hideout Festival is mostly focused on house and techno music but they often sprinkle in some bass pressure as well. I literally just saw how you guys filled the club with your UKG flavours; it was pretty amazing to see.
Flava D: Thanks, man. You know, with gigs, you never really know what you're gonna walk into. You just have to have fun with it and do your thing. Hideout is always a great crowd; I think they really get the sound that we're playing—clearly, because by the time we finished our set, the stage was rammed! I had fun.
Royal-T: You have to adapt and make sure that you're prepared at all times. We would have already had a palette of tunes that we can draw for depending on which vibe, which audience. Obviously, we all kind of have an understanding of what we'll play and we know what we each can draw for as well. That is challenging sometimes, having to adapt to things like that… When we go back-to-back, we definitely—not try and outdo each other, but we all try to shine and do our best.
Flava D: We've never planned a set. We might know what the intro is that we're going to play, which is always produced by us. We'll end on one of our tunes, but everything in between is pure reading the crowd, vibesing off each other and then just chemistry.
Royal-T: The only thing that we kind of staple is that we might pre-plan the TQD song. "I'm gonna play this TQD song at this time," etc. I normally start, so I'll be doing the intros.
Each of you have busy touring schedules of your own, so how do you manage to still make time for TQD to still be booked and busy as a group after all these years?
Flava D: Well, obviously, everyone has their struggles. Thankfully, because of the internet, a lot of our work is done through stems. We're always talking on WhatsApp, messaging back and forth a lot. We talk nearly every single day as a group, so we're always in the loop with one another. And, obviously, we all live in different locations, so it is hard to be in the same room sometimes. A lot of stuff is done digitally—I think that's just what makes it work. And wanting to make it work as well.
Royal-T: The majority of our stuff is done online, but when we're in the studio, it's like—I don't know—unplugging the bath, or something [laughs]. We have to make the most of this time and there's three of us. It's even the same for the set: three is the magic number because we all kind of pick each other up, not in a 'we're slacking' kind of way, but it's like, okay: I'm gonna bring this idea, pass it on to Q, and then Flava will pass it to me and I'll pass it back to Q. That could be tunes, that could be stems. There's a synergy that we have to maintain, but yeah, there are challenges.
You just released your new album, There For You, which comes six years after your UKG compilation project. Firstly, why the big gap between releases, and how would you say that they differ in sound and mood?
DJ Q: It doesn't feel like six years. The songs have kinda always been there. "Vibesing Ting", that's been a staple of a lot of DJ sets.
Royal-T: I agree with Q. I think the "Vibesing Ting" VIP got one of the biggest reactions in the set tonight. So it speaks for itself.
Can you each give me your favourite track on the album?
Royal-T: My favourite track is "Too Sweet", which is like a bit more of a softer garage tune, but it's just so nostalgic for me. I can't explain it. It's just nostalgic.
Flava D: I feel like every two days, my favourite changes. Right now, it's "You And I". It's got an interesting twist of, like, every eight bars for me. Isn't that everything we love about garage?
DJ Q: My favourite is probably "Basement". First of all, we made the track in a studio called Basement. It was an instrumental track at first, but we all kept listening to the track and even though we never said it to each other, it was like there was something missing from the track. I chatted to Paleface one day and he said it needed a gritty vocal on it. He suggested Cadell jump on it because he knew he could deliver. So I sent him the beat and he smashed it! That's my favourite song on the album, just because the way he smashed the beat and the way we all came through grime as well, it felt right.
It feels like UK garage has passed the "revival" stage—it's here to stay, at this point. But it does feel like bassline/4x4 is having another go. And not the bass-house version, like the version I used to hear at Club Niche back in the day. Why do you think there's this new interest in the sound of late?
DJ Q: Bassline has always been constant. I've always been busy. Flava's always been busy. Royal-T's always been busy. I'll tell you exactly what it is: obviously, JP, you know bassline from what it was. 2008, 2009, bassline reached a peak, but then everyone went onto different genres. What happened is everyone fucked off, but then a few DJs and artists kept pushing the sound. I was probably one of the only ones. From 2010 to 2014, it was really only me pushing that sound. I remember the turning point was… Do you remember that Channel 4 documentary about bassline? After that, a few of my mates from Leicester put on The Original Bassline Festival and didn't look back. For the second one, we thought, "Let's bring in the new generation: Holy Goof, Bru-C, Notion, Skepsis." That was the second wave of our thing. Everyone's looking at us, like: "Who the fuck are these guys?" But then look at what it's built to now? It hasn't gone anywhere—it was just rebuilding in a different way. And it's even stronger now, just the infrastructure.
Flava D: If you're a real garage head, you'll know it's always been around, but like maybe a little bit more mainstream. The speed garage influence is really dominating right now, so it kind of brings more people into the sound.
If we're keeping real, you guys really come from the grime scene. That's definitely where I heard each of your names ring off first as producers—even Q's! What do you think about the grime scene in 2023? What do you think it needs to get that revival again?
DJ Q: Listen. I don't think there's ever going to be a need for "revival" of grime. In any scene, you've got the spearheads that just make the music and push the sound. And there's loads of people pushing the sound—Cadell, Jammz, Logan; Logan's fucking smashing it right now…
Royal-T: Big up Elijah and Jammz; they just released their thing.
Flava D: We need to talk about Flowdan, too. "Rumble", the song he did with Skrillex, might not be grime in the traditional sense, but things like that draw people into that 140BPM territory and that can only be a good thing for the scene.
What's next for TQD?
Flava D: Another EP, an album, more remixes, more multi-genre stuff. Lots to come from us as TQD and individually.
DJ Q: Me and Toddla T produced a track for a Bradford MC by the name of S Dog. He's killing it right now. Then there's another TQD project in the works. There's loads of things happening, but I don't know what I can talk about. There's a remix project coming from us soon, and it's something that has never been done before! There you go—that's an exclusive for you [laughs]. Watch out for that one.