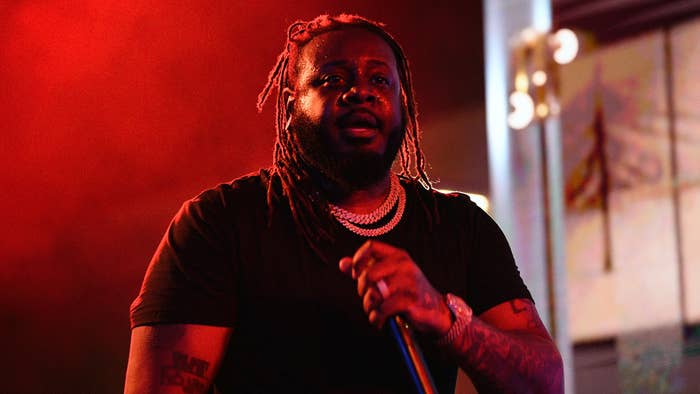 T-Pain believes if 2Pac were alive, he wouldn't stack up lyrically to modern rappers—and that's putting it nicely.
T-Pain spoke with DJ Akademiks on his Twitch channel about hip-hop in the social media era before declaring that if 2Pac—who was killed in a drive-by in 1996—was still with us, he "would've gotten his ass ate the fuck up lyrically." The Auto-Tune pioneer contended that "lyricism wise, 'Pac would've got ridiculously murdered."
Akademiks pushed back a bit on the claim, citing his perspective on the current state of drill music where lyrics don't seem to be as important as being disrespectful. "'Pac was a crazy lyricist in our time because ain't nobody else have no platform," T-Pain explained.
Click here and skip to the 2:32:00 mark to hear their conversation on the topic. 
T-Pain also claimed Akon has essentially used his brother Bu as a body double, having him pretend to be the singer while lip-syncing lyrics onstage. Meanwhile, Pain said, Akon would be performing at an entirely different venue. 
T-Pain isn't backing down from what he said either, tweeting the following:
Akon and T-Pain have a little history together. Back in 2020, Akon said in a VladTV interview that T-Pain limited himself to "urban" music, instead of branching out to other genres.
"I saw T-Pain as another me, to be able to cross outside of urban," Akon said. "Go into pop, go into EDM, go into Latin—I still think till this day he still can do it." 
T-Pain seemingly responded to Akon's remark on Twitter at that time without mentioning him by name.