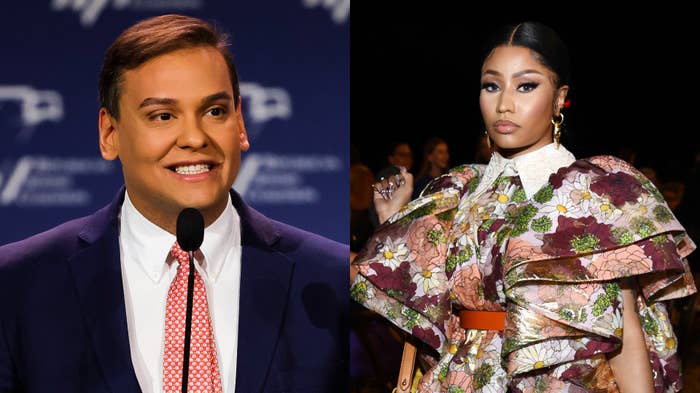 New York Rep. George Santos introduced a bill on Monday named after Nicki Minaj, according to Semafor reporter Kadia Goba. 
The purpose of The Minaj Act is to establish "a development period for new vaccines in order to generate public confidence."
In 2021, Minaj posted a series of tweets discussing her skepticism towards the Covid-19 vaccine. The rapper shared that her cousin vowed to never get the vaccine after his friend got the jab and "became impotent." The friend's "swollen testicles," which almost certainly was not a side effect from the vaccine, resulted in his fiancée calling off their wedding. 
In addition to reportedly introducing seven new bills earlier today, Santos announced he will be seeking re-election after enduring calls for him to resign throughout his first term. Santos previously walked back a statement on his campaign website declaring he's Jewish and his grandparents escaped the Nazis during World War II. 
"I never claimed to be Jewish," Santos told the New York Post. "I am Catholic. Because I learned my maternal family had a Jewish background I said I was 'Jew-ish.'"
Santos has also lied about his college education, his mother being in the World Trade Center on September 11, and the list goes on and on.
Santos is also being investigated by the FBI for allegedly pocketing $3,000, which he helped raise through a charity he ran under the alias Anthony Devolder called Friends of Pets United. The proceeds were allegedly meant to go to Richard Osthoff, who started a GoFundMe in 2016 for his dog Sapphire and their life-saving surgery.