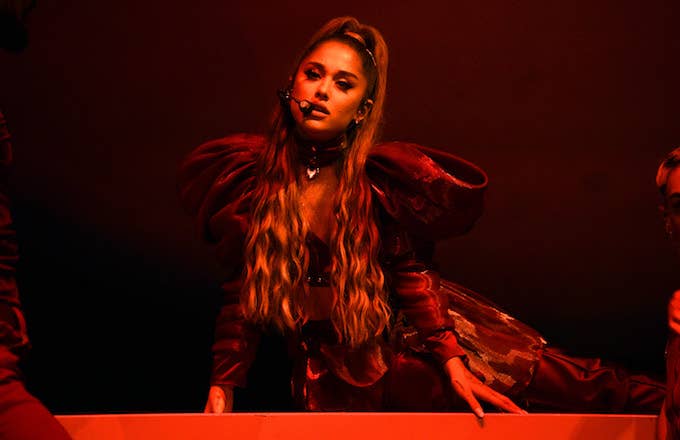 When it comes to vocals, Ariana Grandedoes this. It only makes sense that Ariana would feel the need to defend herself against someone claiming that she's using auto-tune during her live shows.
"It sounds like auto-tune and probably not live," the fan commented on Grande's Instagram post. "I mean you are a great singer and I love your voice and songs but this doesn't sound live." 
Grande responded to the auto-tune allegation with one hell of an epic clap back. "Naw with all due respect, I could do this in your living room for you, fam," she wrote. "With no sound mixing or help at all. I could do it on broadway (and did). I can do it in the shower. in the car. it's my gift / it's why i'm here. I sing 30+ songs a night. Every word. it's my thing. let me shine like damn." 
Now, the user who asserted that Ariana was using auto=tune on the singer's own Instagram post is asking Comments By Celebs to remove the post featuring their interaction or upload it again without a name included.
"Hi! Sorry guys but you are posting my name like laughing at mez so I have to ask you for deleting this post and upload it without my name," the user wrote. "I wrote it and I still think I'm right about auto-tune. Probably she sang live there, but there is a effect in her voice and that's a fact. I love her by the way but people don't care about that, people don't know me and insult me without knowledge and all because of being radical fans that hate people that don't think the same of their idol. The worst part is I really love Ariana Grande so they are bullying another fan."