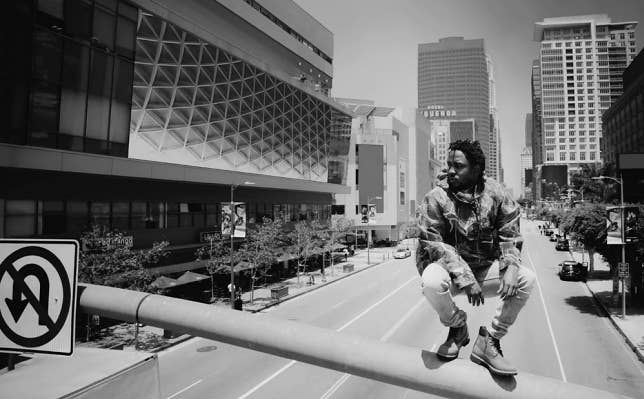 Just a couple days after Geraldo Rivera complained about Kendrick Lamar's BET Awards performance on Fox News, Lamar has fired back in an interview with TMZ. 
Shortly after the TDE rapper performed his latest single "Alright" at the awards ceremony from the top of a vandalized police car, Rivera repeated his own comments from earlier this year, claiming, "hip-hop has done more damage to young African-Americans than racism in recent years." 
Speaking with TMZ earlier today, Kendrick kept his cool while pointing out Rivera's manipulative rhetoric. "How can you take a song that's about hope and turn it into hatred?" he wondered. "The overall message is, 'We gonna be alright.' It's not the message of I want to kill people."
As for Rivera's complaints about the performance using a police cruiser as a prop, Lamar responded, "I think his attempt is really deluding the real problem, which is the senseless acts of killings of these young boys out here. I think for the most part [he's] avoiding the truth. This is reality, this is my world, this is what I talk about in my music. You can't delude that. Me being on a cop car, that's a performance piece after these senseless acts, you dig what I'm saying? Of course I'm gonna be enraged about what's going on out here. Of course I'm gonna speak on it."
"Hip-hop is not the problem," he later added. "Our reality is the problem of the situation. This is our music. This is us expressing ourselves. Rather than going out here and doing the murders myself, I want to express myself in a positive light the same way other artists are doing, not [by] going out in the streets. Go in the booth and talking about the situation and hoping these kids can find some type of influence [from] it in a positive manner. Coming from these streets and coming from these neighborhoods, we're taking our talents and putting 'em inside the studio."
Watch the whole interview below: