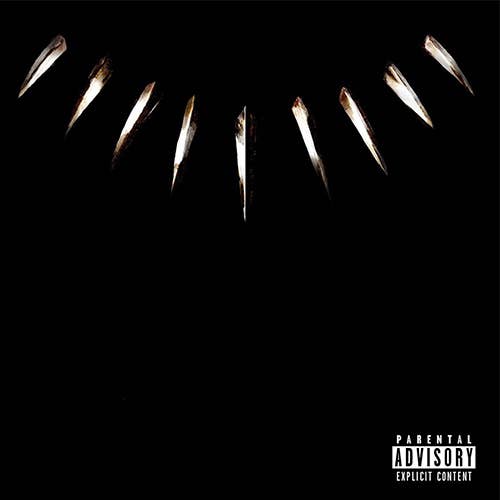 As projected last week, Black Panther: The Album just jumped to the number one spot on the Billboard 200 list.
In tandem with the film, which is smashing the box office with a $200-plus million opening weekend gross, the soundtrack is moving serious units. 154,000 equivalent copies of Black Panther: The Album were sold in the week ending Feb. 15. Of that number, 52,000 of which were traditional album sales.
The 14-track soundtrack, produced by Kendrick Lamar and Top Dawg Entertainment CEO, Anthony "Top Dawg" Tiffith, features guest appearances from fellow TDE signees like SZA, Jay Rock, Ab Soul, as well as popular acts like The Weeknd, Khalid, and James Blake. Two videos from the collection have already been released: "All The Stars" and "King's Dead."
Black Panther: The Album hitting number one is a big deal for several reasons. For starters, it's only the second movie soundtrack to become a chart-topper in 2018 since The Greatest Showman. On top of that, it's been three years since any film soundtrack topped the Billboard list. It's also the best-selling soundtrack in the Marvel universe to cap off a big selling week since Suicide Squad: The Album, which landed at 182,000 units in August 2016.
According to Billboard, Black Panther: The Album, The Greatest Showman, and Fifty Shades Freed currently sit at Nos. 1, 3 and 5, on the Billboard chart, making it only the second time in the last 10 years three soundtracks have been in the top 10.
Hats off to Kendrick!