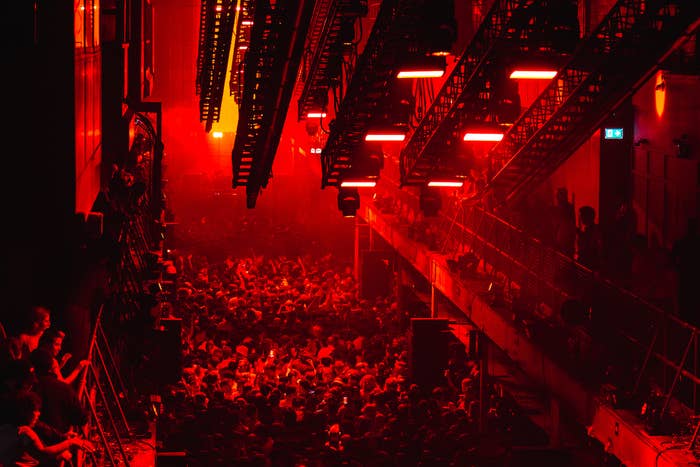 Sad to say, but we're about to say goodbye to Printworks.
The hope is that this is just a temporary hiatus, but nothing seems to be 100% set in stone and, for a while, it looked like it might be permanent.
But it's not over yet and there's still a tonne to look forward to. The iconic former printing factory—so iconic, in fact, that one of the best scenes in 2021's The Batman was filmed there—may be shut from June onwards, but before they go they've confirmed the full line-up for the massive four-day closing weekend.
Running from Friday 28th April to Monday 1st May, each of the four nights has been curated to reflect a different aspect of the Southwark venue and the kind of nights that they've played host to over the years.
Kicking off on Friday is the BBC Radio 1 Dance night with Black Coffee (his Paintworks debut), Maya Jane Coles, Danny Howard, AMÉMÉ, Chloé Caillet, Jaden Thompson, Syreeta, Arielle Free, Sarah Story, Jeremiah Asiamah, Selena Faider, and Ceri.
Then, on Saturday, Camelphat will also be making their Paintworks debut and they'll be joined by Stephan Bodzin (Live), Adriatique, Mind Against, NTO (Live), Jimi Jules, Carlita, Nick Castle, Francesca Lombardo, Ivory, Joyce Muniz, ANII, Cassian, ANTARES, and Carina Lawrence.
Sunday is more of a garage, bassline and breaks affair, with a yet-to-be-announced special guest along with Sub Focus & Dimension & MC ID, Kings Of The Rollers & Inja, TQD, Sammy Virji, p-rallel, Koven, MJ Cole, Elijah & Skilliam, 24 Hour Garage Girls, Jaguar, Harriet Jaxxon & MC GQ, Kyrist & SP:MC, Lens & MC GQ, Mixtress – Bambii, Ell Murphy, IYRE, and Trinity.
Then, for the final, final day on Monday, they've got another TBA special guest as well as Peggy Gou, Róisín Murphy (Live PA), Folamour, Dixon, DJ Koze, HAAi, TSHA, SHERELLE & I.JORDAN, Prospa, DJ Set, Mella Dee, Ahadadream, Shy One, EFFY, SUCHI, Swoose, Jennifer Loveless, Mona Yim, LUXE, 49th & Main, and Trudy Knight.
Unfortunately, tickets have now sold out, but according to their Instagram, there will be an official resale live via Kaboodle in the near future.