A Day With Vory, the Man Behind the Mask
We spent a day with Vory as he celebrated the release of his new project 'Lost Souls.' He talks new music, why he gets along so well with Kanye West, and more.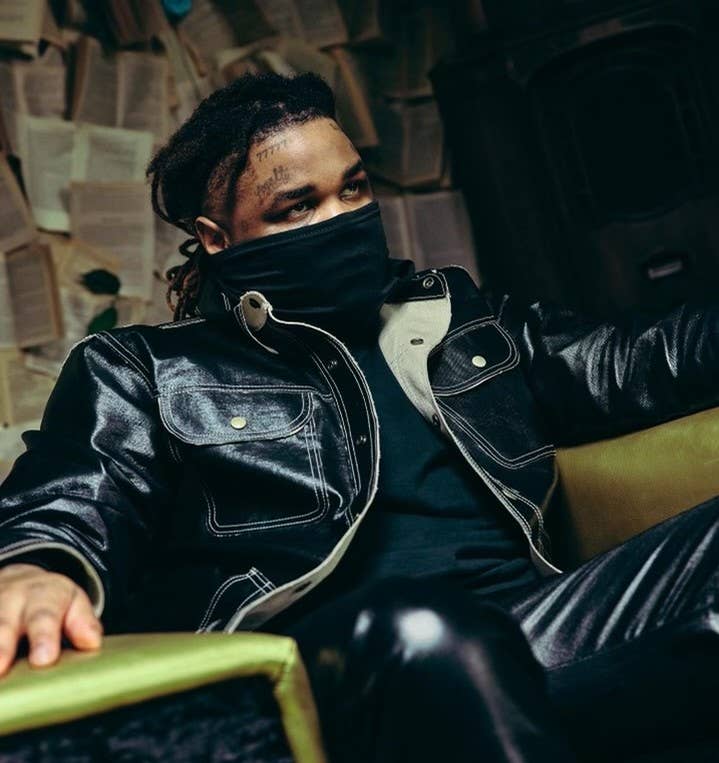 Publicist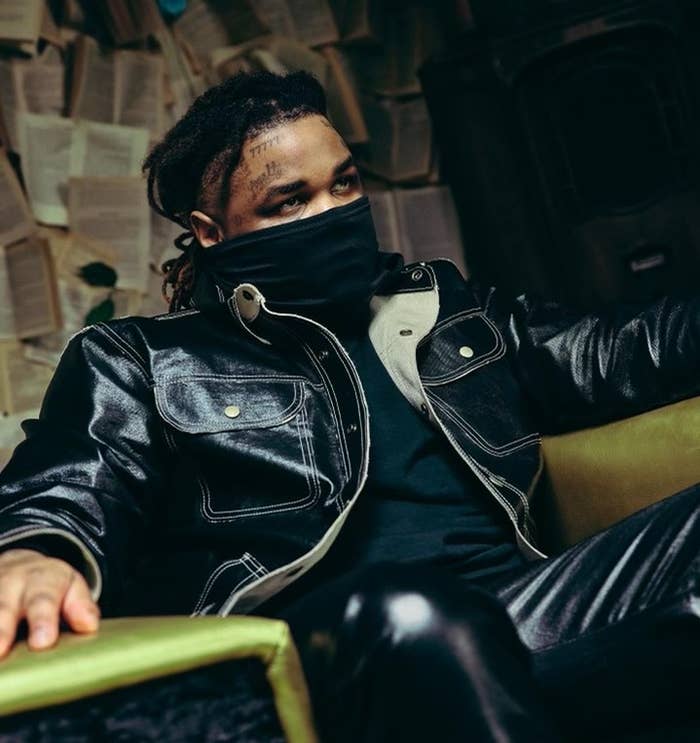 Who is Vory? Well, you'll get a different answer depending on who you ask—and that's entirely by design. The Houston-born, Louisville-raised rapper seldom frequents social media, and when he does, he rarely shows his face. Don't confuse the black mask he wears in public for a disguise, however. Vory likes to maintain an air of mystery around himself, but he has nothing to hide.
It's a dreary Wednesday afternoon at the Roc Nation offices in New York City when Vory walks into a serene matte black conference room and greets me with a smile (contrary to popular belief, he doesn't always cover his face in the mask). The veil doesn't lower often, but behind certain closed doors, it comes off completely. 
The 24-year-old artist prefers to do his talking through music, but after a long day of meetings in preparation for the release of his new project Lost Souls, his positive energy still manages to fill the space. He speaks in a low, rumbling tone as he answers questions with patience and poise, operating with the composure of a rap veteran, because in some ways, he is. 
Despite the fact that he's just now showing up on the radar of some mainstream fans, Vory has been working with high-level talent for nearly a decade now. He was featured on Bryson Tiller's "Breaking Bread" back in 2015 and later co-wrote Tiller's smash hit "Don't." He even earned a Grammy at 21 years old thanks to writing credits on Beyoncé and Jay-Z's 2018 song "Friends," before meeting Meek Mill in 2020 and joining his Dreamchasers label.
He's unphased by all the accolades and recognition he's received, though, because that's not what motivates him to make music. "I don't get excited about stuff like that, like awards," he tells me. "It's like a report card to me, it just shows that I did good. I already know that I did good, that's what I'm supposed to do. You supposed to be in it to win it."
All of these accomplishments represented significant milestones in his career, but nothing put him on the mainstream music map quite like his work with Kanye West. He delivered a standout performance on Kanye's Donda, contributing vocals to three songs, and stole the show with a mix of somber crooning and blissful melodies. Fans couldn't get enough of his voice, and it turns out he was initially supposed to show up on the album even more. "I was originally featured on Donda five times," he reveals. "And [Kanye] was just like, 'Bruh, we damn near got an EP on this thing.' So I guess his team decided that three times was enough." 
One of the songs that didn't make Donda ended up becoming one of Vory's own singles "Daylight," which was first played at a private Donda listening session at a church in Las Vegas back in 2021. Now, it fits seamlessly into his new project Lost Souls, released on June 3. 
Lost Souls is the product of pain and perseverance. Vory's unique ability to blend emotional crooning with bars that vividly describe his struggles is what makes him such a compelling artist, and he perfects this formula on Lost Souls, an album full of the same addictive melodies that fans fell in love with on his contributions to Donda. He tells me he uses music as a way to show his listeners that other people are going through the same problems they are, explaining, "I feel like a lot of people go through it, they just don't like to talk about it. Like other artists. I be having artists and all types of athletes say to me, 'Bro, you be going through the same shit that I be going through. I was just thinking that.'"
Growing up, most of Vory's family members weren't involved with music. There were a few that tried their hand at it, though. "My uncle is a boxer and he did music—Roy Jones Jr.," he casually tells me, as if having a legendary professional boxer as your uncle is a normal thing. He explains that Jones Jr. started a record label called Body Head Bangerz and was impressed by some of his early music. Vory even tried to get his famous uncle to sign Bryson Tiller to the label, long before Tiller blew up. "That's just how much I believed in Bryson."



"Everybody who knows me, knows I hold sh*t in. If I feel some way, it's going to be somewhere in a song."
The importance of family is one of the core themes of Lost Souls. On "Project Baby," one of the heaviest songs on the EP, Vory raps, "Do this for my family, give a fuck 'bout Grammys." Later on the track, he reveals that his grandmother passed away the same day that he landed in the Bahamas in early 2020 to work on Meek Mill's most recent album Expensive Pain (which he contributed vocals to). At a pivotal juncture in his career, he experienced one of his greatest losses.
"I used to stay with my grandma when I was younger, and she used to always tell me I was her guardian angel," he explains. "I never used to understand it, but it's crazy because when [my family] texted me and told me [she passed away], I stopped everything I was doing. I had talked to God for five minutes, and I felt so lost and confused because I didn't get to see her. But it's crazy because they had texted me when they found her dead, but then my sister told me five minutes later that they were able to bring her back to life, and she stayed alive for two more days before she died, so I got to see her." Vory says he went numb after that, but he couldn't slow down, so he threw himself back into music. There was still more work to be done.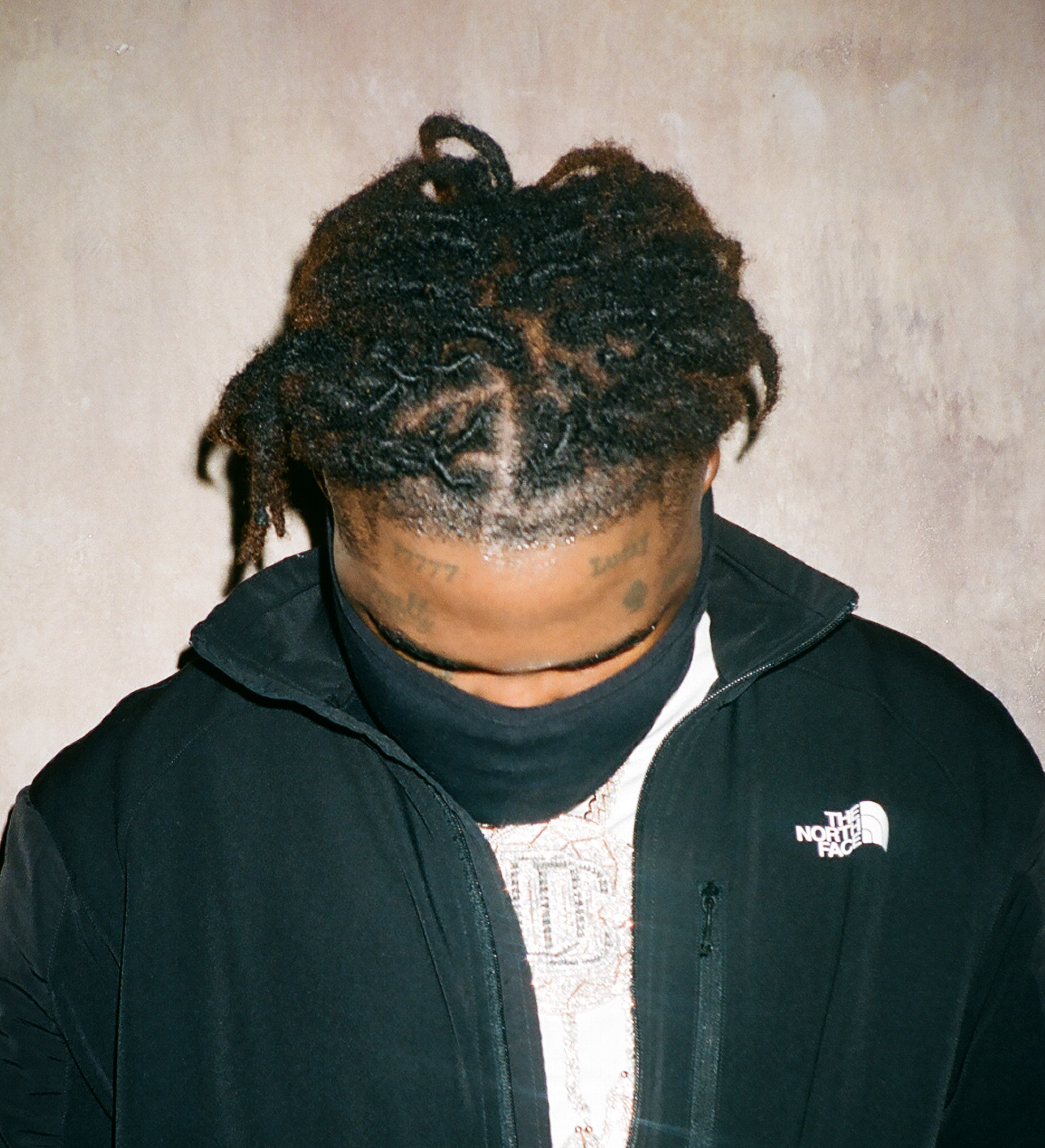 When Vory fully immerses himself in the creation process, his mask—metaphorical and literal—comes off, because that's one of the only aspects of his life where he lets people get to know him. "Everybody who knows me, knows I hold shit in," he explains. "If I feel some way, it's going to be somewhere in a song." He brings this mentality to Lost Souls, where he croons through stories about relationships, heartbreak, and suicidal thoughts. 
"The person who made me realize my twisted thoughts weren't so twisted was Ye, because we think alike," he tells me, explaining how important their friendship is. "I was just talking to him today. We've been talking through my best friend who's also his assistant, because he hasn't been wanting to talk to anybody. He's taking a year off, and he was like, 'Damn, you think Vory is going to be mad at me if I don't go to his release party?' And I was like, 'Nah, you're straight, bro.' He's battling his own shit. That's my dog, I learned a lot from him."



"The person who made me realize my twisted thoughts weren't so twisted was Ye, because we think alike."
Ye and Vory are similar in that way. They each wear their hearts on their sleeves and aren't ashamed to share their stories—the good, the bad, or the ugly. From the hilariously toxic "Happy Birthday 2U" to the soberingly honest "Not My Friends," Vory remains completely transparent throughout Lost Souls, accepting all of his past traumas and transgressions the same. "I think I got comfortable [being vulnerable] because I used to have an ex named Madeline, and she used to always be like, 'You're so jaded.' She used to tell me all this shit, and then she died," he says with a serious look on his face. "She OD'd on fentanyl, and then, I don't know, I always lived in the shadows, but I was deep in the shadows then. That made me open up more."
Vory embraces how his scars have affected his outlook on love, but he doesn't make excuses for himself. He understands how his own mistakes have played a role in the downfall of some of his relationships. Lost Souls standout "Chanel Fix" was inspired by the time Vory had to gift his ex a Chanel bag every time he cheated on her, and that ex eventually tallied 41 Chanel bags, as the song goes. "She has a big collection," he says now, half-jokingly. On "Lesson Learned," he raps about a past lover, while simultaneously including a voicemail from a different one at the end of the same song (a choice that we both agreed was compelling and bold, but a little crazy).