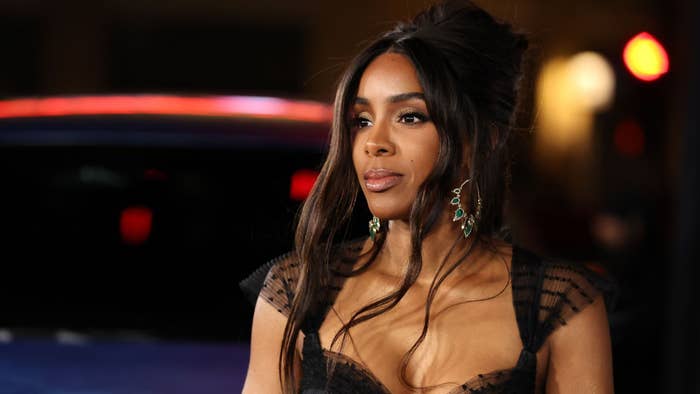 Kelly Rowland had not spoken to her father in three decades when she met with him in 2018 following the loss of her mother Doris Rowland four years prior. Now the singer has revealed the advice that close friend Jay-Z gave her while preparing for that encounter.
Talking with Hoda Kotb on Today in the clip below, Kelly, 41, explained what Hov told her before she got reacquainted with Christopher Lovett.
"He said, 'Love is all about risk. You gotta decide if you're gonna jump,'" she recalled Hov telling her. "'You gonna jump?' That's what he asked me. 'Are you gonna jump?'"
Lovett also joined the interview and said he didn't know how to react when he met the Destiny's Child member after 30 years apart.
"I couldn't believe it," he said. "It was just like a dream, really. [It's] the same way I feel now. I don't believe this."
Lovett added that he knew Rowland had become a famous singer, but he never reached out to her. In another pre-recorded interview for Today, Rowland detailed the abandonment she felt from her father before their fateful meeting.
"My understanding of where my dad was as a kid was that he was not really ready as a father," Rowland said. "I was angry at him. I was disappointed in him. I had all of those feelings of abandonment."
After working through the estrangement and fostering a stronger relationship, Rowland told Kotb the best advice she can give people going through similar situations is to do everything at their own pace.
"I'd have to say, brace yourself and ask yourself a couple of questions: Am I ready for this? Am I ready for, no matter the outcome, whether it's good or bad? Because the truth is, you don't want to set yourself up," she said. "Everybody's always scared of the other side, and you don't know if this person is embracing you with open arms or if they're not ready. And if they're not ready, that's okay."
On Father's Day in 2020, Rowland shared an emotional post on Instagram where she also detailed talking to her dad again and what that experience was like.
"I have come to know SO much about myself, my family history, and even where my love of music & voice have come from! I Love you Daddy, and love being your little girl...even at 39!" the singer closed the heartfelt caption.