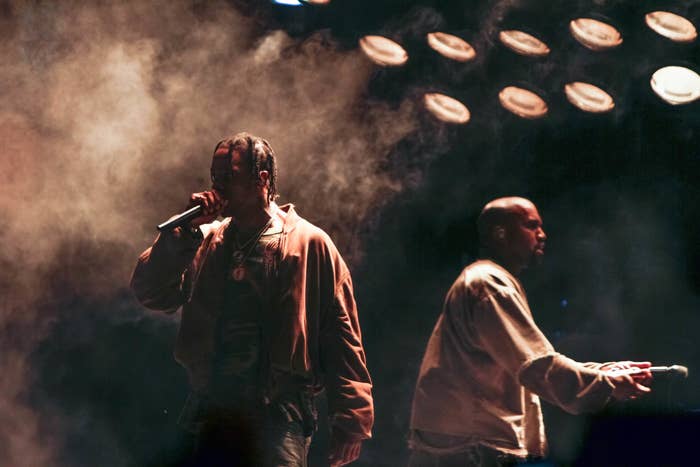 Travis Scott is in his UTOPIA era. On July 28, the Houston rapper dropped his highly-anticipated fourth studio album, featuring guest appearances from Drake, Beyonce, Future, The Weeknd, and more. It's only been a few hours, but so far, the reviews are pretty positive.
While listeners are still trying to figure out their favorite songs and what they like about the project, one of the most frequent observations about UTOPIA is that it sounds eerily familiar. More specifically, fans are already drawing comparisons to Kanye's 2013 experimental album, Yeezus. While UTOPIA is in no way a copy of Ye's classic project, there are a few elements that would explain how some have come to this conclusion.
From production credits, to similar flows and collaborators, here is why Travis Scott's UTOPIA reminds you of Kanye West and Yeezus.
Travis Scott helped produce Yeezus.
Some people may forget, but Travis Scott had a hand in the production on Yeezus, and played a role in bringing Kanye's experimental sound to the world. Travis is credited as a main producer on Yeezus tracks like "New Slaves," "Guilt Trip," and "I Am God." On "New Slaves," specifically, listeners can hear Trav's style in terms of blending electronic and techno-inspired drum instrumentation with classic hip-hop elements—something we see again on this new project.

Kanye has his hands in a lot of the production on Utopia.
Kanye has several production and writing credits on UTOPIA. The first time he pops up is on "THANK GOD." While his vocals are heard in the background, Kanye's production style is heard throughout in regards to the ominous, electric beat he's known for creating. Ye also appears on the production credits of "GOD'S COUNTRY" and "TELEKINESIS," which both have his quintessential auto-tuned vocals and intense beat.

Kanye and Travis tapped similar producers.
Ye and Trav use a lot of the same producers on Yeezus and UTOPIA. The most notable producer on the list is, of course, Mike Dean, who has played a large role in the curation of both Ye and Travis' albums throughout the years. If you heard the similarities between "CIRCUS MAXIMUS" and "Black Skinhead," well, that's because Mike Dean co-produced both records. Mike Dean also produced "HYAENA," which appears to hold a lot of influence from Kanye in terms of sampling soulful beats and flow.

Travis mimics Ye's Yeezus flow.
Kanye's influence doesn't stop at the production; Travis also seems to borrow from Kanye's flow. On "CIRCUS MAXIMUS" in particular, Trav's flow is eerily similar to that of Kanye's on "Black Skinhead." The cadence of Travis' lyrics, "At the top of the tavern/How I see when this happenin'/All the real have been dabbed in/All the, all the bumps and the grabbin'" is remarkably close to Kanye's lyrics, "Middle America packed in/Came to see me in my black skin/Number one question they're askin'/Fuck every question you askin'." The beat's drum pattern also takes cues from Ye's 2013 hit. On "HYAENA," Travis also mimics Kanye's rapping style, spitting, "​​Write a show by myself like I'm Chelsea Handler/Or write a series 'bout my bitches like I'm Kelsey Grammar."

Travis Scott samples old Kanye production.
"LOOVE" includes a sample of Pusha-T's 2013 single "Numbers on the Board," which also happens to be co-produced by Kanye West, alongside 88-Keys and Don Cannon. The sample appears to be slowed down and layered, but if you listen closely to the first 10 seconds of Travis's new track, you can hear it. And the fact that the song also includes Kid Cudi (one of Kanye's previous collaborators and future album mate) is yet another gem.

Some fans theorize that several tracks on UTOPIA came from Kanye's 2020 Donda sessions.
According to Donda's Place, a Twitter fan account that tracks Kanye news, some of the songs on UTOPIA might have come from creative sessions involving Kanye years prior. In one tweet, the Twitter account points to the third track on the album, "MODERN JAM." According to the account, the track "reuses" a beat that Kanye and Mike Dean originally created for an early version of "I Am A God," from Kanye's 2013 album Yeezus. You can make your own conclusion by checking out the side by side of the two beats here. According to another fan on Twitter, "TELEKINESIS" has also been linked to a 2020 session for Kanye's Donda sessions. The song was reportedly leaked by the title "Future Sounds," and shows Travis as a collaborator.