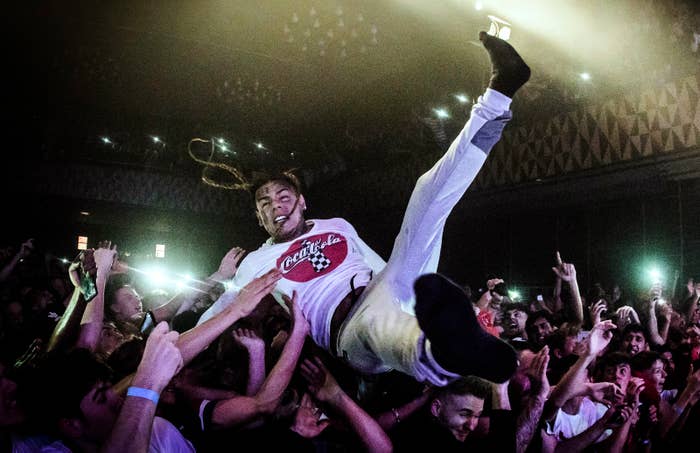 On December 18, 6ix9ine will be sentenced for his Nine Trey-related racketeering charges. Many expect his cooperation will bring the sentence "all the way down to time served," which would result in him being released sometime in early 2020. 
TMZ reports that 6ix9ine wants to revive his music career instead of entering the witness protection program. But with his extensive rap sheet and the physical danger he may present to himself and others, will he be able to book shows and tour? 
Complex reached out to representatives from music venues in New York, Texas, and Oregon about 6ix9ine's career prospects. Everyone we spoke with said the risks would likely be too high for him to be booked for shows.
6ix9ine's violent and disruptive reputation has always preceded him. A spokesperson for S.O.B.'s in New York City says venues were wary of associating with the controversial artist long before he was arrested. "Even before Tekashi 6ix9ine had problems, he really had limited access to most venues," they explain. "There was always fear that trouble brewed when associated with him. I'm not saying he didn't have access, but I'm saying it was limited way before any of this." 
With the additional threat of violent retaliation from gang members following 6ix9ine's testimony, New York City venues would likely be even more hesitant to book him for shows. "I just think it would be a very big risk," the S.O.B.'s spokesperson says.
"Even before Tekashi 6ix9ine had problems, he really had limited access to most venues. There was always fear that trouble brewed when associated with him." - S.O.B.'s representative
Venues outside of New York are also worried about the potential danger that would come with hosting 6ix9ine. Brian Kennedy, an entertainment attorney and in-house counsel for a venue in Texas, says the priority is always safety. To ensure the security of patrons, venues have to assess the possible threat. 
"We have to look at every show that's booked in this building from not only the viability of it, but also the safety concerns," Kennedy explains. "We have denied shows because of the safety concerns of the public."
The attorney confirms that "each market has a different threat assessment," and venues usually reject shows when they "decide you cannot have enough security to make everyone safe." In 6ix9ine's case, the threat level has increased significantly since the trial, which is why some venues are not looking to roll the dice. 
In addition to safety concerns, venues are examining the benefit of booking 6ix9ine from a business standpoint. A spokesperson for a venue in Oregon says questions asked internally include: "Is it worth it to book a guy when you don't know if people even want to come out and see him? Is it worth booking a guy that has a rap sheet that you're now associated with?" 
Factoring in both the potential damage to patrons and a venue's reputation, the spokesperson says, "It's not worth it to stick our necks out for an artist [like 6ix9ine]."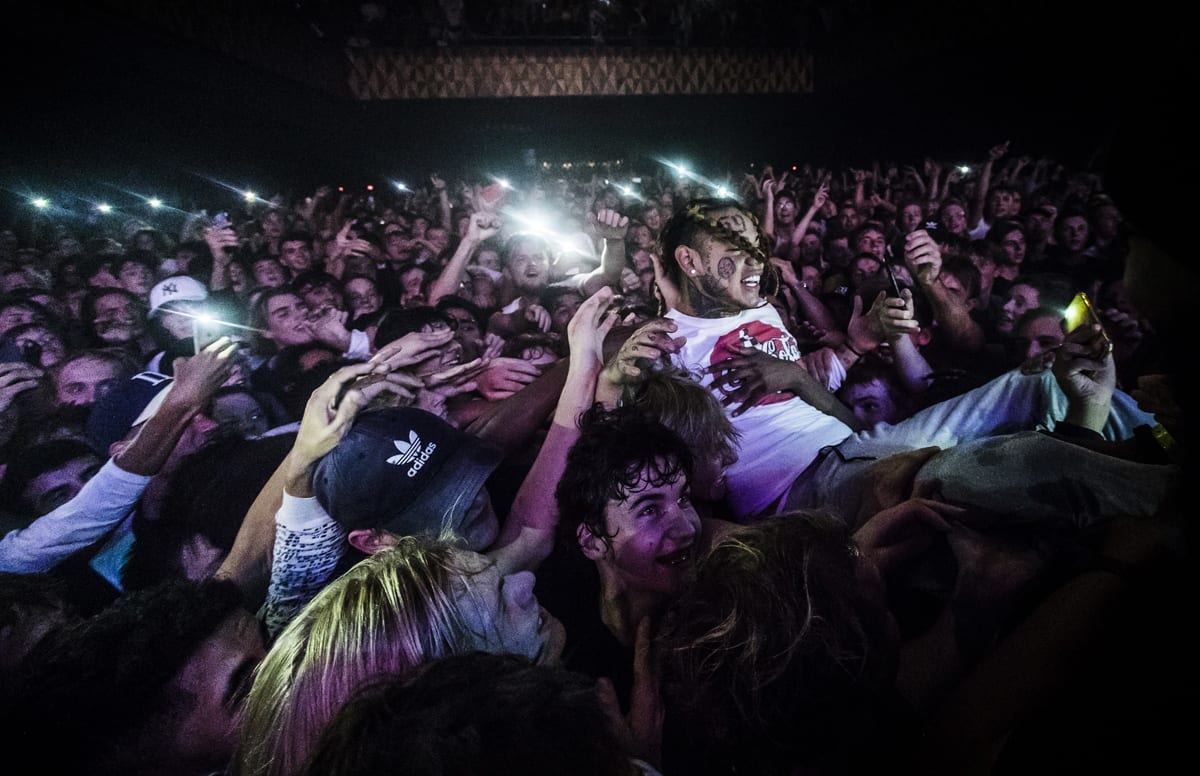 "It's also a matter of the courts," the Oregon representative notes. "We're not the judge and jury, but for a lot of cases, most venues would deem it's not worth it to put themselves out there for that particular artist. I don't want to speak for other venues, but it wouldn't surprise me if other people were eager to pass on that." 
6ix9ine could find a market for live shows outside of the United States, though. Before his arrest, when venues in New York City were hesitant to book him, the rapper performed dozens of concerts out of the country, including stops in Germany, Sweden, and the United Kingdom. Complex reached out to several venues in Europe for comment, but we were unable to find anyone to speak on the record about booking 6ix9ine for future shows.
Of course, there is a chance, although slim, that some American venues may decide to take a risk and book 6ix9ine if he resumes his music career. But it seems that many concert halls are currently not willing to go down that road due to physical danger to fans, their reputations, and 6ix9ine's life. So, should he attempt a comeback, he might need to get creative.
"It's certainly up to him and his management and how they want to go about that," the venue spokesperson from Oregon says. "I think it would be very difficult for 6ix9ine to thrive in the hip-hop community given the way that things have gone down."