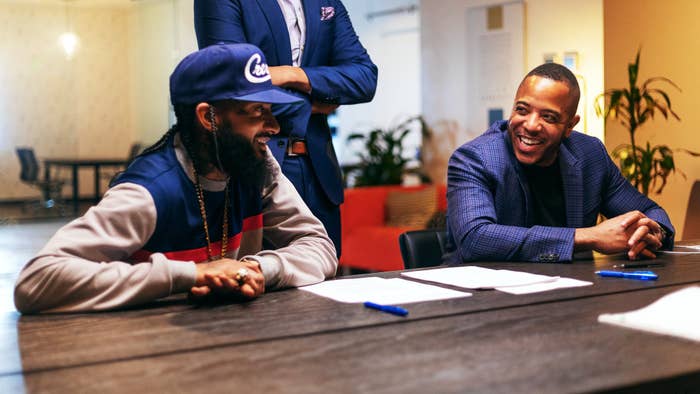 "Nipsey Hussle manifested leadership by doing, not by saying, 'I believe this' or 'you should do this.' He did it," says David Gross, Nip's longtime business partner.
Nipsey's hands-on leadership can be traced throughout his career. For years, we heard stories of him selling 1,000 limited edition copies of his Crenshaw mixtape for $100 a pop and setting up his Marathon Clothing store on the corner of Slauson and Crenshaw in Los Angeles. Now, Nip's entrepreneurial spirit has been continued by partners like Gross, in the wake of the rapper's senseless death in 2019. 
Our Opportunity is the latest organization to carry on Nipsey's vision. Co-founded by Nip and Gross, it's a grassroots investment initiative that's described as "a community-aligned organization focused on spreading transformative economic opportunity in low-income neighborhoods throughout the United States." So, while it started in Hussle's neighborhood in L.A., Our Opportunity's larger goal is to work with leaders in inner cities like Atlanta, Chicago, Washington DC, and New Orleans, to build transformative projects. 
Introducing Our Opportunity to the world, Gross launched the #InvestorChallenge in October 2019 with the purpose of encouraging new investors to get active. The objective was to open 1000 new accounts, then offer free introductions to investing curriculum. Since December 2019, 450 new investors have opened accounts, but Gross says that number has increased within the past month. 
The social media campaign and curriculum is only the beginning for Our Opportunity. There are two funds, Own Our Own and the Opportunity Fund, both of which will focus on real estate investment and development in inner cities. Launching now, the Own Our Own fund is targeting a $50 million raise, which is being crowdfunded to allow small investors from each communities to participate with minimum investments of $1,000. The Opportunity Fund is targeting a $100 million raise, which will target investors with capital gains who can benefit from the Opportunity Zone legislation. Gross says the legislations' goals are "to get people to make long-term investments in inner cities." He adds, "To simplify, this is the biggest tax gift ever written into a new tax code."
Our Opportunity honors Nipsey's life's work of building up his community, but Gross says the task of completing the project without him still weighs heavy on the team. "Everyone is pushing themselves to return to normalcy in the context of things we were doing with him," he says. "It's for his legacy or on par for his legacy, so it's been a slow process."
Gross also reveals that a documentary, which they shot when Nip was alive, will give a more in-depth look at Nip's vision. For now, though, the team has delayed its release until they "find a tasteful way to acknowledge what's happened in completing the documentary without shifting the focus from being a documentary about this movement to being a documentary about his life."
David Gross spoke with Complex about his plans with Nipsey Hussle, Our Opportunity, and more. The interview, lightly edited and condensed for clarity, is below. You can learn more about Our Opportunity at their website here.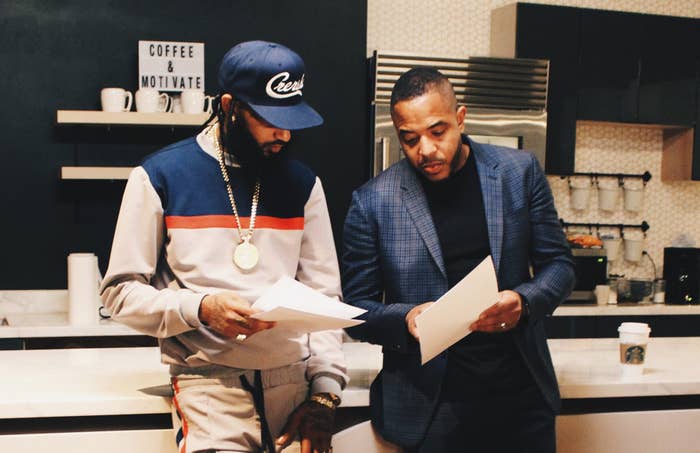 Can you explain what Our Opportunity is all about? How does it stem from the previously launched community space, Vector 90? 
It's funny to look back now at the early conversations and vision. The first time I actually pitched Vector 90, I had a deck that was so involved. It had phase one through five with everything that Vector 90 was going to be. It was going to lead to incubators and Shark Tank-type events in every city. It was going to lead to VC funds. It's kind of a moonshot concept, which is what got [Nipsey Hussle] into it. So the kernels of the idea of Vector 90 and Our Opportunity are the same. With Vector 90, we were trying to find a grassroots, high-impact way to reach people. Then we wanted to take the things that worked and scale it to other places. That's at the heart of what Our Opportunity is. Our Opportunity is all about finding very localized, high-touch grassroots ways to make a positive change in every city. And then replicating and scaling [the things that worked] to a much larger plateau.
To simplify, this is the biggest tax gift ever written into a new tax code.
The name Our Opportunity comes from something called Opportunity Zones. What is an Opportunity Zone? 
An Opportunity Zone is a concept that was created in a tax bill that was passed in December of 2017. The tax bill itself was pretty robust, and it resulted in a lot of tax cuts for wealthy individuals and corporations. But included in that was something radical that was intended to help positively impact inner cities. So, it's tax incentives based off of the investment of capital gains. It wants to get people to make long-term investments in inner cities.
The longer term your investment is, the bigger the tax returns. The way it works is, if you're investing in a capital gain, which is the profit from another investment, and you put them into a designated opportunity zone, you start receiving these tax benefits. The first benefit is a deferral you get for five years. For the first five years, you don't have to pay taxes on your capital gain. After five years, you get a deduction on the taxes you owe. After two more years, you get a greater deduction. You have to pay your initial taxes, but the big part of the incentive, where it becomes magical, is if you invest in an opportunity zone—say you buy some real estate in South Central that qualifies—you hold it for two years, and whatever your profit on that real estate is, you never pay capital gains taxes on it. To simplify, this is the biggest tax gift ever written into a new tax code.
How much of this organization was outlined prior to Nipsey's passing and how much of it was done afterwards? 
It's a very fair question. The best response I can give is we actually shot a documentary about this and completed it while Nipsey was alive. We shot the Our Opportunity documentary in the middle of March last year. We already had a rough cut of the documentary, and we laid out our strategy to partner with the local heroes. So, for lack of a better way to phrase it, kind of a "Nipsey figure" in each of the target cities that are important in our culture: Detroit, DC, Atlanta, Baltimore, New Orleans. This documentary laid everything out. That speaks to it being well-defined when Nipsey was alive. It was out in the atmosphere that we were doing this, and we'd already been invited to go and speak to Congress prior to his death.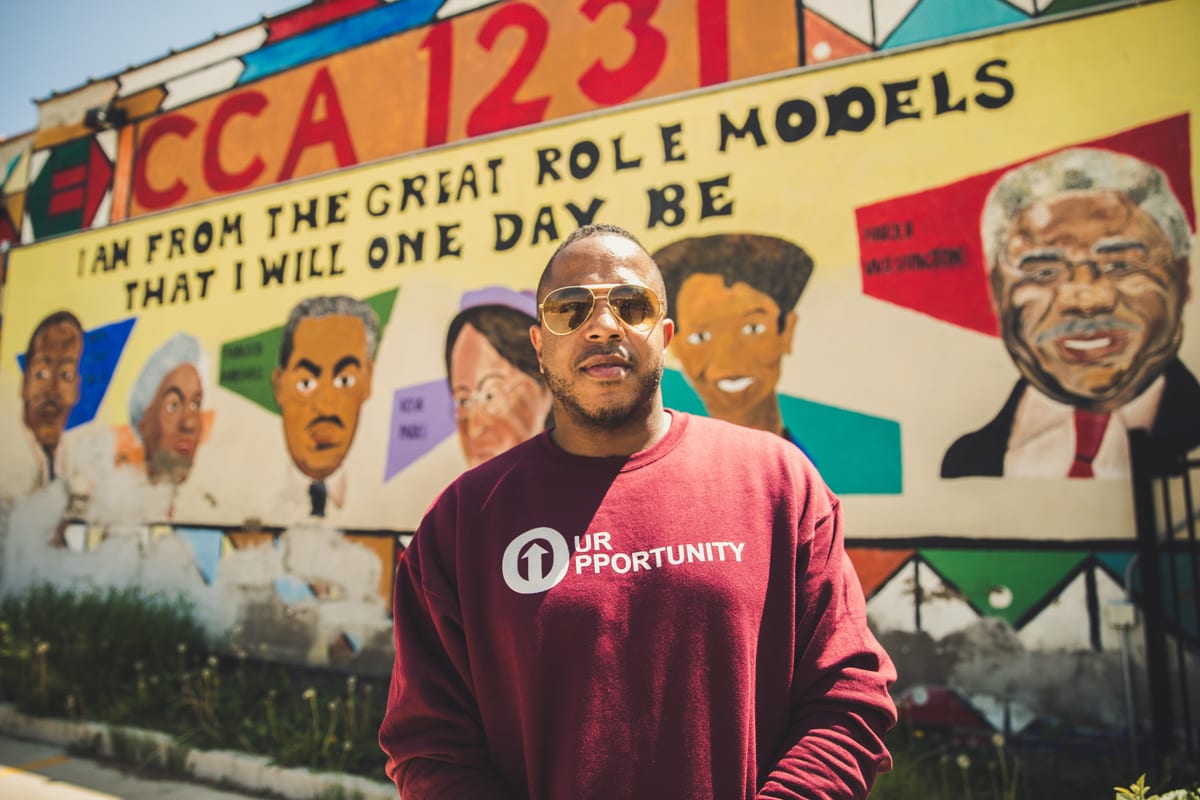 The task of fulfilling this vision obviously falls on you and your team now that Nip is no longer here. How do you move forward with making that vision a reality from an emotional standpoint? 
Yeah. I mean, as you can imagine, everyone in L.A. was significantly impacted by Nipsey's death. I think he was probably one of the biggest stories in the country last year. But in L.A., you magnify the impact and how it felt by hundreds. Going back to the timeline I laid out, we started shooting a documentary in January of 2019 with the idea of releasing it by the summer. It was done by March, and we just put everything on hold. It didn't feel right to, in the wake of his death, go back to business as usual. We shut down Vector 90 for a few months. We didn't touch the documentary or think about it. And the fund was placed on hold for everyone to process it. I don't know if it'll ever be... It's not as if today everyone's fine and has moved on. But everyone is pushing themselves to return to normalcy in the context of things we were doing with him. It's for his legacy or on par for his legacy. So it's been a slow process.
Why was this organization so important to Nipsey? 
Take it with a grain of salt, but I'm speaking based on insight that he gave me directly. You see reflected in all of his actions while he was alive, he manifested leadership by doing, not by saying "I believe this" or saying, "You should do this." He did it. He carried his neighborhood. He carried the ethos that he picked up in the neighborhood with him, and he made it look good. So for him, it was just a natural extension. As his platform got bigger and as he learned more things, he was expanding that activism, that radical entrepreneurship. It just aligned with his philosophy and worldview. 
Why is this important to you? 
For me, I don't have the platform that Nip had, but I had personal connections to L.A., and in particular, just the inner city in general. And I've always wanted to figure out a way to share the things that I've been fortunate enough to learn, and then to live my life in the way that I'm doing full time. I think the thing about him and the thing we were doing together, it was never us doing something for the people. It was trying to do it with them. I think that best describes how I want this to feel and what this should be. It's us doing something together. That's the only way to make real change and real impact—if it's done with the community, the people, or whatever your target is.
Did you anticipate any challenges in taking Our Opportunity out of South Los Angeles and bringing it to other inner cities?
We didn't anticipate any challenges apart from the standard frictions you get whenever you're starting anything new. But after we had proof of concept, we anticipated there would be large scale buy-in and excitement from within the culture and the communities we were targeting. That was the rationale for embracing Nipsey in South Central and say Meek Mill in Philly, because we wanted the community to buy it, to accept it, and then embrace it. If someone was starting a real estate investment fund or private equity fund, and you're like, "pick your partners," for the most part, people aren't going to say, "Yeah, I want your local rapper, NBA player, or legend." They're going to want an institutional investor or a high net worth family. But our whole thing was a bit more radical and very much grounded in the community and culture. And we were confident that the culture and communities would embrace it.
If 50 different groups spring up and they're doing this exact same thing, then that's the outcome we intended.
Is this model able to stand without a Nipsey or a Meek or another local figure? 
For sure. It's not a concept. We never wanted to represent that we invented it. The idea of buying back the block, I don't know where that started, but it's been ubiquitous in our culture: the ideas of black excellence and ownership. Obviously it's what Nipsey preached and rapped about for his entire career. So no, it didn't have to be tied to one person or a handful of people. We just wanted to catalyze. We figured the quickest way to shift the mindset, and then shift the culture, was to have a lot of the people who helped move culture. I threw out the Meek Mill name. At that point, we hadn't gone out to anyone, but in the documentary, there's a part where we go city by city. Those are the figures who make sense, but this is bigger than one person. That's why we always wanted it to be a coalition. It's about a group of representatives from this culture. If other groups do it apart from us, we want that. If 50 different groups spring up and they're doing this exact same thing, then that's the outcome we intended.
Why did you decide to launch this organization through social media with the #investorchallenge? 
We want it aligned with our impressionistic vision and objective for our communities, which is to encourage the mindset of investment, ownership, and entrepreneurship broadly. But it was actually a reaction to [another social media campaign]. On Mondays, I used to do this thing on social media called "Market Mondays." I would answer specific questions about what was going on in the capital markets or financial markets. The reaction I got was so strong, but the majority of the questions I got were from people who would say, "I don't know anything about investing, but how do we get started?" So it was just a response to that.
Initially, it was something I was going to do on a small scale with the people who were already following and engaging to get them to commit. There's no way to learn something unless you're doing it. After, I said I would give away $10,000. Other people started reaching out saying, "Hey, I'd give." Trae Tha Truth was the first person who reached out. He was like, "That investor challenge, when you do it, I want to give, too." It was super organic. Then we realized that other people would do it. Then a few other people reached out to me. It didn't start off as being some structured, organized thing, but because of the buy-in that we got, we had to give it some structure and build it out.
According to the Instagram page, you've reached 450 investors by December 12.  Has that number grown in the past month?
Yeah, it has. We raised more money. It was super cool when I first issued the challenge and I started giving away money. We were just wiring money to people from me, and incurring a $30 wire fee. We didn't have a 501(c)(3) set up. After other people started giving, it forced us to go and partner with a financial sponsor that had the 501(c)(3) status. And when other people gave, it would be tax deductible. We've been able to attract some larger capital partners, and more significantly, been able to attract some institutional partners on the educational side who want to provide a lot of tools in the curriculum for a scalable educational model.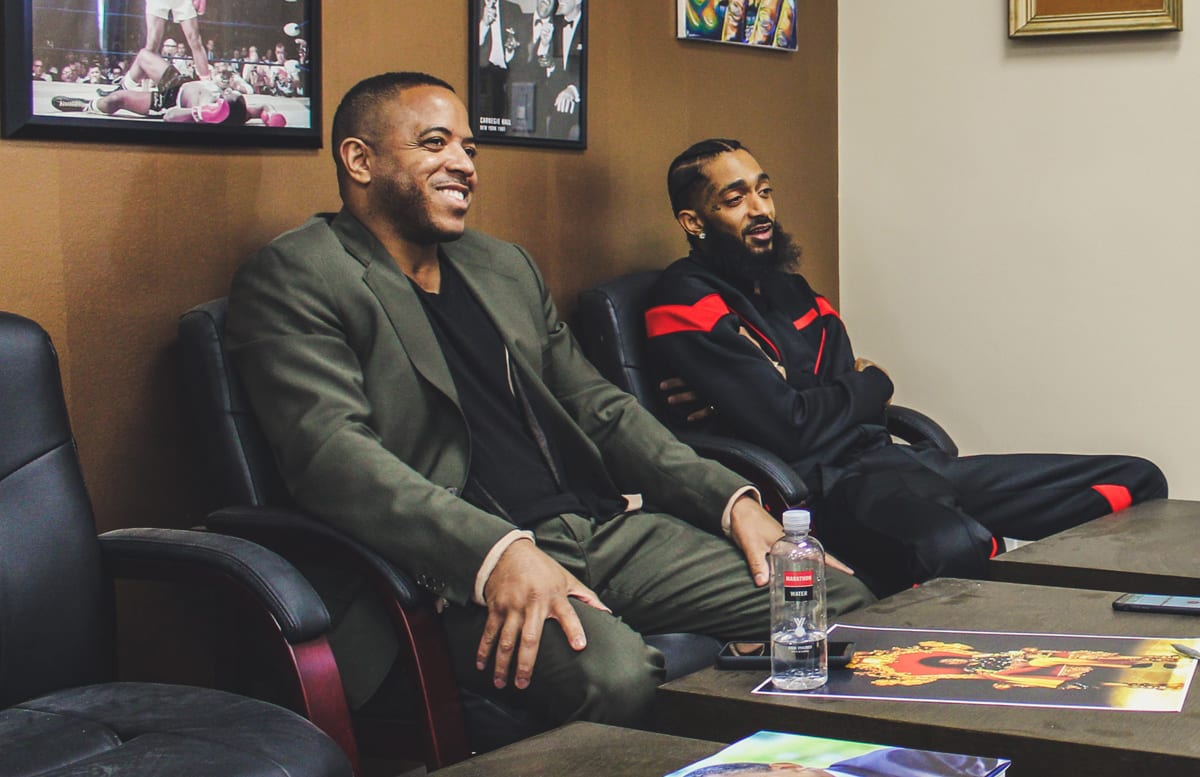 Is the idea to launch an investment curriculum? What would that program entail and how would people access it? 
The response has been overwhelming, and the demand has been overwhelming. We've been able to attract some partners on the educational side. We have people who want to develop tech solutions to teach everyone and allow them to remain connected. Initially, this is going to be something where I was going to give away $10,000, and then begin teaching a class the following week. And it just mushroomed. Now, it's about finding the balance between being real-time and rolling it out, but also being smart about embracing the offers for assistance that we've gotten from partners who can contribute a lot more than my team can do on its own.
You mentioned the increasing interest in learning about investing. It seems that millennials are particularly interested in this. What is the demographic? 
It's kind of evenly spread out in terms of age group, but I'm surprised at not even the age of people who are interested, but just the sort of the profile of people who are interested, who don't seem like they would have ever thought about investing. Their response has been, "I've always wanted to learn to invest and it just seemed intimidating." Or, "It seemed like it was something that wasn't for me." That's been the biggest thing. When you make it accessible and welcoming and in their voice, they respond to it. 
What's next for Our Opportunity? What is the long-term goal? 
As part of Our Opportunity, there are two distinct things going on. Our Opportunity is actually a nonprofit advocacy group that's focused on trying to share and impart implementable things that a community can do to further themselves economically. And so, Our Opportunity is working with a national government, state, local government, and then corporations, and even individuals to fund a foundation that's grassroots and targeted. And it's creating and sharing curriculum, symposiums, and classes. Own our Own is the opportunity fund that we were planning and we're going to raise. The focus of that is going to be core inner cities, initially targeting large majority black cities, but we'll invest beyond that. We have a special emphasis on affordable housing. That's one of the key rights issues in this country at the moment: a dearth of affordable housing. 
Right now, when you want to ride the fund, obviously there is a lot of documentation that takes place and you submit your concept to the SEC. They sign off, which means you can start raising the fund. Prior to that, there's a period where you can go out and tell people what you're doing. I'm raising a fund—here's how much I'm going to raise. Here's what we're going to invest in. You can even solicit commitments, and that's called testing the waters. So that's where we are right now. We're free to go out and market, and tell people about the fund and what we're doing, and how much we want to raise, and how we're going to deploy it. But we can't actually take that investment until the SEC gives their final sign-off. So we anticipate that the final sign-off for the SEC is coming into February, or beginning of March at the latest. Then, at that point, we'll begin accepting donations and making investments for the fund.
Do you know when we can expect the documentary you mentioned earlier? 
No. We completed it, but it's back to that question you asked about timing, and getting back to normal. We shot every second of it while Nipsey was alive, and so it's jarring to watch a documentary that you're a part of, where you were talking about, "We're about to do this, we're about to do that." Now, he's not here. So we have to find a tasteful way to acknowledge what's happened in completing the documentary without shifting the focus from being a documentary about this movement to being a documentary about his life. I'm sure a documentary about his life is going to come, and his life deserves its own full documentary. And then, we just weren't in the mind space to finish it and put it out. We were still processing [his death]. Now we are entering the final stages of seeing how to release it, and how we address [his passing]. We're not going to go shoot anything new, but how we address his passing prior to releasing it in conjunction with marketing the fund—I think that's imminent.