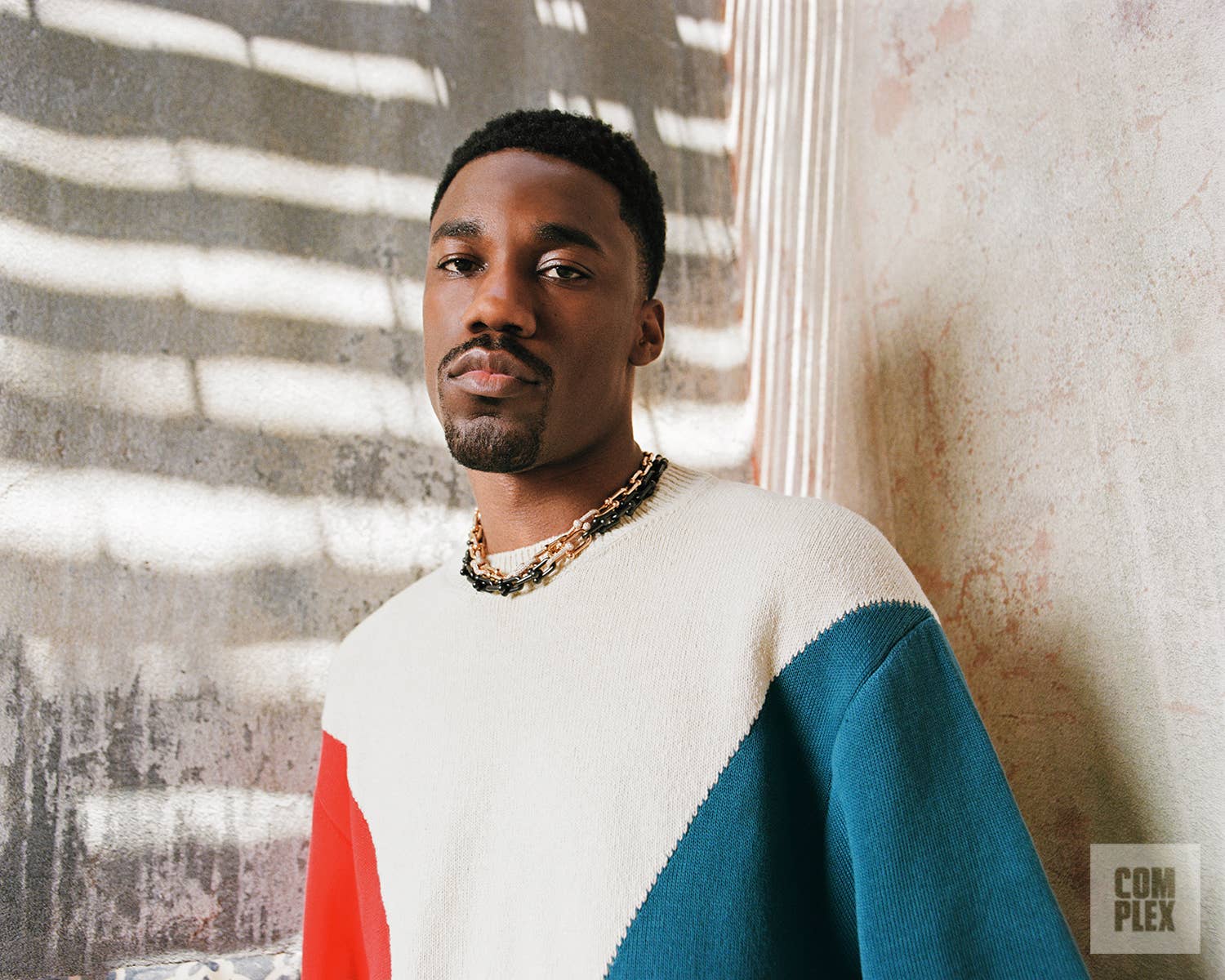 Givēon can sing — or as old church folk would say: he can sang. 
It's early in the morning on June 30 in New York City. So early that the sun has barely emerged above the skyline and most of the city is still asleep. Givēon, however, is already up for a performance at Good Morning America to promote his new album Give or Take. When I walk into his dressing room at the Times Square studio, he's lounging on a couch with a sheet mask on his face. The 27-year-old singer is already dressed in a Jil Sander sweater, Bottega pants with zipper details, and Tiffany chains, but he's waiting for the final touches on his TV makeup. He's in a good mood, asking me about the earbuds that are hanging around my neck, which leads to a friendly debate about what headphones are the best (he prefers AirPods Max).
Just before show time, Givēon joins his band and team in a pre-show prayer, and he's gracious enough to invite me as well. I enter the circle, locking arms with members, and we bow our heads to pray over the performance. Then, in three, two, one, he takes the main stage. Under bright lights, he jumps into a lively rendition of "Lie Again" from the new album, delivering each word with his signature velvety tone. He sounds almost identical to his studio recording. In just three minutes the performance is over, executed flawlessly.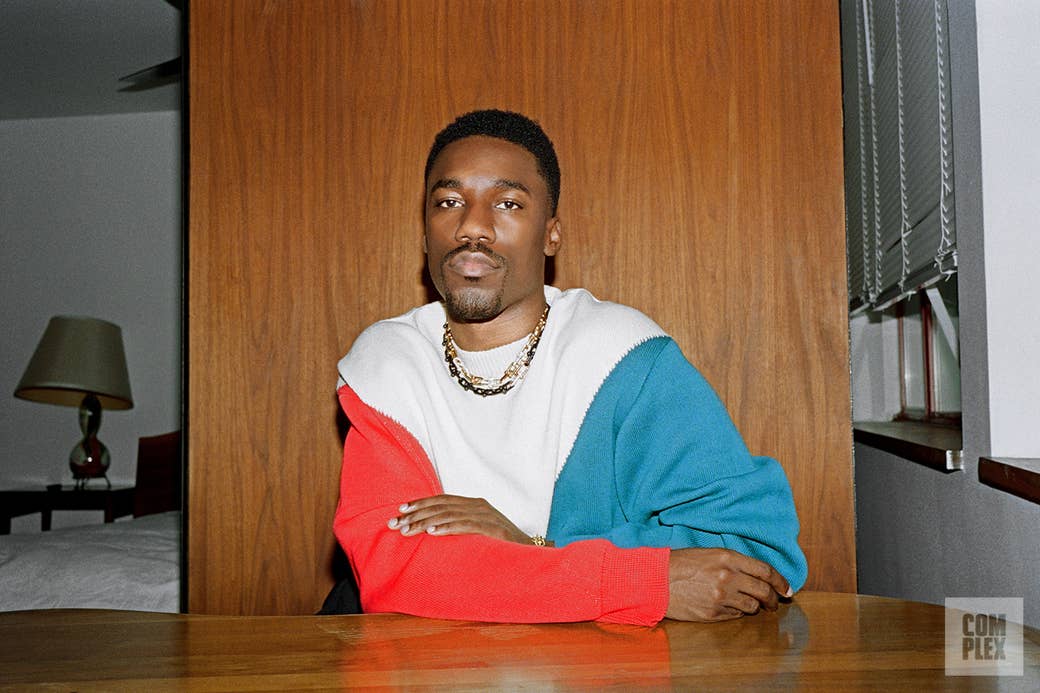 Givēon's GMA appearance comes just a week after his BET Awards performance, in which he experienced technical difficulties on stage that made him sound off-key, leading many spectators to question his vocal abilities. Having had some time to digest the moment, he provides some clarity on what goes behind the scenes of a major TV performance. "As a musician, who has context, and understands it, I thought it was common sense. But I'm realizing not everyone has common sense on basic music theory and production," he explains. 
Breaking it down for the not-so musically inclined, he lays it out like this: "The song is in B note, and the mic I was given was in the key of G. So anything I sing into this mic is going to come out in G, even if I'm singing properly in B. That's when it's going to hit the ear very weird. I just assumed people would know, because I didn't even sound human. It sounded robotic." 
Criticism is part of the game, though, and it's something that he's experienced from time to time. He reveals that when he first began singing, many people judged his deep baritone. Others have questioned why he has a British singing accent although he's from California. "Why do you sound like that?" they would ask. But Givēon welcomes critique. "I'm fine with it. I handle criticism so well, because I don't really care," he asserts. He playfully responded to the criticism after the awards show, tweeting: "Not BET sabotaging my mic!"
"If I'm making a song about how my heart was broken, I'm going to make a song about how my heart was broken the way I want to make it. Either you like it and enjoy it, or you just move on."
Negativity comes with the territory of being a public figure, and although Givēon isn't too enthused by that aspect of his rising status, he's come to adapt to it. "I've learned how to deal with the attention a lot more," he contends. "I hate to use the word famous or celebrity, but we kind of don't have any other words for it. It definitely took some getting used to." 
The past two years have been good to Giveon Dezmann Evans. He rose to prominence in 2020 with his appearance on Drake's "Chicago Freestyle," where his hushed vocals added a reflective layer to the song, rather than overpowering his collaborator. Later in the year, he took full advantage of the attention, dropping two EPs, Take Time and When It's All Done, the former earning a Grammy nomination for Best R&B Album. "Heartbreak Anniversary," the second single from Take Time, was certified platinum by the RIAA, spawning covers by everyone from Justin Bieber to Chloe Bailey to Kelly Rowland. The following year, he appeared alongside Daniel Caesar on Justin Bieber's smash hit No. 1 single "Peaches." 
Givēon is the most refreshing voice in R&B right now. The stories in his songs are relatable, and thanks to his infectious tone and laid-back delivery, he's carved out a unique lane for himself. Naturally, he's become a go-to collaborator for A-list stars from all genres, but he's also figured out how to stand on his own. Explaining how he was able to capitalize on his moments and build a loyal fanbase, he tells me, "Just because someone likes 'Peaches' or 'Chicago Freestyle,' doesn't necessarily mean they're a fan of Givēon. But I think the beauty of that is, I had a body of work, so it really redirected them to that. I'm extremely grateful for that magnifying glass on my music. I love those moments [because it's] transferring them to my world." 
After blowing up in the middle of pandemic lockdown, he's making up for lost time this summer. In the last few weeks alone, he's performed at Good Morning America, The Tonight Show Starring Jimmy Fallon, and the BET Awards, and now he's preparing for his own headlining tour, which is set to kick off in August. "I'll still have the same energy, if not more," he assures me, hinting at the mentality he'll bring on the road. He might be the same, chill guy from Long Beach, but things are moving fast for Givēon, and he's on pace to becoming the new face of contemporary R&B. 
Two hours after his GMA performance, he arrives at a three-bedroom apartment in East Village for a photoshoot. Against the backdrop of an exposed brick wall in the living room, Givēon poses as the camera freezes the moment, folding his arms and tilting his head to properly capture the light. He's at ease, having clearly had his fair share of photoshoots in the last year, and after shooting extra shots on the outdoor patio, he scoots over to an empty space in a backroom for a chat. 
When we meet, Give or Take has been out in the world for just a few days. He could have rushed to release his debut album in 2020 or 2021 after his string of appearances on major pop and hip-hop releases, but it didn't feel right. "I like to, no pun intended, take time, because that's really when the quality is there," he explains, sitting at a wooden desk in the corner of the apartment. "It's challenging, because the consumer now is so impatient and they expect so much music in so little time, and then they'll complain about quality. You have to pick one. If it was up to me, I probably wouldn't drop until every three years. I think anything rushed is going to sound and feel rushed. And a huge part of the process of making music is living with it." 
The album revolves around a conversation between Givēon and his mother, who he has credited for cultivating his love for music. Focusing on the intimacy of their conversation, he opted for voice notes from his mother instead of A-list features, and he says he strived to "tell a story that is transparent, self-aware, and cohesive, so that you could press play from top to bottom and people will be able to see themselves within it." It's those personal and strategic elements that make his album sound so authentic and relatable. 
Givēon's specialty is his ballads, which are usually accompanied by piano keys playing in the background. Most songs are anchored by melancholic and gloomy instrumentation, and the somber tone alone may be enough to make listeners break into tears, but Givēon's rich storytelling is what makes him really stand out. He writes about deeply personal, emotional issues on the album, including mental health. On the piano ballad "Another Heartbreak," he expresses feelings of PTSD as a result of failed romance. "The concept is just so refreshing to me," he says. "I don't think I've heard that take. And it's also saying, there's literally nothing wrong with what we have right now, I'm just letting you know I have PTSD." "Lost Me" and "Scarred," two of Givēon's other favorite records, explore moving past breakups and emotional baggage. On "Lost Me," he sings, "I'm not lookin' for the one/ Later, but for now I'm havin' fun/ I'm done 'cause I always get hurt." 
So far, Give or Take has been received well, debuting at No. 11 on the Billboard 200 albums chart, but Givēon insists he doesn't "seek [approval] from outside, unless people who I specifically ask." Still, there's one reaction that's invaluable to him: his mom's. 
"She started crying," he recalls of his mother hearing the album for the first time. "She tells me all the time, 'I'm an actual fan of your music, not just because you're my son. I could tell you I liked your music, and when I'm at home by myself, I could play something else. But even when I'm by myself, I'm playing it.'" Those same sentiments are evident in the first 30 seconds of the intro track, "Let Me Go," where she says, "I'm so proud of you, I'm sick right now."
"As a fan, she was excited to be a part of it," he tells me. "And as my mom, she was excited to make something with her son, and hopefully get nominated for a Grammy." 
While I sit with Givēon, a debate about the current state of R&B is raging online. Conversations about the evolution of the genre have been frequent over the years, but the latest discussion was prompted by a recent Verzuz battle between Omarion and Mario, which also included appearances from Bobby Valentino, Ray J, and Pleasure P. Some viewers criticized the live vocals of some of the artists, while R&B vets like Boyz II Men's Shawn Stockman declared, "R&B has lost their identity." He wrote on Twitter, "It felt it had to compete with the bravado of the hip-hop world. Labels stopped supporting the perception of Black men being more than displaying a thug image."  
"There's R&B purists who are very protective of the genre. So they're governing it, but that could backfire, because you start to limit the genre."
Givēon represents an exception to Stockman's argument, but when I push for his reaction to Stockman's comments, he acknowledges that R&B has been influenced, both musically and aesthetically, by other genres.
"I could see R&B acts being heavily motivated by hip-hop—you could just hear it," he says, pausing briefly before finishing his thought. "But I think people also need to realize that making music is a form of expression. People aren't making music to honor a community or a genre, really. If I'm making a song about how my heart was broken, I'm going to make a song about how my heart was broken the way I want to make it. And either you like it and enjoy it, or you just move on. I think people are taking out the fact that that's an actual person talking about their actual experiences." 
After another pause, he adds, "It's tricky, because R&B is one of those genres where there's R&B purists who are very protective of the genre. So they're governing it, but that could backfire, because you start to limit the genre. If you were to limit rap or hip-hop, I don't think it would be one of the number one genres in the world, because it wouldn't be able to expand. I love that it's on the front of everyone's mind, but I also think you just have to let it grow up. It's like raising a child too strict. You can't stunt the growth." 
R&B has evolved over the last decade, and some of its contemporary acts are now among the most popular artists in the world. Women artists, in particular, like Summer Walker, Snoh Aalegra, Ari Lennox, and Jazmine Sullivan, are dominating the space right now. Some have argued that no male R&B acts are competing at the same level, but Givēon urges fans to look harder. 
"People focus so much on mainstream acts, but there's so many acts that are making that exact same thing that you can go listen to," he sighs when I ask him about notable male R&B artists who are making noise right now. "There's so many artists. 30,000 songs a week are released, and we really just talk about the same cycle of artists. They probably haven't even done the due diligence to see what it is."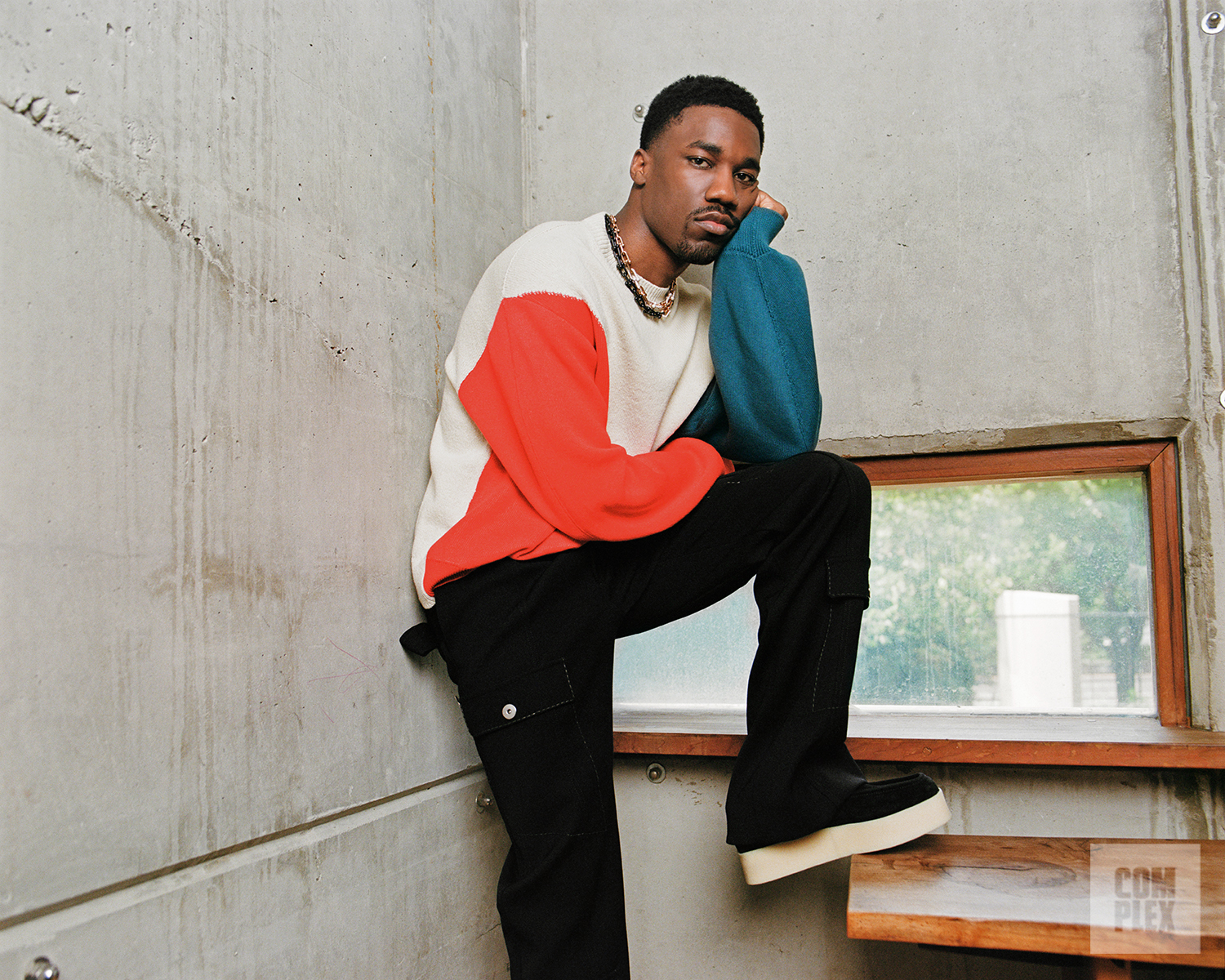 Givēon notes that today's online music culture rewards thoughtless criticism. "It's so much complaining," he continues. "All these complaints don't really come from artists. Me, I would never complain about a state of something. I would just go make it. If you don't like the way something is being done, do it yourself. And if you can't do it better than what you're complaining about, what gives you the grounds to say anything at all? Make the R&B you want to hear, and if you can't do that, then your opinion isn't really valid." 
This is only the beginning of Givēon's journey to superstardom. He predicts the next five years will be even busier as he plans to drop more music, perform at bigger venues, and "just keep growing my community." Givēon's trajectory is trending upwards, and even he can feel the wheels moving. "I don't know. It's weird," he whispers in an eerie tone, "I could feel [the fame and celebrity] growing." 
Even with all the accolades and hype, though, Givēon says he's still the same person. "I've always been a super simple person," he explains. "My happiness comes from being with friends and family, or eating food, or things that some people would call mundane. I could do so many crazy things, but I try not to do anything too wild. I don't go out. I don't party. I only drink white wine if I drink. You know, something classy."
Givēon may feel like a regular guy who just so happens to sing really well, but I'm not about to let him off the hook so easily, so I pull up a photo on Instagram that caught my eye. It's a group shot of Givēon standing with Drake, Lebron James, Michael B. Jordan, Damson Idris, and other celebrities, hinting that his life may have changed a bit more than he lets on.
"So, when I do go out, that's what it's like," he admits with a laugh. "That picture is so cool. It was so fun. I've been so blessed and lucky enough to be around some of the best role models that a young Black man could want to be around. I love trying to be in a room where I feel like I have the most work to do. That's my favorite thing. Because if you're in a room and you are at the top of that room, then you probably should switch the room up."
​​Jewelry: Tiffany
Sweater: Jil Sander
Pant: Bottega
Shoe: Loewe