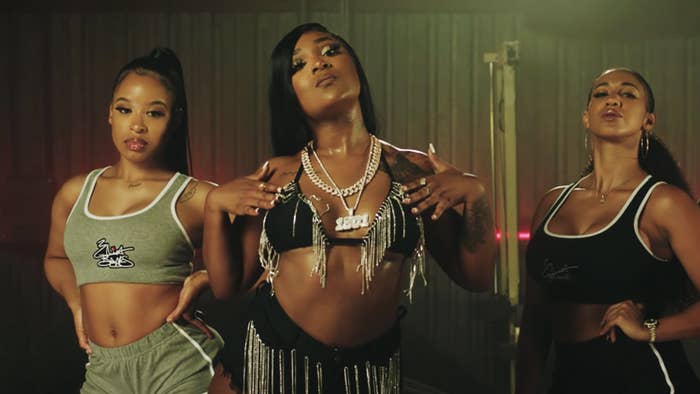 There's a new challenge taking over TikTok. Last year was all about the Don't Rush Challenge and the Savage Challenge, but this year everyone is showing off their glo-ups and sharp editing skills with the Buss It Challenge. 
The challenge, which uses Texas rapper Erica Banks' song, "Buss It," is simple and fun to pull off. It just takes two different outfits, some video editing knowledge, and twerking skills (you don't really have to know how to dance though). 
While Banks' song was originally released in 2020, the track has really started to take off in the first couple weeks of 2021. The challenge is so popular right now that it's trending on Twitter and a number of celebrities have already shared their own videos. In case you're looking to hop on the movement, here is a rundown of what you need to know about the Buss It Challenge. 
What is the Buss It Challenge?
When did it start?
A woman named Erika Davila was one of the first to the challenge. In her video, shared on Jan. 1, she is seen dancing along to "Buss It" without a transition. "Please tag me. And if this has been done I'm sorry, I just fux wit the song," she wrote in the caption. In the video, she urges followers to create videos of their own, writing, "Someone plz do this transition but all prettied up omg plzzzz," seemingly creating the challenge. Davila later made another video with a transition that was dressed up.
Who is Erica Banks?
The Buss It Challenge is 2021's most popular challenge so far. It currently has more than 400 million views on TikTok and Erica Banks' song has charted on Apple Music's Top 10 list. Rico Nasty, Monica, Daniliegh, and YouTuber Jackie Aina have all shared challenge videos online. Banks' talent is also catching the attention of major rap heavyweights. Nicki Minaj commended the rapper on a freestyle video that samples Sada Baby and Minaj's collaboration "Whole Lotta Choppas." "Sending love right back. U sound dope on this," Nicki Minaj wrote on the video, which was originally posted in Nov. 2020.