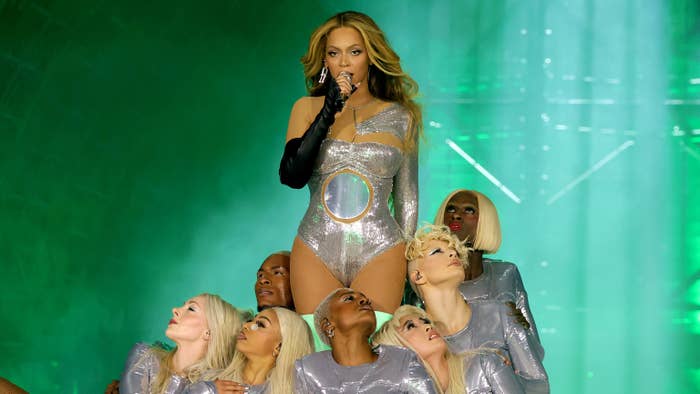 After months of fan predictions, theories, and anxiety-inducing anticipation, Beyoncé kicked off the Renaissance World Tour in Stockholm, Sweden, on May 10. The Stockholm show marked the first stop of her more than 40-stop trek through Europe and North America, and her first solo tour in seven years (she went on tour with her husband in 2018, too, but this isn't about him). Titled after the superstar's critically acclaimed album, Renaissance, Queen Bey brought the drama with heavily-choreographed segments, robotic props, and futuristic effects. Neither the ecstatic fans in the arena nor the fans following the show on social media were prepared for the spectacle the singer had in store. 
Dozens of videos and screen recordings have been circulating on social media since the tour began a mere five days ago, but who better to share what really happened on the Renaissance Tour than the people who were really there? Coming from around the world, fans spoke to Complex about what it was like to see the Queen up close and personal. 
"The energy on the floor was maxed out for three straight hours, as was that of Beyoncé, the dancers, band, and crew," Dallas native Drake Miller, 25, an attendee at the Stockholm shows, tells Complex. 
Ahead of opening night, a lot of speculation was dedicated to how Beyoncé would start the tour. Pre-determined by a poster was the fact that the tour would star "Beyoncé live with opening act: Beyoncé, and encore performance: Beyoncé." But would the introduction include any surprises? Would she begin with an acapella ballad or a medley? A YouTube video that appears to capture the opening act depicts a slow-burning scene. The sequence begins on the arena screen with a pre-recorded video of Beyoncé surrounded by a ring of light. After the word "Renaissance" flashes on the screen, the video takes viewers through a montage of futuristic images and fashionable shots of the singer. The video, which stops before Bey enters the stage, is spectacular, but doesn't quite do her opening scene justice, according to attendees. 
"It's such an intricate spectacle—a feast for both the eyes and ears."
Miller's best friend, 25-year-old Michaela "Micks" Salisbury from Miami also attended both shows in Stockholm, seated in the BeyHive Pit and Club Renaissance respectively. When asked what stood out about the show, Salisbury seemed captivated by the opening act, calling it "interesting," and "wholesome," "with a series of raw ballads, fan favorites, and vocal showcases."
Salisbury was also astounded that Beyoncé gave a speech "thanking us and telling us what we mean to her! We all came to experience Beyoncé's Club Renaissance, but she gave us herself in her most genuine form [in] her opening act before letting us into the club." Miller, too, was blown away by the opener, saying, "It's so different from some of her past intros and such a juxtaposition to the rest of the show that comes afterward. It's kind of like Beyoncé is the opening act for whatever iteration we're on now of Sasha Fierce, who's about to come out and tear the roof off for Renaissance."
As seen in numerous videos online, Beyoncé ran through several of her music eras—starting with her latest. She, of course, performed hits from her newest album—including "Alien Superstar," "Thique" and "I'm That Girl"—but also dipped into her back catalog, playing "Flaws and All," "Formation," "Lift Off," and more. 
Miller shouts out her performance of "Dangerously In Love" from her 2003 debut studio album of the same name when asked about the best part of the show. Meanwhile, Salisbury's favorite moment was the live rendition of "America Has A Problem." "The production [on that song] is insane," says Salisbury. "Her behind the 'KNTY NEWS' desk with the news-like visuals showing stock tickers on the screen, the bee outfit, the energy of the song, and her energy… It's so lighthearted and fun. It translates so well live." Snippets of "America Has A Problem" have already hit TikTok with many app users mimicking Beyoncé's quirky dance routine. 
Futuristic elements—including extraterrestrial visuals on the screen and reflective costumes—dominate the show. Most notably, Beyoncé performed "Cozy" with two robotic arms, and the Grammy Award-winning single "Black Parade" atop a gigantic metallic war tank.
"I didn't see it until it was right in front of me on the runway and the enormity of it was actually comical, paired with the grin on Beyoncé's face. She was having a blast, and we all were too," Salisbury recalls of the tank. 
The sound system in the arena was on full blast but the vocals were matched by the fan energy, say concertgoers. Though some videos show fans buzzing and roaring at different moments, critics on Twitter chastised the stadium attendees for seemingly lacking energy. Twitter warriors even went so far as to criticize Beyoncé for not dancing or giving low energy. People have since pointed out that her reduced choreography might have stemmed from a previous foot injury. 
As for Beyoncé's overall attitude, Pedro Henrique Ferreira, 28, an attendee from Anápolis in the Goiás state in Brazil, says the dull performance allegations are far from accurate. Ferreira notes he was impressed by her "genuine smile and happiness once she first hit the stage. She also seems more relaxed and able to have fun due to less complicated choreography." 
In fact, Miller suggests there are quite a few misconceptions circulating online. "If I hadn't seen that on Twitter, I would've never known it was a thing," Miller says, noting that what some folks were saying is far different from his lived experience. From where he stood, the crowd's energy was at an all-time high. "Something I've always noticed throughout my years of experiencing her performances is how in awe Beyoncé's crowds are and how it is often mistaken for lack of energy," Miller continues. "It's such an intricate spectacle—a feast for both the eyes and ears—that a lot of people are just stunned, trying to take it all in. Sure, some cities may bring more heat than others, but there's never a lack of energy in any room Beyoncé occupies."
Salisbury was admittedly one of the fans who was so awestruck by the performance that it might have appeared like she didn't have energy. Salisbury notes that many times throughout the show, "I was focusing on taking in everything that was in front of me." 
"Since I was in the Club Renaissance barricade, her whole team could see me [livestreaming]… The whole team was in front of me, including Jay-Z and Blue Ivy. I'm pretty sure they were not bothered." 
Beyoncé sold out the 60,000-capacity concert arena, but as you can imagine, there were even more fans who couldn't make it. Forbes estimated the average ticket costs were $685 or more. Luckily, for the ones who couldn't make it or didn't want to shell out hundreds of dollars, they could live stream the show in its entirety on social media. Beyoncé is no stranger to live streams. Her invite-only concert at the Atlantis The Royal in Dubai in January was live-streamed to the world by some guests who were in attendance (there was no official live stream from Beyoncé or her team) and can still be viewed on YouTube today. 
Ferreira livestreamed the Renaissance Tour in its entirety for those who couldn't attend. "I used to be part of them," Ferreira says. "As a Brazilian, I grew up in a very poor setting. Not sure if people know this, but most Brazilians make minimum wage, something around $200 per month. I could never dream of attending my favorite superstar's concert, especially opening night, so I know how hard it is to be at home looking forward to seeing your biggest idol." 
Many of the livestreams from opening night were shut down upon attempt (people claimed Bey's team had them taken down, although there is no proof of this), but even more streams popped up in their place. Ferreira was able to stay live for the show's entire three-hour window. At one point, a little over 15,000 people were viewing the Brazilian's livestream. I was one of them. When asked whether there were any reservations about streaming or getting caught, Ferreira says, "I wasn't scared because since I was in the Club Renaissance barricade, her whole team could see me doing it. If there was a problem I'm pretty sure they'd kindly ask me to shut it down… The whole team was in front of me, including Jay-Z and Blue Ivy. I'm pretty sure they were not bothered." 
Would Ferreira do it again? "Yes! It felt so good to see so many people happy to see the concert. The Brazilian viewers were so grateful; they joined forces to give me a ticket for the second concert so I could watch the show again, this time with a relaxed arm." 
Beyoncé has always been a premier live act, but according to both Miller and Salisbury, Mrs. Carter has stepped into "mother" status now. Celebrities, particularly women celebrities in pop culture including Katy Perry, Sarah Michelle Gellar, and Rihanna, have been knighted with the "mother" title. In this case, rather than referring to a woman who gave birth to a child, "mother" is a slang term coined by the LGBTQ+ community. The term dates back decades (even centuries), but according to a February 2023 article in the Gay Times, the term "is mainly being applied to cishet women with a certain pop cultural cachet and demonstrable queer appeal." 
Miller says Beyoncé was oozing "mother" throughout her Renaissance show. "She's in mother mode like I've never seen her before," Miller says. "She starts off the show as mommy dearest. Then out comes mother cunt. Then by the end of the show, you realize she's graduated past all of that and the 'mother' moniker doesn't even begin to cover it. Maybe a sovereign mother or mother empress [covers it]. Whatever it is, it's everything I need, and then some." 
Beyoncé left it all on the floor in Stockholm and has continued to do so since then (she's since performed in Belgium on May 14 and Cardiff on May 17). With that said, she's only getting started, and fans are already suspecting this is her last go-around. "This is giving Beyoncé's farewell tour. The concepts. The looks. The energy," one person tweeted on March 10. Salisbury and Miller aren't quite convinced. 
"Beyoncé continues to reinvent and out-do herself and give us exactly what we need."
"The Renaissance World Tour show was the perfect mix of Renaissance with songs from each of her other albums. I cannot comment on whether or not it was giving 'farewell,'" Salisbury explains. "Beyoncé will continue to move at her own pace and at the end of the day, she's doing what she loves, and I'll be there to experience it for as long as she's willing to share that with us." 
Disregarding the critiques and chatter online, all three of the fans who attended Beyoncé's Renaissance Tour and spoke to Complex are elated they were able to be a part of the spectacle. "This show is the greatest I've ever seen, and I'm so happy that I was able to be there to witness it. Beyoncé continues to reinvent and out-do herself and give us exactly what we need. The Renaissance album is so important for so many people and this tour continues to amplify that," Salisbury says. 
Miller adds, "This is the show I want all of my family, friends, and acquaintances to see. I want everyone to experience the euphoria of it. Anyone who has a chance to see it but doesn't is doing their own happiness a massive disservice."