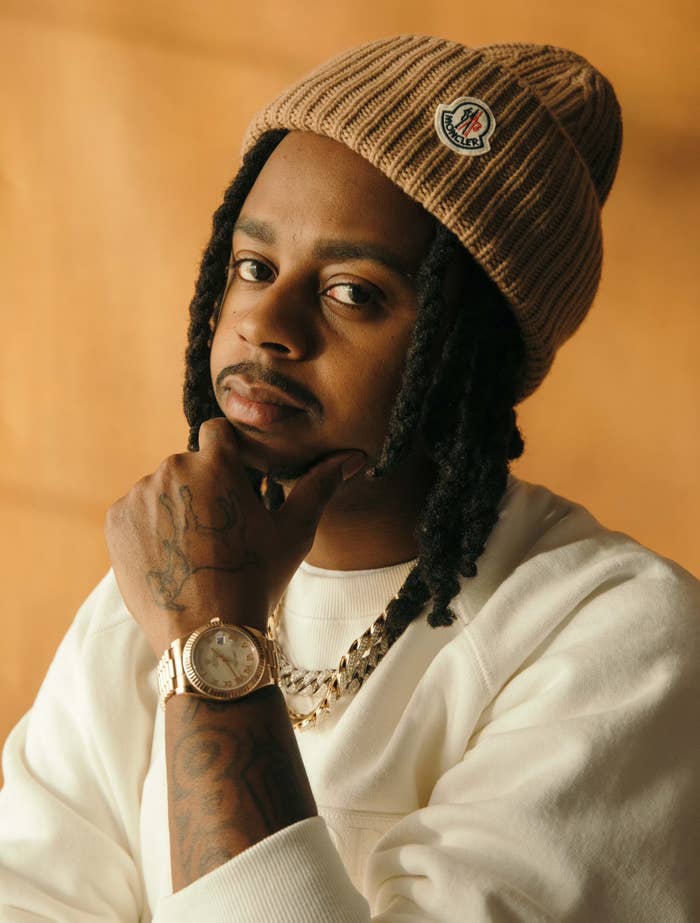 Babyface Ray sounds extra laid back as he speaks over the phone with Complex, celebrating the completion of his new album Face. 
He's been a standout from Detroit's rap scene for years, first gaining buzz thanks to his nonchalant, conversational style. At first, he was a star in Detroit, making music as a member of rap group Team Eastside, and dropping a large catalog of his own mixtapes. Then he broke through nationally in the past couple of years, highlighted by the release of Unfuckwitable in 2021. 
Now, Babyface Ray has his sights set even higher with his new album, Face, which dropped on Jan. 28. The 20-track project boasts features from Pusha-T, Wiz Khalifa, G Herbo, and more. Ray suspects this will be the project that puts him on everyone's radar. 
"There are a lot of different styles on there," he says. "I listened to a lot of CDs in my lifetime, and I really think that this CD is one of them. And this my debut album to introduce me to the industry." 
Face is not just a win for Babyface Ray—it's an album that continues the hot streak of Detroit rap. Ray admits the recognition that Detroit is receiving right now has been a long time coming, but he appreciates where the scene is right now. "We going crazy," he tells Complex. "I ain't gonna lie. We been doing this—me, Peezy, Dam—for nine plus years. And we had never gotten nobody to say nothing about nothing. So for this moment to be happening, it's big. We appreciate it."

Babyface Ray spoke to Complex about his new album Face, advice he got from Big Sean, Detroit's rap scene, and more. The interview, lightly edited for clarity, is below.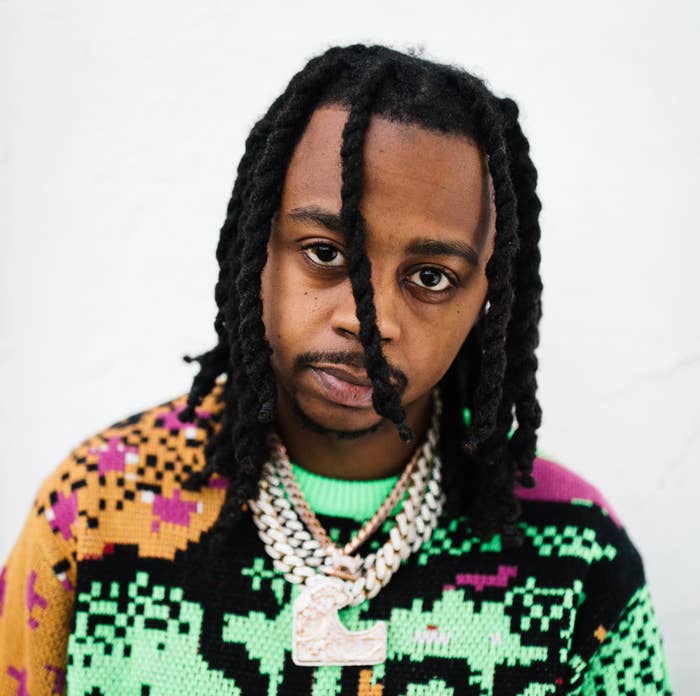 How did you get into rapping? 

It was a hobby for me and my friends at first. We used to just pay and go to the studio every Friday and Saturday.
When did you realize you could make a career out of it? 

It took a long, long time for me to realize that. That's how much I loved doing music. I was doing it for myself for so long, I didn't realize I could make a career out of it until, shoot, my homeboy told me about the business. And he told me to give him one project and he was going to upload it on a site, where I can make money from it. Then that's when I knew. My CD was on DistroKid, and I knew at that moment this could be something that I could do. 
How did growing up in Detroit shape your music? 

It shaped me a lot because of everything I went through and seen and witnessed. It gave me my music. So, it kind of molded me to become Babyface Ray.



"[My sound is] chill, laid back, not forced, not hyper. Just relaxed."
Did Team Eastside also help you mold your solo career? 

Yeah, Team Eastside is where I got fans and became a local artist. So, it definitely prepared me. 
How would you describe your sound? 

Chill, laid back, not forced, not hyper. Just relaxed. 
The chill vibe comes across in your music. What influenced that approach? 

Damn, man. I hate that I even got to tell this part, but if you listen to some of my raps before, when I was rapping with Team Eastside, I used to be very hyper. And then something happened where I started taking meds, like pills, and started sipping lean, and I became more relaxed in the booth. That's how that really kind of started. And my personality is like that as well. When you meet me, I'm a chill person. I don't move too much. So, it all kind of fit together. 
What's something you learned about yourself while working on this album? 

I doubted myself a lot. Most of the time, I just treat everything as if it's regular, when it's like some major shit going on. Everybody be like, "Bro, what's going on? Why you acting like that?" I told you I'm a nonchalant type of person. But I gotta get out of the mode of thinking everything's just regular. I got to realize what's going on, and try to understand a little bit. I be lost in the sauce a little.
How did your collaboration with Big Sean and Hit-Boy come together on "It Ain't My Fault?"

I think Big Sean reached out and said he wanted to work. I don't know. But I'm a big fan of both of them. We actually was in the studio, going back and forth. So, me being from Detroit, I walk in the studio and Hit-Boy and Big Sean are in there, and I get a chance to display my talents. That was a moment. 
Coming from the same city, did Big Sean have any encouraging words or advice for you? 

Big Sean gave me the most motivation, because he's established in the industry, and the things he said to me had me feeling like I'm here to stay. He appreciated me. He told me that he likes my style, and I'm going to be cool. So, hearing that from somebody who is already situated in the game is just like, man, I've got to stay on point. Big Sean showed mad love. I had met him before in high school. It's crazy, he probably didn't even know I rap. I was shooting dice and they was shooting videos. Then a couple years later we were in the studio working, and that's how that went.



"I'm just like everybody else. I'm just somebody who tried something and I'm doing my thing right now. I ain't too different."
What are your thoughts on Detroit's current rap scene? 

We're blowing up right now. We're going crazy. We've got too much talent, and they finally made their way over Detroit. I mean, they've already been over here since we established this. They fucking with us. They fucking with the street scene—the local artists that've been buzzing for a while. I ain't gonna lie. We been doing this—me, Peezy, Dame—we been doing this for nine plus years. And we had never gotten nobody to say nothing about nothing. So for this moment to be happening, it's big. We appreciate it. 
How do you think Detroit compares to other major cities dominating rap right now, like Atlanta or New York? 

To me, the rap game is pretty much all the same. It's authentic. I'm not going to say that's what set [Detroit's music] apart from nobody, because that's pretty much what's going on in the rap game right now. More reality rap is going on right now, versus being entertainers.
Are there any other Detroit artists we should be paying attention to right now?

Hell yeah. Veeze, that's my mans. You got to check Veeze out. He stupid crazy. Los and Nutty. World Tour Mafia, bunch of kids, they're very creative. Fuck with Payroll, always been one of them. Peezy, he the champ of this shit. Me, of course. Baby Money, Tay B, Sterl Gotti, Jim Stacks. It's just so many people. Sada Baby. He going crazy. It's so much shit going on, you can't miss it. 
What do you think makes you stand out from other emerging artists? 

Versatility, man. I got so many different styles of how I do things. I think that's why people be fucking with me.
What are your goals in music 10 years from now?

Of course I want to be a household, staple name. I want to be somebody that helps other artists. I want to be with a facility that comes to Detroit and creates space where podcasting, studios, videographers, can come and work to better their craft. I want to be somebody that put Detroit on, not just come from Detroit.
What's the biggest misconception about you? Or something that most people wouldn't expect from you? 

It's kind of a mystique about me. Don't nobody really know too much about me. I like to leave it like that. It's really nothing to know. I'm just like everybody else. I'm just somebody who tried something and I'm doing my thing right now. I ain't too different.
You've been grinding for some time now, and you mentioned second guessing yourself at times. What has motivated you to keep going? 

The fans. You're gonna have the most people going through the worst times in life, the worst anything. And the fans is what keep me going. Anytime I even think about stopping and giving up, it's always somebody being a fan like, "Man hell nah. You got to [keep going]." You know what I'm saying? At a point, I thought it was over with. I thought I had reached a peak where I could go. Then I met a few artists bigger than me in the game, and they were like, "We fuck with you." That's what kept me going.