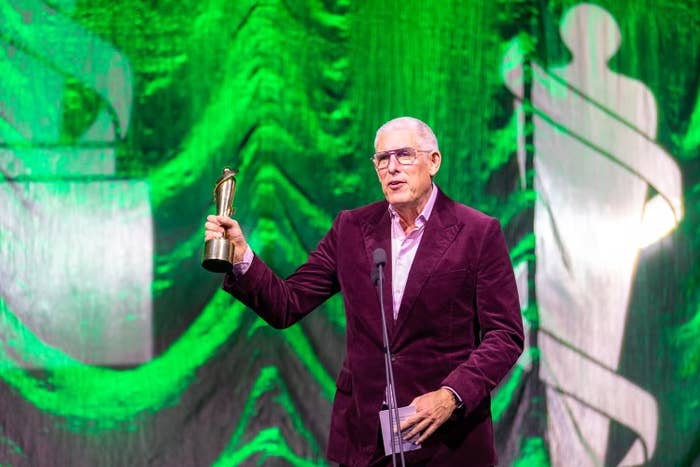 Famed music mogul Lyor Cohen is in Edmonton at the Juno Awards on a mission, but will the Canadian music industry listen?
Canada's Online Streaming Act—Bill C-11—is on its way to becoming the law of the land. In a basic sense, it's taking some of the longtime rules of radio and television about Canadian content—like how much Canadian content you see and hear, and how it gets funded behind the scenes—and applying them to streaming services and social media.
For the Canadian industry, they see it as a way to produce and promote Canadian content in the 21st century. As YouTube's Global Head of Music, Cohen thinks the law will "clip the wings of creativity" for emerging artists.
Complex Canada caught up with the Def Jam, Warner, and 300 Entertainment legend to get his concerns with C-11, how it compares to the days of Brand Nubian, and also about why Cohen digs Nickelback, who are being inducted into the Canadian Music Hall of Fame at this year's Junos.
How are you doing? Are you in Edmonton?
I'm in a very cold and snowy place. But they say that the meat's really good here. So far, the people have been exceptional.
Are you excited to talk to them about Canadian legislation while you're here?
I'm not excited about that. It's part of my gig. I would say it's the toll of my job. Because I've always been faced with having to bring people along, that have taken a certain position. You know, I remember a lot of harsh rap records that were really in many ways misogynistic, right? And I have had to deal with that. And I remember when crack was exploding in the hood. It was a real thing, but it never got on CNN, and never was really a newsworthy situation until it hit the suburbs. But it was devastating in the black community, and so there are a lot of records that reflected this reality. Do you remember Brand Nubian? "Head crack head crack" (from "Slow Down"). It's a really hard record to listen to because of the descriptions that they're using, but in many ways, it became the CNN of the hood. It communicated something. So, you know, it's about trying to bring people along like that.
I'm trying to help them. I'm sure that they have the best of intentions and want a certain outcome that is good, but I'm not quite sure that they understand the unintended consequences. It's hard to port what you did with radio, or what you did with television, to the internet because one is a push media, and the other ones are pull media, and on demand. If you are pushing stuff that's not on demand, it breaks the user experience, and I think it would really harm creativity. It will harm young artists and emerging artists. I think it will clip the wings of creativity for that matter and it will clip the wings of emerging artists.
And I'm sure that's not what they intended, you know what I'm saying? It's like they intended something that was going to be good for the industry. So I'm trying to listen, and trying to understand precisely what they would like as an outcome. And from there, to help them understand what the ramifications are.
You're going to talk about this with people, but there's a prevailing feeling that Canada is a small country and if things are open on a global scale, Canada is just inherently too small and we'll get swallowed up by these global algorithms. I wanted to get your thoughts on if you think that's true.
If you look at Korea and Puerto Rico, they're dominating. They have a seat at the table, and they have figured it out. You know, it's hard to fight the internet. People have tried, and most people lose. I don't think it's something to fight. It's something to understand, learn from, and utilize as a tool.
There are over 2 billion customers and fans of YouTube, and so there's an opportunity for Canadians to think of themselves as global. As for musicians, I can't imagine a Canadian artist saying 'I only want to be really big in Toronto.' They want to travel the world and touch people all over the world. I think YouTube and these global platforms provide that opportunity. But there's a lot of factors at work, that one has to do to be thoughtful about, in how to become a globe artist.
So there are two things to play here. There's Canadian artists themselves and then the industry at-large. I'm curious about this from the artist's perspective. I'm sure artists ask you all the time. How would you tell them to sort of go about this kind of global market?
Let's be clear, several decades ago, you could not be an artist from any part of the world that wasn't Los Angeles, Nashville, New York, or London. That's where artists went to be discovered. Now, you could be discovered in Edmonton, you could be discovered all over the world.
And so what is my advice? There's been this flight to being a great social media expert, and I think that's actually the wrong direction. I think artists need to stay in position: them and the songwriters are our dearest piece of people power. And every time that we're demanding a like or a subscriber, it's more time that they are away from creating great music. So I think we've over-indexed in the math of this creator engagement, as opposed to finding the needle in the haystack. It's easier to split an atom than it is to make a hit record. But if you are too busy trying to get another like, I think that it takes you away from the search of looking for magical music.
And so, I think the pendulum will swing back to record labels not asking how many subscribers they may have, but listening to their music and getting back to the craft of making the best music. I think it's fundamental. We are in a very unique era where the kids are being hit with a tidal wave of choice. The default has been to cut through the clutter in a marketing, PR way. And I think the best way of cutting through the clutter is in the sonic way.
I gotta ask you about being tight with Nickelback.
I'm tight with any artist, that when they get on stage, they change and help port their fans somewhere else. And so if you told me that there was a Ukrainian polka band that rocked their fans to smithereens, I would be all about them. Because that's what it's all about.
I'm not judgmental. A lot of people ask me about coming up in the golden age of rap music. I don't believe that. I believe as long as those artists are doing their job on stage and helping transform the kids to not think about the daily grind, if they can lift them up and remind them how lucky they are, how special music is and what a gift it is to be having a communal experience, I'm all in. Nickelback has done that for a long time. I've witnessed it first hand. I was a rap guy until I signed Sum 41. Once I signed Sum 41, I got the Killers. And that was the last time everybody was calling me just a rap guy. I don't mind being the rap guy, but I'm the rap guy and the other people guy as well.
Sum 41, Nickelback, and the Killers helped me. I'm curious, you know? I'm into African music, you know what I'm saying? I was actually at the newly elected president's home a year-and-a-half ago when I went to Nigeria because I wanted to hear all the afrobeats music. I'm just a music junkie in love. I think YouTube gives people a voice, and allows people the opportunity to participate in culture.
Are you going to be looking out for new Canadian music in Edmonton?
The answer is, yes, I'm scouting. I'm scouting 24/7. When I was in Italy recently, an artist called Madame blew my head off of my shoulders. Her song is so ill and she's so ill. I walk around with my hands wide open. I'm not a hater. I'm a lover. I could catch anything at any time.