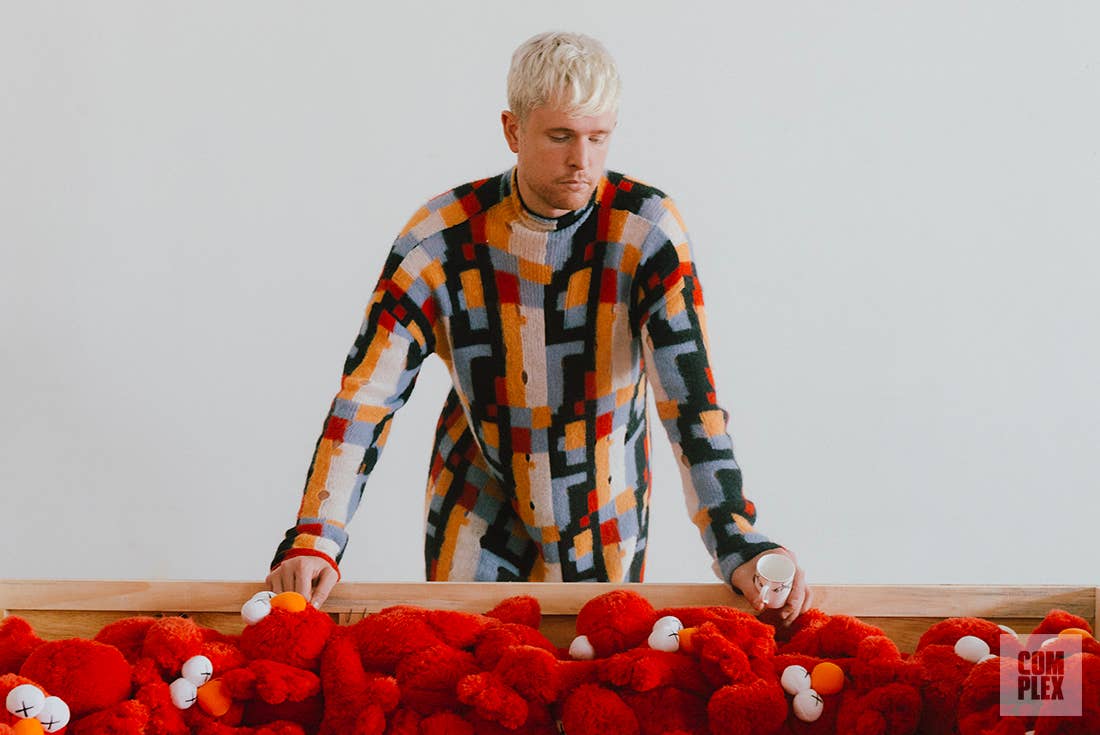 This summer, James Blake was ready for a change. 
For years, the U.K. singer, songwriter, and producer was perceived by many as a shadowy and mysterious figure. On the cover of his 2011 self-titled debut album, he obscured his face in a haze of icy blue hues, presenting himself as a reclusive artist who preferred to work solo and let his music speak for itself. Most fans knew he was a quiet guy from London with brown hair, but that was about it. And despite efforts to open up and reveal more of himself in the ensuing years, Blake remained an enigmatic persona for much of the decade.
Midway through 2020, though, he felt differently. Locked down in his studio during the pandemic, Blake noticed himself moving in a new artistic direction. He was collaborating more and making songs in ways he'd never even attempted, becoming enthralled with singing over faster tempos. Excited by the change, he wanted to draw a line in the sand and externalize the creative shift in a visual way. 
Blake remembers having a pivotal conversation with video director Ryder Ripps a few months ago. "I feel like a change is necessary, in order to signify to myself that this is a new era of what I'm doing and what I'm creating," he told Ripps at the time. "I want to break out of old boxes, musically and visually." 
In response, Ripps offered a simple solution: Why not dye his hair blonde? At first, Blake resisted. It sounded ridiculous. Blonde?! Really? But the more he thought about it, the more appropriate it seemed. By plunging his hair in bleach, he was communicating to the world that he was willing to try new things and redefine public expectations.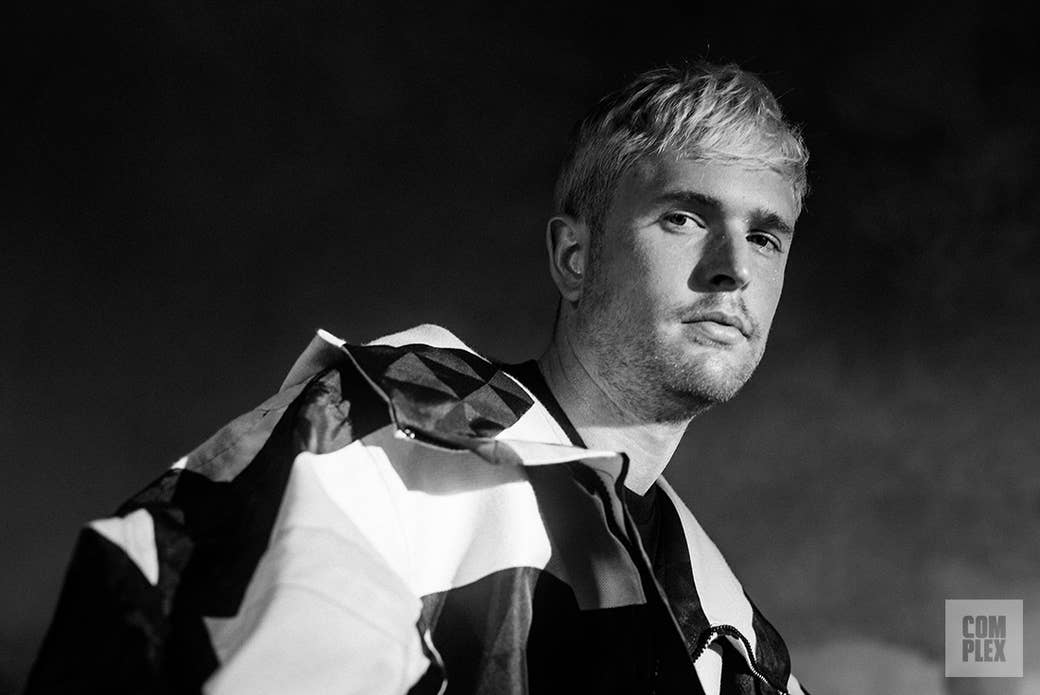 The new look might come as a surprise to Blake's oldest fans, but as he pointed out on Instagram, it's actually a throwback to his childhood, when he had a shock of blond hair on his head as a toddler. This is a fitting metaphor for an artist who is in the midst of putting a new spin on his own musical roots. On Blake's new EP, Before, he returns to the uptempo dancefloor rhythms that anchored early releases like 2011's CMYK EP, but instead of chopping up vocal samples from other singers, he handles vocal duties himself. On songs like Before opener "I Keep Calling," he pulls off the difficult feat of pairing hard-hitting, danceable production with the kind of emotionally nuanced singing and songwriting he perfected on 2019's Assume Form. For the first time, we hear him seamlessly blend his two most disparate abilities on a tight four-song project.
As I speak with Blake over Zoom from his Los Angeles home studio in mid-November, he sounds rejuvenated. Enthusiastically hinting that he's in the middle of a creative breakthrough, he throws around phrases like "I'm on the precipice of something" without giving away exactly what that something is. What is clear, though, is that Blake is more emboldened to experiment than he's ever been, and he credits this shift to his newfound appreciation of collaboration. Inspired by the experience of working with an array of musicians on Frank Ocean's Blonde, he opened up his studio to artists like Metro Boomin, Travis Scott, Rosalía, Moses Sumney, and André 3000 during the sessions for Assume Form. In turn, this gave him the confidence to reach out to even more musicians this year and dare to sing over new styles of music.
Blake is getting so comfortable working with other artists that he's even considering the idea of producing a full album for a rapper someday. He reveals he's already recorded a substantial amount of material with the Flatbush Zombies, and asked about a dream collaborator that he'd like to make a hip-hop album with, he says André 3000. He also names Young Thug, gushing about how Barter 6 forever changed the way he thinks about music production.
For now, though, Blake's attention is focused squarely on two forthcoming projects of his own. On December 11, he will release an EP of cover songs, inspired in part by a series of Instagram Live sessions he did during the pandemic. Then he plans to release a full-length album next year. In the window between the release of the two EPs, Complex caught up with Blake to discuss new creative eras, performing on The Tonight Show Starring Jimmy Fallon during election week, and much more. The interview, lightly edited for clarity, is below.
You performed on Jimmy Fallon during the week of the presidential election. During such an anxious week, seeing you sit down at a piano was a much-needed calming experience for a lot of people. Was that your goal?
We shot it on the day of the election, so yeah, it was very apparent in the back of my mind. In one way, it might not have been the best time to do something on late-night TV. But in another way, it might have been a wanted distraction from everything. Although, I think it's a drop in the ocean compared to the amount of anxiety that was being generated by that situation. I'm not sure if we offset much of that, but it was relieving for me. I was very anxious, and to go to the Wayfarers Chapel in Palos Verdes and be in this incredibly serene and peaceful place, was really wonderful for me.
You've been following U.S. politics closely. How have you internalized the feeling in the air since the election?
Well, obviously there's some relief. I'm mainly hopeful for the simmering down of the bombardment of negativity and infighting. I think it would be lovely to have a president who isn't adding to the inflammation. I live here now, so as much as I'm not a citizen, I feel very affected by what I'm seeing and what's going on. I certainly felt the bumpy rollercoaster ride to Biden's victory.
Do you think that feeling will come through in the music you're working on now?
I think it's difficult for it not to. On the day Biden won, I was very emotional watching people's speeches. I hadn't realized how tense I'd felt for many years about having such an oppressive figure [as a leader], someone who was encouraging white supremacist groups. It was very disturbing. And to finally see him lose was a relief. I didn't realize I would feel that kind of release, because I'm not from here, but it still really hit me.
"I think next year is probably the year of the album."
On Fallon, you chose to perform your cover of Frank Ocean's "Godspeed." What does Frank mean to you as an artist?
The recording of Blonde as a producer was a turning point for me. Or at least, it contributed to my direction afterwards, because I also worked with other musicians on that project. I worked with Rick Rubin for the first time during that process. Creatively, it was an incredible time. I learned a lot about myself, and I learned a lot about how to be in a studio and how to collaborate effectively, especially when it's someone else's music. I learned how to fit in without making it about myself. You make mistakes and you learn from them, then you carry on and become more effective as you go. That was one of my first truly collaborative experiences. There were a lot of sessions and a lot of late nights.
This year, you've put out several songs and an EP. Was it always your plan to forgo putting out another album in 2020 and release one-offs instead?
I think next year is probably the year of the album. To be honest, I think we're going to see a lot of people drop albums next year. We're going to see a lot of amazing music. Artists—just like everyone else—have had a lot of time to worry, but also to reevaluate. And I think it's going to lead to some kind of creative boon, and I welcome that. For me it has. Next year seems like a better year to drop a project like that. But no, early in the year, this wasn't my plan. But as the year started to get away from itself, that's when I was like, "OK, maybe an EP is the answer to this." And the dance music thing came about because suddenly I wasn't able to access clubs, and DJing was off the table. So it was like someone was telling me, "Don't press the red button." And I wanted to press it.
How would you describe this new chapter of your career you're in right now?
I'd say I'm on the precipice of something, and I'm not absolutely sure how it's going to go. [Laughs]. I think when I'm at my most excited, musically, is when I'm stepping into an unknown. Through collaboration and becoming more comfortable with the idea of pop, I think I'm embarking on something quite different. And it remains to be seen what that is, or how it pans out, but I'm trying new styles and I'm singing over other people's creations, rather than sticking to my own little process. There's been an expansion, while still trying to retain the integrity of who I am and what I do. With as far out as you can push the boat, I'm learning to pinpoint when I am truly settled about a piece of music, so I can just play it to anyone and know that it's going to hit in the way that I wanted it to.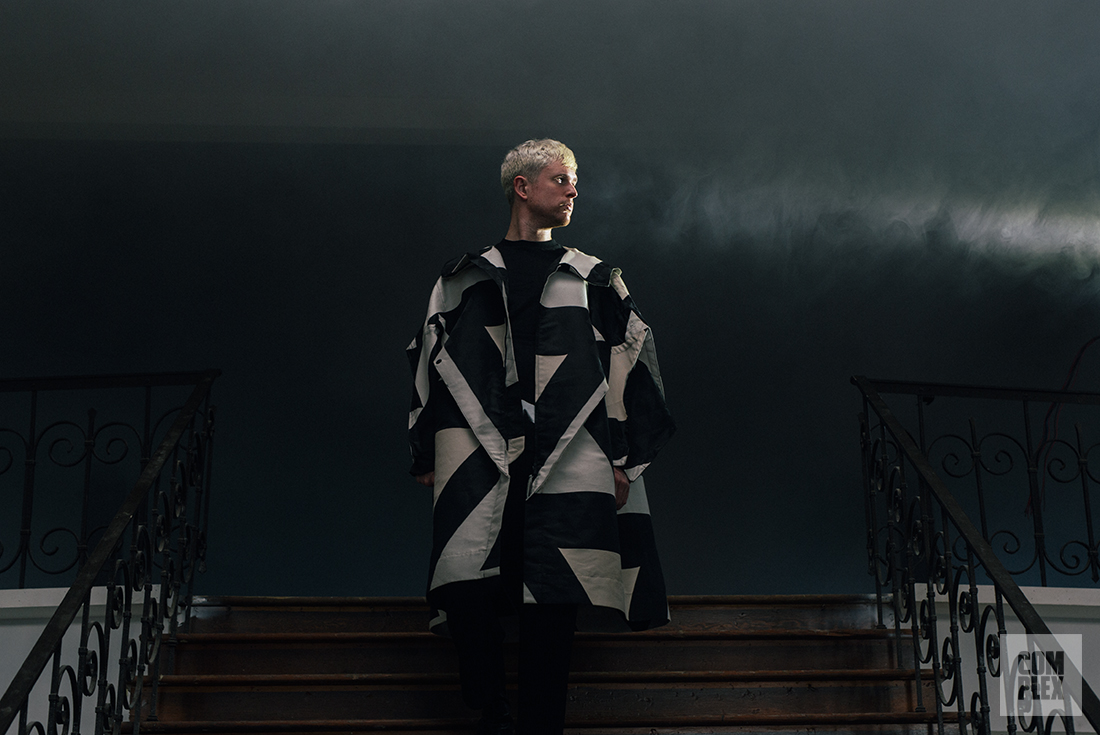 It's interesting to hear you say you're getting comfortable with the idea of pop music. Is that the kind of music you want to make right now?
For me, the best kind of pop music has always been the music that in some way reinvents a sensibility that you already loved. I think when you talk about someone like Frank Ocean or someone like Billie Eilish, those are figures in the pop mainstream who have done that. That's what I'm talking about when I talk about pop music. I'm not really talking about the super commercial side. And it's about having a "yes and" [mentality], just to see what sessions work out. I've had some unexpected results with people I wouldn't necessarily pairing myself with, but we turned out songs that I loved. Working with Take A Daytrip, for example. One of their biggest collaborators is Lil Nas X, and I love Lil Nas X, but it's obviously a very different style of music. It wasn't my first thought to say, "Okay, go and work with the producers who produced that. Even though I actually listen to that a lot, I didn't know how that would actually equate into a collaboration. But it instantly felt really good, and I love those guys. So I can't wait to play people the results of that.
You were an early bedroom artist, and there's a lot of talk right now about new subgenres like bedroom pop and hyperpop. What's your relationship like with new pop artists coming up right now?
In terms of bedroom pop, I feel like for most artists before they're signed, it sort of has to be made in that manner. There's not a huge amount of support for brand new artists until they're actually on that ladder. But as far as new artists, I'd say someone like Fousheé. And there's a young Atlanta rapper named Swavay. He's a good friend of mine and anyone reading this should go and check him out. Baby Rose, too, even though I would say she's fairly established now.
You recently changed up your look. In recent years, we've seen artists like Young Thug and Playboi Carti go on really successful runs after dying their hair blonde. What was behind your decision to switch things up and go blonde?
I was talking to a director I work with, Ryder Ripps. I was like, "I feel like a change is necessary, in order to signify to myself that this is a new era of what I'm doing and what I'm creating. I want to break out of old boxes, musically and visually." He was like, "Why don't you just dye your hair blonde?" Initially I was like, there's no way I'm ever going to do that. But then I thought about it, and when I see people embrace change visually, I find it really refreshing. When I look at other artists, it lets me know that they are willing to try. It's a really small thing, but symbolically it says I'm willing to try and fail. I'm not so much worried about what people think. This is just for me, and I'm looking at it like that. Hair's a small part of that, but the rest of it is in the music and in what I'm doing and how I'm reaching out a little bit more. I haven't even been doing press for quite a few years, but I sort of feel at peace with that, and more comfortable stepping out a little bit.
Musically, what's something you've tried recently that you didn't think you'd ever do?
Collaborating. Being open. Being willing to sing on different music. Being less in control for the first time. I had such a high degree of control for so many years that it was strange to just be like, "Okay, you produce." It didn't really fit with my view of myself or my music. But that changes. That's part of growing.
Young Thug's 'Barter 6' made me rethink production. It was so satisfying and minimal. It's f*cking amazing."
On your last full-length album, you collaborated with Metro Boomin. Did you learn anything from him that you've been able to apply to the music you're making now?
Yeah, I did. He has an understanding of simplicity and how effective it is. He knows it's important to not shout too loud and get in the way of a vocalist. I think some of the best producers understand that. It's just something that they do. One of the things I took away from those sessions is, whenever I would sing over anything he played me, he'd just take the drums away. His wisdom was to allow me to create my own rhythm in the vocals before he added drums. If you sing over drums, you tend to use longer notes and have less rhythm in your your vocals, because the drums are already there and you don't need to do it yourself. I thought that was quite a cool takeaway. It's a little trick to get people to think differently. That's what a producer is supposed to do: have little tricks that help you arrive at your best, or arrive at something new and fresh.
You also worked with Travis Scott on "Mile High." What's something you took away from that experience?
Anyone who works with Travis is going to come away with an appreciation for his melodies. His sense of melodies is one of the reasons he's so big and so successful. If you can do melodies well, you'll never need to worry. For example, the melody on "Mile High" is mostly his creation. I just followed. I sort of traced his delivery and his melody.
I know you've been collaborating with the Flatbush Zombies a lot lately. They recently told Pigeons & Planes that they've made an album's worth of songs with you. What's your relationship like with those guys?
They're just the best. I went over to Brooklyn and we recorded a big load of songs there. And then me and Eric [Arc Elliott] took some of it back to L.A., and did some work here. And then they came over here and we did some more work at my house studio. Over time, we've just formed a really deep understanding of each other. A lot has gone on this year and we've seen each other go through shit. There's a real friendship there, and I just appreciate them so much. I've learned so much from working with them. The music we've made together are some of my favorite collaborations that I've ever done. I cannot wait for them to start putting more of it out. They released the first song, "Afterlife," and I just love that song and video.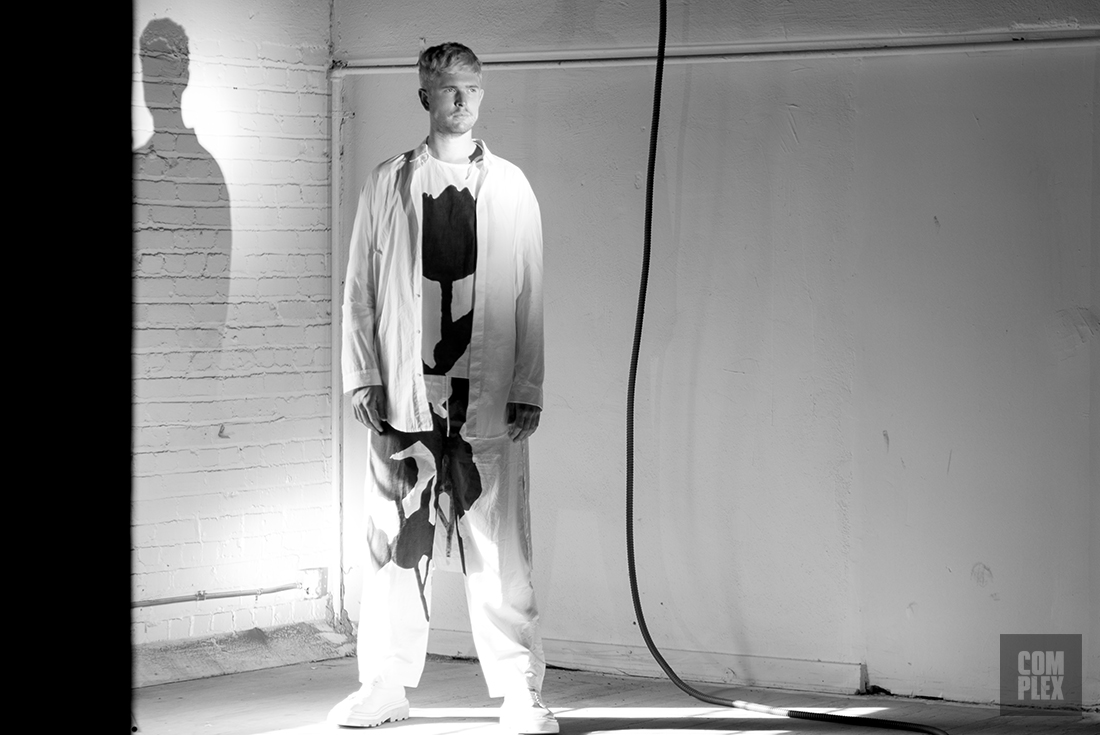 What was your headspace like while making the music on Before?
For that EP, I was actually in lockdown. We'd heard some rumors about this virus and we were already at Electric Lady studio in New York. It became a topic of conversation in the studio, like, "Should we be worried? Should we be scared? Should we stop going out?" And eventually, we did, when they were explaining how serious it was. Then we just locked down in the studio. It became a sort of bunker in a way, where there was nothing else to do apart from make music and eat. So we just did that, and it turned into this EP. Then I got on the last flight back to L.A. before they shut the travel down. So at home, we basically ended up just watching disaster movies every night for the next two months, because it felt like that was the only way to externalize what was going on. [Laughs].
Did you set a goal or challenge for yourself while making these songs?
Yeah, the challenge for the Before EP was to sit comfortably on dance music and sit comfortably on uptempo music. And actually, it came relatively easily and I was really grateful for that. And then on the next EP, the challenge is to strip it all back and kind of provide a through line from all the times I've performed on IG Live this year at the piano, and just allow it to come into some kind of actualization as a project.
How did the shift back to dance music happen? Was there a specific song you made where you're like, "Oh shit, this is all I want to do right now"?
Yeah, there was. It was "Do You Ever." And then I became addicted to the sound of slightly more uptempo songs, and I was fascinated by how I fit into that. It was an open door that I didn't realize was ever going to be opened. And actually, Dom Maker helped me open that door. It was like a growth spurt.
People are stuck at home and consuming music differently than they ever have before. How do you picture people listening to the music you're making right now?
I did a Boiler Room set, and I know a lot of people were putting it on and having little mini parties with the people they were quarantining with, which was cool. But I don't really know. There is a sense of irony, obviously, about dropping this dancefloor project during quarantine lockdown. But there's also maybe some kind of escapism in that, too. So I picture people just listening at home, in the kitchen. It doesn't matter. Sometimes I've listened to house music just sitting in my bedroom.
When you're making music, how much do you think about what the audience wants?
Thinking about what other people want when you're making music is often counter-productive, even though it seems like a nice thing to do. I think you can assume that music is emotionally therapeutic in most cases, depending on what kind of therapy you need, whether it's getting out your aggression or being introspective or feeling understood. There are so many ways that that's the case. But in terms of actually designing music for other people, I feel like whenever I do that, it leads to inauthentic results.
Recently, you said the songs on Before are far less autobiographical than your past releases. Why'd you go that route?
I mean, it's not entirely un-autobiographical. But some of my favorite dance music is when it's a relatable premise, so while you're dancing, you don't need to think about whether that person's really going through something. It's not so introspective in that way. And actually, it's nice to step out of that for a little bit, because I spend a lot of my career in introspective self-analysis. And that's actually kind of exhausting for me, and for my brain.
Is there a relationship between the Before EP and the next EP you're releasing soon? Are they like two sides of a coin?
Yeah. Of course, an obvious question is like: Is it called After? And, no, it's not called After. I did think about it, though. But yeah, it's the other side [of the coin].
At the beginning of our conversation, you were talking about pushing yourself to try new things. How would you describe your new direction?
For me, the recent new direction is two-fold. One is to make sure that the songwriting aspect of my music is as tight as it can be and as satisfying as it can be. I'm trying to leave songs that don't quite do it for me out on the rocks, and just let them go. I've been guilty in the past of letting something be on a record even though I didn't truly, truly, truly love it with my whole self, because I thought maybe it would be the song that people would like. Again, it's back to making music for other people. Like, "Well, people will like this, and that's enough." That's happened a handful of times, but every time it happens, I'm like, "Agh, why'd I do that?"
I'm trying to be self-disciplined and a little bit brutal about songs. I'm just trying to remain objective, but also including all sides of myself. I've got some very abstract tendencies sometimes. There's sometimes a little bit of deranged, off-kilter production that I included in some of my music, but not all. And I think I want to bring a little bit more of that to this next record, just to allow it to be a more whole listening experience. I don't know how that's manifesting just yet, but I love what I've got so far, in terms of material.
At this point in your career, do you think people still have any misconceptions about you?
I mean, there's always going to be misconceptions. There's always going to be a disconnect from the way you actually are. I don't do enough video interviews, and that's probably why. But it's something I've come to accept, and there are some benefits to that. Even though sometimes you can be misunderstood, it's also protection to not just be out there in your full self all the time. But I don't think about that too much. It is what it is.
Would you ever consider linking up with one rapper and producing a full project for them?
Absolutely. Yeah. I'd like to do that with Swavay. Who are you thinking?
I don't have anyone specific in mind. But I am curious who your dream collaborator would be if you were to produce a full rap album for someone.
I mean, André 3000. That would be glorious. In terms of other rappers: Young Thug. I'd love to do that. Barter 6 made me rethink production. It was so satisfying and minimal. It's fucking amazing. "Constantly Hating" changed the way I thought about production. I listened to that on repeat for about a month. I think it's one of those interestingly-produced hip-hop tracks ever.
What's the most important thing you want people to know right now about you?
Considering what's going on in the world right now, I'm not sure if I'm really important, in the sense that I need people to know more about me. [Laughs]. I'm just excited to give people more music, and to be active again in a way that I haven't been. For a number of years, I was much more on the back burner. I think this year, I've been preparing for letting a lot of music out there and popping my head back up again. So, in terms of what I want people to know about me, I think they're probably going to find out what it is in the next few months.
---
James Blake groomed by Robert Lopez and styled by Law Roach. KAWS couch and shooting location courtesy of Rob's Garage.