It's an exciting time for Ella Mai right now. She just announced a new tour, she's nominated for a Grammy this weekend, and she's dropping new music.
Along with the deluxe edition of her excellent sophomore album Heart On My Sleeve, out now, Ella surprised fans by debuting two of the new songs in a special live performance. Participating in Grey Goose and the Recording Academy's Sound Sessions series, the R&B star took the opportunity to do a stripped-back version of "This Is" and "2 O'Clock."
"It was a super intimate setting and I love doing stuff acoustically, just with the piano," she tells Complex. "I feel like it almost gives the song a new life. I'm excited that this is going to be the first time a lot of people are hearing it, and then when they listen to the actual tracks, it'll be built out with more instruments."
She points out that the songs are actually "the opposite" of each other, and they reflect two very different emotional realities. And in turn, they show the endless range of Ella as a musician.
Of course, she also made the most of the opportunity to make some drinks with Grey Goose, who are the official spirits partner of the 65th Annual Grammy Awards and will have a heavy presence at events throughout the weekend. You can watch the performance here (or below) and continue for an interview with Ella Mai about new music, the meaning of awards shows, the current state of R&B, and more.
You performed two new songs for Grey Goose's Sound Sessions. The first is called "This Is." What's your memory of the making of that song?
"This is" is a really fun, lovey song, and obviously one of my favorite things to sing about is love. The song was actually written already, so I just added a pre-chorus to kind of make it my own, but it was a really quiet studio session. It was a song that Mustard loved and wanted me to be a part of, and I felt the same way about it. It's a really feel-good song and everyone loves it, so I'm excited about it.
Do you have a favorite lyric in the song? Or a favorite musical moment?
To be honest, the whole thing. It's major chords, and it's super happy. The chorus is obviously the part that really makes you feel good, so if I had to pick, I'd pick the chorus. It's a very sing-along, feel-good chorus.

The other new song you performed is "2 O'Clock." How did that song come to life?
"2 O'Clock" is a funny story because it's produced by Kaytranada, but it's not what you'd typically expect from Kaytranada. It's not a dance song. When we first recorded it, I wasn't too sure about it. I was like, "I don't know if I like this. I don't know if I do." And Varren Wade, who I wrote it with, was like, "I'm telling you, it's great." But I didn't even want to finish it. I just wasn't feeling it. But for me, studio sessions are very much about how I'm feeling that day and I think it was just an off day for me. So regardless of what I made, it was just going to be like, "I don't like it."
So I left it alone for a long time and didn't come back to it until three months later. Then I just randomly listened to it again and I was like, "Actually, this is fire." So we went back in and finished it properly. But "2 O'Clock" is actually the opposite of "This Is." It's very much about a situation that you know shouldn't get back into, but you do anyway. And I think it's minor chords, so it's the complete opposite, to be honest.
You performed both of these songs as a part of Grey Goose's Sound Sessions. What do you remember about that day and playing these songs in that setting?
It's funny, because I'm saying they're two completely different songs, and you almost have to tap into a different character, but obviously we recorded them one after the other. One is super happy and then one is kind of sad. So it's really just about focusing on that emotion that I felt when I was recording those songs, to try and replicate that in the performance. And it's not hard because of how emotionally attached I feel to the songs, regardless of whether one's happy or one's sad. It was a super intimate setting and I love doing stuff acoustically, just with the piano. I feel like it almost gives the song a new life. I'm excited that this is going to be the first time a lot of people are hearing it, and then when they listen to the actual tracks, it'll be built out with more instruments.

Both of these songs will be on the deluxe version of Heart On My Sleeve, right? What can you tell us about the deluxe?
Yes. The deluxe is literally just an extension of all the emotions that I portrayed on the actual album. This album is very, very close to my heart, so I'm excited to be able to give it new life almost a year later with new songs that I feel really strongly about, if not stronger than the actual album. I'm just really excited to keep it going.

Now that there's been a little more room for Heart On My Sleeve to breathe, how are you feeling about the album? What makes it stand out to you?
With my debut album, the studio was still kind of a new setting to me, and working with songwriters was still new to me. So I was really just trying stuff out and seeing what works and what doesn't work. But I think Heart On My Sleeve was more so me being very sure of who I was as an artist at that time. I was recording it two years ago, and what I wanted to say and what I was going through in my life was super personal. I was going in and almost writing diary entries through my songs. So now that it's had time to live, any time I listen to it, it takes me back to that place that I was in when I was recording it. It's a good feeling to remember those times, but also seeing where I am now, and still being super attached to it, even if I don't feel necessarily the same way that I did in the music. But it's been great. I just announced my tour, which I'm really excited about. It will be the first time I'm performing all of the songs on the album, including some of the new stuff from the deluxe. I'm excited about this year. It's going to be a good one.
What can fans expect from the tour?
This is my first solo tour in four years. My debut tour was pre-pandemic, so it's been a while. You know, I just came off tour with Mary J. Blige, but it has been a while since I headlined, and being onstage and touring is my favorite part of all of this. And to be fair, it's almost been a year since the album, so I know my fans have been like, "Where's the tour? Where's the tour? Where's the tour?" So I'm excited that I can finally get back on the road again, see all my fans, perform this new music, and just feel that energy again.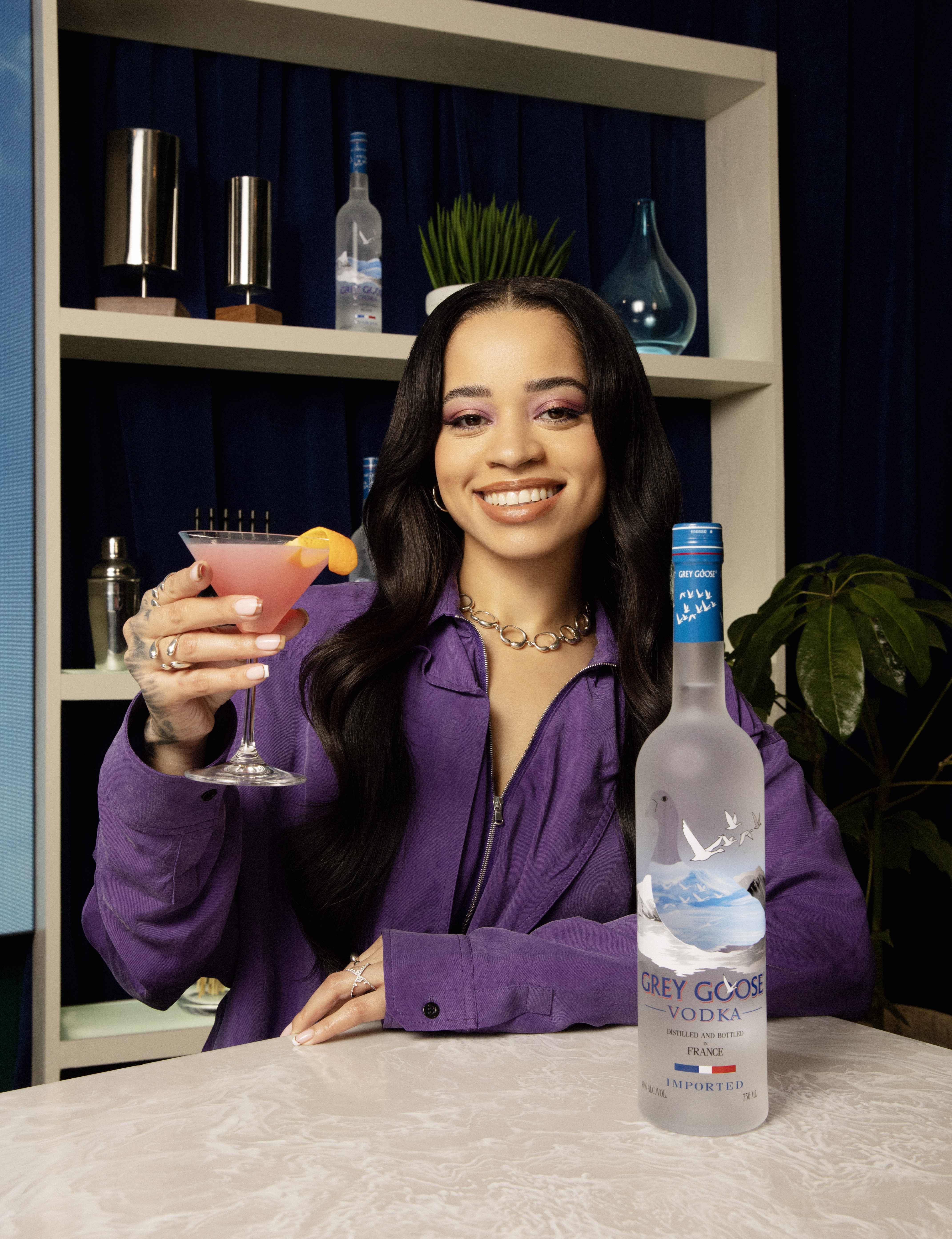 We're heading into the Grammys, and you've received a lot of nominations (and a win) in the past. I know artists make music for the art first, but I'm curious, what do award shows like the Grammys mean to you?
You know, when I grew up as a little girl in England, we had the BRIT Awards, but the Grammys was always something that seemed so unattainable almost. For one, it's in America. And as a solely R&B artist, you know, R&B isn't one of the main categories on the Grammys. But I won my first Grammy very early in my career, and it was a dream come true to be able to tick that off my list so early. So to continue to get nominations and to be able to be back at the Grammys this year, especially considering the award show has been quite different because of the pandemic, and now we're getting back into the swing of things, it's just an exciting time for everyone to be back outside and to feel appreciated again. Like you said, we don't do it for the awards, so to speak, but the recognition from your peers and from such a prestigious organization is always amazing.

You've become a mainstay in the R&B categories and a leading voice for the genre. What are your feelings on R&B as a whole at the moment? What's your favorite thing about it right now?
I love getting asked this question because there's obviously the ongoing debate about R&B not being the same as it was in the '90s, and everybody wants that old-school feel back. You know, you're attached to music that brings back memories. People my age—I'm 28—grew up on '90s and 2000s R&B, so of course that's what's going to feel the best for us. That's the music from our childhood memories. So I understand why everyone wants "that." But I love the state of R&B. It might be an unpopular opinion. I think it's great that there are so many different versions of it now. There's not just one typical R&B sound. There's alternative. There are so many different versions of R&B and there are so many different artists that put their own spin on it. I think that's cool, because I don't think that was necessarily always the case.
I think the R&B of today is very representative of the generation of today, just in terms of content. And a lot of the R&B back in the day was, I would definitely say it was a lot more musical, but we live in a computer age, so I think it's just kind of transcending with the time. Unpopular opinion, like I said, but I personally love it. I love the old-school R&B, too, but I like the new feel of it also.
You had a great year last year. When you look back on 2022, what stand stands out as a favorite memory?
Dropping the album. It had been three and a half years since I dropped my debut, and I forgot what it felt like to drop an album. It's such an exciting feeling. You know, all the hard work that you put in for it to finally be released into the world, and just to have my fans love it as much as I did. And there was a bunch of stuff I did [last year]. I went on tour with Mary J. Blige, which is one of my favorites ever, and I was extremely honored to be able to do that. But just that feeling of being able to walk into the shop… I still buy CDs, so to be able to walk into a shop and pick up my CD is always something that I dreamt of as a little girl. I know a lot of people don't even do CDs anymore, or don't do physicals, they just do digital stuff. But I always tell my team, I don't care if it's five physicals that we put in a shop, I need to be able to walk into a shop and buy my CD. So, definitely the album [was my favorite memory].
What are you the most excited about as you look forward to the rest of 2023?
Everything that's lined up. I'm excited for the Grammys. I'm honored to be nominated with Babyface, who is such a legend in my genre. But even outside of my genre, just in general, as a producer and as a songwriter. He already has [a lot of] Grammys, but to be able to be in the list of nominations with him is incredible.

I'm also extremely excited for the tour. That's kind of all I'm thinking about right now, because I love going on tour. I'm excited for the deluxe, like I said, and bringing new life to the album. And even once the tour's over and once the deluxe is out, I want to get back in the studio this summer and do it all over again. There are a lot of new things this year that I'm excited for.