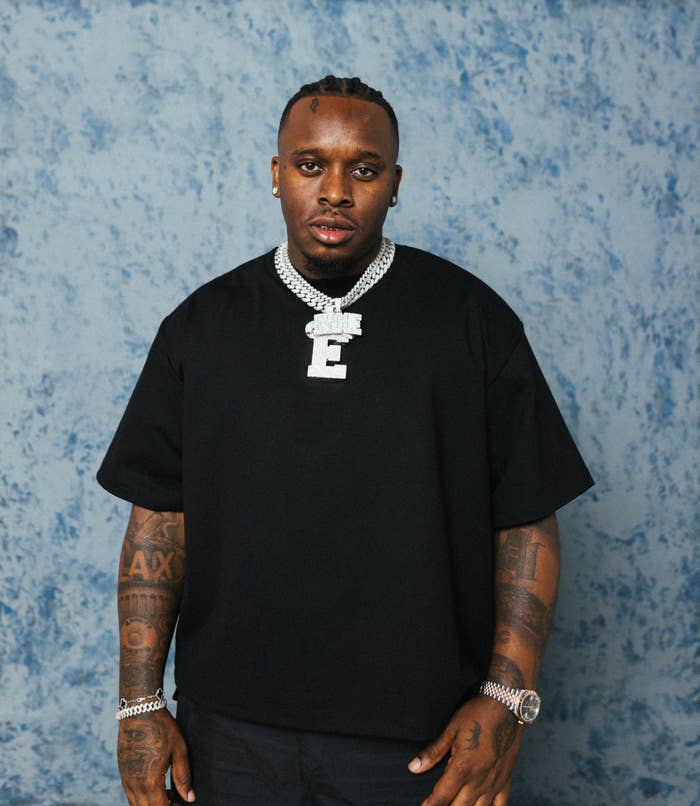 Life is good for BLXST right now.
The Los Angeles artist is making some of the best music of his life—preparing to drop Sixtape 3 with Bino Rideaux this week, while finishing up his solo album—and he's spending lots of time at home with his son and a new Doberman named Donatello.
All of that positive energy is bleeding into his music. As BLXST sees it, his role as an artist is "to make it cool to love," and at a time when it's trendy to be toxic, he's unafraid of making optimistic love songs (although he's quick to point out that life is all about balance, and he'll "give you some toxic, too" if it's needed). As summer comes to an end, he's focused on channeling the laid-back, sunny energy of his Southern California home.

"I want to be able to put people in a good mood," he says, sitting in Complex's Manhattan office. "I want people to listen to my music while they're with their family or while they're barbecuing in the backyard. I want them to feel like they're in L.A."
Whatever kind of music BLXST feels like making at any given time, you can count on it being honest. Asked what he'd change about the music industry right now, he responds, "Capping in the music." As he explains it, artists have a responsibility to influence the next generation, and lying in the music only gets in the way of that. "You've got to be intentional about the message you're leaving to the next generation," he says.
BLXST is ready to deliver on his promise of making honest, uplifting music. This week, he's dropping Sixtape 3, the third part of his series with Bino Rideaux, which will be accompanied by a tour. And by the sounds of it, it'll be full of songs for those backyard barbecues in L.A. BLXST was talking about.
Stopping by the Complex office for a chat, BLXST spoke about his hands-on approach to music, his approach to collaborations, his hopes for the future of L.A. rap, and more. The interview, lightly edited for clarity, is below.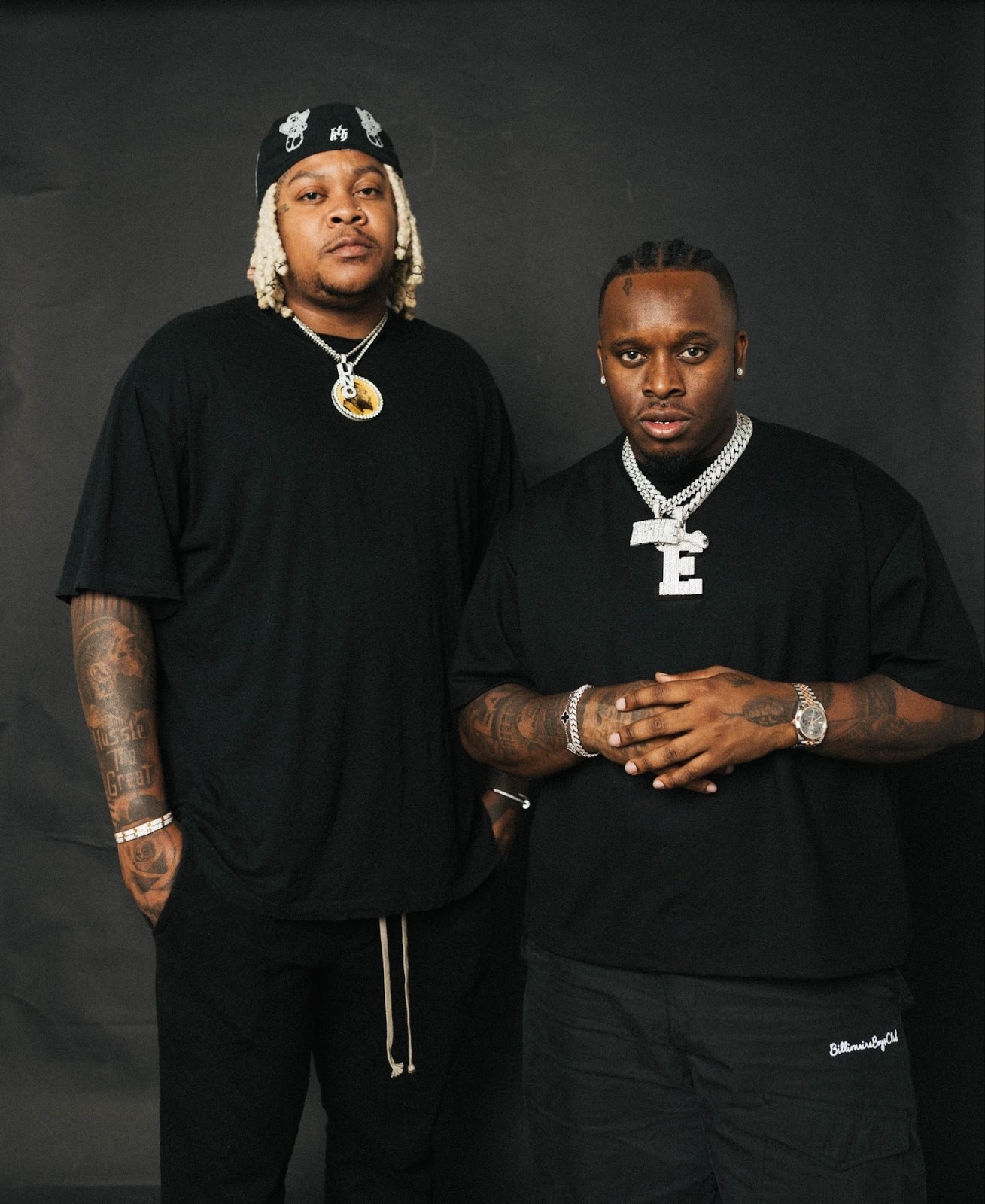 What's a day in the life of BLXST like right now?
A day in the life of BLXST? Waking up to my two boys. I just got a new dog recently, so I'm a dog dad now. Learning those ropes has been a challenge. It's like taking on a new kid. As soon as I wake up, I take him out of the cage, take him outside, and let him do his thing. And just bonding with my son, really. He's into Ninja Turtles right now, so I just took him to see the Ninja Turtles movie. Whenever I'm "off the clock," so to speak—or off the road—I like to be with my two boys.
What kind of dog?
I got a Doberman. A brown Doberman named Donatello. That's because of my son, obviously.
I know you're very hands-on with every aspect of your career. For those who don't know, can you run through everything you do?
Yeah, I'm hands-on with every aspect you can think of, from the writing process to production to engineering myself to EQing the vocals... I'll even make graphic art for a single, or even pull up Final Cut Pro and make a clip to promote it. Of course I've got a team—shoutout Devin and Mac—but they even know I'm on top of everything. I gotta be hands-on.
Why do you like being so hands-on?
It was a necessity at first. I didn't know any graphic designers or anything, so I was just on YouTube University teaching myself how to graphic design. But it didn't feel like it was a learning thing. It was kind of fun, like I was playing a video game. I like making stuff from scratch as a creator in general, so I just fell in love with graphic design, animation, and making beats... It all fits in the same realm for me.
What artists did you look up to when it came to being hands-on with everything?
Early on, I would say people like Pharrell. And Ryan Leslie. That was my first view of what an artist was, seeing how he went from the keyboard to jumping in the booth to jumping on the saxophone. Just being well-rounded in general. That's how I approach my artistry.
You've had success collaborating with other artists, too, though. Was it a challenge learning to trust others, after always doing everything yourself?
Yeah, that's the constant challenge, just learning how to trust. But I will say it's important to know how to do it [yourself] to some degree, too, because that's how I keep my artist integrity. You can't cheat me. You can't shortcut me, because I know how I want it to look and sound. But that's the constant thing we always run into, that trust factor. You have your vision in your mind and it's all about translating or communicating it to the next person.
You have a lot of great collaborations. What's the secret to a great guest feature?
What I like about collaborations is doing what people least expect. I've got this song called "Child of God" and there's an artist on there named Remble. He's from L.A. and he's got an unorthodox flow. It's kind of like a gospel song, and you would never expect an artist like Remble to be on there. So I think it's important to pull different artists and different elements together in a way that you wouldn't expect. Listeners appreciate seeing different sides of an artist, instead of being predictable.
It was really cool to hear from Remble for the first time in a while. What made you want to work with him? What do you appreciate about him on a musical level?
Man, his unpredictability. He just comes left field, and he'll say the funniest shit, but it'll be real at the same time. Like, "You can roll it up, I just seen your report card." [Laughs.] He says crazy shit that people can relate to, especially in the city, so I respect his pen. It's weird because he pronounces his words so proper, but he's still a gangster, though. There's a street smart aspect to it and it's something that I value. It reminds me of Suga Free. Like, he's real ratchet, real ghetto, but he's spitting game that you can actually apply to your everyday life.

You mentioned the gospel vibe of "Child of God." What made you want to tap into that bag?
Usually when I create, I just go off the music. So when I first played the chords, it just gave me that like Kanye West, The Life of Pablo-type of grand feeling. So that's the first line that came to my mind: "Child of God, I'm defeating all odds." And I just ran with it. I didn't second-guess it. I just felt like I was a channel and it was coming out of me.

I love the music video you did for that one. What were you going for with that?
I think the collaboration with me and Remble shows the perfect dichotomy of the average human being. We're good and we're evil in one, so it's just embracing that and accepting that truth. We displayed that in the video as well. If you look at my side of the video, it's vibrant and light in the day. And then Remble's part is at night with fire. It's the polar opposite, but we still blend in the world.

Do you have any favorite memories from that day? Any funny memories?
That video was kinda crazy because we had to shoot it in two different parts. We tried to get Remble out for the first half, but he's so incognito. He like a unicorn right now. We call him like André 3000 in L.A. right now. But he had popped out from his hiatus. I think he rocked with our team heavy. We built a good chemistry, and I just remember him thugging it out with us. There was this one scene where we were in the woods, and there were a bunch of insects and bugs just flying around, but he was just, like, "I'm good, I'm good, let's keep going." So I rock with him for that.
One of my favorite things about your music is how L.A. it sounds. How would you describe the energy of L.A. rap right now?
Being from L.A., even just thinking about the legends that came before me, it's just a sense of pride that we hold. Like, just being unapologetic with your message. But also having intention, like Nipsey—I feel like he laid the perfect blueprint of having intention and having a message and giving back to your community. So what I say, I mean it. And I wouldn't say it if I didn't.
What is your hope for the future of L.A. rap? Is there anything you would change?
You know, L.A. is known for the gang politics and that pretty much keeps everybody apart from each other. What I would change—and I feel like it's slowly changing already—is just the collaborative spirit. But I feel like it's healing. Like, the younger generation is understanding it's bigger than that. We're trying to feed our families and create generational wealth. So there's strength in numbers, and I think we're understanding that right now.
How do you come up with ideas for your songs?
When I first started making music, it was just about trying to sound cool. Then as I got older, it was about trying to have a message in the music as well. So I pull my inspiration from having conversations with my family and my friends. Sometimes it's not a first-person point-of-view message. It may be a story that the homie told me, and I just apply it like that. I pull inspiration from my circle in general.
You recently put out your EP Just For Clarity 2. What's the purpose of an EP for you? What role do EPs play in your career?
Just For Clarity, for me, it's more so like an appetizer, just to keep the fans engaged or updated on my everyday life as I'm working on my debut album. And it's also a statement piece for me, where I can collaborate with artists that you wouldn't necessarily hear me with, like a Larry June or a Roddy Ricch. I pay attention to my fans and I hear who they would want me to collab with. So that's my gift to them.
What's your favorite thing about that EP?
I like the fact that it's a space for me to talk my shit. Usually in your typical BLXST song, I'm talking about a love aspect or what I'm personally going through in my life, but Just For Clarity is a moment for me to brag about my accomplishments in the most humble way. I gotta pop my shit sometimes.
I'm sure you're always adding more things to your musical repertoire. Is there anything that you're trying to add to your bag of tricks right now?
Just diving deeper. I feel like my role is bridging that gap, especially as a Black man. And the gap I'm talking about is making it cool to love. I feel like we took that aspect out, but I'm playing that role to make it cool to love. We all act like we don't need it... You know, the toxicity is what we listen to, but every artist just wants to be loved at the end of the day.

Toxicity in music is definitely popular right now. Do you think artists feel a pressure to lean into that because it's going to sell well?
I mean, I definitely feel like everything is necessary. Like, we all are toxic at the end of the day, but it needs to be a balance, too. So I'm just playing my role on that end. If I feel like it's too much love, I might give you some toxic, too. It's about balance.
When it comes to your goal of "making it cool to love," are there any artists who inspire you?
Not anybody off the top of my head... Actually, the first artist that comes to my mind is Pharrell, and the song I'm thinking about is the song "Happy." Instantly, when you hear that song, you just automatically get in a good mood. And I think that's the epitome of my sonics and my message. I want to be able to put people in a good mood. I want people to listen to my music while they're with their family or while they're barbecuing in the backyard. I want them to feel like they're in L.A.
You're about to drop Sixtape 3. First, let's back up and talk about the Sixtape series, in general, with Bino Rideaux. How did that start?
Shoutout my boy Bino Rideaux. How it initially started, I was just sending beats to Bino. He didn't even know I was an artist. One day, I sent him a song with a hook on it. It's a song we've got called "Savage," which is on the first Sixtape. He was like, "Bro, I ain't even know you was going crazy like this." So we were just sending verses back and forth and we were just like, "Let's drop it." There was no plan, no strategy. We weren't signed to no deals or nothing. We were just having fun with it and the city ate it up. It caught like wildfire, so it was only right that we doubled back with part two. We did 12 songs on Part 2. Sixtape 3 is on the way right now. Like Shaq and Kobe, we got a three-peat.
What's your relationship like with Bino? It seems like you two have great chemistry.
I think we play a pivotal role, especially in the city. When you think about L.A., a lot of the GOATs come from Compton and Long Beach, when you really think about who made L.A. popular. And it's an unpopular opinion, correct me if I'm wrong... But you think about Snoop Dogg and you think about Dr. Dre or Eazy-E and things like that... So I feel like with Nipsey being gone, we play a pivotal role of artists that's from South Central. So me and Bino are aware of that and we try to uphold that integrity. It's like friendly competition. We just stay intentional with the music and stay pure in our real life as well. We carry that blueprint that Nipsey laid.
You told me about the first two Sixtape projects, but what was your guys' mindset heading into Sixtape 3?
For Sixtape 3, we're keeping the traditional sonics alive. You can expect what you anticipate from the Sixtape series, but I would say the production is a little elevated. And it's natural growth. Me and Bino have come a long way since we dropped Part 1. I've been on a world tour, and he's been going on tour as well, so I think it's dope when both artists grow and we connect back. It's like a full-circle moment that you don't want to miss out on. And we're gonna have a tour for this one so it's gonna be fire.
What's your favorite thing about the project?
Just embodying the sound. We really created a new wave in L.A. that's not so aggressive. It's more player, more laid back, bringing a melodic essence to it. It's just a fresh breath of air. That's all I can say, but I'm excited for the fans to check it out.
You've had your label, EVGLE, for a while now. You've leveled up a lot over the years, including partnering with Red Bull Records. Being on the industry side of things, what has that experience taught you as an artist?
Definitely finding a balance with the industry politics, so to speak. But at the end of the day, I'm grateful that I'm doing what I love. I can complain about the small stuff, like having to do things that I don't necessarily fully enjoy, like interviews. Like, I'm still opening up. But it comes with the lifestyle. If this is all I've gotta do to live my dreams, I'll do this every day. We can do an interview tomorrow, too. But I think that's the only challenge—just opening up to the world and letting them in on my personal life. I'm sure there are people that can relate to whatever I'm going through. So it's an act of service for me.

When it comes to the label and business side of things, where do you want to take it in the future?
I mean, I always tell myself I want to retire at 35. And not necessarily in the aspect of stopping doing music. I love doing music. I'm going to do music forever. But just the obligations. But in the process, I want to continue to create opportunities for other artists as well. I want to create generational wealth, and things like that. I think that comes with opening up the doors for everybody. Like legacy, when you think of Dr. Dre and his success, you gotta attribute Eminem, Snoop Dogg, 50 Cent... So these are the type of things I look forward to doing.

What is something you hope changes about the music industry in the future?
I think just the capping. [Laughs]. Capping in the music. Just lying and stuff. I think the message got too left to where we're just doing it for the money. And when we look back, we've got to understand that the kids are the future at the end of the day. So whatever message we leave, while we have the influence or whatever you would like to call it... You've got to be intentional about the message you're leaving to the next generation. And I think it's [important] to set the example.
Do you think people have any misconceptions about you? What do they get wrong?
The only thing I would say is people think I'm shy. But my personal analysis of myself is I'm not necessarily shy, but I'm definitely reserved. And I know that can mean the same thing. But I have a strong opinion on a lot of stuff. I just be trying to be respectful for the most part. But I can feel my comfortability setting in, and I'm excited for my own growth. I'm excited to really change people's lives, because I know my intentions are pure. I'm going to understand the power of my voice and utilize it to make the world a better place, in the most corniest way. [Laughs.]
What's next for you in the next chapter of your career?
I'm just excited to share more of my life, create more opportunities, and keep expanding in the venture side that we have at EVGLE, investing in different companies that we believe in. But more importantly, the music. I think that's the car for everything to operate. So I'm forever in the studio, forever being a student, and just perfecting my craft.
Before you go... The last time I saw you was on the red carpet at the Grammys. You told us about an interaction you'd recently had with a ghost, but we had technical difficulties and lost the footage. Any chance you'd be able to tell the story now?
I don't know. I don't really remember... I don't even wanna speak about it. Because if that ghost pop back up, I'm gonna have to come back up to Complex and talk to y'all about it. [Laughs.]

Do you believe in them?
I do. I definitely feel like there's different dimensions. That's a whole other conversation, though.
It's interesting how many wild stories people will tell you when you start asking.
Yeah, I remember one time I was in Chicago. I was on tour. I'll never forget this. I was in my hotel. I looked it up, too. I guess it's called, like, "sleep paralysis." But I seen the demon come and sit on my chest. It was just looking at me in the eyes, and I couldn't move or say nothing. But I wasn't scared, though. And then it just went away.

That's wild. Sleep paralysis is no joke. OK, to wrap things up, what's the final thing you want people to know about you before this project drops?
Man, I'm a pretty simple guy. I'm all about the music at the end of the day. New music on the way. Sixtape 3 on the way. Sixtape Tour. We're going crazy right now. New album on the way. I'm in the studio constantly. New dog. Yeah, that's about it.