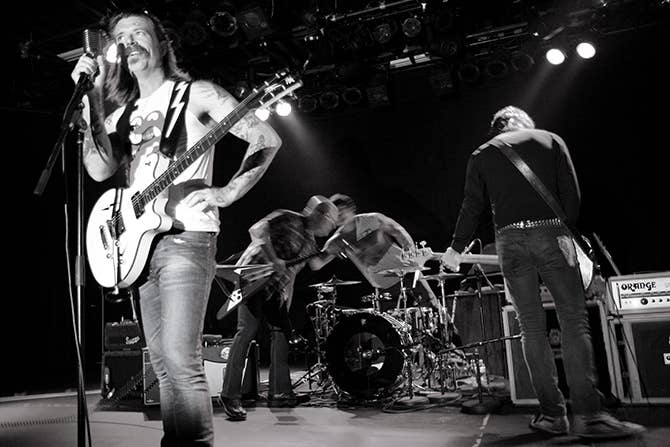 UPDATE #2 (7:22 PM): Agence France-Presse tweeted that around 100 people are dead in attack on Bataclan. Police raided the venue, ended the siege and killed two attackers who held civilians hostage during their takeover. CNN spoke with radio reporterJulien Pearce for an eyewitness account of what happened inside. "It was a bloodbath," he says.
#BREAKING

Around 100 dead in attack on Paris concert venue: police
UPDATE (6:51 PM): Eagles of Death Metal have posted on their Facebook this message, writing that they are still trying to confirm the safety and whereabouts of the members and crew.
See original story from 11/13/15 below.
There is currently a major tragedy happening in Paris tonight, where a series of attacks have led to at least 60 people dead (as CNN previously quoted BFM) and a hostage situation at Bataclan, a concert venue where the Eagles of Death Metal were performing.
According to Brooklyn Vegan, French band Red Lemons posted on Facebook the following message, which you can also read the translated version below. The group says that members of the Eagles of Death Metal got out safely.
The group mentioning Tuesday is likely referring to Tuesday Cross, who is in Eagles of Death Metal alongside frontman Jesse Hughes, Joshua Homme (producer, drums), David Catching (guitar), Joey Castillo (drums) and Brian O' Conner (bass). Julian Dorio, who was drumming with the band during this show, is safe, according to The Washington Post's interview with his mother, Mary Lou Dorio.

While Homme was not in Paris for the show, a representative for the band tells PEOPLE that everyone is safe and managed to flee the concert hall.
According to Rolling Stone, a friend of opening band White Miles posted on their Facebook page confirming they were safe. "Just heard from the band and they're safe. My thoughts go out to all in Paris at this time," Ben Gazey wrote.
French President Francois Hollande has declared a state of emergency, which includes closing off the country's borders. Head over here to read our updates as this story continues to develop.