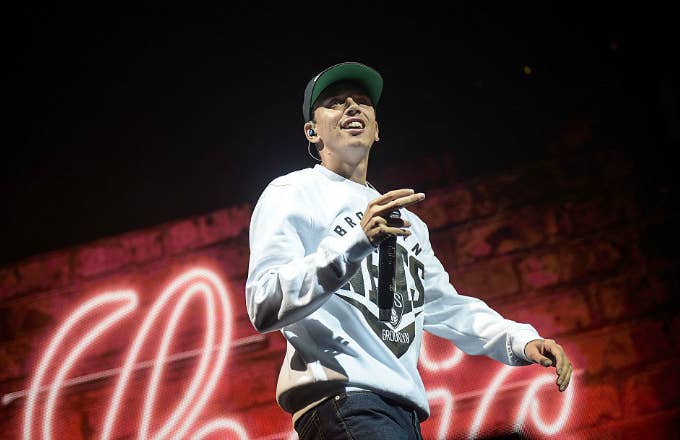 Last night, Logic delivered his third studio album, Everybody, which critics and fans alike are unpacking right now. One of the first things that stood out: Logic calling out Kanye West over his political views.
Another note-worthy moment is the "AfricAryaN," the 12-minute closing track with the controversial title and two special guests. Let's look closer. 
J. Cole
Though he's not listed in the credits, J. Cole pops up at the tail end of "AfricAryaN," with his own beat and verse, to close out Everybody. It's a big moment for Logic, who names Cole as one of his biggest influences. If you peep the cover art for the album, you'll notice Cole is steady chilling at the top.
Cole's verse focuses on being biracial, which is a major theme on Everybody. He raps about it from his perspective—"Nigga, my advice, fuck the black and white shit"—as well as Logic's: "Bumpin' my favorite rappers I came up after/Nas, Cole, and Hov."
Final Album?
Right before Cole's verse begins, a skit from Thomas and Kai (characters from Logic's The Incredible True Story) highlights an exchange where they cue "up the fourth album now, his final one." Initial thought was that this could either mean Logic's final album, or Cole's final album.
Cole already released his fourth album, 4 Your Eyez Only, back in December, and according to friend and collaborator Elite, the rapper has a bunch of material. 
Everybody is Logic's third album, so it would make more sense this was in reference to his catalog. Plus, Logic favorited the below tweet that theorizes abou his next move:
@bostonspoorts @Logic301

i think he might drop another concept and it'll just end the incredible true story concept
So if it's about Logic's next album, and Cole's verse comes immediately after, does that mean Cole will also be featured on the next project? We shall see.
The Song Title
The title of the album was supposed to be AfricAryaN before Logic switched it to Everybody.
In an interview with Genius, Logic explained why he decided to switch the album title. "As the album really grew, it became much less about me and became more about everybody," he said. "I decided to change the title because that's what it reflected. It reflected everybody. You look on the album cover, and who do you see? Everybody. Who is this for? Everybody."
Neil deGrasse Tyson
Astrophysicist, author, and all-around badass Neil deGrasse Tyson shows up on "AfricAryaN," where he shares life advice. One of his more notable lines: "No matter how big your bank account is your grave is six feet under just like everyone else's.
You can find out more about Logic and deGrasse Tyson's relationship on Monday.