Canadian Hip-Hop Landmark Play De Record Gets Its Due in 'Drop The Needle' Doc
Drop the Needle, a new documentary from Rob Freeman and Neil Acharya, contextualizes the social and cultural impact of Toronto record score Play De Record.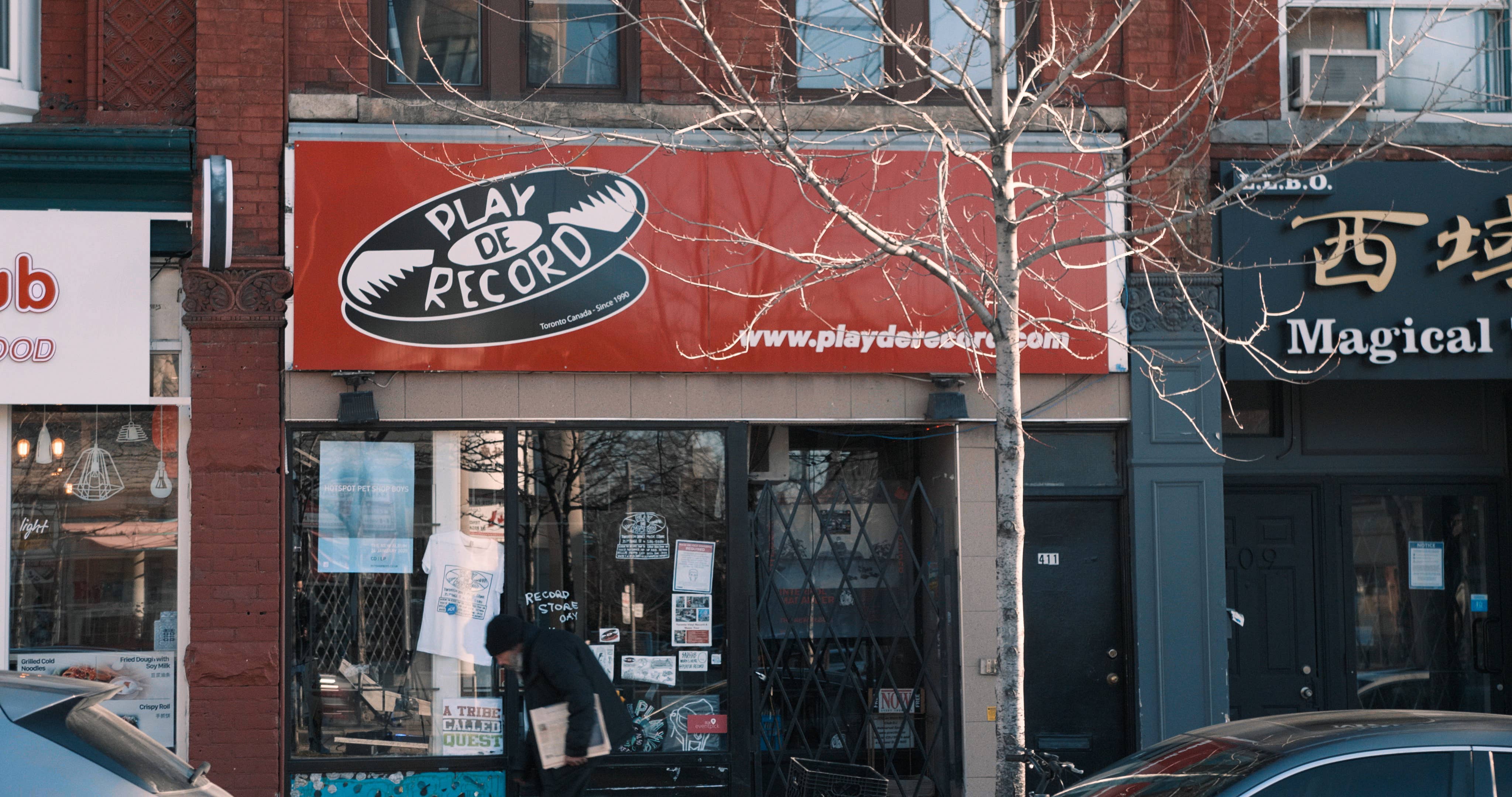 Publicist
Toronto record store Play de Record
If you've ever walked to the back of a convenience store selling eye-raising inventory to jostle for elbow room amidst a rabid crowd of DJs and other music lovers for the latest vinyl on a Thursday afternoon, chances are you've stepped into legendary Toronto vinyl record store Play De Record.
It's memories like these that proliferate throughout Drop the Needle, a new feature-length documentary from director Rob Freeman and co-producer Neil Acharya which contextualizes the social and cultural impact the vinyl store has had on Toronto's musical landscape for over 30 years. Against a musical backdrop of vintage Toronto hip-hop from the likes of Ghetto Concept and Citizen Kane, an impressive cast of influential luminaries such as Kardinal Offishall, Saukrates, Russell Peters and Skratch Bastid among many others speak openly of their love for Play De Record in the film.
However, the person at the centre of the film is Play De Record owner Eugene Tam. The film traces how Tam, who immigrated to Canada from Trinidad, opened the store in 1990 at the concentrated downtown nexus point of Yonge and Dundas in Toronto and positioned himself as the go-to vinyl stop for DJs, crucially impacting the scenes of hip-hop, house, dance, electronic and Black music of every genre in the city and beyond. It's an effect that Tam himself had largely dismissed until recently. "People would always tell me 'Oh, the store is an institution' and I go 'OK, alright. Okay, cool, no problem,'" says Tam at the beginning of the film. "But it's only when we started doing this documentary, [I thought] 'Oh, maybe we did have some something to do with it.' I mean, I never saw it. You know, when you have to step back then you see the picture, right?'
As well as reminiscing on the aforementioned Thursday afternoon vinyl Darwinism, sepia-tinged memories from Toronto pioneers such as Ron Nelson, Mastermind, and DJX also include commentary on how the store changed and survived over the years. Over the years, a record label, a music school, a rivalry with nearby store Traxx and an infamous mixtape raid on the store in 1999 that made headlines around the hip-hop world are part of Play De Record's history that continues to this day. While the store moved to Toronto's Spadina Ave. from its storied 357A Yonge St. location in 2016, the resonance of Play De's existence, fuelled by Tam's seemingly endless dogged determination, clearly transcends any physical location. Drop the Needle has two forthcoming screenings on Oct. 22 and Nov. 6 at Hot Docs Cinema in Toronto. Complex spoke with director Freeman about the film. The interview has been edited and condensed for clarity.
What are the most important things that people associate with the store, what are the most important things that you feel when you talk to people? What are the things that make this more than a store?
The fact that everyone is coming together in the spot on a weekly basis. And you know, Thursdays were obviously very busy but you know, people would go on Saturdays—it was a ritual for people going downtown. Getting off the subway at College and Dundas, going to Traxx, going to Play de Record, going to [TMU radio station] CKLN, maybe going to Eaton Centre. It was also going to get food there. Everyone remembers the food in that area. People spent a lot of time in this area, and it became like a second home to a lot of people. They enjoyed going down there. That experience that so many people had for years, I think is what lead to it becoming more than just a brick and mortar store. It contained a lot of unique memories, and a lot of experiences. And more than anything, I think Eugene Tam and his family really added a lot to it. Something I hope that's shown throughout the movie is Eugene as a character, what his family was like, and having them be in that mix. It just added a little bit of a unique vibe, where there were other record stores, but there was only one Tam family. And I think the Tam family really added a lot to the experience of going to Play De Record, then and now.
You spoke to maybe around 50 people about Tam. What was it that you heard as a consistent theme from everyone you interviewed?
Eugene loves the music, and that really is kind of the basis of everything. Before he opened up Play De Record, he had a massive record collection. He was going to Starsound. He was going to Carnival Records, which are two popular places prior to Play De Record opening in 1990. He was a regular of these places, so he loved the music. So when he opened the store up, I think he obviously cared about the business side of things, but he enjoyed being a part of this community just as much as anyone else did. So to him it was a business, but to him it was a way for him to be a part of it as well because he loved the music just as much as anyone else who stepped in that store.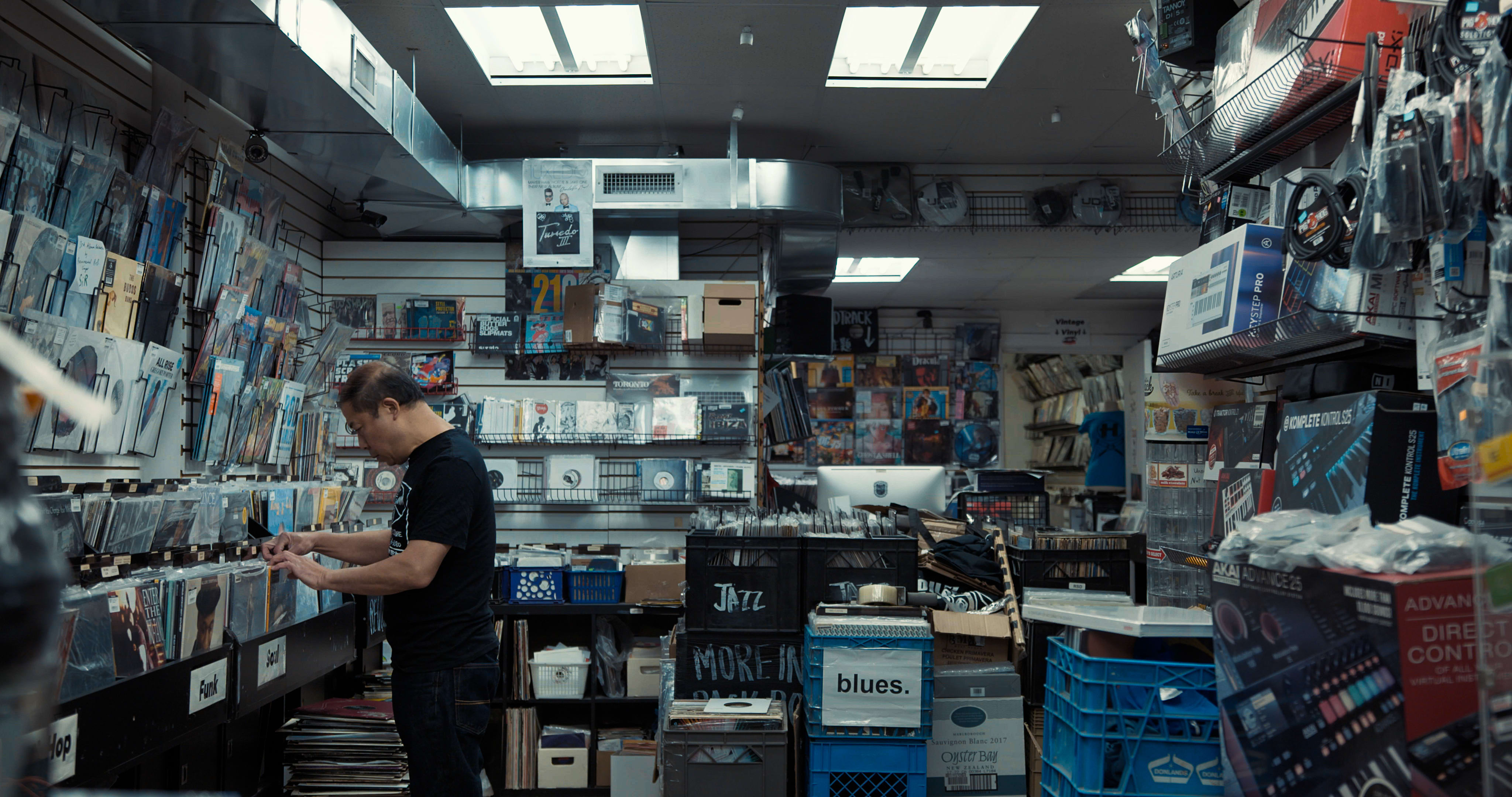 There's a lot of classic Canadian hip-hop featured in the film as a soundtrack. Why was it important for that to be there?
It was really important because before Play De Record was even the topic of choice for our documentary, I already knew that hip-hop was going to be something that I would use, because the origin of this movie was a way for me to showcase my style. And you know, my view, my styles, having my DNA kind of in the mix. I love hip-hop music. So if I'm going to make a movie—as a first movie, in particular—I want to kind of go for that home run in terms of stuff that I really truly have a vested interest in. So using hip-hop music was always going to be the case, before it was even Play De Record. It was always going to be a topic that could fit that type of music. That's the way I like to make movies, specifically the boom bap, New York-kind of 90s style. It was something I had really been kind of drawn to, so it was always going to incorporate that.
The other thing that you capture very well, is the evolution of how things have changed for vinyl record stores in general over the past 20-30 years and the challenges that they've had to overcome to even exist at this point. Eugene has weathered all those things and Play De Record is still here. What do you get the sense is for the future? 
I'm not an expert. But I have had a little bit of time—you know, two years now—of hearing from people that are much more experts on the subject than I am, so at least I can develop a little bit of an idea. The reality is that all good things come to an end, but that doesn't mean that it can't evolve to something else. What that is now, I'm not 100 percent sure, but I think that we can't be looking to recreate the 90s and 2000s. It's got to have its own identity. It's got to have its own participants going forward that could incorporate those who were involved back in the day, but it has to have its own identity going forward. My movie stopped for all intents and purposes in 2016, when [Play De Record] made the move to Spadina. That's where I kind of end my version of telling the story, but I do think that there is evolution that happens. I think it can evolve to something different, something new and it can be just as special in its own right. So what that is, I don't know, but I do hope it turns into something because it is a special place. So in order for Play De Record to stay, evolution must happen and I hope that people can get into the store and experience what it is and what the character is today and how it's going forward.