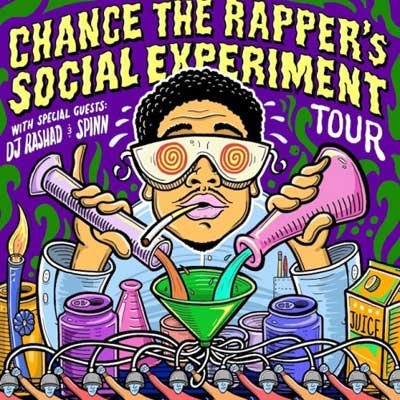 Chance The Rapper
Where: Manhattan, NY
Venue: SOB's
On: Shortly after 10 p.m. Off: About an hour later
Crowd: Young, college-age, with a fair number of tie-die shirts in attendance 
Industry presence: Very light. Kind of surprising, although he did already debut in New York earlier this year.
Spotted: Comedian Hannibal Buress, who also did an opening set
Overheard:Security guard to another security guard: "There's someone smoking—you see him?"
Basically: He's working out the kinks, but there are a lot of moving parts for a new performer, and he's clearly focused on making a complete live experience.
Chance The Rapper has had a pretty incredible year. He's gone from being a local celebrity with a high-school-age fanbase to an opener for hip-hop's biggest artists: Macklemore. Kendrick Lamar. Eminem. Now he's doing his first solo tour, hitting small venues and college towns. The first show was at the University of Illinois' Alpha Epsilon Pi Chapter House, and he'll be hitting such major cultural centers as Middlebury, Vermont later on. In other words, he's keeping it small.
Of course, that doesn't mean the demand isn't there. Chance hit the stage in downtown Manhattan last night to a packed house at SOB's, the first of three shows (he's doing two performances tonight) in NYC. The crowd was young—comedian and fellow Chicagoan Hannibal Buress, who opened, quipped that he liked that it was a younger crowd, "because I get my drinks faster."
Compared to the abbreviated performances Chance put on opening for Mac Miller earlier this year, the Social Experiment tour is, very clearly, an opportunity to explore the possibilities of performing for a diverse array of audiences. Chance already has the songs—almost every track he performed inspired the audience to shout his lyrics back at him, as Acid Rap has become a cornerstone of what looks to be a promising career. 
The supersoaker/Katie Got Bandz closer from his shows with Mac have been left behind. He's trying new things. Lighting plays a big role. There's (spolier alert!) a false ending halfway through the show, after which Chance emerges with a larger band ("The Social Experiment"), made up of former Kids These Days trumpet player Nico Segal, keyboardist Peter Cottontale (who also produced Lil Wayne and Chance's "You Song," as well as a bulk of Vic Mensa's INNANETAPE), and drummer Greg Landfair, Jr.
Chance is juggling different dimensions of live performance: singing, rapping, interacting with the crowd, playing with their expectations, and generally being a dynamic stage presence.
The band's unique makeup works well in a smaller space like SOB's, and the energy is consistently high throughout the show. There are moments when Chance misses an entrance, or flubs a lyric, but that's what these shows are really about: They are workouts, inexpensive gifts for his core fanbase, and a chance to streamline what, one suspects, will become some very ambitious live performances. He's already beginning to stretch out. "You Song," for example, is performed with an epic trumpet climax, rather than the low-key, loping funk of the original. Drummer Landfair is an especially dexterous talent, and should be commended for matching some complex footwork rhythms on an especially fresh reworking of "Everybody's Something." 
One song that doesn't seem to gain from the transition to live instrumentation is "Chain Smoker." Although perfect as the show's finale (and certainly not a bad performance by any stretch), it has a transcendent feel on record, but falls just short of that in person. It's easy, though, to imagine the song's potential—perhaps some kind of extended instrumental jam, like Stevie at the end of "Another Star," one that hones in on the song's particular magic and enhances it.
This isn't to detract from the knife's-edge complexity of what's going on here. Chance is juggling different dimensions of live performance: singing, rapping, interacting with the crowd, playing with their expectations, and generally being a dynamic stage presence. In front of his fans, Chance is manic and theatrical, but simultaneously down to earth, self-deprecating. His clear idealism is tempered by a kind of self-awareness (see his hilarious appearance on BET's 106&Park, where Bow Wow plays the unwitting straight man).
The Social Experiment tour is a worthwhile experience because it's easy to envision an even more ambitious future, and see how much potential is contained within this group. They're having fun, at once professional and craft-conscious, yet still at an experimental point, figuring out the ins and outs of running their own show. In 2013, when rappers go from unknown to cover stars at an unprecedented rate, expectations are very high. But Chance is taking his time, taking things step by step, and it will no doubt pay off in the long run.