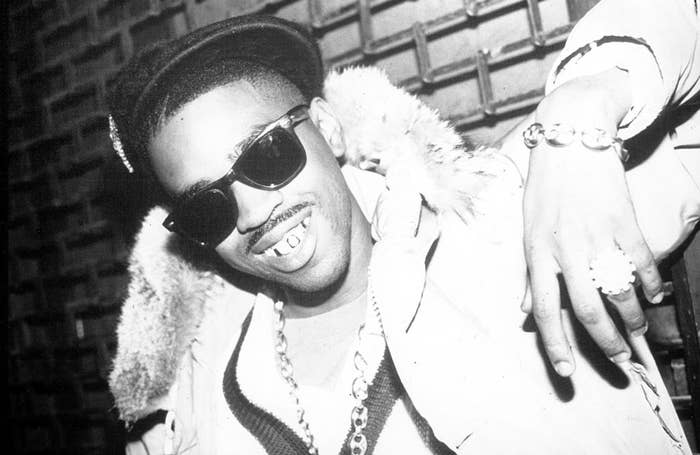 The mark of a good rapper is the ability to string words together into captivating rhymes, but the mark of a great one is the ability to weave those rhymes into stunning narratives that grip and maintain the listener's attention through the end of the song. As hip-hop has matured as an art form, writers have come along who have taken the craft to new heights with their storytelling talents. Suddenly what started out as giddy toasting over party music had evolved into something closer in spirit to the gifted griots of African history.
This is a list of the greatest storytelling raps in hip-hop history, from cautionary tales of lost souls on the road to ruin to locker room grade cataloguing of bedroom exploits to autobiographical yarns from over-sharing MCs sorting out their personal problems though the music, and of course, complex stick-em-up stories full of more blood and betrayal than Al Pacino's Scarface. What did we miss? What shouldn't be on the list? What should've ranked higher or lower? Shout at us in the comments. But for now, check out The 50 Best Storytelling Rap Songs. 
Written by Craig Jenkins (@CraigSJ) 
Listen to Complex's Best Storytelling Rap Songs playlists here: YouTube/Spotify/Rdio
RELATED: The Best Rapper Alive, Every Year Since 1979

RELATED:  The 25 Best Rap Verses of the Last 5 Years

RELATED: The 20 Best Rappers in Their 20s (Right Now)
50. Wu-Tang Clan "M.G.M." (1997)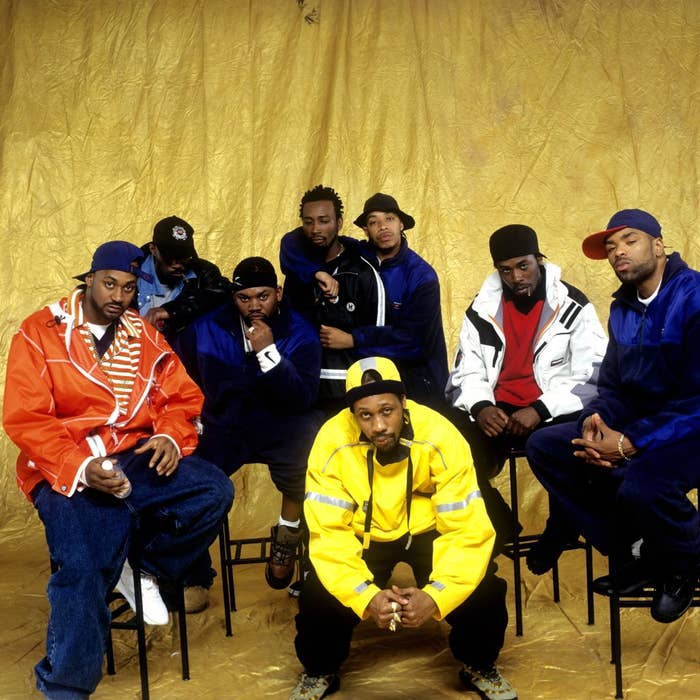 Album: Wu-Tang Forever

Producer: True Master

Label: Razor Sharp/Epic Street/Sony Music

Ghostface and Raekwon usually come out looking like unkillable badasses when they tell stories, but "The M.G.M." off Wu-Tang Clan's 1997 album Wu-Tang Forever finds the dynamic duo easing off the death and disorder and kicking something more lighthearted. "The M.G.M." is just Ghost and Rae people watching at a Julio Cesar Chavez fight at the MGM Grand, trading color commentary and offering razor-sharp observations about what's going on outside of the ring.
49. Mac Dre "Morals and Standards" (2003) Album: Al Boo Boo

Producer: Traxx

Label: Thizz Entertainment

Mac Dre's "Morals and Standards" begins with a parental advisory warning: put the kids to bed cause shit is about to get real. He wasn't lying; he catches a drug possession charge in the first verse and ends up in lock-up, where he becomes fast friends with his cellmate Edgar. He seems like a halfway decent guy until he gets out and takes it upon himself to track down Mac's family and usurp his role as husband and father. The jig is immediately up when Mac gets out on parole and immediately comes to reclaim his place, murdering Ed in cold blood for stepping out of his station.
48. Eve f/ Faith Evans "Love Is Blind" (1999)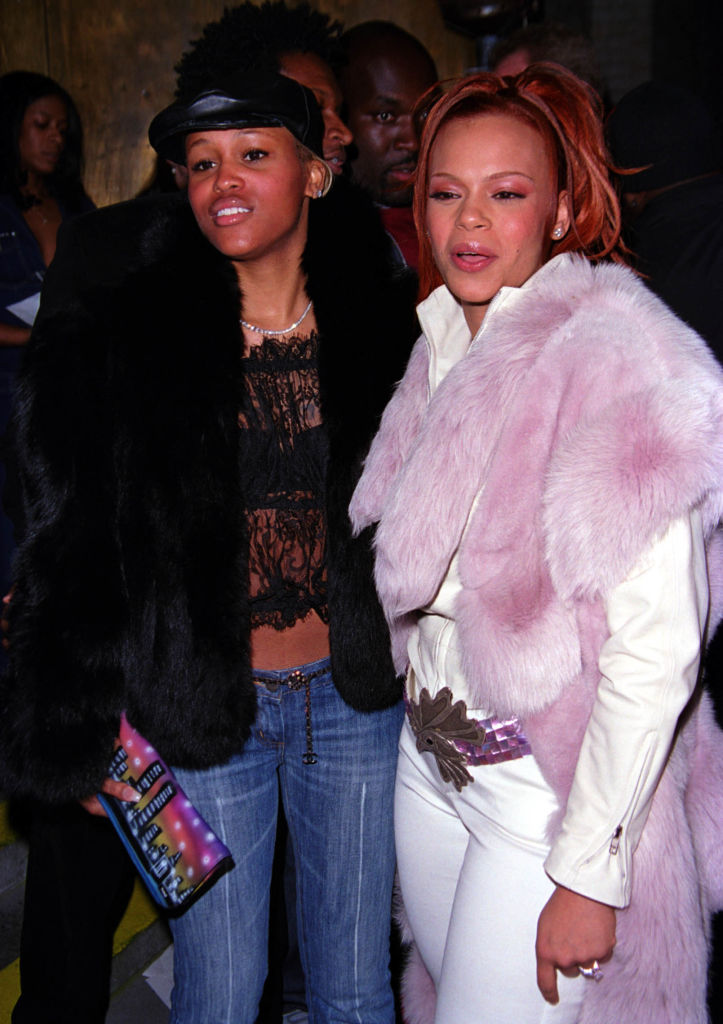 Album: "Let There Be Eve...Ruff Ryder's First Lady"

Producer: Swizz Beatz

Label: Ruff Ryders/Interscope

To be the first lady of the Ruff Ryder crew, a rap collective that counted loudmouth brawlers like DMX and Drag-On among its ranks, Eve had to be hard. But the best moment on her 1999 debut album Let There Be Eve...Ruff Ryders' First Lady, is the revenge tale, "Love Is Blind." Here, Eve drops her tough girl veneer and opens up about the hurt she experiences watching a friend deal with an abusive boyfriend. Eve goes to bat for her girl, gruffly telling the boyfriend, "I don't even know you, but I'd kill you myself" and launching into a scathing invective before cocking her handgun and blowing him away.
47. UGK "Pocket Full of Stones (Port Arthur Remix)" (2002)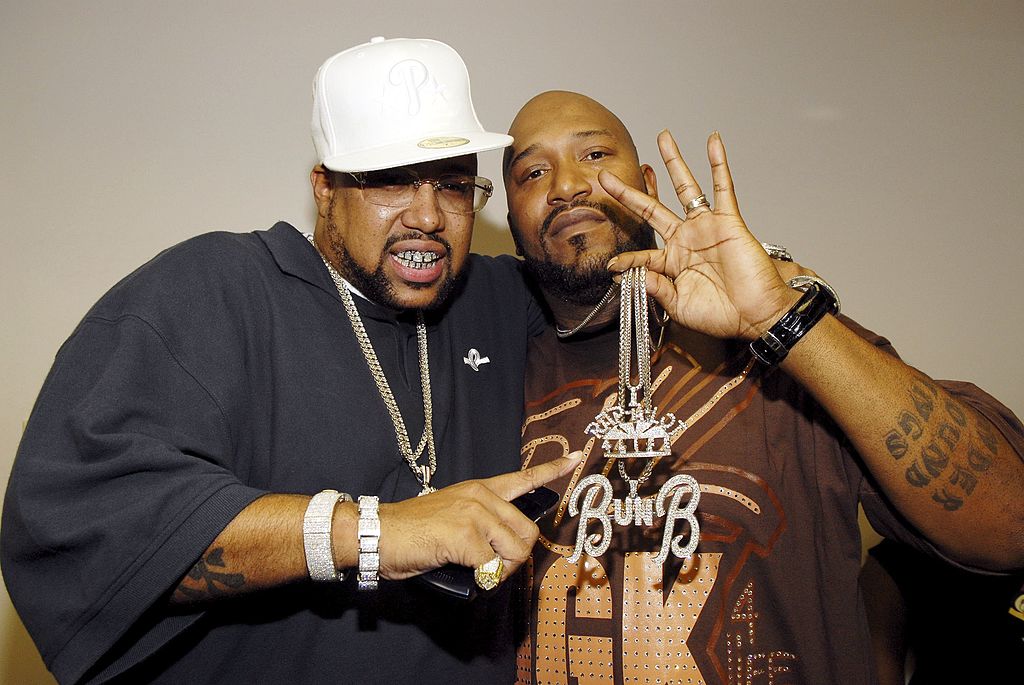 Album: Side Hustles

Producer: Pimp C

Label: Jive

"Pocket Full of Stones (Remix)" from the Menace II Society soundtrack is Bun B and Pimp C telling stories about doing anything in your means to get by. The titular "pocket full of stones" refers to crack rocks, which Bun and Pimp start selling to always-thirsty fiends faster than they can re-up. Business gets good fast, and the duo go from slinging the product on corners by themselves to a complex and booming drug operation. But everything crumbles in the last verse when Bun loses control, kills a police officer, and serves his time on the murder charge just to find himself back out on the streets at square one.
46. 8Ball & MJG "Armed Robbery" (1993)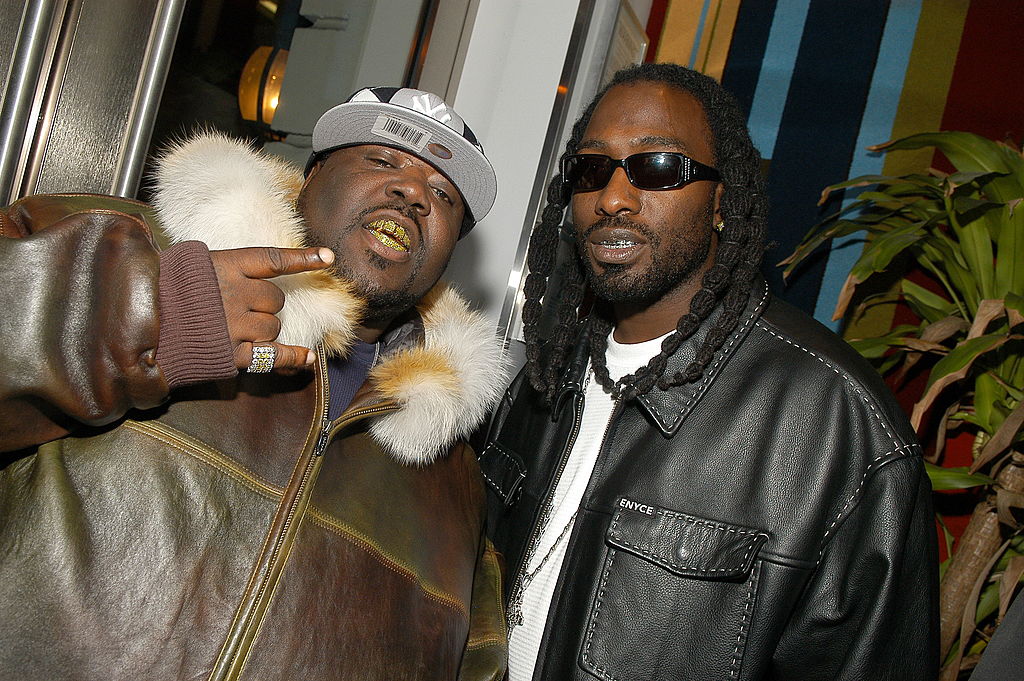 45. Slick Rick "The Moment I Feared" (1988)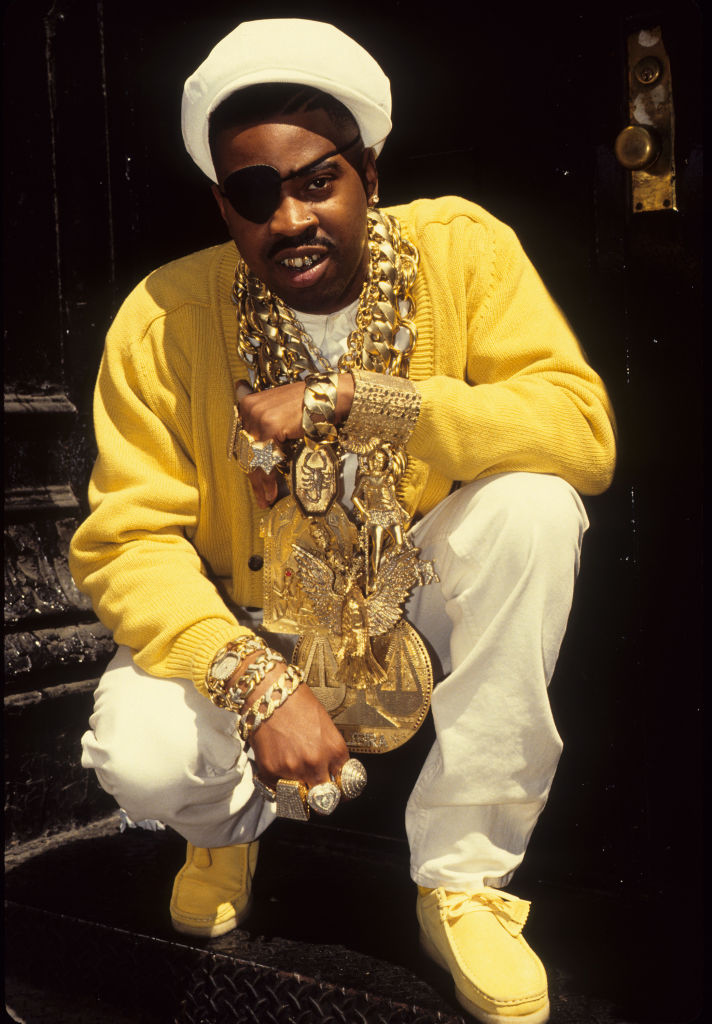 Album: The Great Adventures of Slick Rick

Producer: Eric Sadler,Hank Shocklee

Label: Def Jam/Columbia/CBS

Slick Rick's stories quite often involved him being some kind of badass or a smooth-talking loverman, but The Great Adventures of Slick Rick's "The Moment I Feared" is one where his spirit of adventure catches up with him, and his strengths become weaknesses. The tale begins with our protagonist smoking weed on his lunch break at work and finishing out his day so he can catch a Boogie Down Productions show at New York's legendary Latin Quarter club. His flashy outfit attracts the wrong kind of attention, though, and he gets jacked for his jewels. As if that wasn't bad enough, Rick meets up with a girl the next day to hook up and clear his mind, but the two of them get caught in the act by her boyfriend. From there the story spirals into a barrage of murder, prosecution, and prison rape, with Rick receiving swift and severe repercussions for every brash move he tries to make.
44. J. Cole "Lights Please" (2009)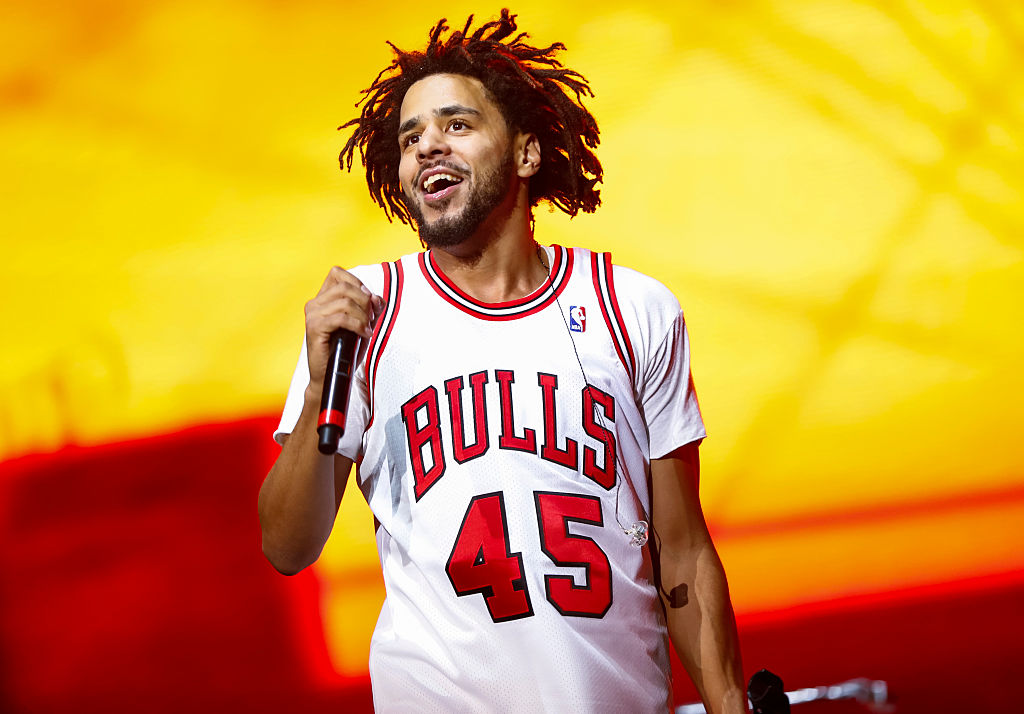 Album: The Warm Up

Producer: J. Cole

Label: Roc Nation

On first listen "Lights Please" doesn't sound like a story telling track, but it is. It's a self-contained story that doesn't even leave the bedroom but still has plenty happening in it beyond sex. Cole rhymes on both a micro level—about what's happening between him and the girl he's with—and the macro level about what the girl's small-minded worldview says about the culture. "Lights Please" isn't just a great story telling song, but one of his best songs ever.
43. Eric B. & Rakim "Mahogany" (1990)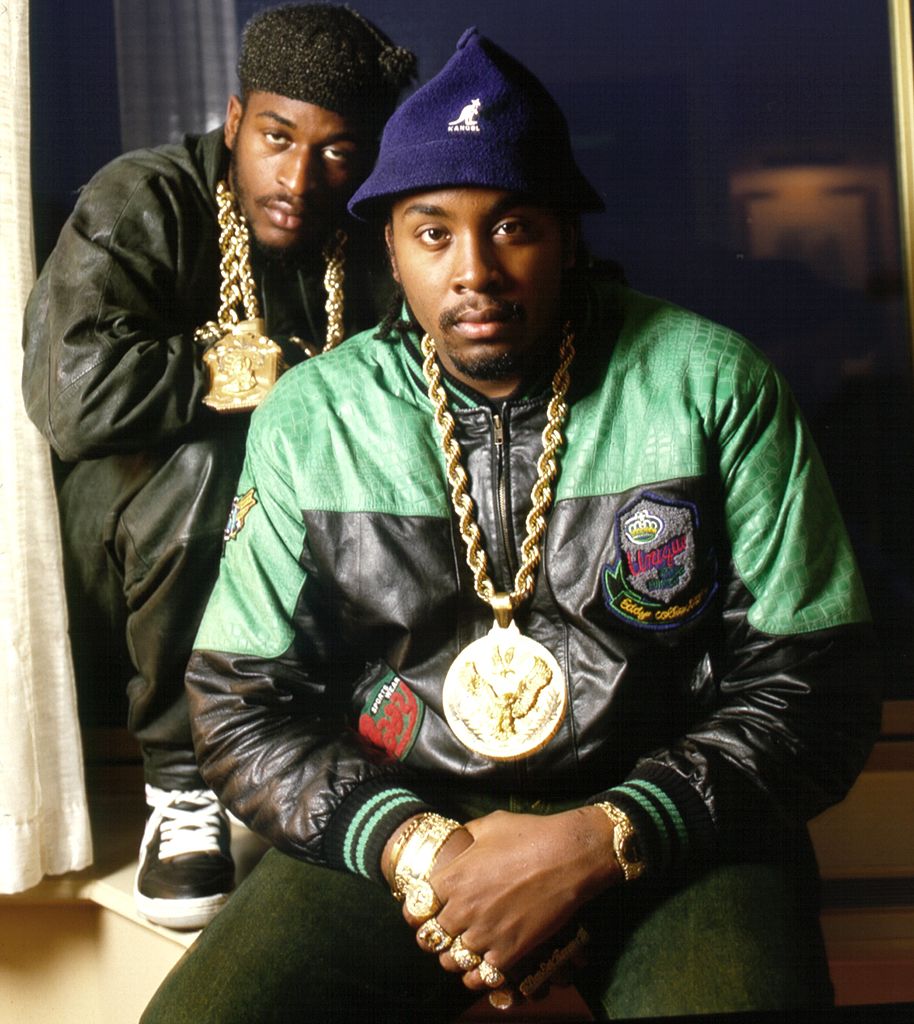 Album: Let the Rhythm Hit 'Em

Producer: Eric B. & Rakim

Label: MCA Records

Eric B. and Rakim's 1990 album Let The Rhythm Hit Em didn't reach the resounding commercial success that its predecessors Paid in Full and Follow the Leader did, but its not without its moments of greatness. One of these is "Mahogany," a slick love song that finds Rakim describing his appeal to a woman through a series of clever nutritional metaphors ("Each moment's a mineral, poetry's protein/ verse is a vitamin, effects like codeine") that manage to relay the intensity of the pair's growing attraction without mawkishly providing details about the sex. The closest Rakim gets to laying it all out for the listener is the smirking satisfaction of the coy closing line, where he notes that, "it wasn't the Perignon that made her collapse over me."
42. Too $hort "Blowjob Betty" (1986)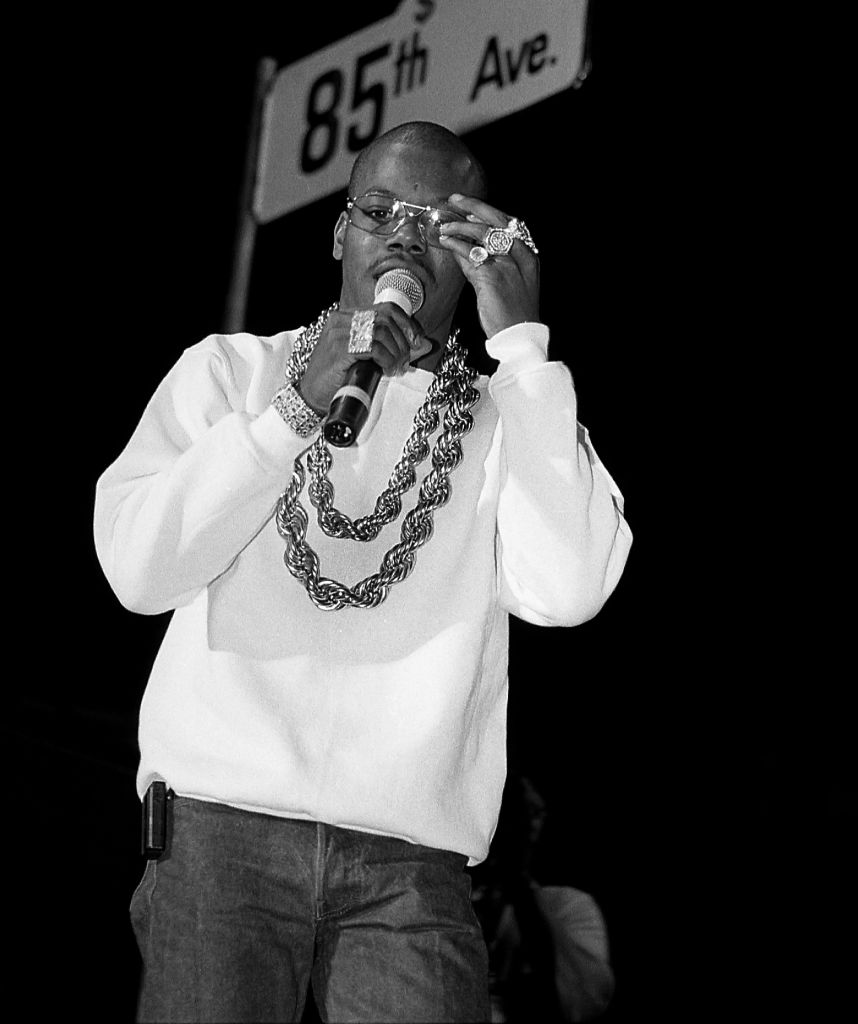 Album: Raw, Uncut, and X-Rated

Producer: Dean Hodges

Label: 75 Girls

Too $hort has been raising eyebrows with his lyrical content since the first Reagan administration. "Blow Job Betty," off 1986's appropriately titled Raw, Uncut & X-Rated EP is the story of his relationship with a girl (the aforementioned Betty, naturally) whose enthusiasm for giving oral sex actually matches his drive to receive it. The two tumble into a series of escapades that ends in an orgasm that somehow kills her. It's a tall tale with a flagrant disregard for science as well as decency, but well-enough became a major piece of the very bedrock West Coast rap was built on.
41. EPMD "Jane" (1988)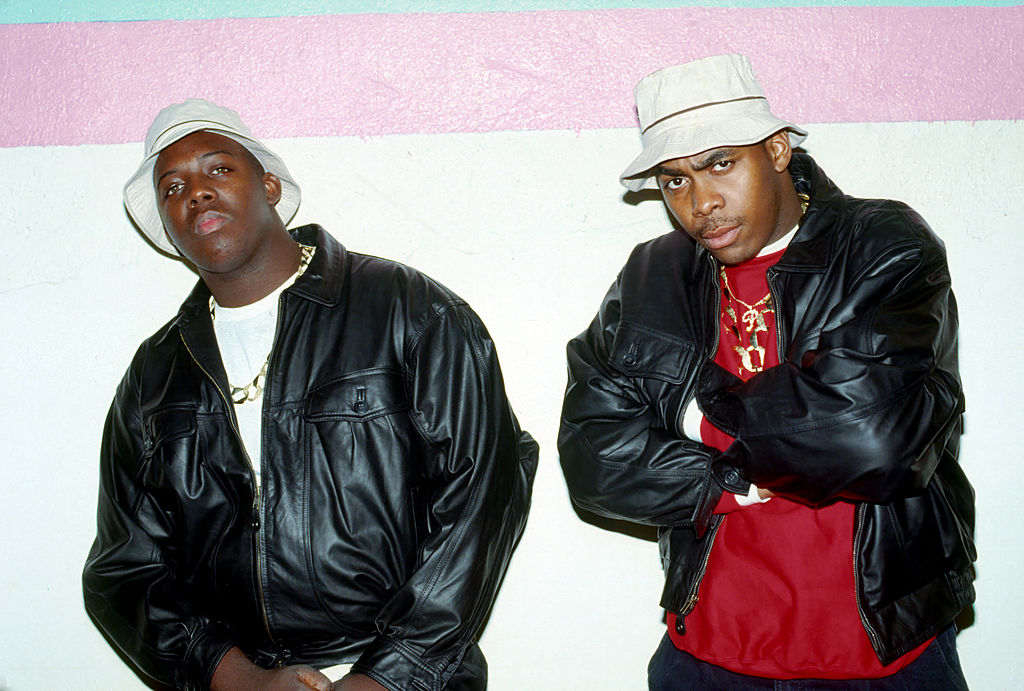 Album: Strictly Business

Producer: EPMD

Label: Fresh Records/Sleeping Bag Records Priority/EMI Records

The final song on EPMD's landmark 1988 debut Strictly Business is "Jane," a quick rap about a girl who pissed Erick Sermon off a few years earlier. Erick meets a girl named Jane who wants to hook up, but she'll only go out with him if he brings a friend for her friend. Erick drags Parrish out on a double date. Finally alone with Jane at the end of the night, Erick shows her what he thinks is the night of her life, but he awakes to a note that suggests the sex was wack. It doesn't really seem like the kind of story you'd want to make public, but EPMD had a thing for weirdly self-deprecating story songs typified by subsequent songs like "Who's Booty" and the series of sequels that "Jane" inspired.
40. The Coup "Fat Cats Bigga Fish" (1994) Album: Genocide & Juice

Producer: Boots Riley

Label: Wild Pitch Records

The Coup's 1994 album Genocide & Juice mixed the razor-sharp wit and political acumen of groups like Public Enemy with production closer in spirit to the g-funk movement that had taken over the West Coast at the time. Album cut "Fat Cats, Bigga Fish" finds group leader Boots Riley broke, miserable, and desperate for a come-up. He spots a mark that looks like a cash cow and attacks, coming away with a boatload of money and credit cards. Newly rich and running in circles with the upper echelon, he quickly becomes aware of the sneaky political wheeling and dealing that creates the inner city poverty he'd suffered through his life as he overhears his city's mayor putting together a plot to flip low income housing into expensive condominiums. It's then that he realizes that for all his skill at hustling, he's just another mark too.
39. Warren G "Regulate" (1994)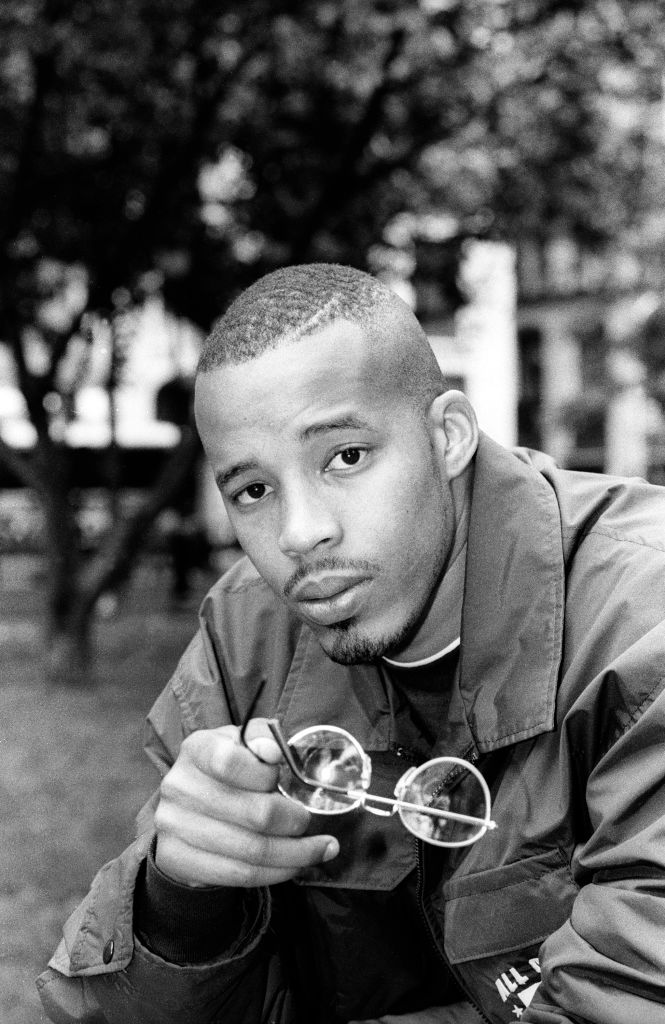 Album: Regulate...G Funk Era

Producer: Warren G

Label: Def Jam,Death Row,Interscope Records

Warren G and Nate Dogg's "Regulate", off 1994's Regulate...G Funk Era, is a stone cold classic and one of the defining records of West Coast hip-hop. Warren's ace production was built around a loop of the old Michael McDonald smash "I Keep Forgettin' (Every Time You're Near)." Nate's vocals flexed his signature pairing of smooth singing and dirty lyrics. The tag team tell a story of a night where Warren gets accosted by gun-toting gangsters until Nate, distracted by beautiful women he encounters on a night drive, shows up late to save the day. "Regulate" was both Warren G's first and biggest hit. It reached the Billboard top ten all over the world and showed that Snoop's homies could craft hits without any help from their benefactors.
38. Biz Markie "Just A Friend" (1989)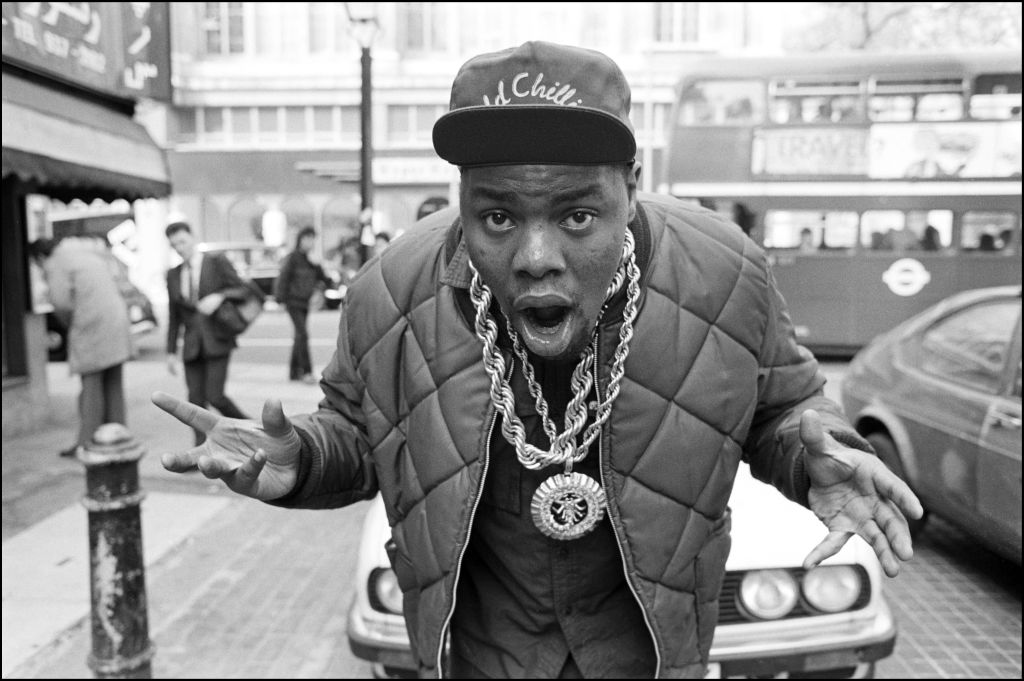 Album: The Biz Never Sleeps

Producer: Biz Markie

Label: Cold Chillin'/Warner Bros.

Cold Chillin' affiliate Biz Markie's second album, 1989's The Biz Never Sleeps contained his biggest hit "Just a Friend," which tells an all-too-familiar story: Biz meets a girl at a show and invites her backstage to chill afterward, where his question about whether she has a boyfriend or not is answered rather obliquely, with her explaining that she has a "friend." Biz and the girl get closer, but the ever-present friend remains an obstacle to his happiness. The whole thing would be a real downer if Biz weren't so damned funny.
37. GZA "Gold" (1995)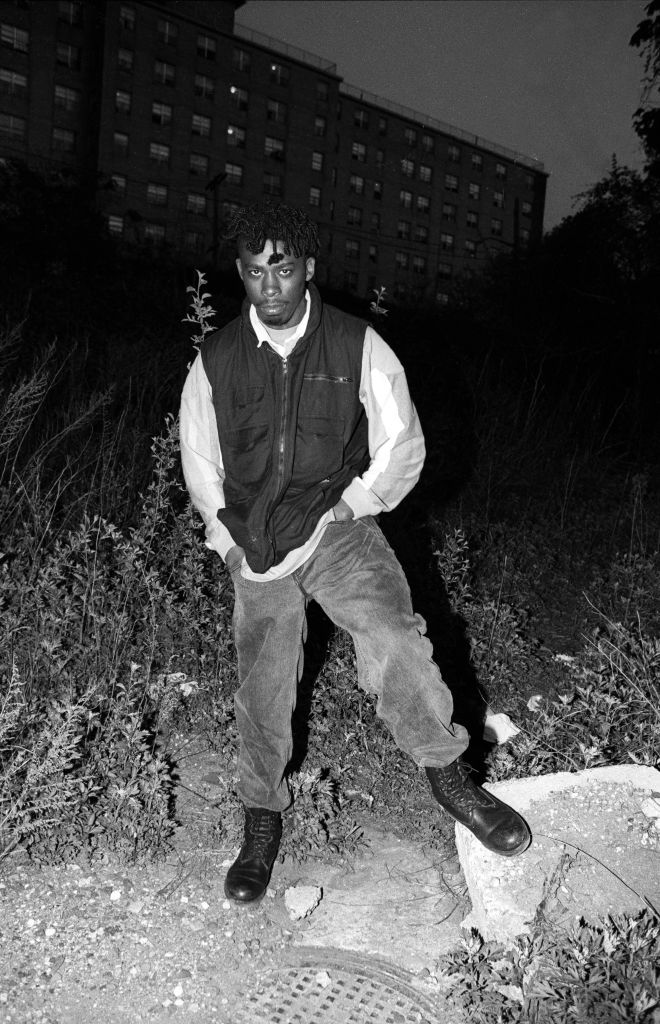 Album: Liquid Swords

Producer: RZA

Label: Geffen/MCA

After the critical and commercial success of Wu-Tang Clan's 36 Chambers, the members of the group wasted no time showing us that it was no fluke as they launched into a campaign of equally great solo albums throughout the early '90s. GZA's Liquid Swords was close in spirit to the group's debut with all the 5 Percenter wisdom, street narratives, and chess allegories that entails. All three are present on "Gold," where GZA sets up a massive operation to serve the inexhaustible stream of fiends chasing a high. GZA's drug kingpin gets filthy rich and miraculously avoids lock-up, but at the end of the last verse he loses his mother, the inspiration for his trip from rags to riches in the first place, and buries her with stacks of cash she never got to see in life.
36. Kendrick Lamar "The Art of Peer Pressure" (2012)
Album: Good Kid, M.A.A.D City

Producer: Tabu

Label: Top Dawg/Aftermath/Interscope

Kendrick Lamar's good kid, m.A.A.d city was a concept album about a, yes, good kid getting sucked into the alluring world of gang violence may or may not lead to his own downfall. "The Art of Peer Pressure" is the moment on the record where things first go sideways: Kendrick and some friends are on a night drive smoking weed (that turns out to be laced with PCP), and somebody gets the bright idea to pull a home invasion job on a house they'd been scouting for a while. Unfortunately, the inhabitants are home, and quickly call the cops, which leads to a chase that Kendrick and his boys magically manage to escape. A case of dumb luck that doesn't stick as the album unfolds and calamity comes calling.
35. Mos Def "Ms. Fat Booty" (1999)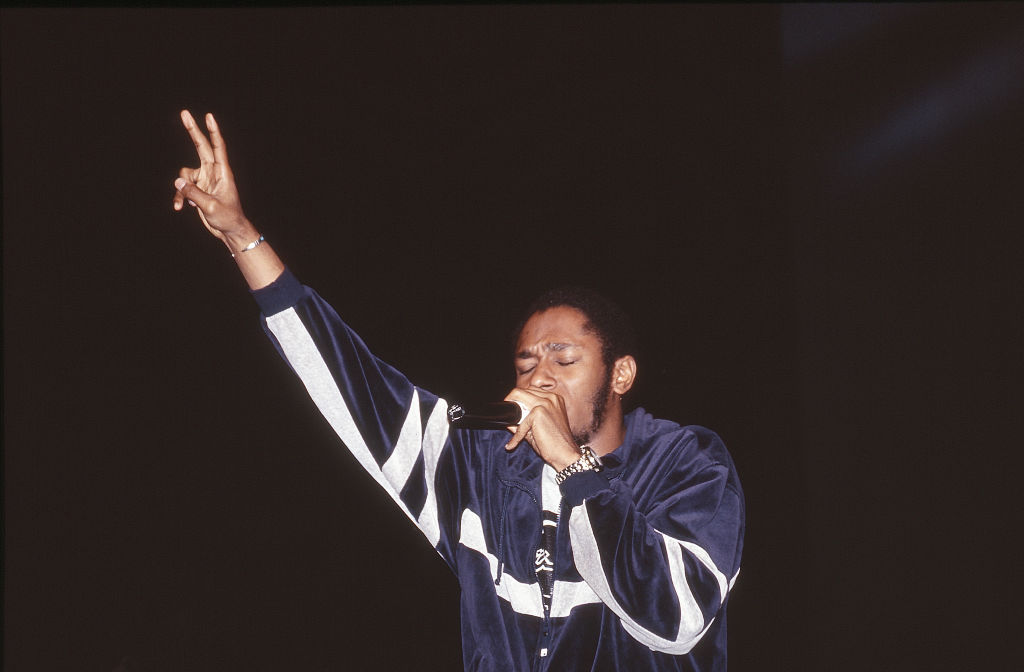 Album: Black on Both Sides

Producer: Ayatollah

Label: Rawkus/Priority

"Ms. Fat Booty," the lead single off Mos Def's debut solo album Black on Both Sides catalogs the peaks and valleys of a relationship between Mos and a girl with an "ass so fat that you could see it from the front." In the first verse she plays him out when he asks for a dance, but upon meeting for the second time things go better, and the two finally hit it off. Things go smoothly until the end of the second verse when, months into the relationship, Ms. Fat Booty vanishes completely. With her whereabouts unknown, Mos is eventually informed by a friend that he had found her... working a scandalous girl-on-girl show at a strip club.
34. Boogie Down Productions "9 mm Goes Bang" (1987)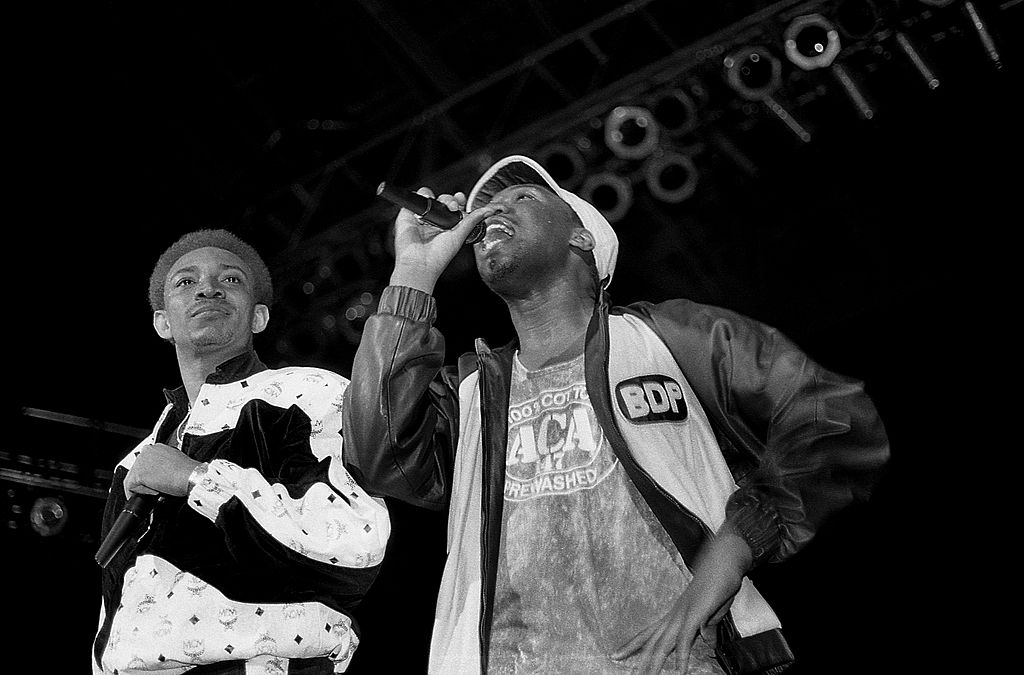 Album: Criminal Minded

Producer: DJ Scott La Rock, KRS-One & Partner Lee Smith

Label: B-Boy Records

"9mm Goes Bang," off B.D.P.'s 1987 debut Criminal Minded, is a gritty yarn about the spontaneous murder of a crack dealer named Peter, and KRS-One's ace handling of the aftermath. He lays low for a week after the shooting, but he does so at home, which is the first place his victim's crew would think to look for him. They come calling as expected, and KRS kills them. "9mm Goes Bang" is notable for being one of the early incorporations of dancehall vocal phrasings and patois into hip-hop, and its chorus of "Wa da da dang/Wa da da da dang" has been reused and reinterpreted by scores of rappers over the years.
33. Ice Cube "My Summer Vacation" (1991)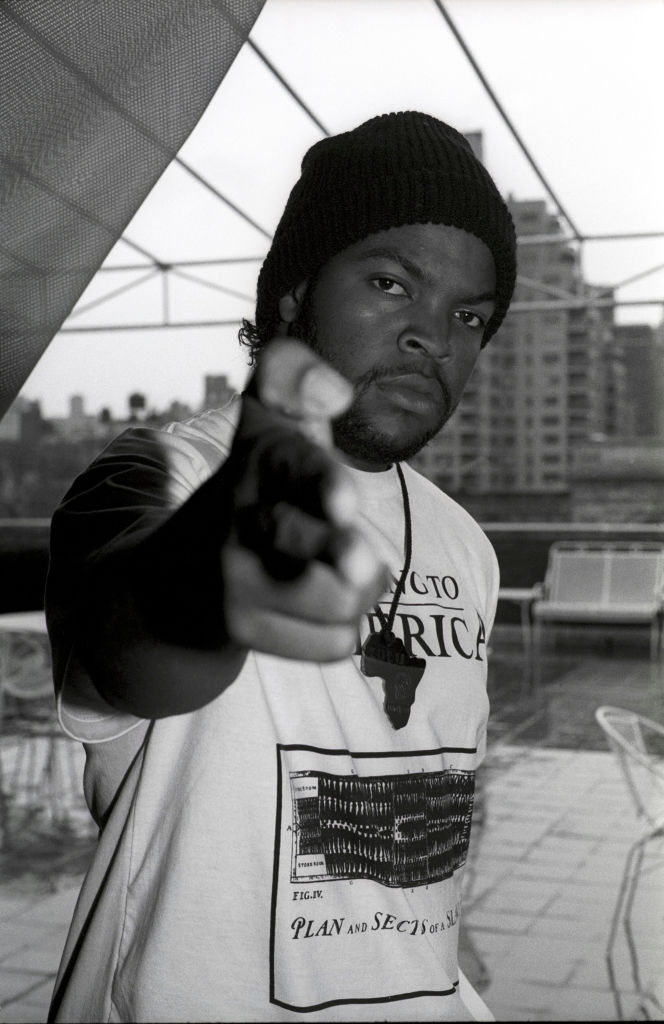 Album: Death Certificate

Producer: Boogiemen & Ice Cube

Label: Priority/EMI

On "My Summer Vacation," Ice Cube, a known gang affiliate, devises a clever solution to the constant harassment he gets from the police - he takes the first plane out of Los Angeles to St. Louis, and establishes himself there by uprooting local dealers from their corners. He makes a killing for a while, but it doesn't take very long for him to get embroiled in a full-on gang war that lands him in prison with no hope for parole. "My Summer Vacation" maps out the spread of the crack epidemic and its attendant gang violence across the country in vivid detail, putting a personal spin on the trail of death and addiction that plagued the country in the '80s.
32. The Roots f/ Erykah Badu "You Got Me" (1999)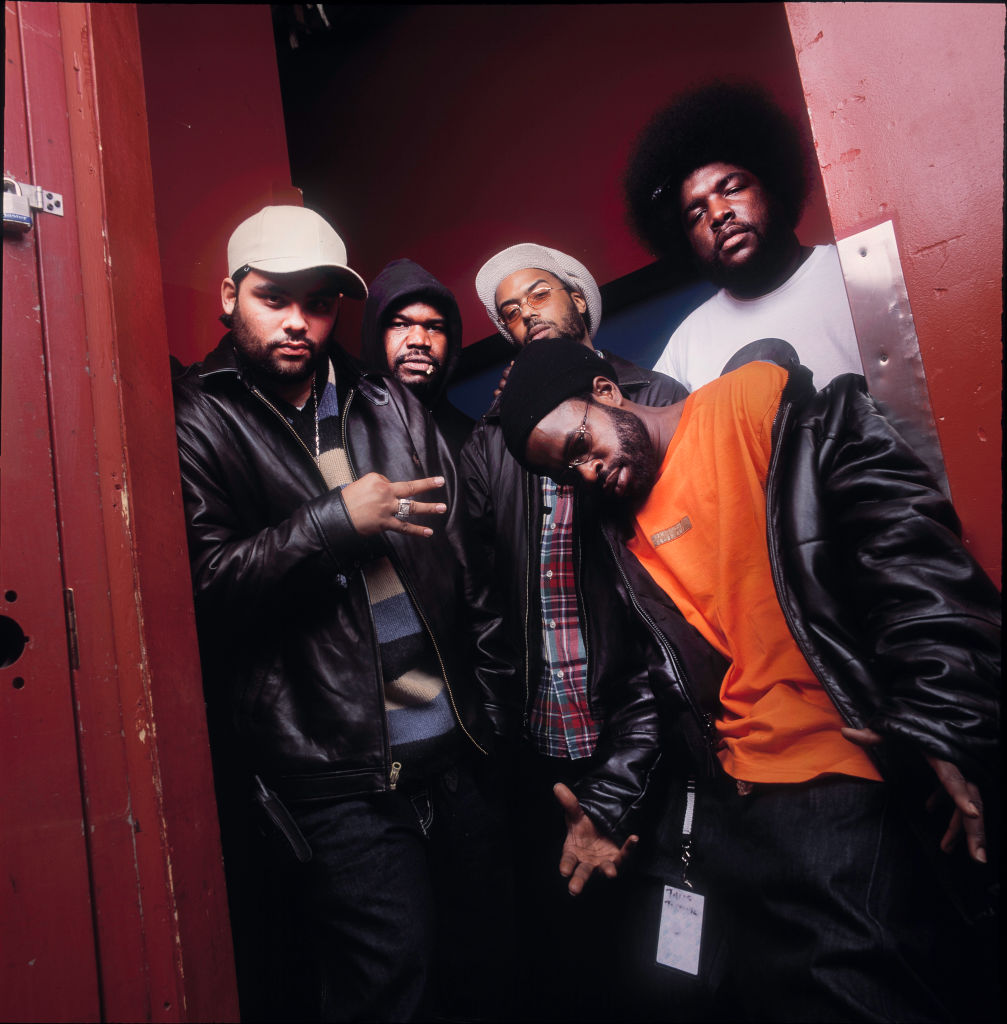 Album: Things Fall Apart

Producer: The Grand Wizzards

Label: MCA

The Roots formed in the late '80s and released a series of critically acclaimed albums in the '90s that stayed more or less under the mainstream radar. But that changed in 1999 with the release of "You Got Me," a single off their fourth album Things Fall Apart. "You Got Me" is all about a promising relationship that sours due to a lack of trust. Black Thought and Eve's lyrical repartee, along with Erykah Badu's sultry chorus, (written by Jill Scott) and the band's jazzy playing made for a left field hit. One that won the Roots a Grammy award in the process.
31. Gang Starr "Soliloquy of Chaos" (1992)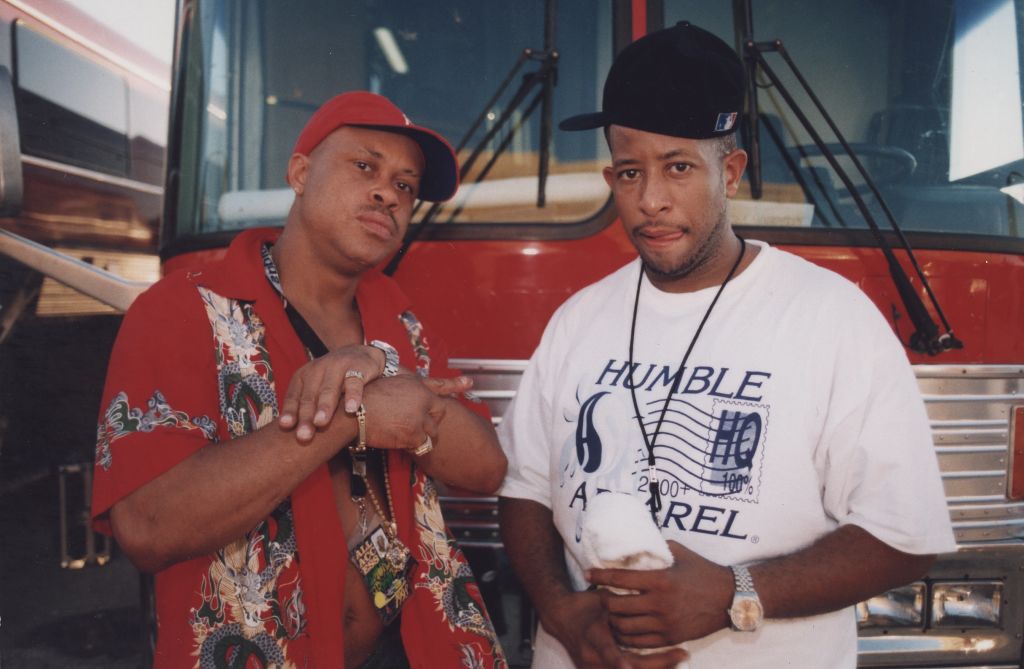 Album: Daily Operation

Producer: DJ Premier

Label: Chrysalis/EMI

"Soliloquy of Chaos" off Gang Starr's classic 1992 album, Daily Operation, is the story of a rap show gone horribly wrong. Premo and Guru roll out in a cavalcade with Jeru the Damaja, Lil' Dap and a host of friends and arrive at the venue with Timbalands in tow, but shit quickly goes sideways when two kids get into a fight in a line outside the venue. One of the kids shoots the other, and the crowd bursts into a maelstrom of chaos and chain-snatching. The cops shuts the show down post haste, and Guru closes out the song with the moral of the story: stop the violence.
30. A Tribe Called Quest "8 Million Stories" (1993)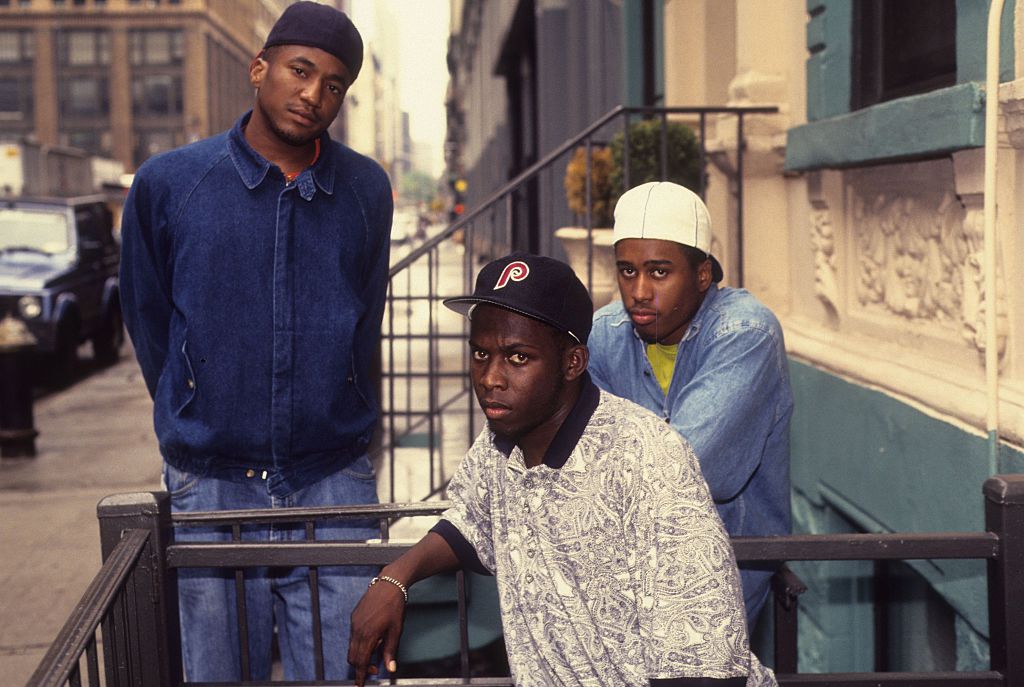 Album: Midnight Marauders

Producer: Skeff Anselm

Label: Jive/BMG

Phife Dawg of A Tribe Called Quest was really having the worst day on Midnight Marauders' "8 Million Stories." In the course of one afternoon, he: gets robbed, burns a hole in an outfit he's ironing to wear on a date, takes his brother to a toy store to find a toy it turns out they don't have, gets robbed again, and then gets stood up for his date. And that's all in the first verse! After the chorus he tells us about a nagging, materialistic girlfriend he's trying to get rid of, an ill-timed weed purchase that wins him a trip to the police statement, and, believe it or not, a third robbery. Ughh! Worst luck ever!
29. Kool G Rap "On The Run" (1992)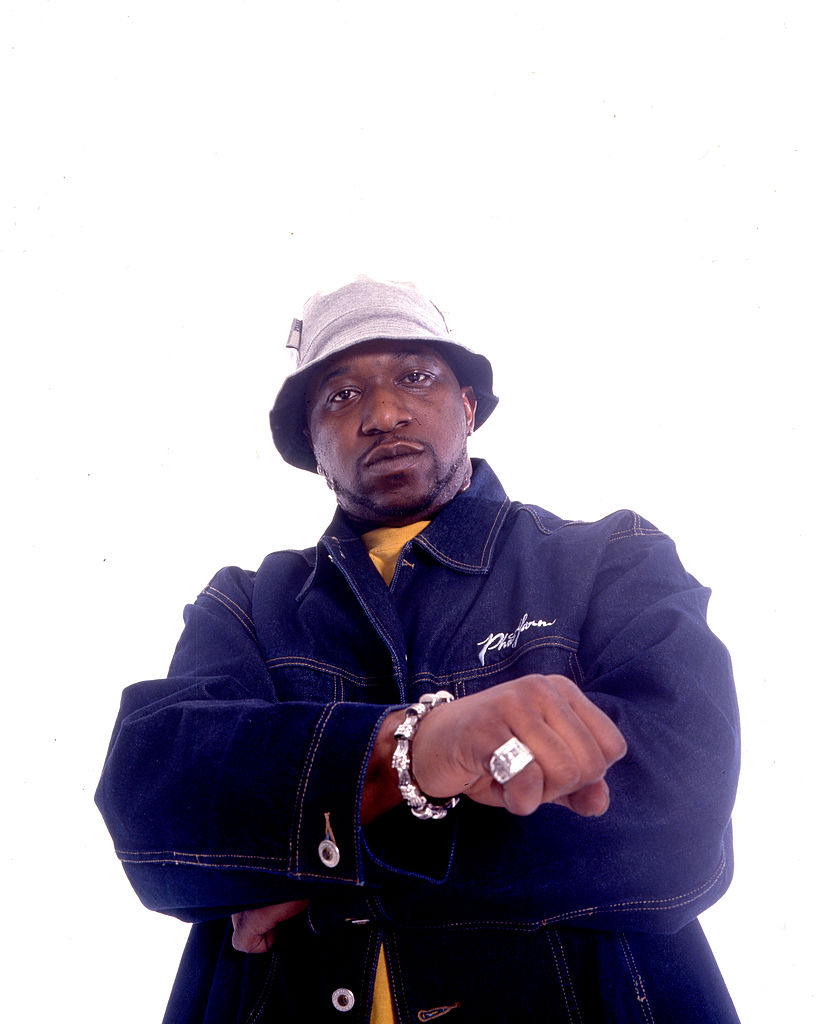 Album: Live and Let Die

Producer: Sir Jinx, Kool G Rap

Label: Cold Chillin' Records

"On the Run" is the first song on Kool G Rap & DJ Polo's 1992 album , their final album as a duo. It's a long, twisty heist story that puts G Rap in the life of a low-level mobster looking for a come-up. Dissatisfied by what he thinks is insufficient pay for all the drug running and money laundering jobs he is required to handle from day to day, he steals a shipment of coke so he can go into business for himself. His bosses catch him on the way to the airport, where he and his girl are plotting to hightail it out of town. He somehow single-handedly takes out an entire crime family and makes his escape, leaving no living enemies.
28. Boogie Down Productions "Love's Gonna Get'cha (Material Love)" (1990)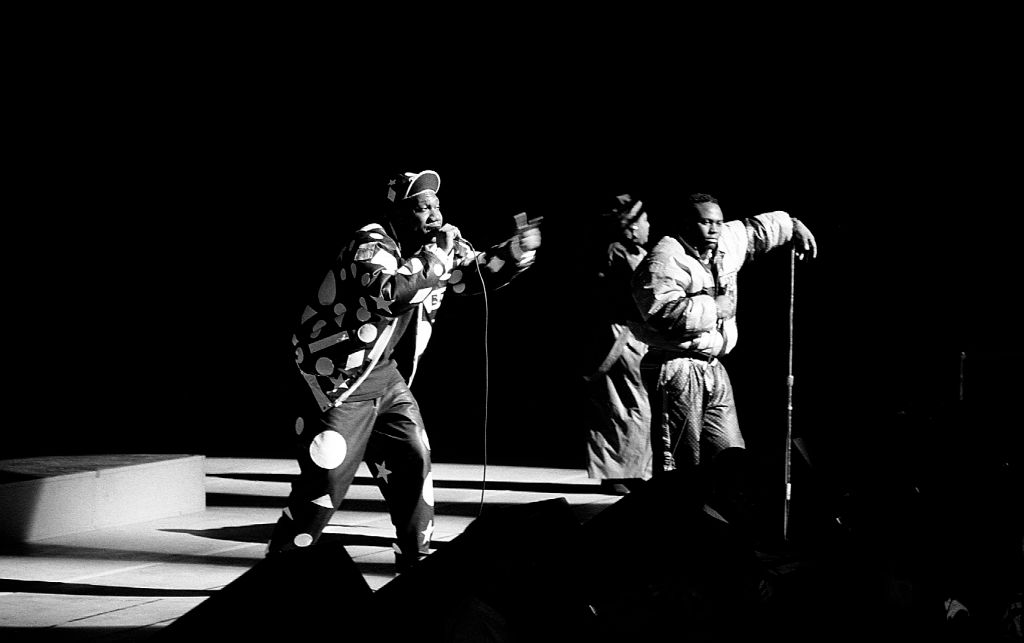 Album: Edutainment

Producer: Pal Joey

Label: Jive/RCA Records

"Love's Gonna Get'cha (Material Love)" was the lead single off Boogie Down Productions' 1990 album, Edutainment album, whereupon KRS-One really began to occupy the role of the wize old teacher for the hip-hop generation. "Love's Gonna Get'cha" recalls the life of a good-natured kid who turns to crime to provide himself and his siblings with the expensive gear his mother can't afford. This sets off a sequence of events spin out of control, as punctuated by the rueful refrain with which KRS ends every verse: "Now tell me what the fuck am I supposed to do?"
27. Lupe Fiasco "Kick, Push" (2006)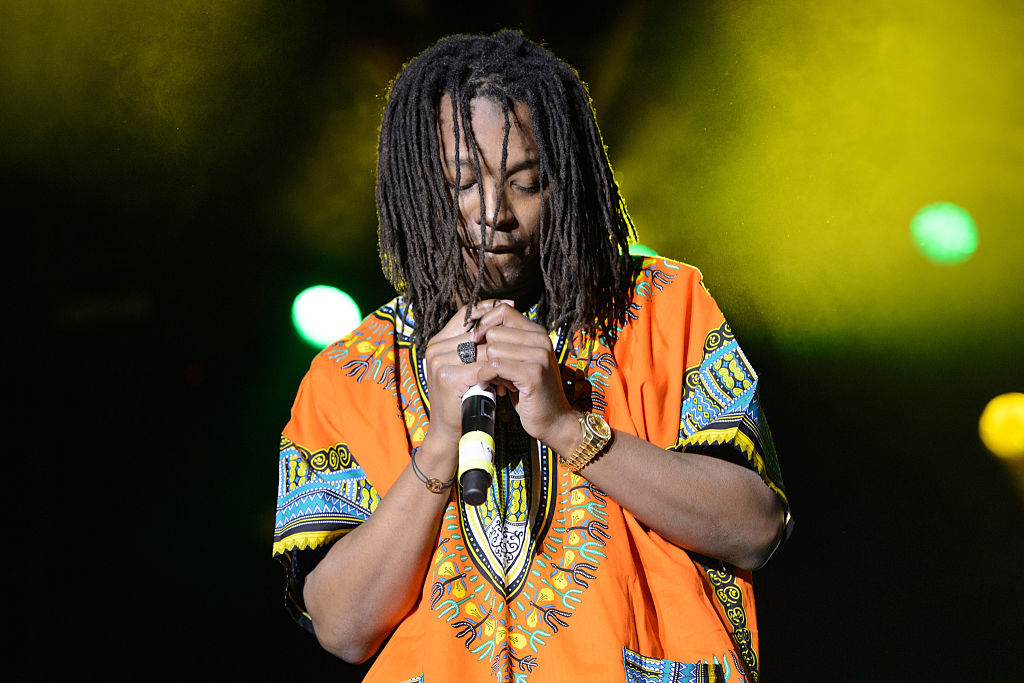 Album: Lupe Fiasco's Food & Liquor

Producer: Soundtrakk

Label: Atlantic/1st and 15th Entertainment

We first heard Lupe Fiasco on his scene-stealing guest verse on Kanye's "Touch the Sky," but the Chicago native outdid himself on his first solo single, 2006's "Kick, Push." The song starts off as a languid character study of a kid whose love of skateboarding makes him an outcast and a loner. By verse two, he's met a girl who shares his enthusiasm, and by the end of the third verse, he's got a crew of other skaters to keep him company. Even though the narrator's quest to find a place where he fits in is fulfilled, the chorus' refrain of "Kick, push, kick, push, coast" suggests that the key to life is to avoid stasis and keep moving through it.
26. Digital Underground "Freaks of The Industry" (1990)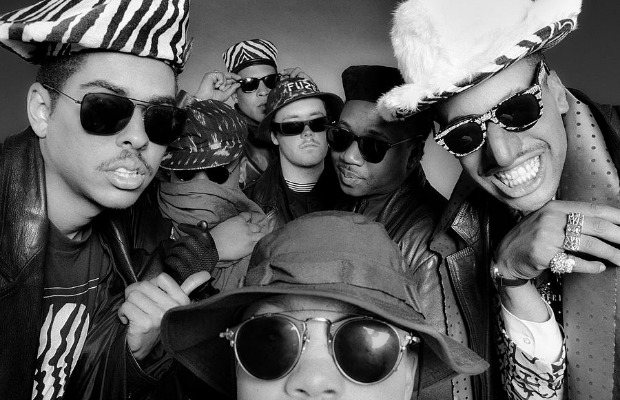 Album: Sex Packets
Producer: Digital Underground
Label: Tommy Boy

Digital Underground's 1990 debut album Sex Packets is a tour de force of lighthearted lyricism powered by the slick funk of Shock G and friends. Its third single, "Freaks of the Industry," is a raunchy ode to sex with groupies that tells you more than ever wanted to know, probably, about what it's like to go backstage at a Digital Underground concert. The most memorable moment is the multiple-choice pop quiz in the second verse wherein Shock G asks what you would do if the sex you're having in the room next to where you're friends are hanging out gets too loud. (Answer: sound-proof the room by sticking a rolled-up a towel underneath the door.)
25. Lost Boyz "Renee" (1996) Album: Legal Drug Money

Producer: Mr. Sexxx

Label: Uptown/Universal/Cantago

Queens' quintet Lost Boyz made a name for themselves with party rap bangers like "Jeeps Lex Coups Bimaz & Benz," but they showed a different side on "Renee," the third single off their debut album Legal Drug Money. The song recounts Mr. Cheeks' his relationship with Renee, a law student on the cusp of a lucrative career. Cheeks falls in love, but it's a doomed romance; he gets an unexpected phone call in verse three informing him that Renee has fallen victim to a shooting and spends the remainder of the song drinking away the pain.
24. Ice Cube "It Was A Good Day" (1993)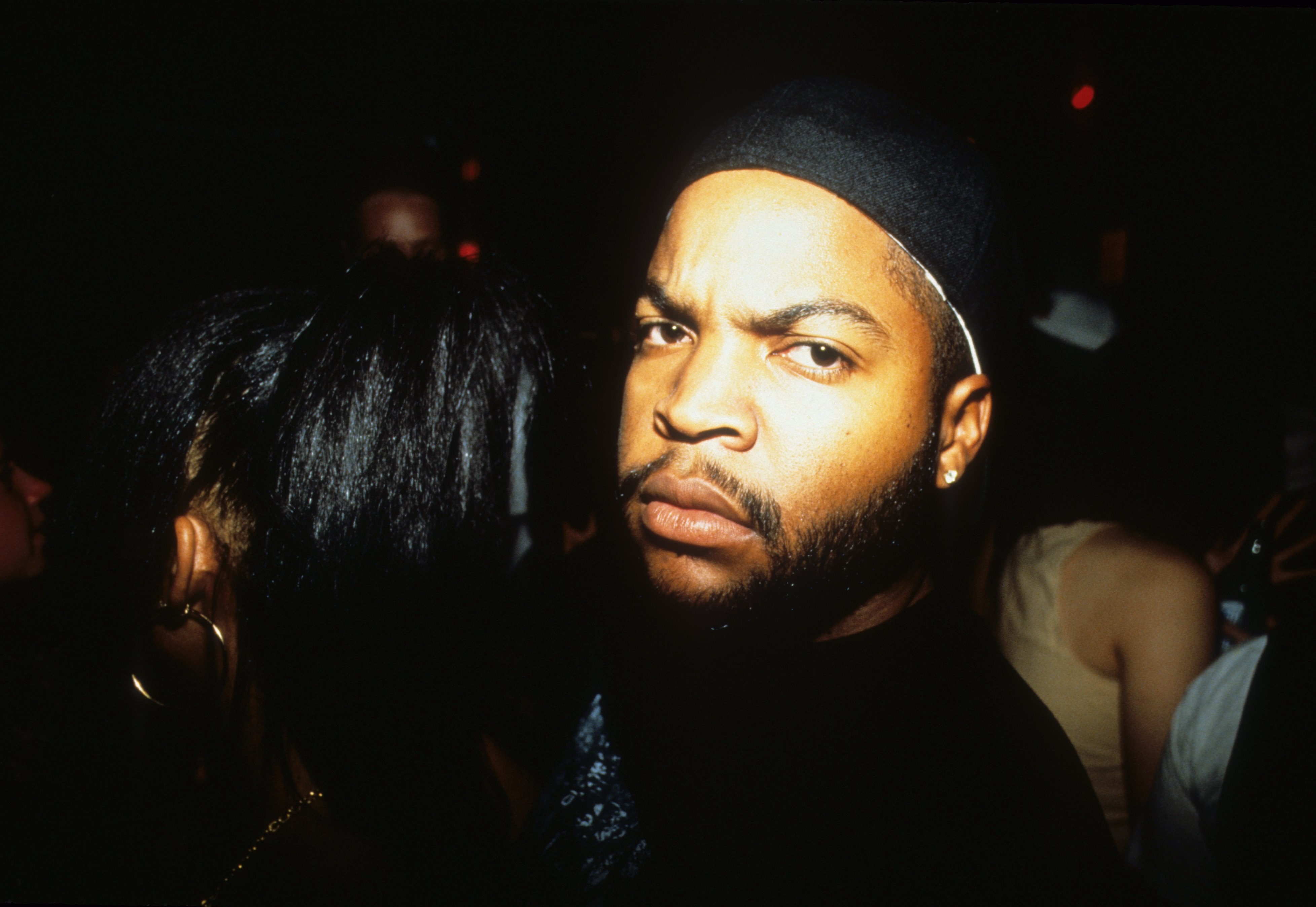 Album: The Predator

Producer: DJ Pooh

Label: Ruthless Records

The day Ice Cube rehashes over DJ Pooh's silky smooth Isley Brothers loop on "It Was a Good Day" was a really fucking good day: he gets laid, scores a triple double in a pick up game, runs a red light in front of the cops without getting stopped, skirts past a rival crew without incident, wins a big game of craps, chills with Too $hort, parties without puking, and finishes with a late night trip to Fatburger. His luck is too good to be believed, but that didn't stop people from trying to triangulate exactly what day in history he was talking about: January 20th, 1992.
23. Beastie Boys "Paul Revere" (1986)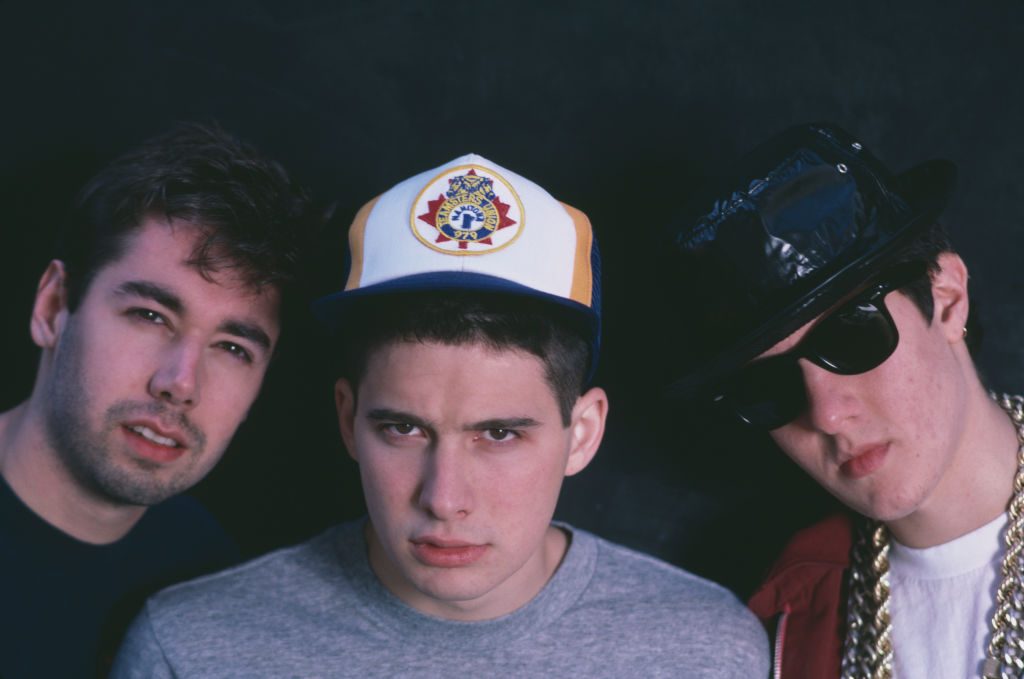 Album: Licensed to Ill

Producer: Rick Rubin & Beastie Boys

Label: Def Jam/Columbia Records

The Beastie Boys' debut album License to Ill, alongside Run D.M.C.'s Raising Hell, was instrumental in taking hip-hop out of the city and into the suburbs. The albums' mixture of hip-hop attitude and rock 'n' roll sounds lured fans of other genres into the fold by the millions. It was typified by the goofball hijinx such as those described in "Paul Revere," a whimsical tale that reimagines the Beastie Boys as Wild West outlaws who meet in the desert and set their sights on the nearest bar. Mike D and MCA make off with everyone's money and jewelry, and Ad-Rock gets the girls and the beer.
22. The Notorious B.I.G. "Warning" (1994)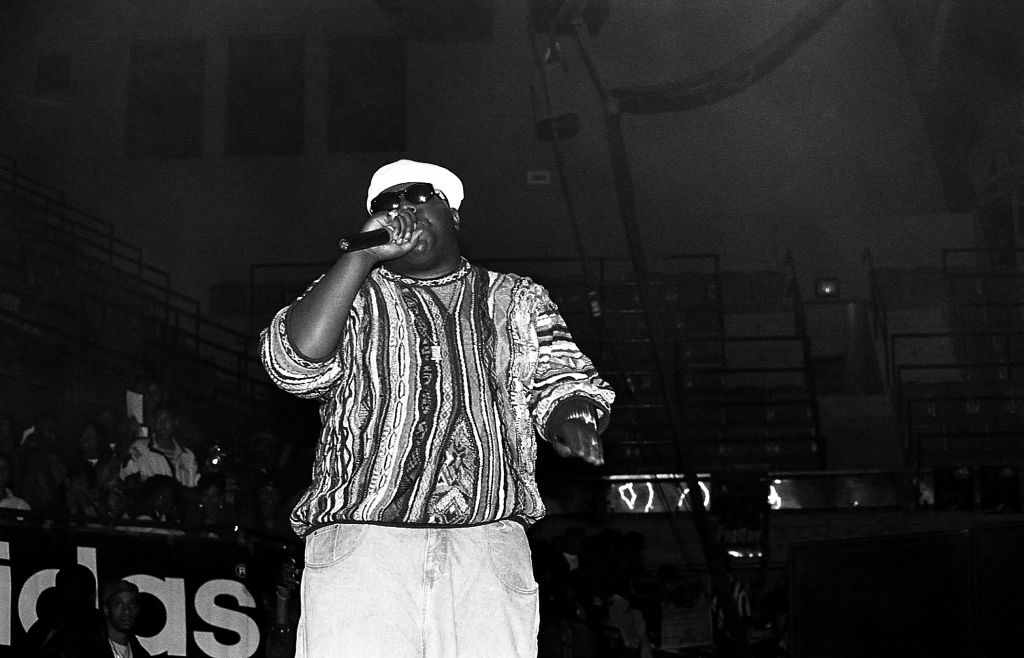 Album: Ready to Die

Producer: Easy Mo Bee

Label: Bad Boy Records

"Warning," from Biggie's 1994 Ready to Die, is a classic, from its killer opener ("Who the fuck is this paging me at 5:46 in the morning?") to the compelling narrative about an intercepted stick-up plot to chilling threats like, "There's gonna be a lot of slow singing, and flower bringing, if my burglar alarm starts ringing." "Warning" is both a clinic for deft lyricism and a showcase for Big's knack for unconventional songwriting. It's basically a phone conversation between Big and a friend who got wind of a plan to rob him. But the plan appears to jump off before he can get off the phone, and the slow-burning suspense only lets up in the skit after the song, when Biggie blasts the two hitmen sent to take him out.
21. Ghostface Killah f/ Raekwon "Maxine" (2001)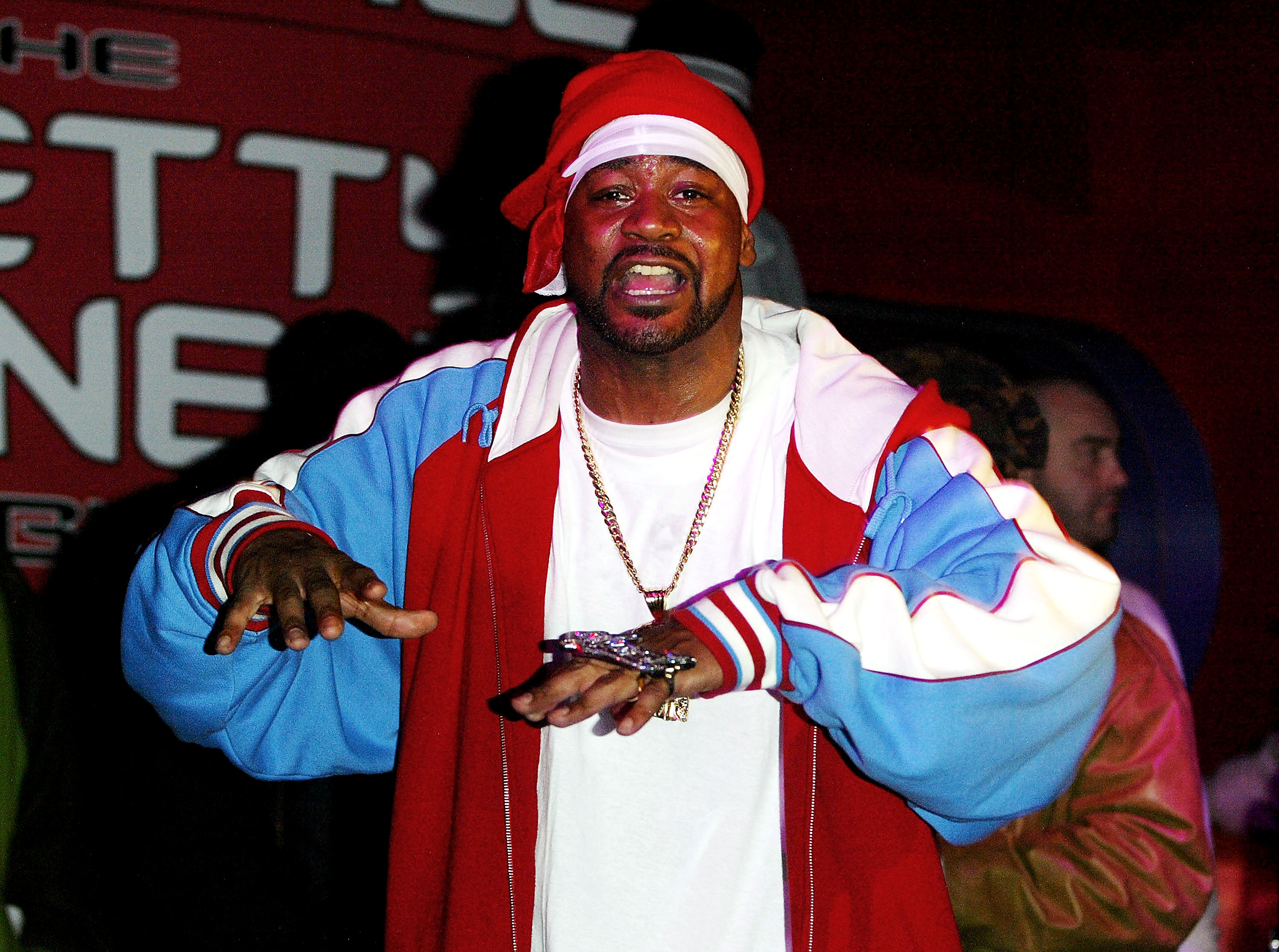 Album: Bulletproof Wallets

Producer: RZA

Label: Epic/SME Records

"Maxine" is the first song on Ghostface's underappreciated 2001 album, Bulletproof Wallets. (Which had the near-impossible task of following the universally beloved masterpiece, Supreme Clientele.) "Maxine" tells the story of a drug dealer, Moony, who embarks on a mission to punish a pair of subordinates he catches skimming off the product-and winds up getting more than he bargained for. Moony shows up at his underling Pam Jerkin's mother's house to find Pam and her friend Maxine sniffing the coke they're supposed to be holding for him. But when he slips up and puts his gun down, he catches a steaming pot of grits to the head, Al Green style, a screwdriver to the chest, a fork in the nuts, and a face full of lye before Pam's kids throw him out of the apartment window and he falls to his death. The never even came. As Ghost tells it, of the Staten Island projects where he grew up. "That's Stapleton."
20. Redman "A Day Of Sooperman Lover" (1992)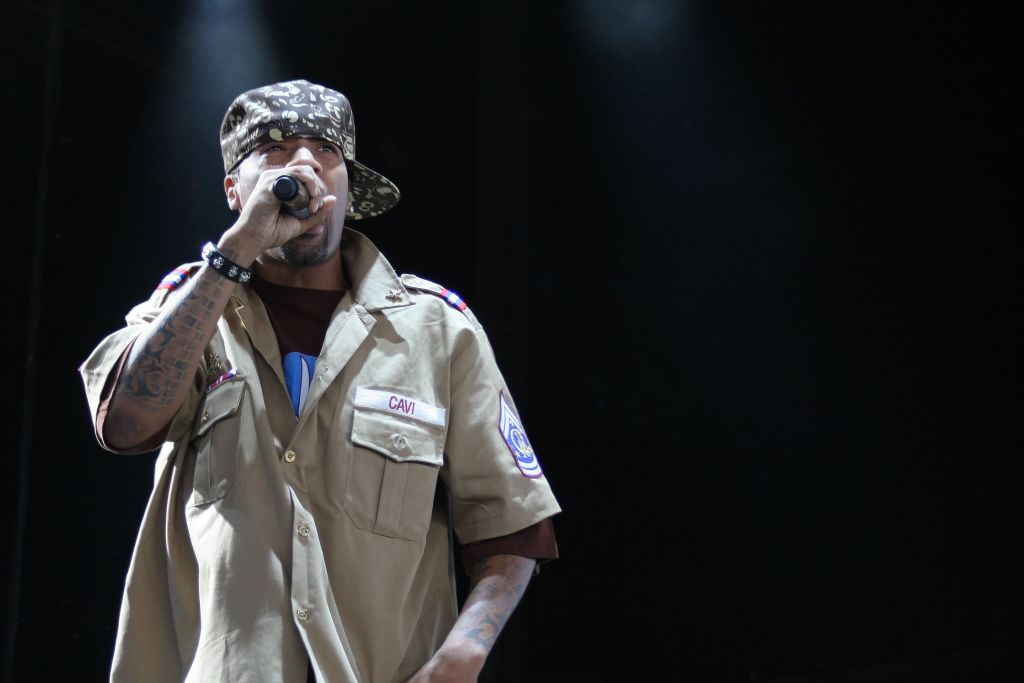 Album: Whut? Thee Album

Producer: Erick Sermon & Reggie Noble

Label: Def Jam Records

"A Day of Sooperman Lover" off Redman's 1992 debut Whut? Thee Album opens by taking a page from Slick Rick's "Children's Story." A pair of kids pester their father to tell them a story, but they get way more than what they bargain for when Reggie regales them with a story about flying around the projects bagging girls and doing drugs-until the final verse, when one of his girls turns out to be a man.
19. Mobb Deep "Trife Life" (1995)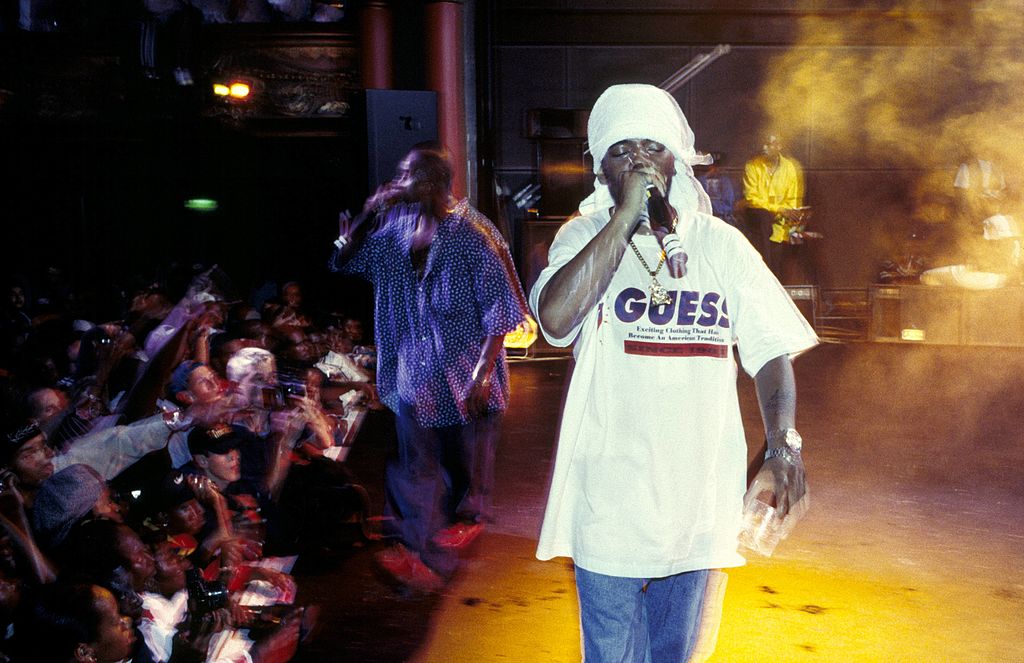 Album: The Infamous

Producer: Havoc

Label: Infamous Records, RED Distribution, Sony Music Entertainment

Mobb Deep's 1995 classic "Trife Life" was originally called "Don't Ever Go See a Bitch," which in its crass way, boils down the essence of the song. Havoc's verse is about robbing and killing a dude who's caught leaving his girlfriend's house in the projects late at night, while P's part finds him reconnecting with an old friend who invites him to a get together in Brooklyn. P stayed in Queens, where Havoc is from, and he immediately becomes convinced he's being set up. He rolls out to BK and immediately gets spooked and leaves when a black van with tinted windows shows up. Jay-Z is said to have been miffed by P's Marcy Projects slander, and the two parties launched into a war of subliminals that came to a head on The Blueprint's "Takeover."
18. Outkast "Da Art of Storytellin' (Part 1)" (1999)
Album: Aquemini

Producer: Mr. DJ

Label: La Face, Arista

Outkast's Aquemini is a soulful Southern hip-hop classic full of life lessons. A heavy one come in the form of the album's final single, "Da Art of Storytellin', Pt. 1." The song starts with Big Boi rap rapping about stepping out on the mother of his child to get sexual favors from Suzy Screw-who may or may not be a prostitute. In verse two, Andre recalls growing up with Suzy's friend Sasha and talking about their dreams as children. The two lose touch, and at the end of the song Andre gets word that she overdosed on heroin two months into a pregnancy.
17. Organized Konfusion "Stray Bullet" (1994) Album: Stress: The Extinction Agenda

Producer: Organized Konfusion

Label: Hollywood BASIC/Elektra Records

A deep cut from Organized Konfusion's 1994 album Stress: The Extinction Agenda, "Stray Bullet" is one of hip-hop's great concept songs. Both Pharoahe Monch and Prince Po rap from the perspective of a bullet just fired from a gun. Monch's shot misses its intended targets, striking a child on a playground before narrowly missing a second person, ricocheting off a car and killing a third. Po's follow-up details another bullet's trip to a hospital inside the body of a wounded drug addict. "Stray Bullet" makes a powerful argument for gun control: since it is the job of a bullet to fly until it hits something once fired, it is the responsibility of humans to keep that from happening.
16. Nas "Shootouts" (1996)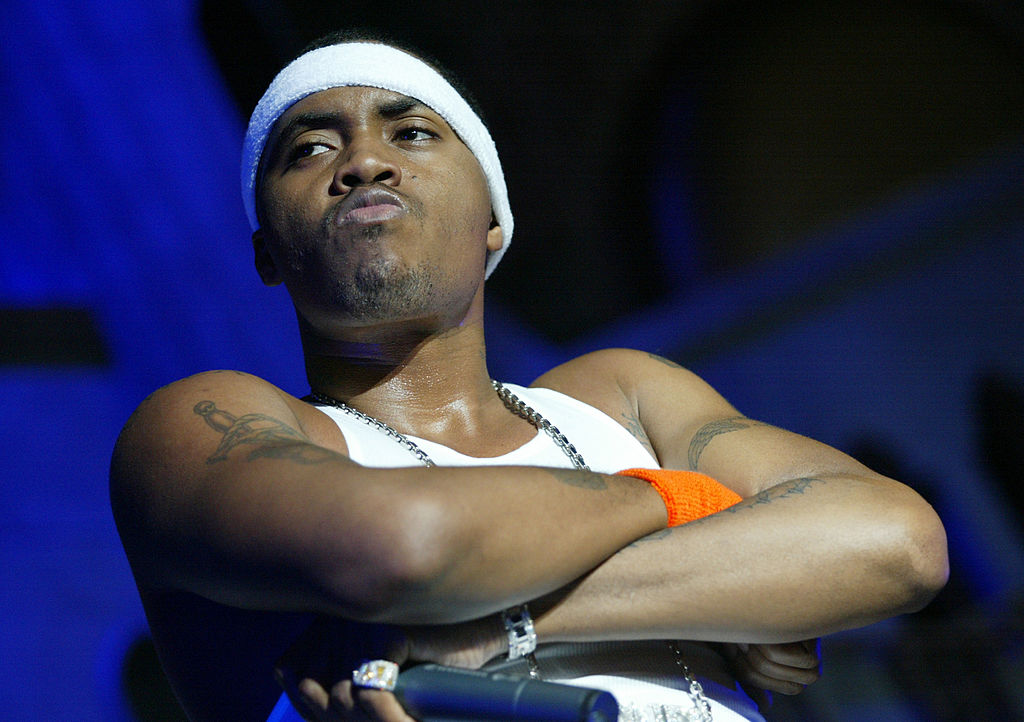 Album: It Was Written

Producer: Trackmasters

Label: Columbia

Nas' 1996 sophomore album It Was Written pulled a hard left on the gritty boom-bap of 94's Illmatic, tapping Trackmasters Poke and Tone to imbue his sound with a radio-ready slickness in the hopes of securing the commercial success that eluded him the first time around. But It Was Written meshed its rap radio power plays like "Street Dreams" and "If I Ruled the World (Imagine That)" with bleak, uncompromising street stories like "Take It in Blood" and "Shootouts." The latter finds Nas and his crew carrying out a cold revenge plot against a ruthless neighborhood cop and his pothead jumpoff in the first verse, and follows them through bullet-blazing battle when a neighborhood hotshot dips after losing a dice game-and returns with burners out.
15. Scarface "I Seen A Man Die" (1994)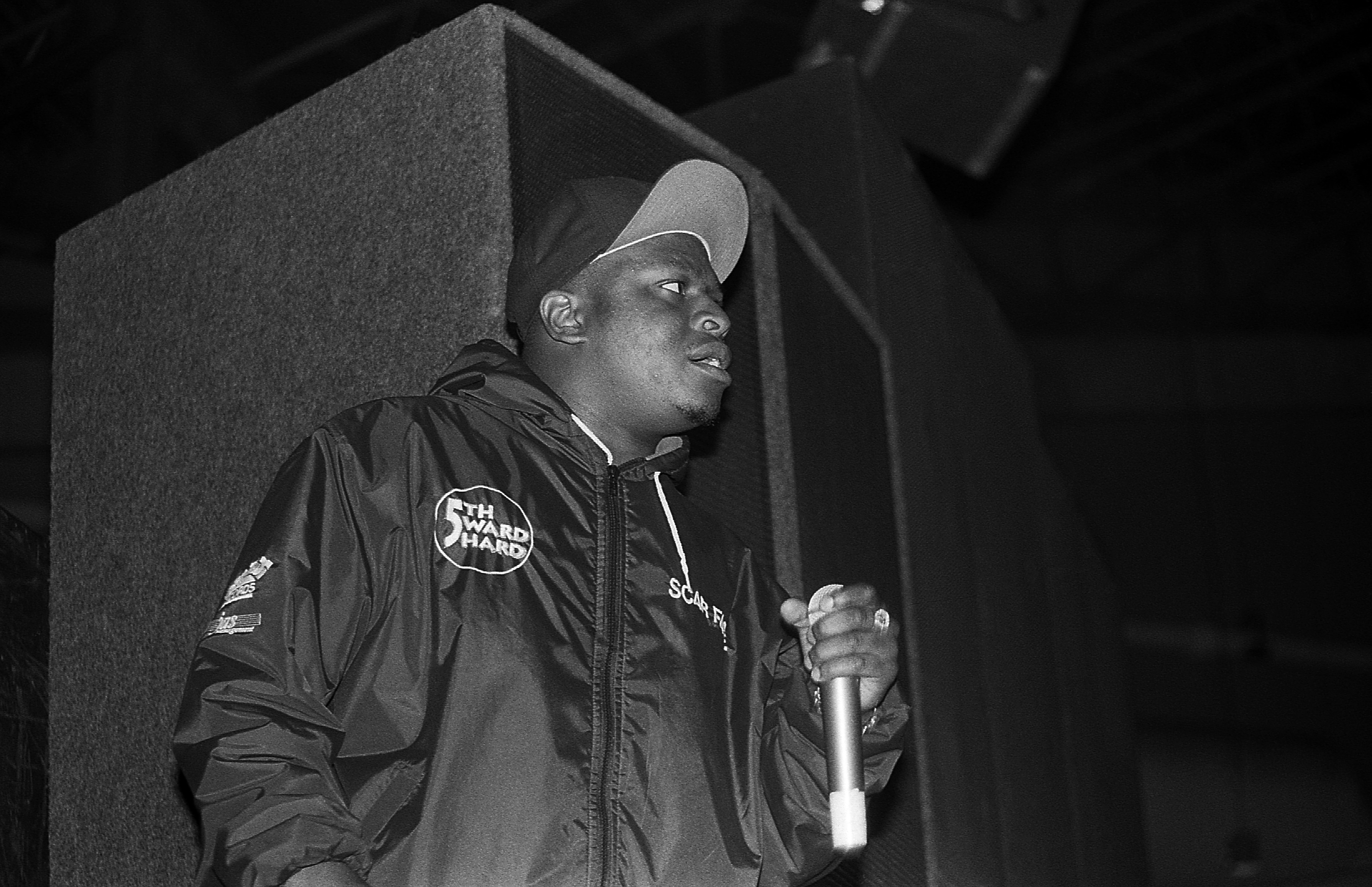 Album: The Diary

Producer: N.O. Joe, Scarface, & Mike Dean

Label: Rap-a-Lot Records

Scarface has never shied away from darkness in his music, from his horror-tinged work in the Geto Boys to the macabre street stories of his solo work. The second single on Face's sophomore album 1994's The Diary is one such yarn: a career criminal comes back home from a seven-year bid to find that while the prison industrial complex might be done with him, his own conscience isn't. Fate isn't done with him either because while he spends the first two verses trying to turn over a new leaf and deal with the guilt of having ended a man's life, he spends the entirety of the third at death's door-experiencing the terrifying fate he so carelessly inflicted on others as a younger man.
14. Jay-Z "Friend or Foe" (1996)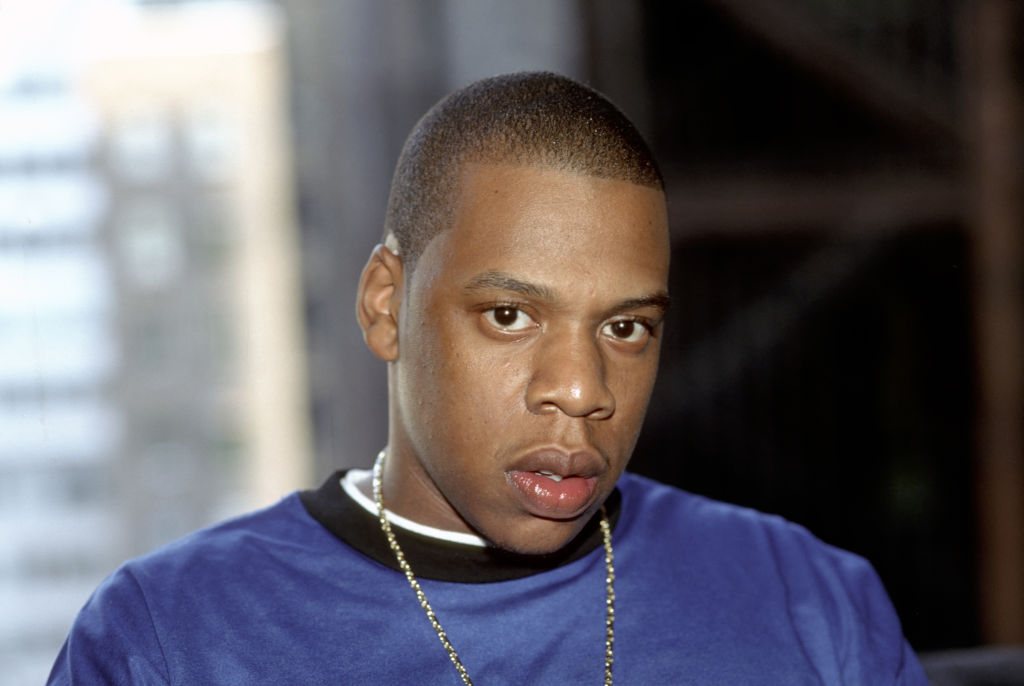 Album: Reasonable Doubt

Producer: DJ Premier

Label: Roc-A-Fella/Priority

"Friend or Foe" off Jay-Z's 1996 debut album Reasonable Doubt starts off with Jay playing the role of a hotshot dealer g-checking a meddling stranger with the titular line "Friend or foe, state your biz." The rest of the song details Jay's quick-witted handling of the duo's very short rendezvous. Jay quickly pegs his visitor as a member of a rival crew rolling through unfamiliar territories without the proper manpower and, feeding off his adversary's shuddering nervousness, offers him a deal: give up his stash of drugs and leave with his health intact or try some slick shit and leave the spot full of holes like Swiss cheese. We didn't get the outcome until In My Lifetime, Vol. 1's "Friend or Foe '98" when Jay catches the same guy plotting a revenge hit in a room full of goons and kills him first.
13. Eminem "Kim" (2000)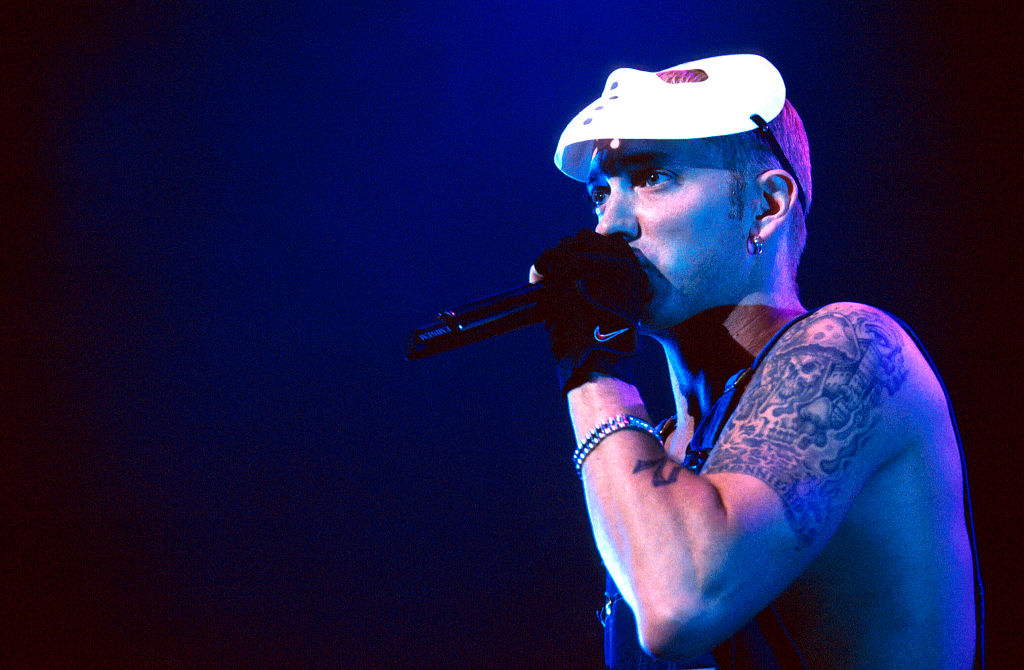 Album: The Marshall Mathers LP

Producer: F.B.T.

Label: Interscope/Aftermath/Shady Records

Eminem's life is an open book, for better or worse, and anything that troubles him in his personal life invariably ends up in his rhymes. His issues with his daughter's mother Kim were immortalized on his 1998 debut, with the gruesome "'97 Bonnie and Clyde," wherein Em and his daughter drive to the ocean to dispose of Kim's lifeless body. "Kim" off 2000's Marshall Mathers LP is the vile and bloody story of how they got there. "Kim" is a filibuster telling of a relationship gone horribly, psychopathically wrong. It's so well-told, you feel creepy, voyeuristic, listening to a guy fantasizing about slitting the throat of the mother of his children in a song named after her. And the real-life Kim clearly wasn't so cool with it either. She sued for defamation of character a few months after the album dropped.
12. Snoop Dogg "Murder Was The Case" (1994)
Album: Murder Was The Case

Producer: Dr. Dre

Label: Death Row/Interscope

"Murder Was the Case" was a deep cut off Snoop Dogg's 1993 debut album Doggystyle that tells the story of Snoop getting caught up in a drive-by shooting and his miraculous recovery from what should've been mortal wounds. He escapes death by selling his soul to the devil, quickly bouncing back to collect on the promise that Snoop will "never have a want, never have a need." The deal comes at a price, though, and by verse three, Snoop is serving a life sentence for murder (presumably a revenge hit?) "Murder Was the Case" sounded like horror-fiction. But Snoop was tangled up in a real life homicide investigation at the time, one that would result in him dramatically turning himself in minutes after a theatrical performance of the song at MTV's 1994 Video Music Awards. He beat the case three years later thanks to the legal know-how of the legendary Johnnie Cochran.
11. Outkast "SpottieOttieDopaliscious" (1998)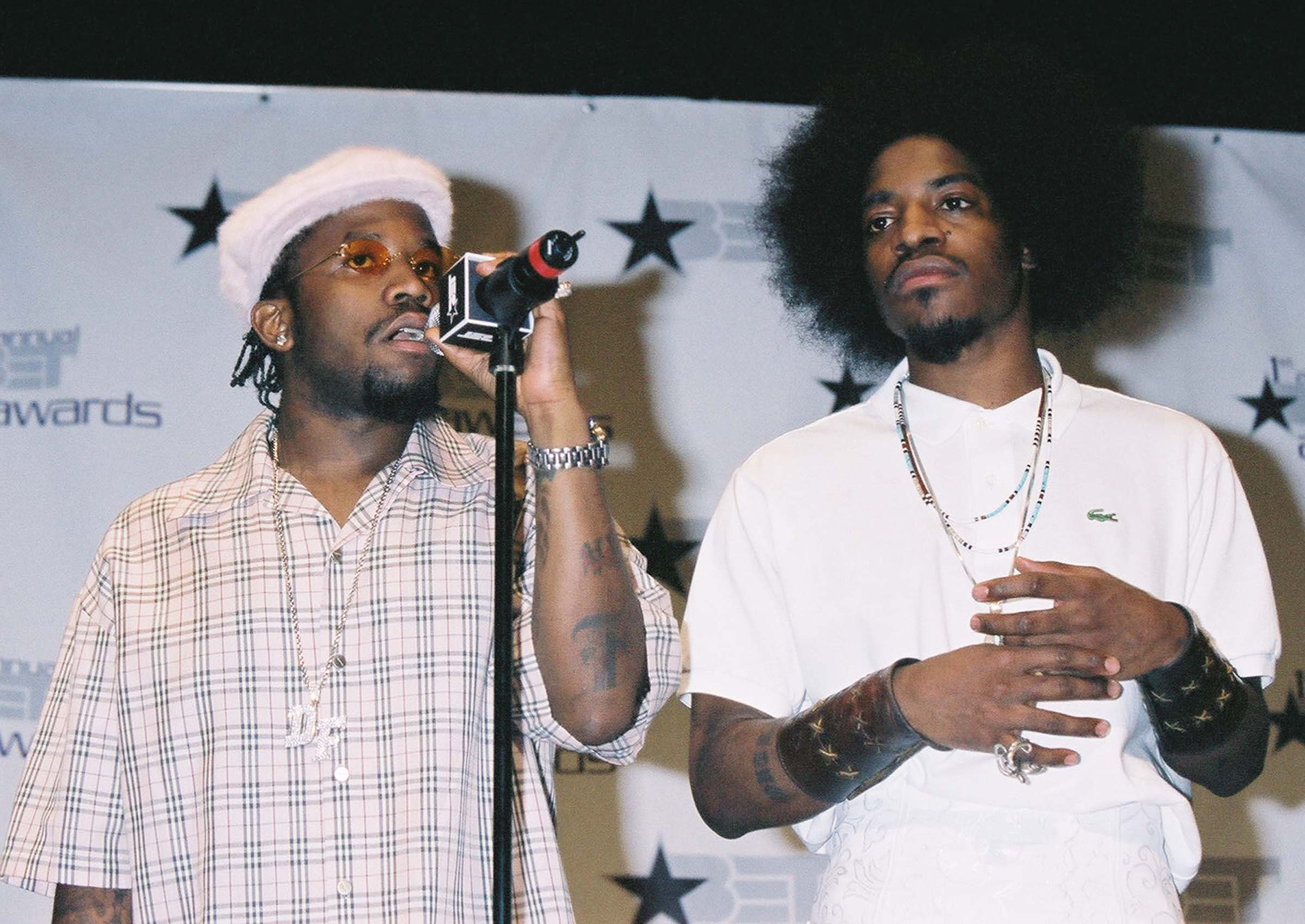 Album: Aquemini

Producer: OutKast

Label: LaFace/Arista

Outkast's "SpottieOttieDopaliscious" is a three-part story about the joys and perils of Atlanta nightlife delivered over lush live instrumentation and a triumphant trumpet fanfare. After a few quick lines from Organized Noize's Sleepy Brown about mobbing around town until the jakes show up, Andre paints a panorama of a youthful trip to a nightclub and all the therapeutic unwinding, loosened inhibitions and testosterone-fueled bouts of violence that follow. Big Boi's follow-up verse is about finding love there-but clinging to the party life even as it jibes with his responsibilities to his family and hinders him in the workplace. The genius of "SpottieOttieDopaliscious" is in its spot-on depiction of the Atlanta party scene: where there's as much opportunity for greatness as there is for ruin, and the outcome outcome of every night relies on the extent to which you can keep your head.
10. The Notorious B.I.G. "Niggas Bleed" (1997)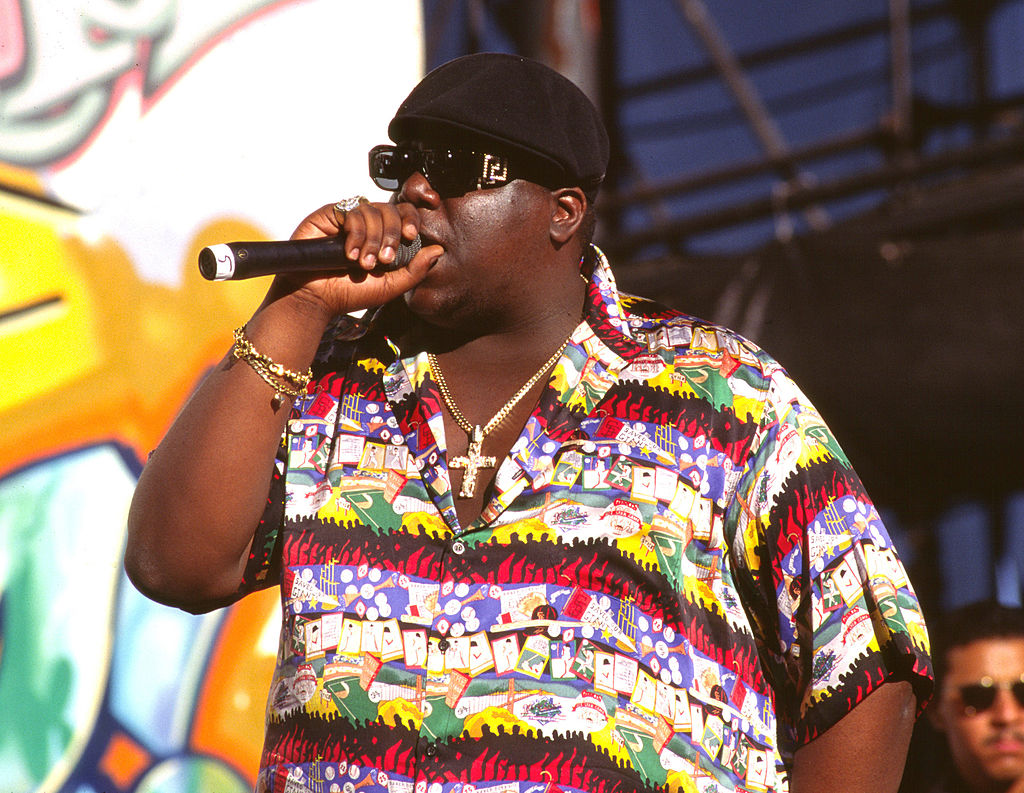 Album: Life After Death

Producer: Nashiem Myrick, Carlos Broady, Sean Combs, & Steven Jordan

Label: Bad Boy Records

If 1994's Ready to Die found Biggie hungry to claim the King of New York crown, 1997's Life After Death saw the same man surveying his kingdom. Life After Death's paranoid kingpin visions color "Niggas Bleed," a glorious, over-the-top crime narrative full of guns, gore and unexpected twists. Biggie's chorus ("Niggas bleed just like us!") is savage, and the shootout that closes the song is an orgy of graphic violence. You can see and feel and hear every detail-from the gunshots and brain splatter to Big's accomplice's maniacal laughter throughout the whole ordeal.
9. De La Soul "Millie Pulled a Pistol on Santa" (1991)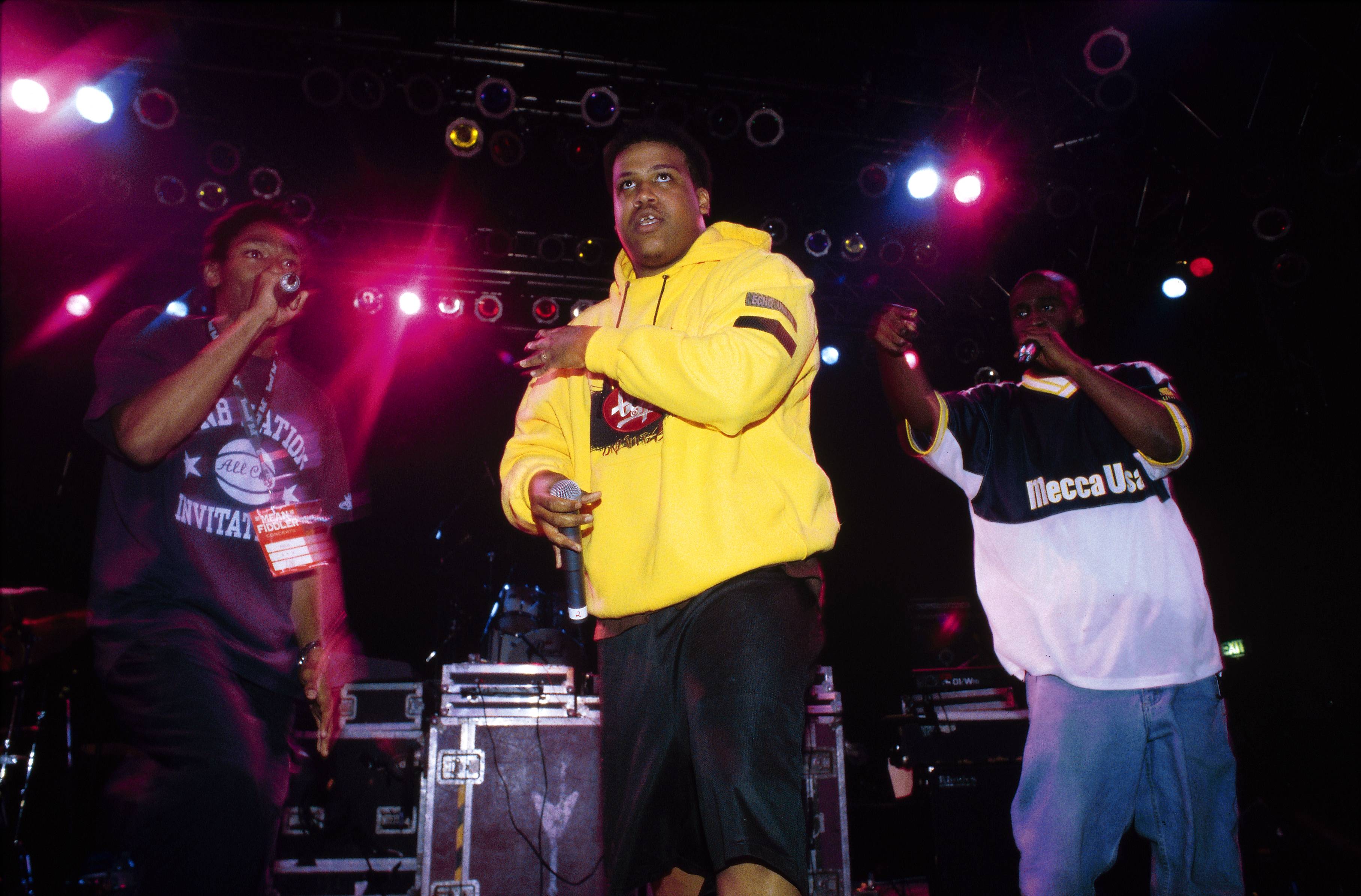 8. Schoolly D "Saturday Night" (1986)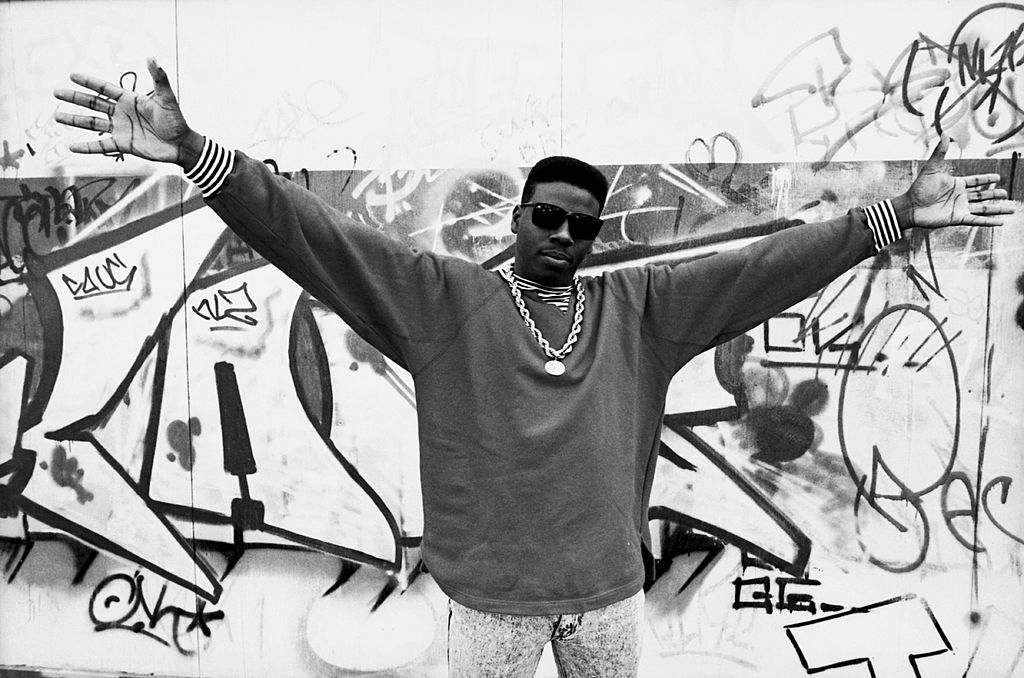 7. Ice T "6 N The Mornin" (1987)
Album: Rhyme Pays

Producer: Afrika Islam

Label: Techno Hop Records

When Ice-T heard Schoolly D's raw, uncompromising "P.S.K. (What Does It Mean?)" he immediately felt inspired. The result was his 1986 single "6 N The Morning", which is considered by many to be one of the foundational documents of the gangsta rap era. Ice wakes up to the sound of the police at his door first thing in the morning, but instead of panicking or, well, answering the door, he coolly books it to the bathroom and hops out the window. What follows is a labyrinthine bout of bicoastal partying, crime sprees, hard time in county jail, and even more bathroom window escapes. Ice's fixation on brazen lawlessness and disdain for the police opened up new avenues for rappers to peruse in their lyrics, and the benefits were immediately felt with the rise of acts like N.W.A. not long after.
6. Common "I Used To Love H.E.R. " (1994)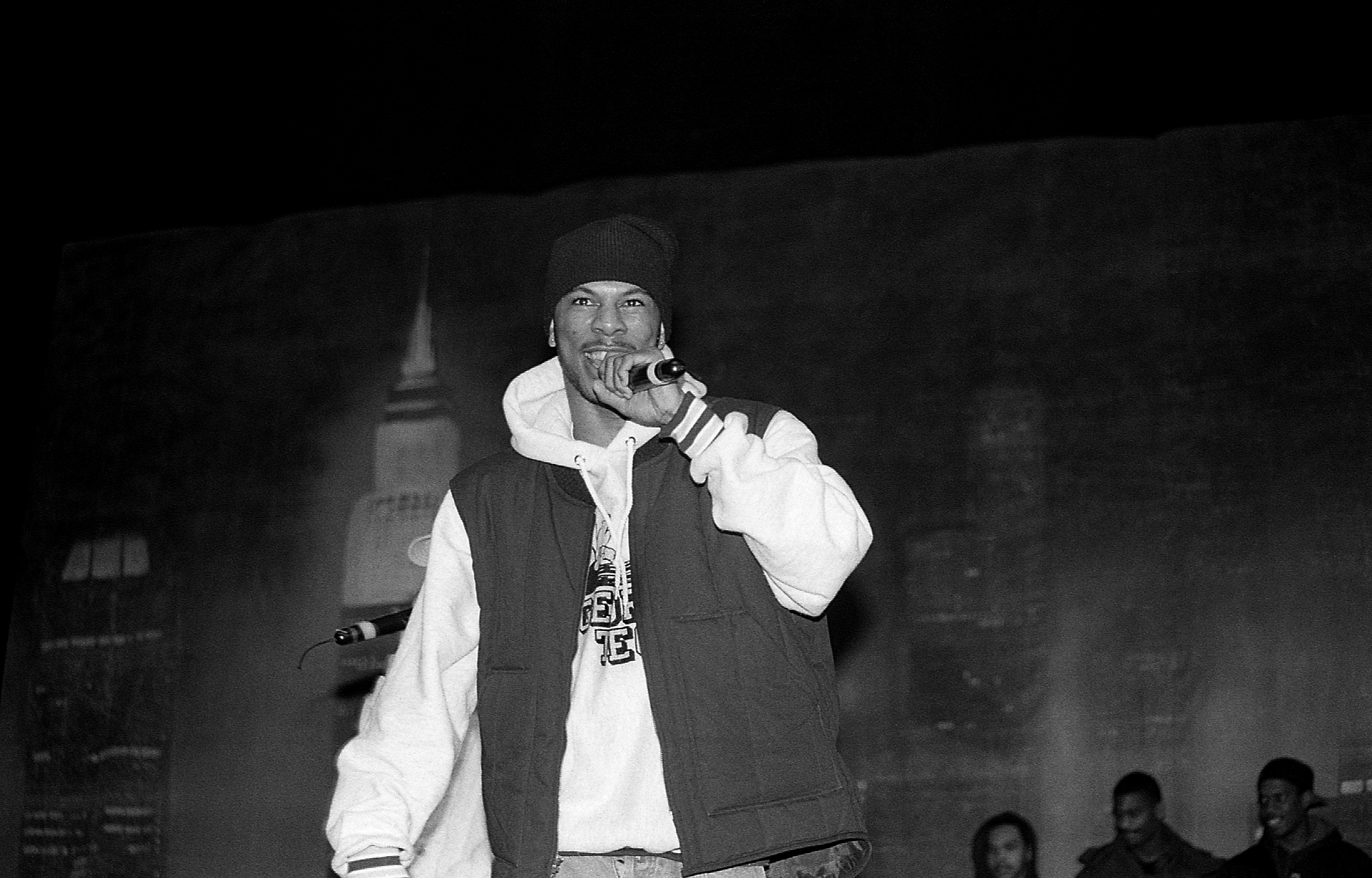 Album: Resurrection

Producer: No I.D.

Label: Relativity Records

Common's 1994 breakthrough single "I Used to Love H.E.R." is kinda like a rap game The Sixth Sense. You think you're listening to Com reminiscing about a girl whose morals are compromised when she moves out West and falls in with a crew of hard-partying gangbangers. Then you get the Shyamalanic twist at the end of verse three: the girl is hip-hop itself! "I Used to Love H.E.R." is an ace piece of songwriting, the tune that put Common on the map, although he got into trouble when Ice Cube and Westside Connection took issue with his words about gangsta rap and fired back with "Westside Slaughterhouse." Com eventually got the last laugh when he released his rebuttal, "The Bitch In Yoo," [Link: http://www.youtube.com/watch?v=XGXG5LS9X2I] one of the definitive diss songs in hip-hop history.
5. Public Enemy "Black Steel In The Hour Of Chaos" (1989)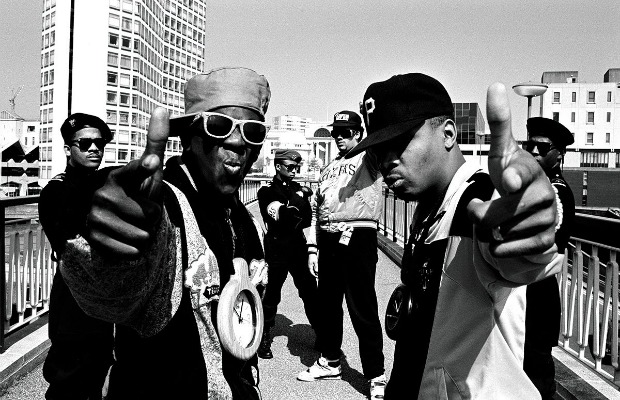 Album: It Takes a Nation of Millions to Hold Us Back
Producer: The Bomb Squad
Label: PIAS

Public Enemy crossed Chuck D's politically charged cynicism with the Bomb Squad's sample-stuffed production and Flava Flav's comic relief over classic albums like 1988's It Takes a Nation of Millions to Hold Us Back, which featured the classic anti-government polemic "Black Steel in the Hour of Chaos." In it, Chuck dodges the military draft, refusing to fight in a war for a country he that doesn't seem concerned with his interests, and gets hit with jail time. That's where shit gets crazy. Feeling like he's been wrongfully imprisoned, Chuck lies in wait to catch a CO sleeping on the job, and when he does, he snatches dude's gun and proceeds to spring himself and fifty some-odd inmates out of lock-up. The song ends with Chuck and his fellow escapees on the run, although the 1989 video [LINK: http://www.youtube.com/watch?v=ZM5_6js19eM] adds a grim epilogue: Chuck getting executed to the snarling amusement of the prison's warden.
4. Eminem f/ Dido "Stan" (2000)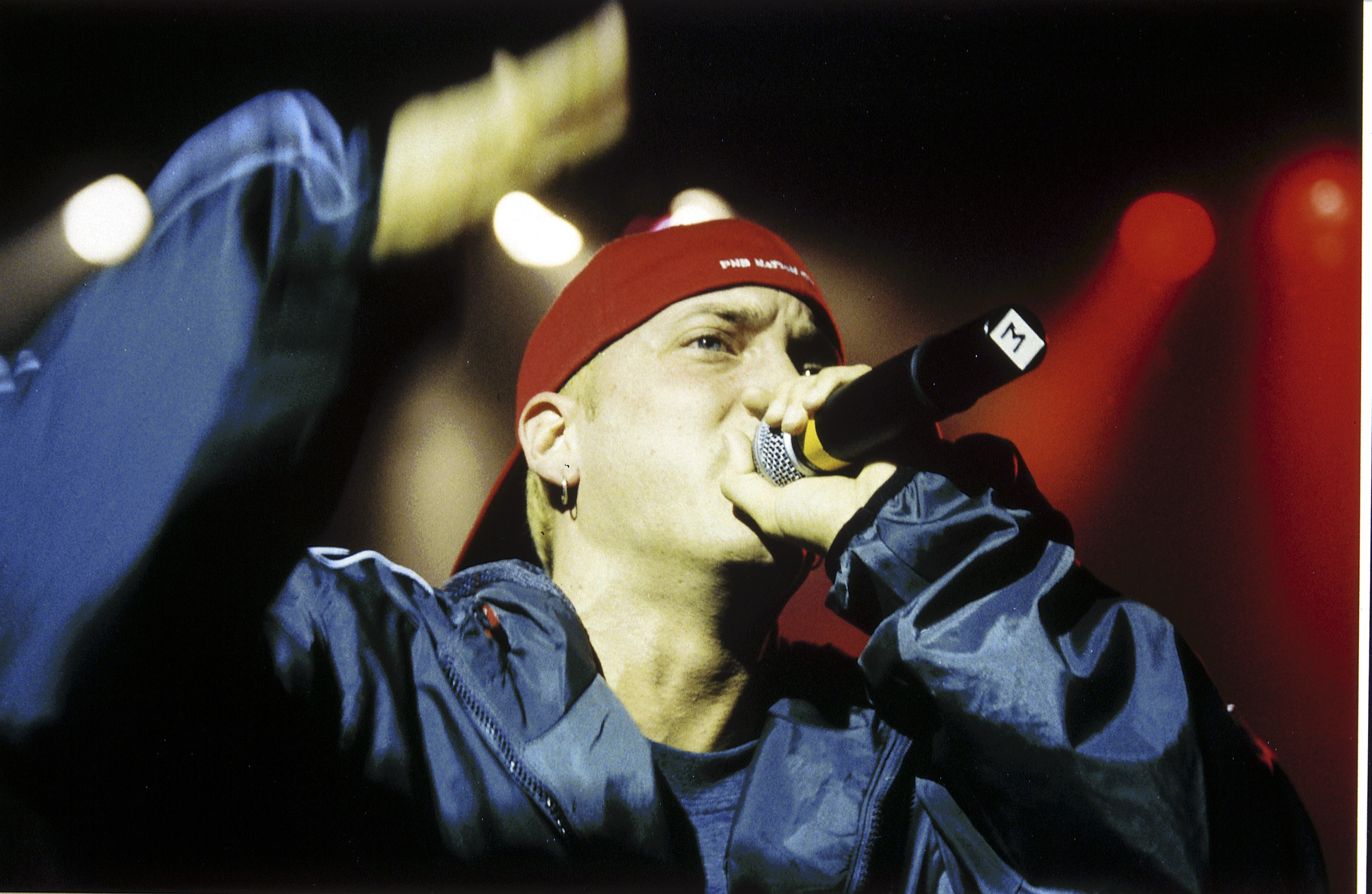 Album: The Marshall Mathers LP

Producer: The 45 King & Eminem

Label: Interscope/Aftermath/Shady Records

In addition to his legendary skills on the technical front, Eminem at his best has always been a notably inventive songwriter. The Marshall Mathers LP's "Stan" might be his best concept song. It starts off with a fan growing increasingly obsessed with his favorite artist as his life falls apart. Stan's creepy from jump, writing borderline stalkery letters to Em, but it isn't until he goes to a show and feels jilted by Em that he actually loses it. When Em finally gets around to answering Stan's letter, he pieces it together that Stan's both the creep from the sketchy fan mail and the guy from the news who offed himself in his car. All of this over a loop of Dido's plaintive "Thank You" and the light sound of rain. "Stan" is a compelling narrative, even if the notion that a multimillionaire rap artist would actually read and respond to fan mail seems a little ridiculous.
3. The Notorious B.I.G. "I Got a Story to Tell" (1997)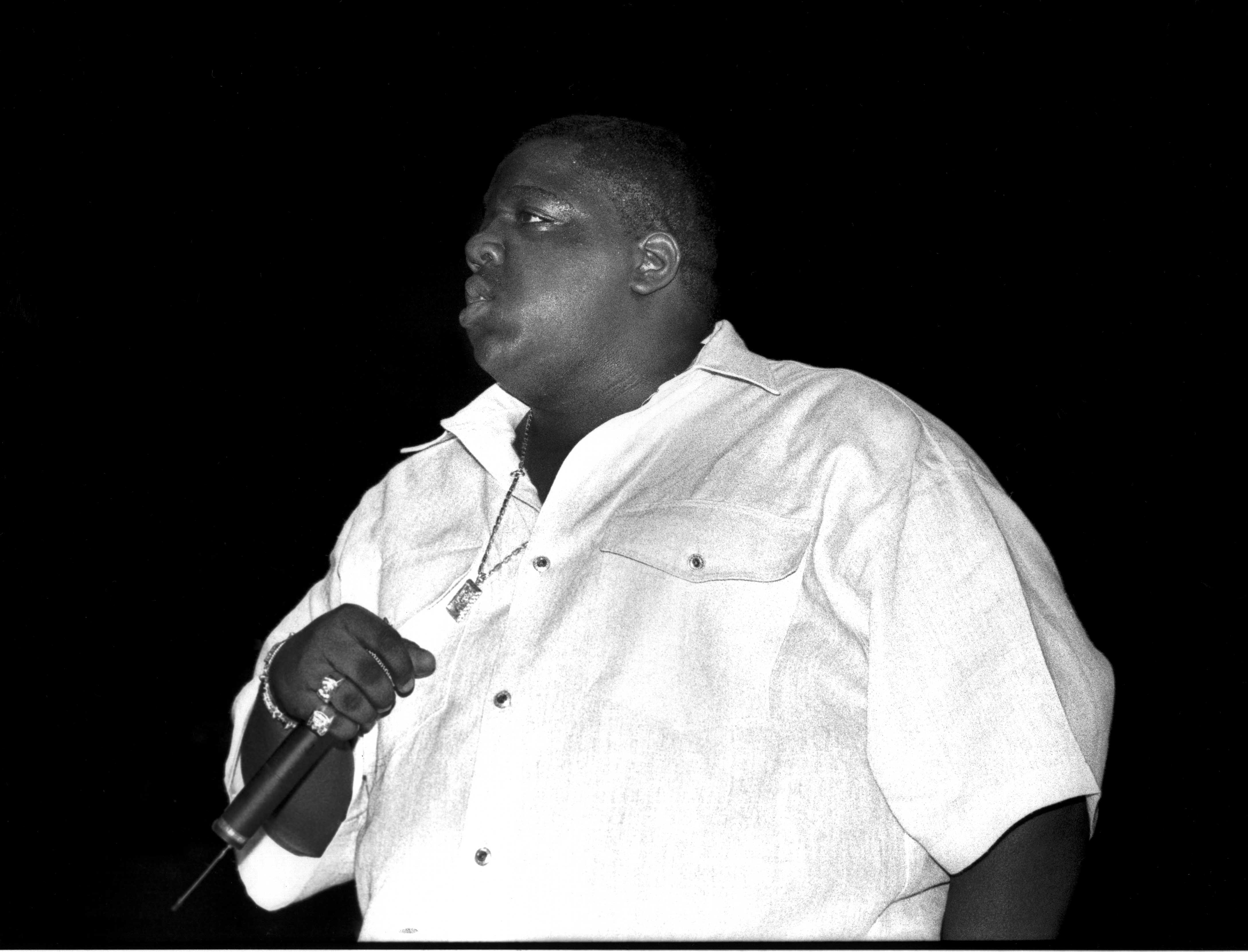 Album: Life After Death

Producer: Buck Wild, Chucky Thompson, & Sean Combs

Label: Bad Boy Records

The Notorious B.I.G. was one of the greatest lyricists ever to touch a mic, and his gripping narratives often played out like movies for the eardrums. Of all the bleak story songs in Biggie's short canon, "I Got a Story to Tell" might be the funniest. Big gets involved in a sexual relationship with a woman who turns out be dating one of the New York Knicks. He's over at her place one night doing the dirty when her man unexpectedly comes home. The girl panics, but Big is cold as ice threatening to murk dude if things get out of hand. In the clutch Big devises a plan: tie the girl up and play it off like a robbery. It works, and Big makes off with a Prada bag full of racks and a car, only to run the story back for his friends-to everyone's amazement and delight, including the listerner's. You have to wonder if R. Kelly got the idea for "Trapped in the Closet" from this one.
2. Wu-Tang Clan f/ Tekitha "Impossible" (1997)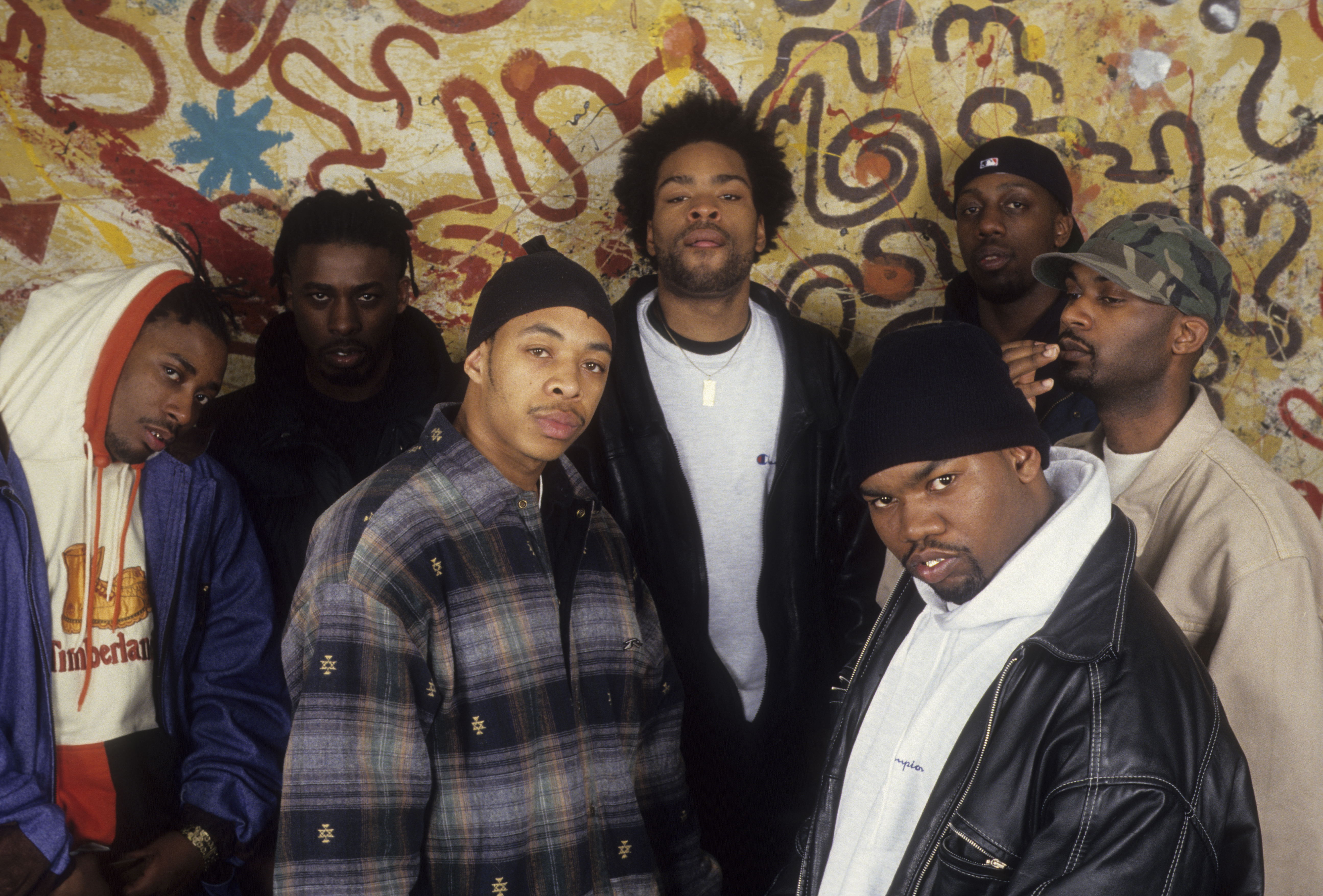 Album: Wu-Tang Forever

Producer: 4th Deciple & RZA

Label: Loud/RCA/BMG

"Impossible" was a deep cut on the second disc of Wu-Tang Clan's sophomore group album Wu-Tang Forever that found the crew spitting Five Percenter wisdom while Wu affiliate Tekitha sang the operatic hook in the background. RZA and U-God kick knowledge, but it's Ghostface's vivid third verse here that lifts "Impossible" to its dizzying breathtaking heights. Ghost's verse starts with a shot ringing out and then methodically details the panic that ensues when we find out the victim is a friend, a father of young children, and he's not going to make it. Rae comes in afterward with the moral of the story, that gun violence is out of control, and we're gonna be seeing a lot more stories like these if we don't get our act together. RZA has referred to Ghost's turn on "Impossible" as the greatest Wu verse ever, and The Source awarded it Verse of the Year honors at the end of the year.
1. Slick Rick "Children's Story" (1989)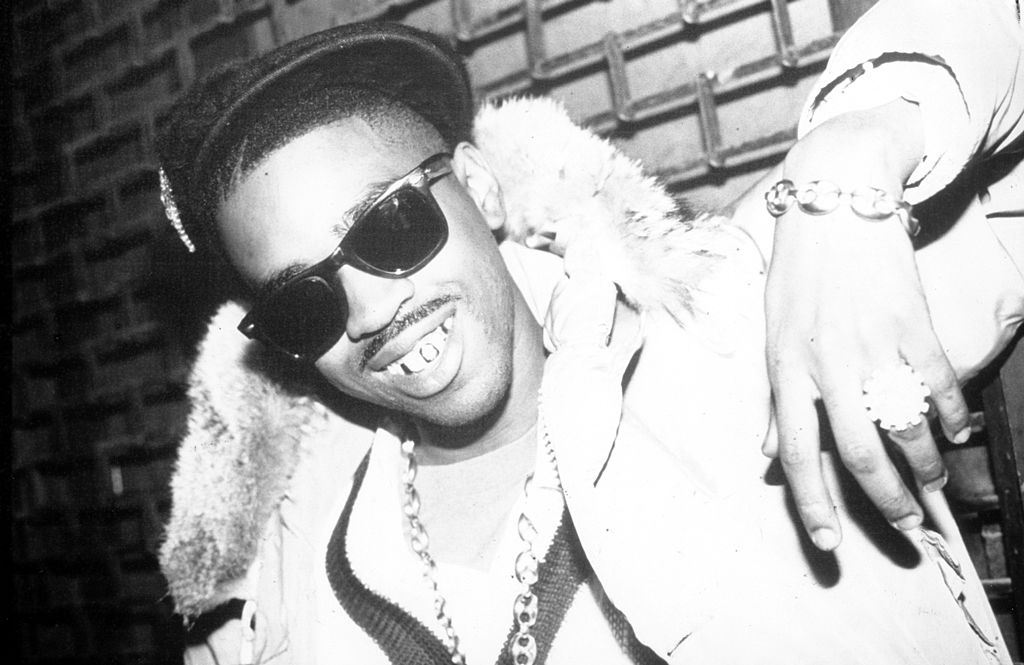 Album: The Great Adventures of Slick Rick

Producer: Slick Rick

Label: Def Jam/Columbia/CBS

Slick Rick's debut album The Great Adventures of Slick Rick was a master class in gutter humor and story songs. "Children's Story" is one of the album's most memorable tracks. Rick offers to tell a couple kids a bedtime story, but instead of an age-appropriate fairy tale they get a violent cautionary yarn about a child who follows a friend into a life of crime to disastrous results. A petty stick-up job quickly goes sour when the victim turns out to be an undercover cop, which sets off a Mouse Trap-like chain of events that lands him dead in the streets at the age of seventeen. "Children's Story" has been sampled and covered scores of times, perhaps most memorably by Mos Def, whose cover on the 1998 Black Star album is a song-length subliminal diss at aimed squarely at Diddy and his Bad Boy family. (For bonus credit, check the Questlove story about the time Mos performed "Children's Story" a cappella at a live show he didn't know Diddy was in attendance for.)