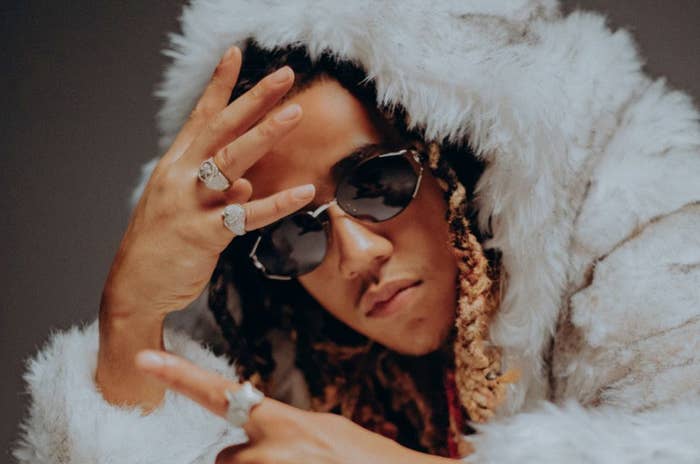 Despite the global pandemic, we've had a pretty impressive couple of months album-wise, chief among them the keenly anticipated Goat World from Luton rapper Nafe Smallz. Fans and critics alike waited with baited breath when Nafe first announced the project's arrival with the Wretch 32-assisted "Ocean Deep" at the top of the month, but fortunately we didn't have to wait long. It wasn't just the promise of new music that had us refreshing the timeline, waiting on an update, there was also the subject of guest features that had everyone speculating. Nafe's two previous projects—2018's Movie Music and 2019's Good Love—were rife with A-list guest spots from both sides of the Atlantic, and when Wretch showed up on Goat World's lead single, we couldn't help but wonder who else would appear.
As you might imagine, Nafe's pulling power is such that he wouldn't really have much trouble getting whoever he liked, but impressively he opted to keep it mostly UK (with the exception of Toronto's SAFE) and Goat World is all the better for it. While the sound of the album still retains the fluid, trap-influenced thump that's endeared him to British and American fans alike, there's still a distinctly UK core to it. The rolling 808s and Auto-Tuned melodies are well balanced against the soundsystem-ready bass and UK-centric rhymes for a truly transatlantic offering. As ever, of course, Nafe remains mercurial, pulling together a wide palette of influences into something all his own.
Complex caught up with Nafe Smallz to break down every track on Goat World, explaining more about some of the themes and how they play into each track. 
Take it in below and cop or stream the full album on iTunes or Spotify now.
---
"Part Of The Plan" f/ M Huncho
"Huncholini's my blooda! We link up in the UK, we link up in Spain, and we link up in space! [Laughs] This one, we made in space. The first line on 'Part Of The Plan' goes, 'All of my new shit, I put the soul in it 'cos you never know where you gon' go wit it,' and that really defines the project. I thought it would be good to be the introduction, and Huncho comes in so wavey! It's one of my favourite tracks on the project."
"Fine China"
"'Fine China' was made in the Plug Records studio. It's an expression of how I feel sometimes when the street shit still plays a role in my day-to-day life... Been through a lot of shit, and a big part of me will always be in the streets because that's where my people are. It's a record I hope people take in and learn from. The streets ain't a place you really wanna be. I'm just trying to show these youngun's the light."
"Phones Off" f/ Nines
"I made 'Phones Off' in Spain with Nines. Me and him go way back, before music, but Nines always co-signed my music; he believed in me from the start. Being from outside of London, you don't get as much recognition, but Nines always boosted the interest in me by posting my music and putting my song as a bonus track on his One Foot In mixtape. I had to get him on there, man—he's the big GOAT! Nobody will tell you different."
"Ocean Deep" f/ Wretch 32
"'Ocean Deep'! I grew up learning from Wretch, so it was a big blessing to work with him on this song. We kept bumping into each other in restaurants in the West End, and agreed the studio was the next place we needed to meet. The song came out amazing—a vibe for everybody, young and old."
"J LO" f/ Deno, Chip
"This was a spontaneous one. Me and Deno were both using the same studio complex, he overheard the track and from there, it was history. Deno is super-talented and the best at what he does here in the UK. Chip's always been a brother to me from the beginning of my journey, so I showed him the song one day in his front room and, again, from there, it was history."
"Freak" f/ Young Adz
"Me and Young Adz are dargs! We've been locked in to each other's sounds from nine, ten years ago. We flew out to Spain and recorded a load of music, and this was one of the tracks we made. The fans love that sex talk and DBE execute that shit the best here in the UK, so it only made sense that the track's called 'Freak'."
"Big Racks"
"'Big Racks' was made abroad in Europe somewhere—I was travelling for shows—and in this one, I'm expressing how much my worth's increased since I started back in 2013."
"Home Run"
"This was produced by a talented 16-year-old kid from Nottingham called Jim Patterson. He sent me two beats and I collaged them together with my bro, Young Kye, and got some extra production from Code. I fell in love with the song and shot a movie displaying the birth of the new me."
"All Weekend"
"'All Weekend' was produced by the legendary Nana Rogues, who is known for multiple hits like 'Passion Fruit' for Drake. I linked with Nana for a couple sessions on some wavey shit and made this banger over the course of two sessions. Large up Nana Rogues! This one has multiple meanings, but I believe different people will take it in different ways."
"Bad For Me" f/ Miraa May
"I made 'Bad For Me' in a session with Miraa May, and it was produced by a good friend of mine called Michelin Shin. The talented Miraa May heard the track in a session and laid an amazing collaboration. This is another one of my favourite tracks."
"Friend Zone" f/ SAFE
"SAFE is a goat from Toronto. He pulled up when he was in the UK and we linked with Shin to created this masterpiece! There's a lot more to come from me and SAFE."
"Lawless"
"Made this one out in Barcelona. 'Lawless' was inspired by Meek Mill and the Dream Chasers; it's a freestyle of me just expressing how I felt at that time."
"High Notes"
"'High Notes' was the last song to be completed and it's a track of me reflecting on the lifestyle I've become accustomed to, detailing my come-up and how it feels to be me right now, today."
"Quarantine Freestyle"
"'Quarantine Freestyle' is all in the title! Since we been locked up, inside, I've had a lot of time to work on new material. I was gonna wait to put this on the next mixtape, but I thought I'd bless my people with it early. This is another reflecting track, touching on where I'm from and how the journey has mapped out for me."